In this article I will share 6 knit pillow patterns that make your home feel cozy with you. With the colder months of the year ahead of us, we tend to spend more and more of our time inside. While the leaves are falling, the wind is blowing and the rain is making a frequent appearance, we naturally retreat into the comfort of indoor spaces. And along with it comes an increasing desire to make our homes feel cozy and a place where we can relax and snuggle up.
I generally like to keep my decor rather minimal and just add a few seasonal touches here and there. But one area that I always like to switch up for each season is our living room. Specifically the throw pillow covers on our couch, armchair and window seat.
There are so many beautiful pillows and pillow patterns available that it can be hard to choose from. You certainly don't have to make your own pillow covers, but I personally think that it is very satisfying and a rather quick and easy project. Whether you decide to sew, knit, crochet or embroider a pillow cover, the possibilities are nearly endless. However, in order not to overwhelm you with options, I am going to focus only on knitted pillow patterns today.
Disclaimer:
I am not affiliated with the designers of the six knit pillow patterns that I am sharing in this article in any way. I don't receive any commissions when you purchase one of the patterns. I am sharing the patterns as a source of inspiration, because I really like each one of them and think you will enjoy them, too. The designers generously allowed me to use their pictures.
6 Knit Pillow Patterns that make your home feel cozy
I have browsed both Pinterest and Ravelry intensely to put together a selection of 6 knit pillow patterns that I find very beautiful, versatile and timeless. And I think you will enjoy them as well. So without further ado, let's have a look at those 6 knit pillow patterns:
#1 High Desert Pillow Covers by Natalya1905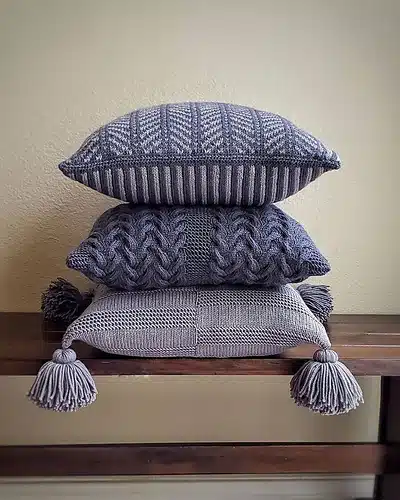 This pillow cover trio by Natalya is simply stunning. Each pillow cover has a different stitch pattern and hence a different texture. The first pattern is a simple combination of stockinette and garter sittch. The second pattern contains two big cable panels. And the third pattern features a geometric colorwork design.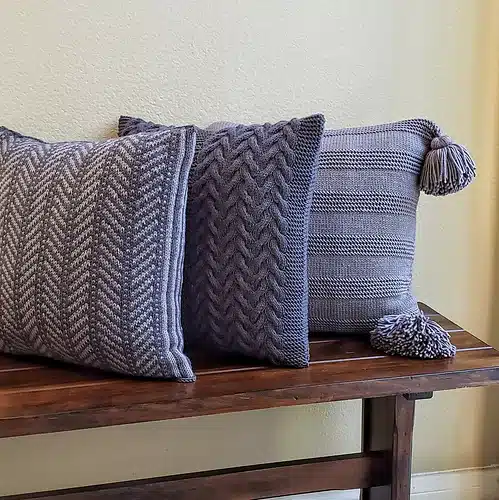 #2 Minto Cushion by knitonomy
Looking for a timeless, classic cable pillow cover? If so, you should have a look the Minto Cushion by Magdalena Parker. It is knit in the round and comes with the option of adding tassels. And if you like the stitch pattern, there is also a Minto hat, sweater and tee version.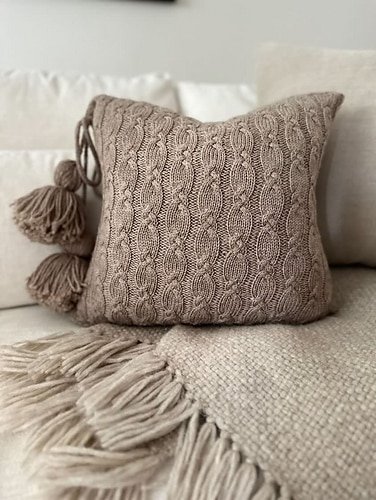 Magdalena has a beautiful design aesthetic with a focus on natural fibers and neutral colors.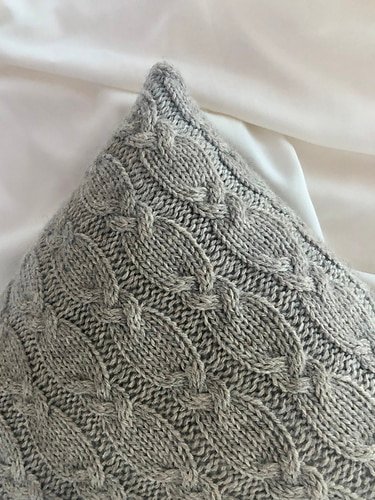 #3 Cushion Covers by Knit'n Pearl
I originally found Sinis classic, striped cushion covers on Pinterest and tracked down her blog. And while the blog is currently in hibernation, you can still find the post about these two wonderful knit pillow patterns on there. The pattern is available for free, but I would only recommend it if you already have some knitting experience. It is not a detailed pattern but rather her notes about the stitch patterns along with some basic instructions. Nevertheless, I am very intrigued to make these pillow covers for our home in the near future.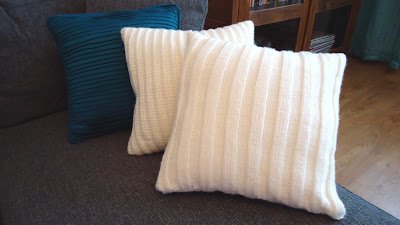 #4 Coco Pillow Set by Vanessa Pellisa
The Coco Pillow by Vanessa comes in a set. The samples are knit in Nutiden from the Swedish company Höner och Eir. It is an unspun yarn with a lovely rustic, natural look. The pillows have an interesting texture and a cozy, subtle look.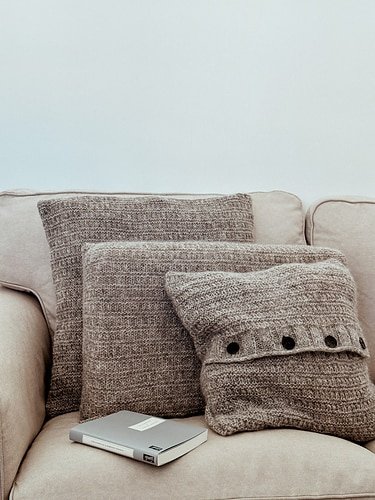 The pattern includes instructions to knit three different sizes of the same design and options for working a full-knit pillow closed with buttons or a fabric-backed pillow.
The designer kindly offered to set up a coupon code specifically for us – thank you so much, Vanessa! You can get 25% off the pattern price if you use the code ROSEMARYANDPINES at Ravelry checkout.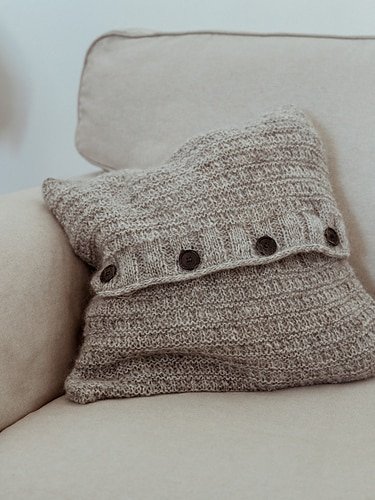 #5 Santa Pillow by Kathy Lewinski for Knit Picks
Oh, the Santa Pillow. I adore this cleverly designed colorwork pattern from Kathy. The geometric construction makes you pick up on the Santa's only if you look closely at the pillow. You can even use the pattern and adapt it to make a tree version!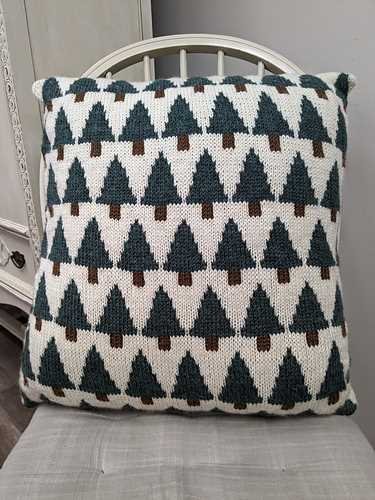 According to the pattern page, this clean and modern design is inspired by the "tomte", a domestic sprite who protected the farm. With a pointed red hat and long white beard it looks a lot like a gnome …and Santa Claus! Bring a bit of whimsy and the flair of Scandinavian style home for the holidays.
Do you know the children's book about Tomte the gnome from Astrid Lindgren? We actually read it every year in the winter time when I was a kid.
#6 Aosta Cushion by The Knit Purl Girl
The Aosta Cushion by Sophie aka The Knit Purl Girl has a very interesting texture due to the combination of the stitch pattern with a rustic, icelandic yarn. It is knit in Plötulopi by Istex which is another unspun yarn.
Here is how the designer describes the pattern:
This is a knitting pattern for a simple cushion cover worked in all over Andalusian stitch on 7 mm needles. The pattern has instructions for 4 different sized cushions and has been designed to use Icelandic wool, since many knitters want to try this type of yarn but may not be able to wear it close to their skin.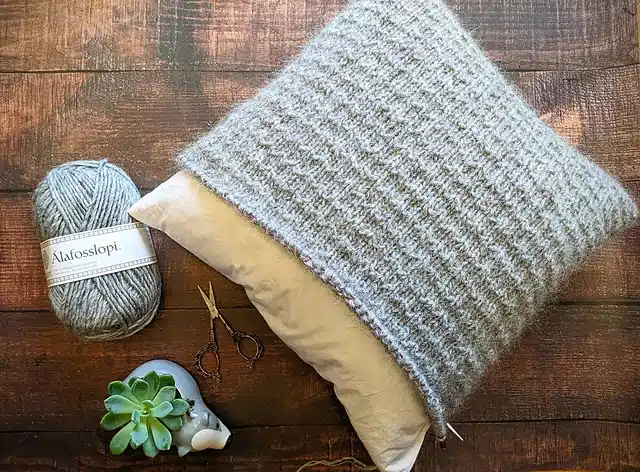 Looking for more ways to get cozy during the colder months of the year? Have a look at these blog posts:
12 Hobbies to Relax and Unwind
Simple Crochet Blankets for Beginners
5 Handmade Natural Star Ornaments
Do you want to give knitting with sustainable, all natural sock yarn a try?
In this free guide you will learn everything you need to know about knitting sturdy socks with plastic-free, all natural sock yarn.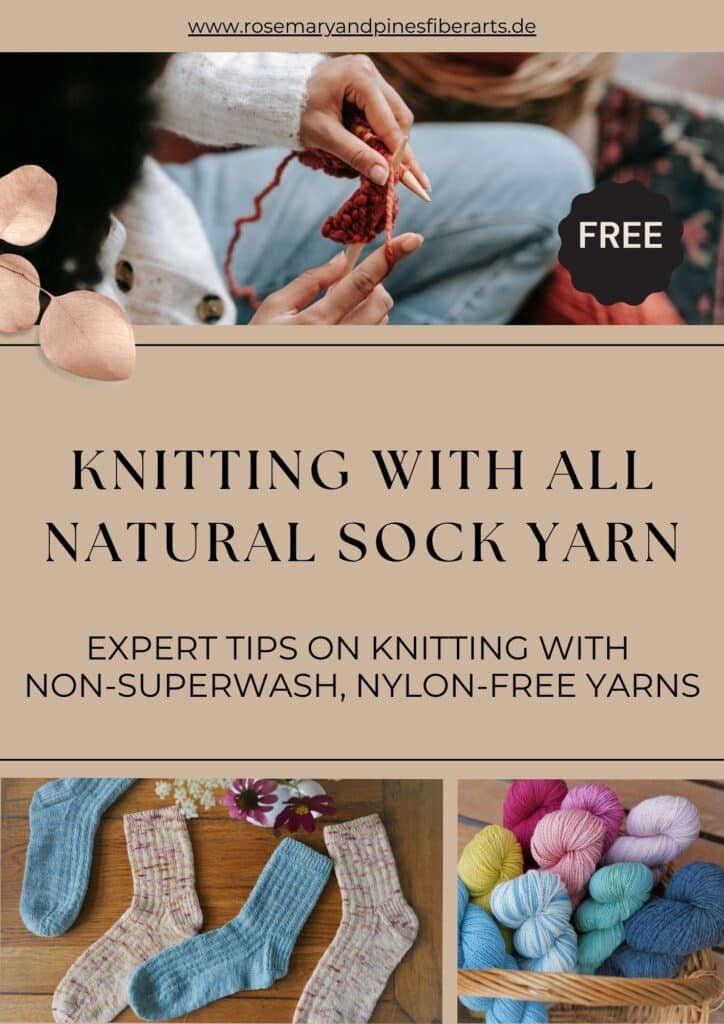 Pin It For Later: 6 Knit Pillow Patterns that make your home feel cozy