Bundle dyeing with natural materials is a wonderful way to get started with natural dyeing. It is also a great possibility to reuse dyestuff or experiment with plants from your garden or even kitchen waste. Furthermore, it is a fun and simple natural dyeing technique you can do with children.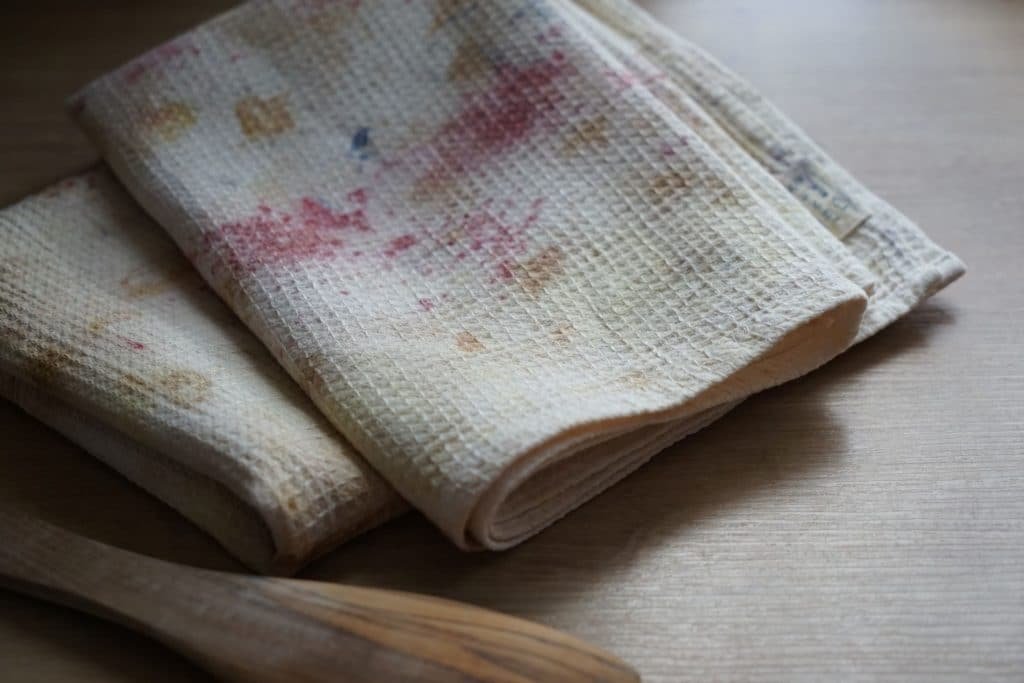 This post contains affiliate links. I may earn a small commission if you use these links, at no cost to you. As an Amazon Associate I earn from qualifying purchases. I only recommend products that I find value in myself. See my full disclosure here. Thank you for your support!
For this tutorial, I decided to dye some more kitchen towels made from linen. I have previously shared a tutorial on how to dye fabric with natural dyes using the same kind of kitchen towels and dyed them with avocado skins. You can find the blogpost here.
Bundle Dyeing with Natural Materials Tutorial
List of Materials
| | |
| --- | --- |
| Piece of Fabric | I used two kitchen towels (size 45 x 65 cm or 17.75 x 25.75'') with a weight of 100 g each. You can use any kind of fabric made from natural fibers (like linen, cotton or hemp). |
| Soy Milk | To enhance the fastness of the dyes. The soy bean proteins form a physical bond between the fabric and the dye. |
| Dyestuff | You can use a variety of plants, kitchen scraps and botanical dyes like onion skins, logwood, cochineal, reseda, dried rose petals and madder. These are just some examples of the dyestuff I had on hand. |
| | |
| --- | --- |
| Pot | You can use an old pot or acquire one just for natural dyeing purposes. |
| Steamer Basket (optional) | Using a steamer basket is optional. Since I was looking for a result with some more defined speckles instead of the different colorways flowing into each other, I decided to put the fabrics in a steamer basket and not directly into the water. |
| Bucket or Wahing Pan | To scour and wash the fabric |
| Kitchen Scale | To measure the soy milk. This is the one I use. |
| Tie | To keep the fabric rolled up. I usually use some kind of packaging cord or jute twine. |
| Dish Soap | Whatever you have on hand. This is used to scour and wash the fabric. |
| Mild Laundry Detergent | This is the one I use and can recommend. It is gentle and doesn't have any smell. |
| Gloves | To protect your hands. I use nitrile-vinyl gloves. |
Precautions: Don't use the same pots and utensils for natural dyeing that you use for food preparation. Always wear gloves. Creating the dye solution and the dyeing process itself should be done in a well ventilated area. I often use a cooking plate that I put on my patio.
Step-by-Step Bundle Dyeing Tutorial
Preparation
Prepping the fabric
The very first step is to wash your piece of fabric. Use the same temperature and spin cycle you would normally use for this kind of fabric.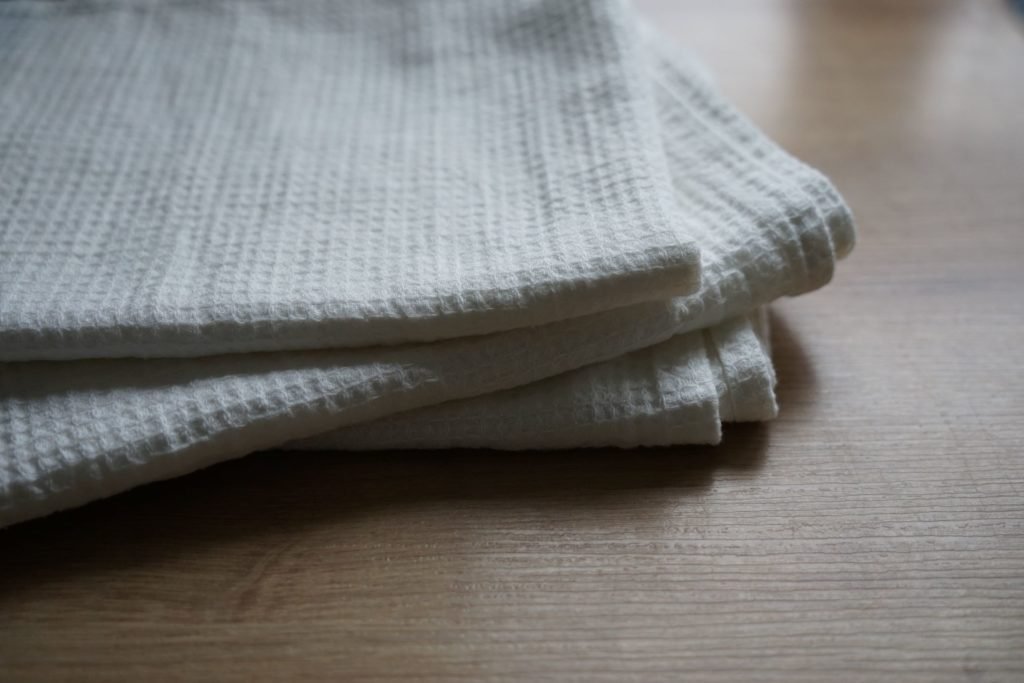 Pretreating with Soy Milk
To increase the color fastness of the dye, I decided to pretreat the fabrics with soy milk before dyeing them. To do so, I followed the method from Rebecca Desnos. You can find the details either in her book or on her website. You can use both store-bought soy milk or make your own from soy beans.
The fabric gets dipped into a bucket filled with soy milk and water and dried afterwards for a total of three times. After the third dip and once the fabric is dry, Rebecca Desnos recommends to wait at least a week before dyeing the fabric.
Natural Dyeing Process
1. Applying the Dyestuff
This is the fun and creative part. You simply take as much or as little dyestuff as you like and sprinkle it onto your fabric. You could either go for a symmetrical pattern or place the pieces randomly.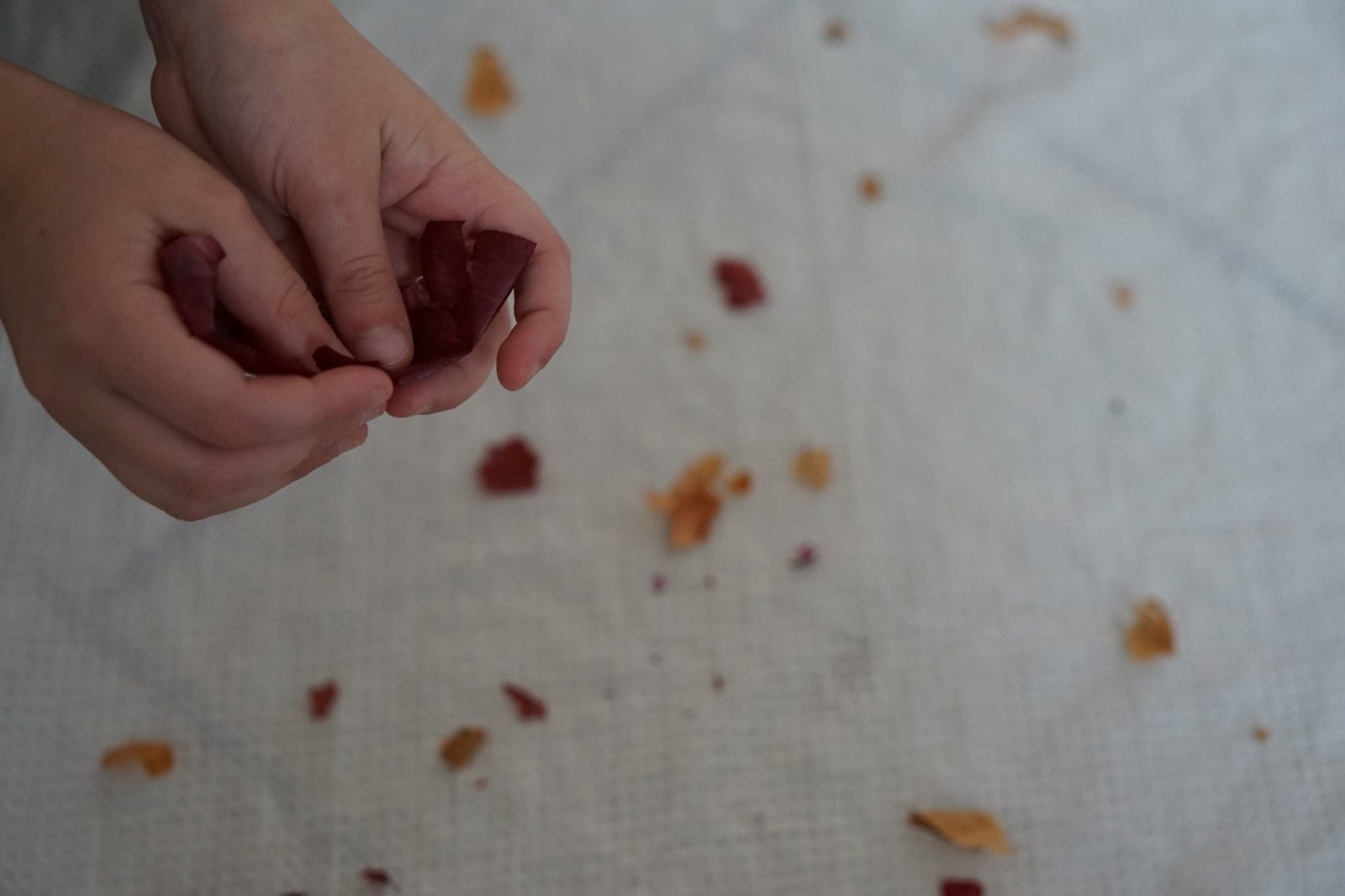 2. Bundling
The next step is to first create a roll and afterwards a bundle. To do so, roll up the piece of fabric from the short sight as straight and tight as possible. Then you can roll up the fabric again (see pictures) to create a bundle. Wrap the bundle tightly with some twine so that it won't unravel during the dyeing process.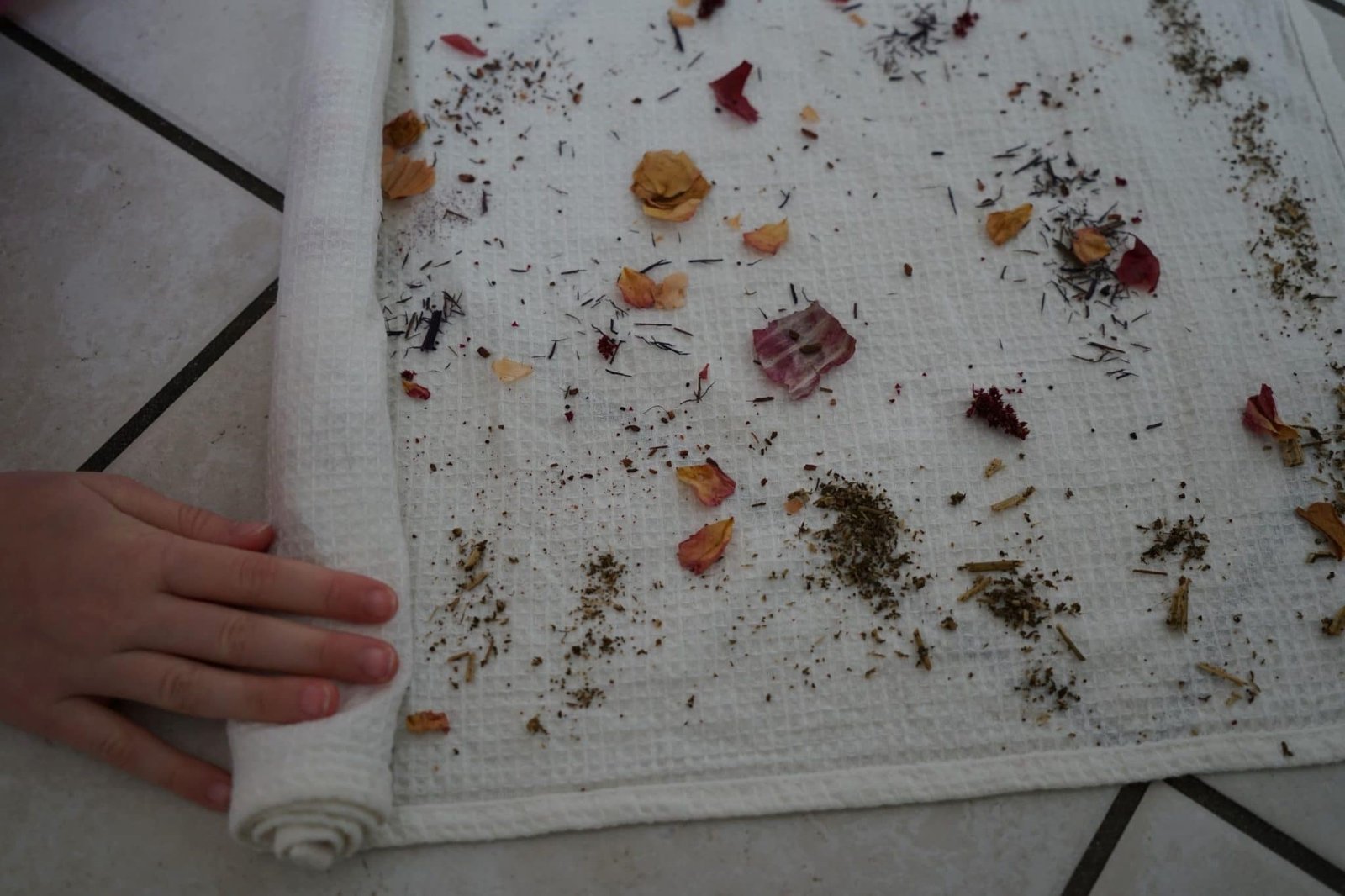 3. Steaming
As I mentioned above, using a steamer basket is optional. You can also place the bundles directly into the water. In my case, I only added a little water to the bottom of the pot so that the bundles were sitting in the basket above the water. Then it is time to heat up the water and let it simmer for about 45 minutes. Let the water and bundles cool down completely before taking the bundles out of the pot. Afterwards, unravel the bundles, carefully remove or shake out the dyestuff and hang the fabrics to dry.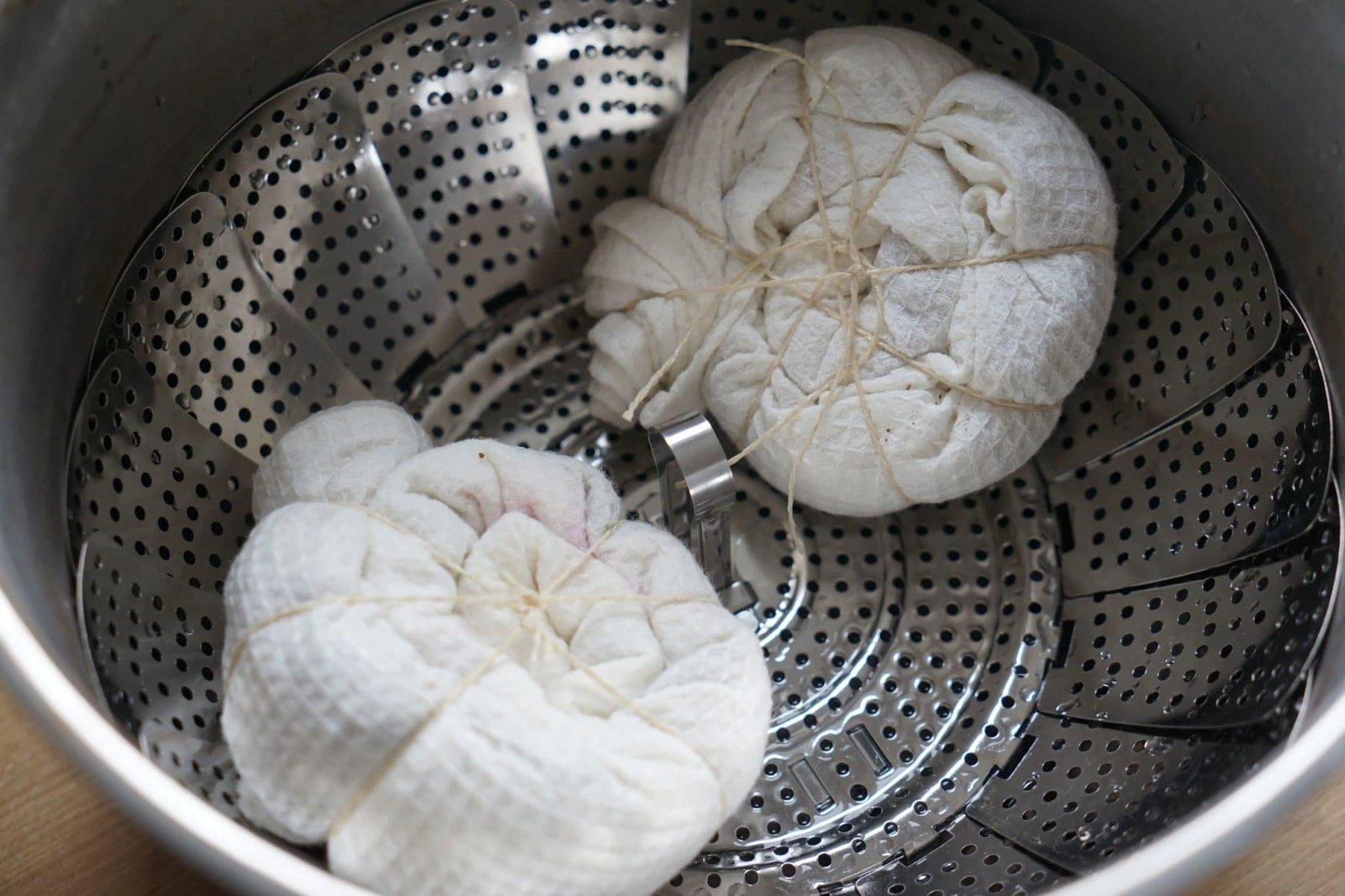 4. Ironing
To enhance the color fastness, iron the fabrics.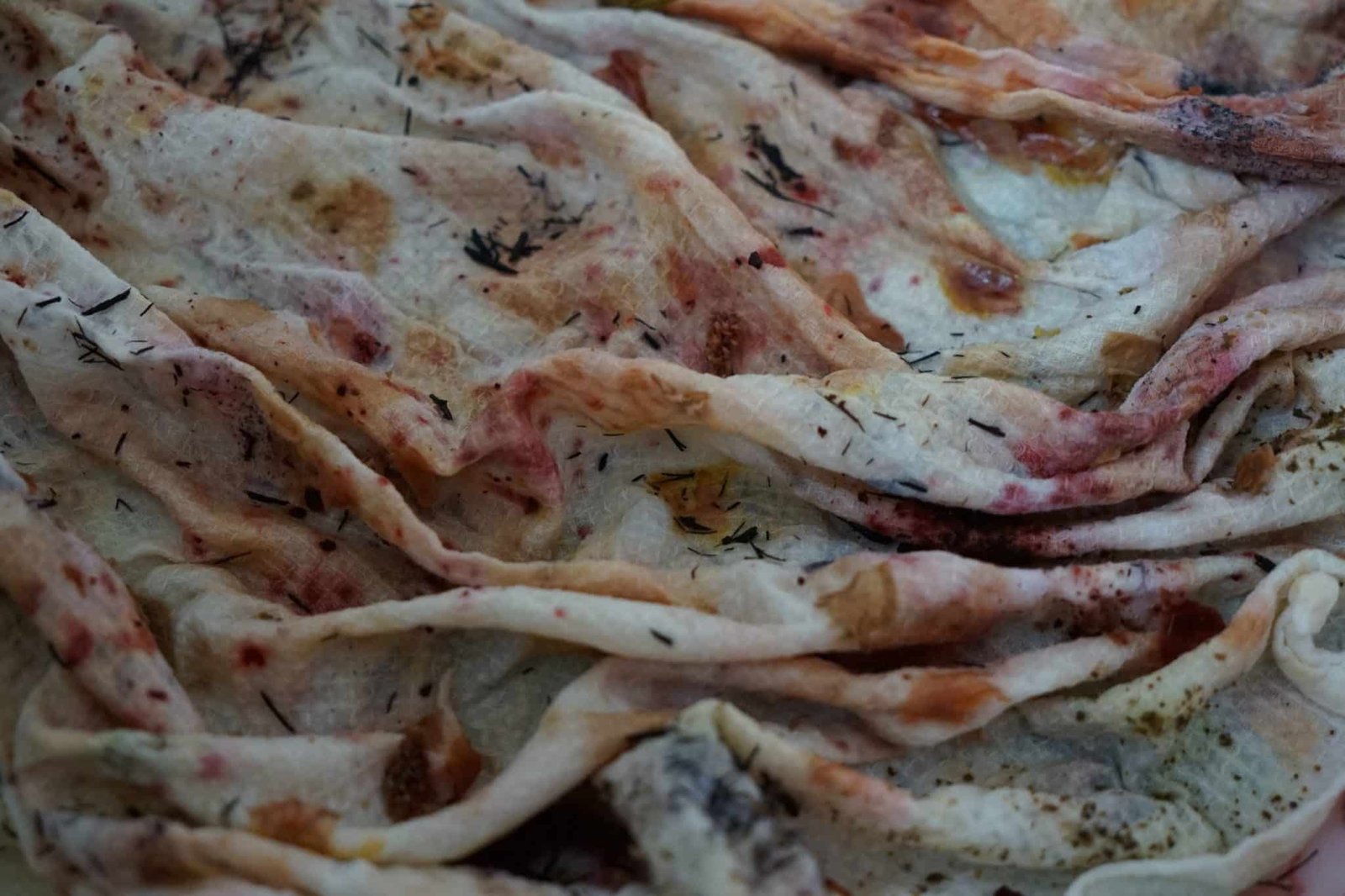 5. Washing & Drying
The next step is to wash your fabrics simply like you would normally do with the kind of fabric you used. Then hang the fabrics to dry. And you are done!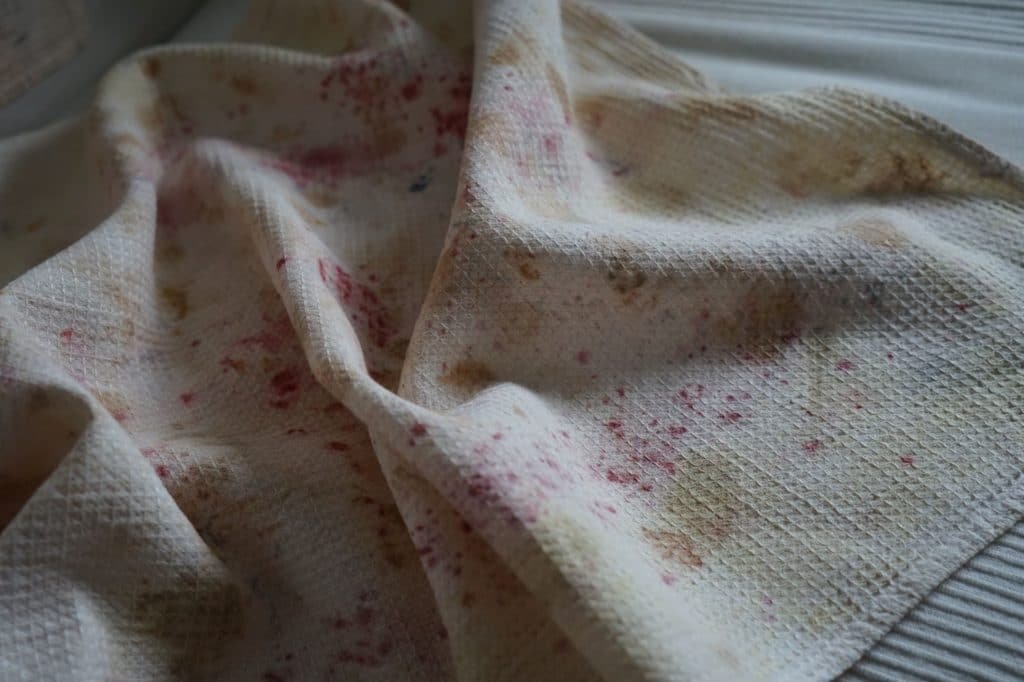 What I love about this dyeing technique is the fact that every piece you create is truly unique. You never really know how the end result will look like. And it is such a great and sustainable way to use kitchen scraps or dye material that you utilized before and that still has some color potential in it.
Pin It For Later: Bundle Dyeing With Natural Materials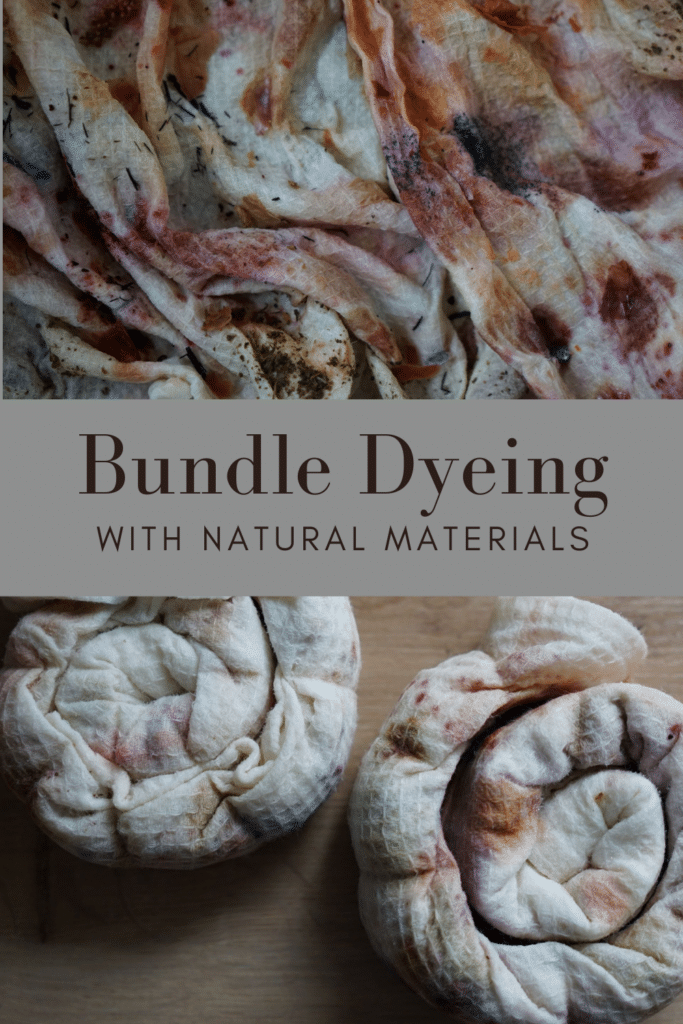 Further Educational Recommendation:
Jamie from The Barefoot Dyer has an awesome YouTube channel where she shares information about dyeing fabric with natural dyes. Her Instagram account @thebarefootdyer also contains lots of valuable information.
Want to learn how to dye yarn using natural dyes?
I have created a beginner's guide to natural dyeing that contains everything you need to know to get started. And the best thing: it is available for free!