Today I am finally taking the opportunity to talk about creating a handmade wardrobe.
Essentially, my dream of creating a handmade wardrobe originates from the desire of living a more sustainable life. Back in 2015, we made a number of changes to our life in order to be more sustainable and more intentional. For me, this ultimately led to a firm conviction that I wanted to do meaningful work that wasn't only enjoyable but also eco-conscious. The result was the creation of Rosemary & Pines Fiber Arts. Therefore, creating a handmade wardrobe isn't only a personal goal of mine but ultimately the reason why Rosemary & Pines Fiber Arts came to be. If you aren't familiar with my small business and its core values yet you can read more about it here and on my about page.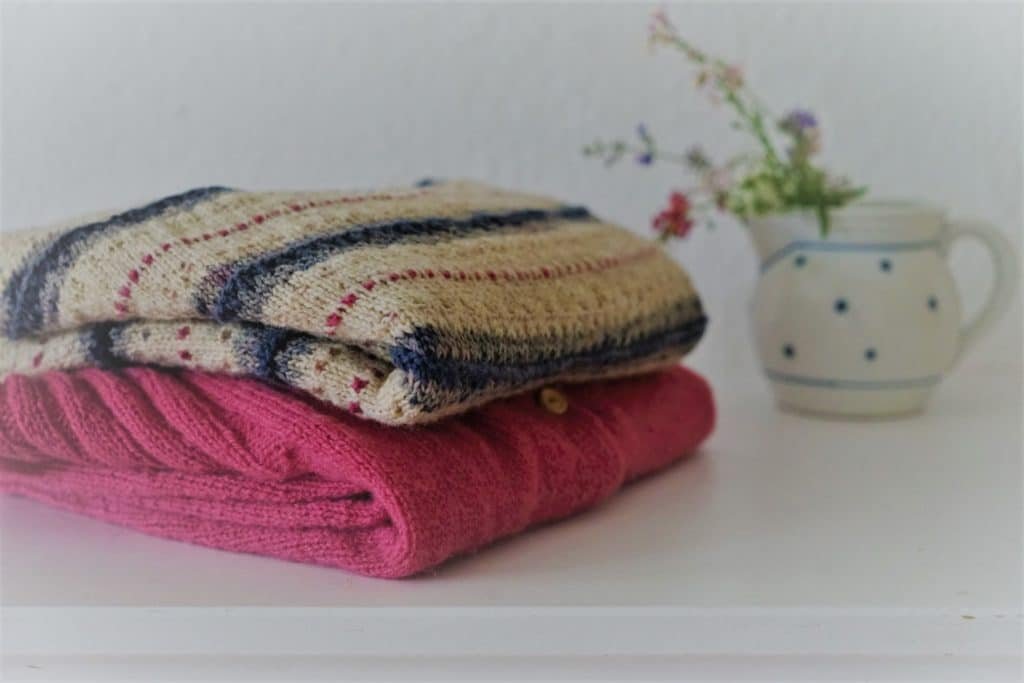 Sustainable Alternatives to Making your own Clothes
Before I explain in more detail where to start when creating a handmade wardrobe, I want you to know that you absolutely don't have to make your own clothes in order to have a sustainable and responsible approach towards clothing. As usual, purchasing less – be it clothes, fabric or anything else – is always best. If you absolutely need to buy something, look for secondhand options first.
But even if you want to buy new, you can do so in a sustainable way if you are intentional about it. You can research the brand before you purchase an item and only support businesses that align with your values. You can choose natural, durable fabrics. And you can consider the transportation distance and avoid overseas shipments.
Where to Start when Creating a Handmade Wardrobe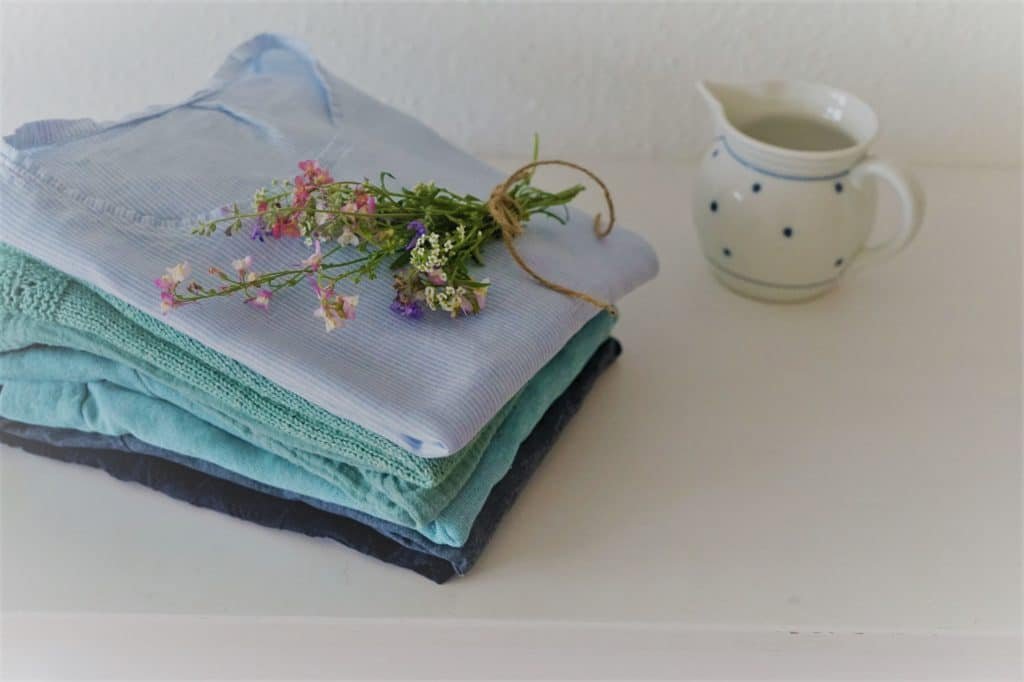 Declutter
If you want to be intentional about creating a handmade wardrobe, I highly recommend that you thoroughly assess your current wardrobe situation before you start making any new clothes. In my experience there are always pieces in your wardrobe that don't get a lot of wear, even if you declutter regularly. Identify and sort out those items first.
Assess
Have a close look at the pieces you wear most often. Do you mainly wear dresses? Jeans? Blouses? It doesn't make sense to sew a bunch of dresses if you mainly wear pants in your day-to-day life. If you live in an area with a hot climate, knitting lots of thick wool sweaters isn't very practical either. Whatever your situation may be, be honest with yourself about your current season of life and what kind of clothing it requires.
Framework
As the next step, I suggest that you have a closer look at the colors you like to wear. If you – like me – aspire a more minimal wardrobe, you want to choose only a few colors that all go well together. As you can see in the pictures throughout this post the colors I stick to are mainly shades of blue, pink, grey and mint.
One of the first things I did at the beginning was to identify my color type. I saved a picture of the colors recommended for my color type and often refer back to it. I also avoid the colors that don't suit my color type. If this is something that interests you, let me know and I will cover the identification of color types in a future post.
Start Simple
You are probably eager to start and would like to replace all of your store-bought clothes asap. But in order to enjoy the transformation of your store-bought to a handmade wardrobe you have to accept that this won't happen overnight. Especially if you are not familiar with clothes making yet. Don't put too much pressure on yourself by thinking that you need to make everything yourself from now on. Start small and pick one item that is rather simply to make and in a category of clothing that you wear a lot.
With knitted items, this might be a shawl or a hat. For sewing, consider making a skirt with an elastic waist or a top first. Clothing for kids and babies is also a great place to start. Children are smaller and they basically look cute in everything. A not so perfect fit or sleeves that are a bit too long just don't matter as much.
I also recommend choosing your fabric carefully. Start sewing with cotton, linen or jersey. Although jersey is stretchy and often not recommend as a beginner's fabric, I personally started sewing clothes with jersey and think it is a great fabric for a beginner. The stretch might require a bit more attention during the sewing process but the end result is more forgiving compared to a non-stretchy fabric.
Focus
If you aren't an experienced handcrafter yet, I recommend that you pick and focus on one fiber craft to start with. This could be sewing, knitting, crocheting or weaving. Make a number of pieces of clothing until you are familiar with the process. Then you can move on to the next craft. And please don't think that the clothes you make have to turn out perfect right from the beginning. It is a long process for sure and you just have to accept that being able to make clothes that fit right takes a lot of time, effort and trial and error.
Inspirational Creators
If you would like to get some more inspiration on what a handmade wardrobe can look like, I have some recommendations for you. The women mentioned below are all mainly sewers.
Emily Hallman has a blog and is a very experienced sewer. She knows exactly what suits her and is able to sew pretty much anything.
Janelle from Rosery Apparel has a beautiful YouTube channel and is a very inspiring sewer overall. I love watching her videos about her making plans and recaps of what she made during one season.
Last but not least, I want to mention the Love to Sew audio podcast from Helen and Caroline. As of today, they have published 184 episodes which are very interesting and educational.
Pin It For Later: Creating A Handmade Wardrobe
Did you find this blog post valuable or helpful? If so, you can support my website by buying me a coffee below, purchasing my knitting patterns or yarns or simply by leaving a comment. Thank you!