Just in time for Easter I want to show you how to dye Easter eggs with Natural Dyes.
I have dyed Easter eggs every year for the longest time. This year I wanted to experiment and see if it would be possible to dye Easter eggs with natural dyes from my kitchen. There are lots of promising pictures on Pinterest showing various vegetables that can be used for natural dyeing and vibrant color results.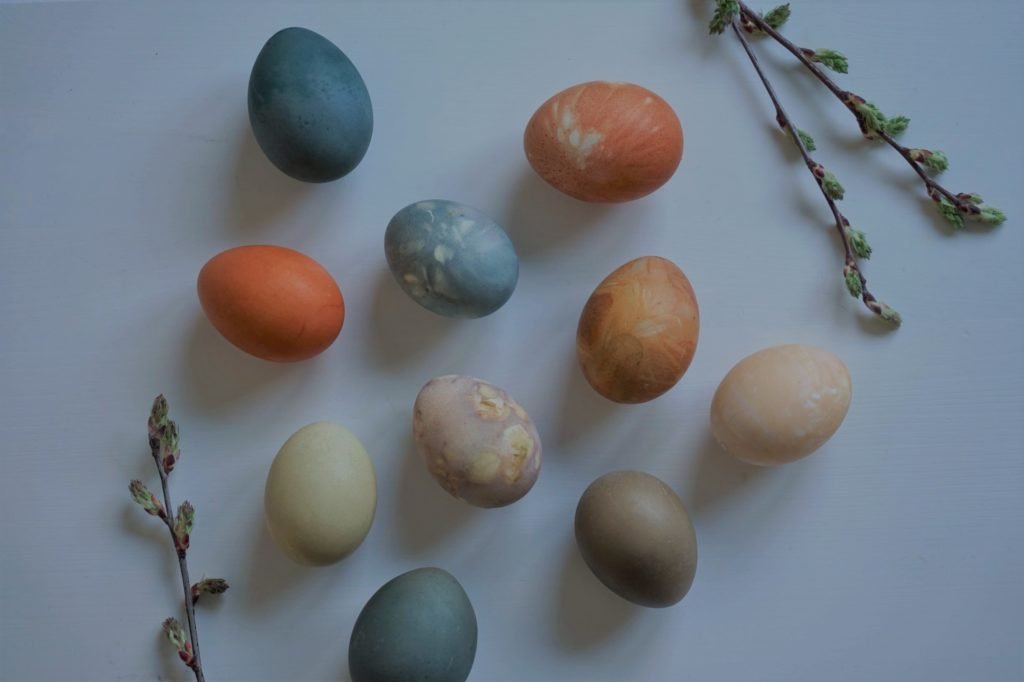 My conclusion on using natural dyes for dyeing Easter eggs is this: It can be done and the results are beautiful indeed. However not all of the dye materials I found on the Internet worked for me. Sometimes you will need rather high concentrations to see even a light color result. And – as per usual with natural dyes – the colors often comes out differently from what you expected.
Alright, let me show you how I dyed the eggs and let you in on what worked and didn't work for me as far as dyestuff is concerned.
Instructions on How to Dye Easter Eggs with Natural Dyes
You can dye eggs in several different ways but I chose to boil the eggs first and dye them in the second step.
Simmer the dyestuff in a small pot for about 30 minutes. Use the least amount of water possible to achieve a concentrated dye solution. Let the dye solution cool down. You can check the color with a spoon.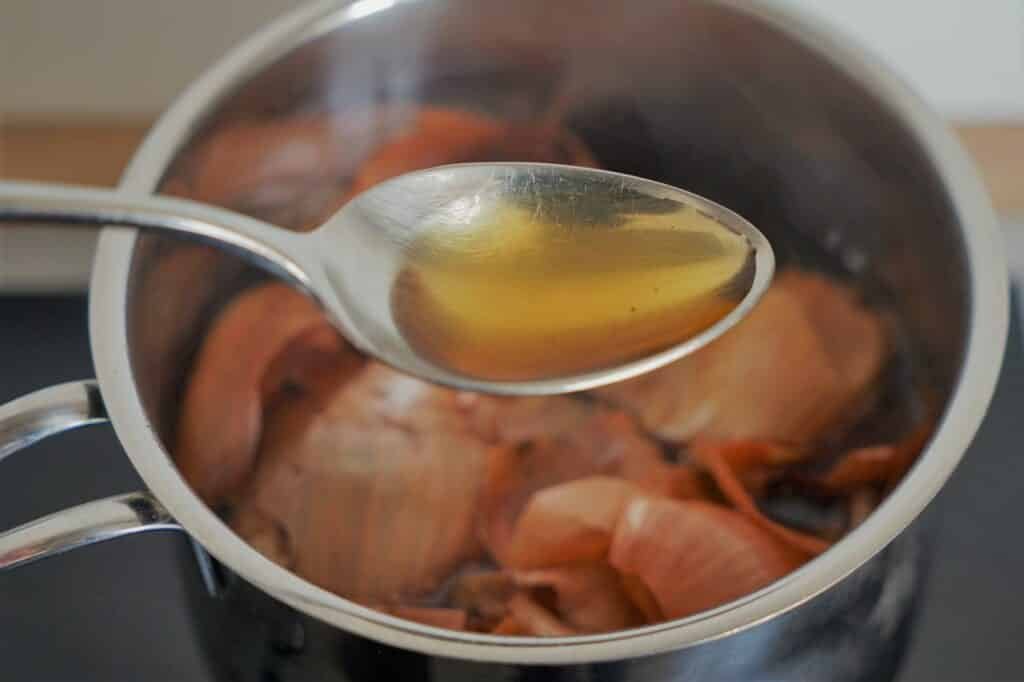 Place the eggs in the dye solution. You can filter the dyestuff off beforehand, but I chose to keep it in the pot to intensify the color. Just note that if the dyestuff is touching the eggs during the dyeing process, you might get some uneven color results. I really like the effect of this so I kept everything in the pot.
Simmer the eggs in the dye solution for about 30 minutes, then let it cool down. If you are not happy with the depth of color, you can put the eggs in the dye solution in the fridge and let it sit a couple of hours or even overnight.
How to Create Patterned Easter Eggs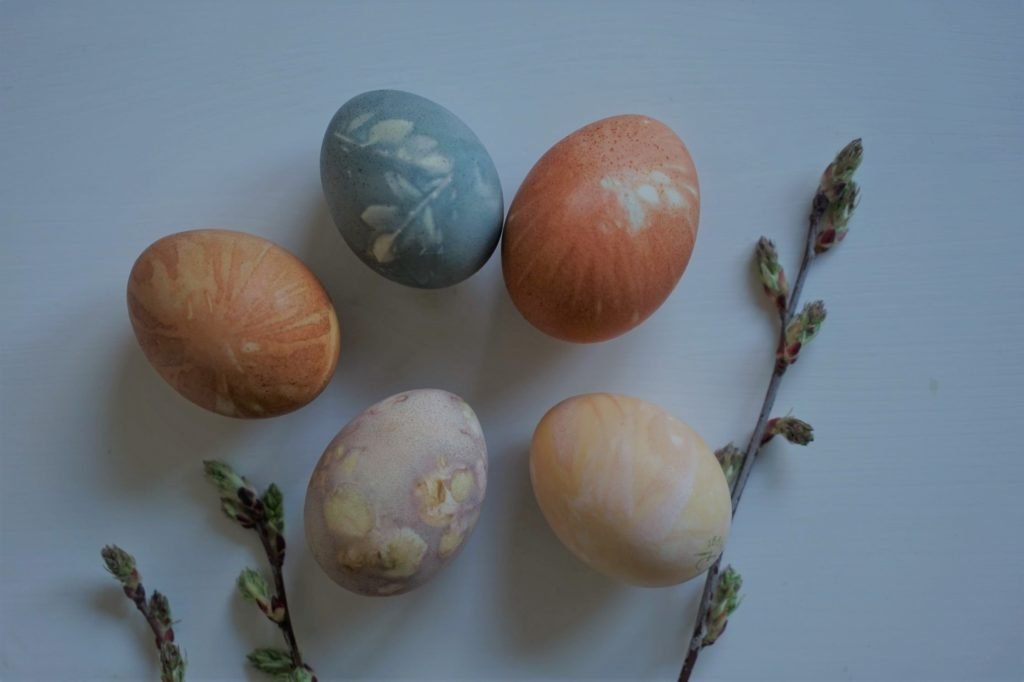 If you would like to create some more interest on your Easter eggs, you can collect some leaves, petals or grasses and print them on the eggs. You will also need an old pair of tights or light piece of fabric (e.g. from an old shirt) and a string for this.
Cut your fabric into a square of about 15 x 15 cm (6 x 6 inches). Place the egg in the middle of the fabric and wrap the natural material around the egg. Enclose everything as tightly as possible with the fabric and tie it off with a string.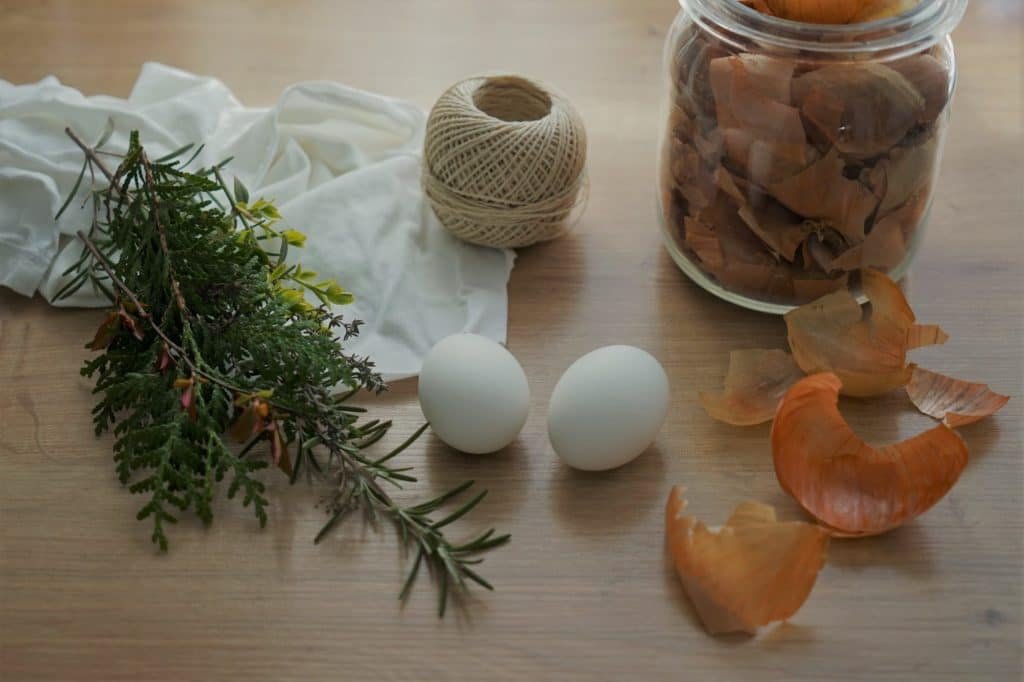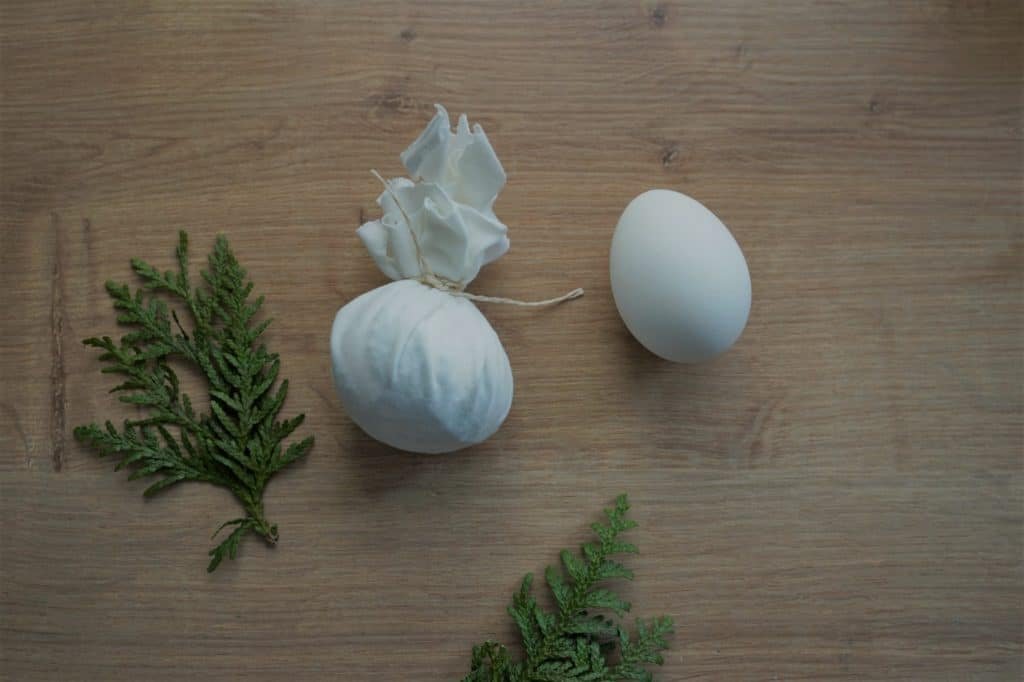 For the dyeing process, just follow the instructions from the passage above.
Take the egg out of the dye solution and let it dry off first before removing the fabric.
How to Dye Easter Eggs with Tea Bags
One of the easiest ways to dye Easter eggs with dyestuff from your kitchen is using tea bags. Place one tea bag in a small jar and pour some boiling water over it. Let it cool down and sit for a couple of hours. Put the boiled egg in and let it sit overnight (in the fridge).
In addition, I also added a tablespoon of white vinegar in the dye solution to increase the uptake of the dye.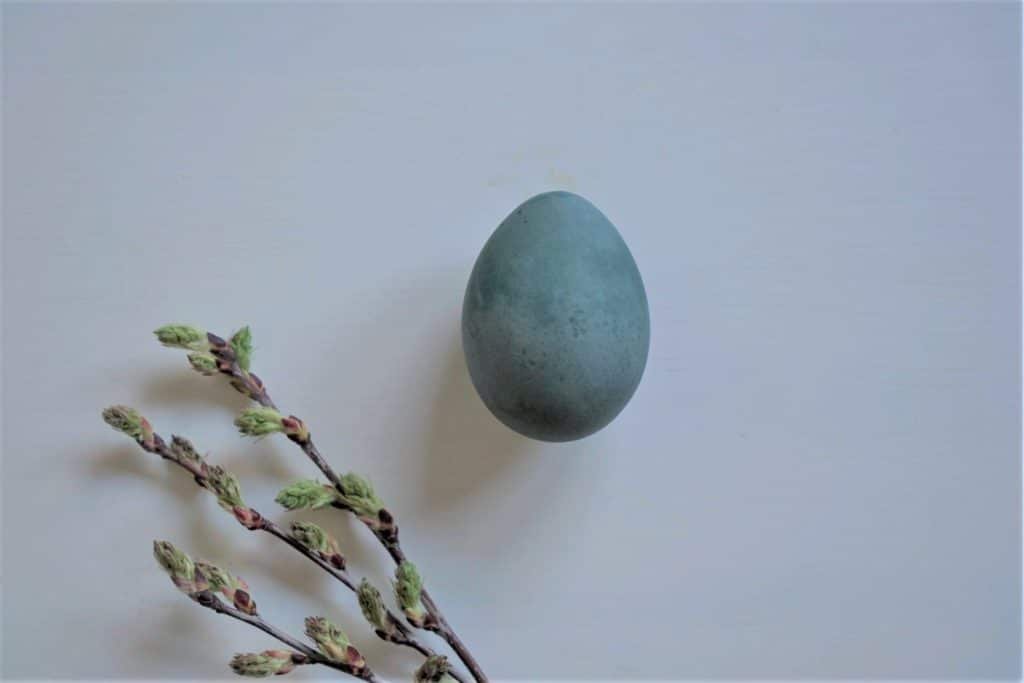 I used this method to create a lovely greyish blue shade using a bag of blueberry tea. Chamomile tea (yellow) and black tea (brown) should also work well since both of these materials are known for their natural dyeing properties.
Easy, Suitable Natural Dyes from your Kitchen
Onion Skins (yellow/orange)
I used a handful of yellow onion skins (from about three onions) to achieve an orange color. When I diluted the dye solution with water, I received a beautiful like orange/yellow/pink shade.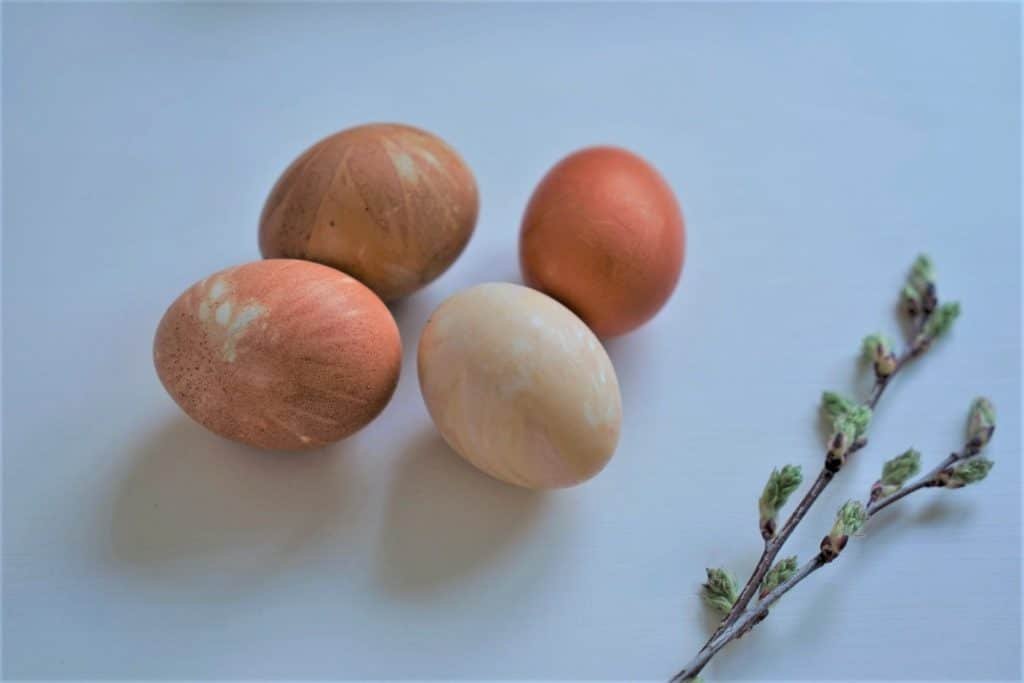 Red Cabbage (blue)
It is best to use fresh red cabbage but in case this is not available, premade red cabbage in a jar works fine as well. You will need just one or two tablespoons of cabbage and a little bit of water to dye two eggs.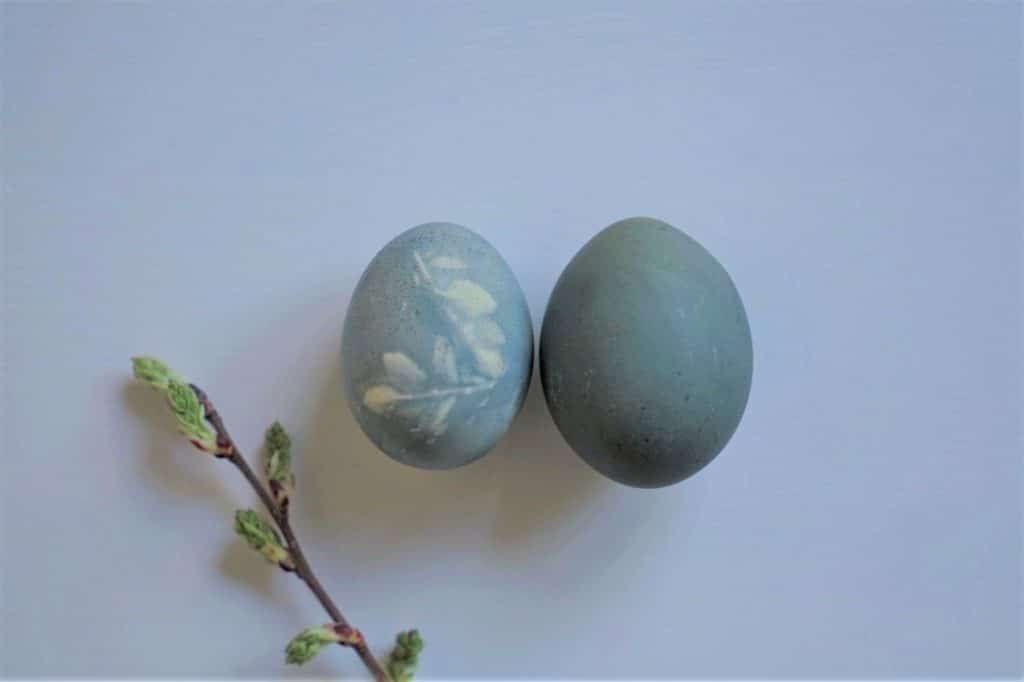 Natural Dyes with Unexpected Color Results
Carrot Greens
I used all of the carrot greens from a bundle of carrots and received a light yellow/beige. This was a bit of a disappointment since I was expecting a much more saturated yellow or even a green.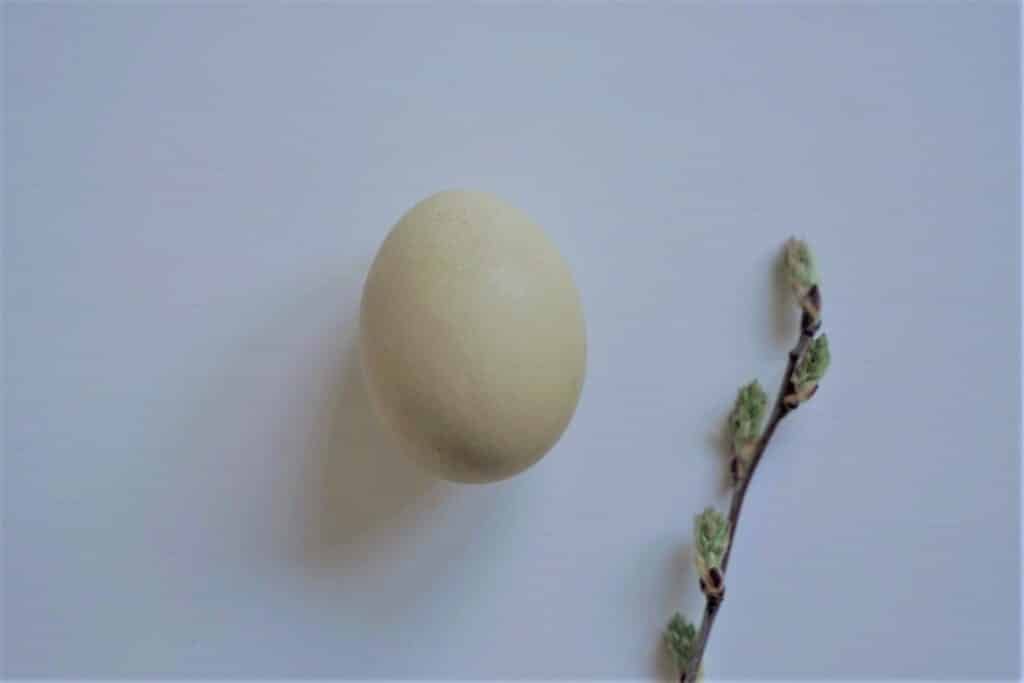 Spinach
I was hoping for a green but simmering the spinach for 30 minutes rarely produced any color at all. I decided to wrap the egg in a piece of fabric with some eucalyptus leaves and put it in the dye solution anyway. The result is a beautiful light purple/yellow with some patterning from the leaves on it. I am very pleased with how it turned out, but I think this is mainly due to the use of eucalyptus and not from the spinach.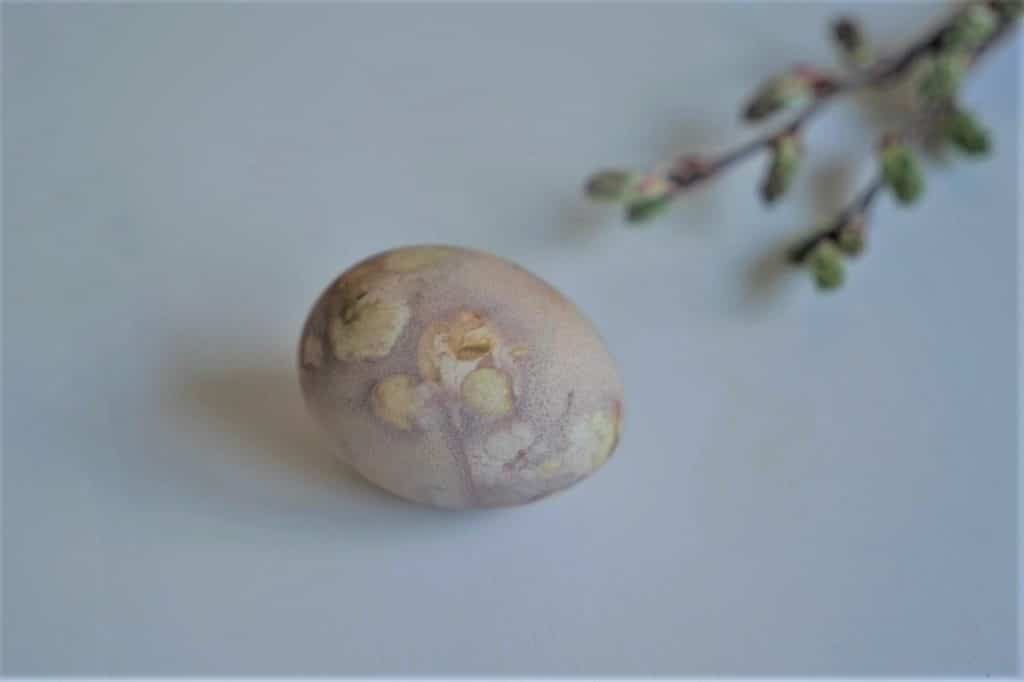 Beetrot
Beetroot is supposed to create a red dye solution. Again, using a fresh beetroot is best. However, I couldn't get any and used some canned beetroots. Unfortunately, this only gave me a brown color instead of the red I was looking for.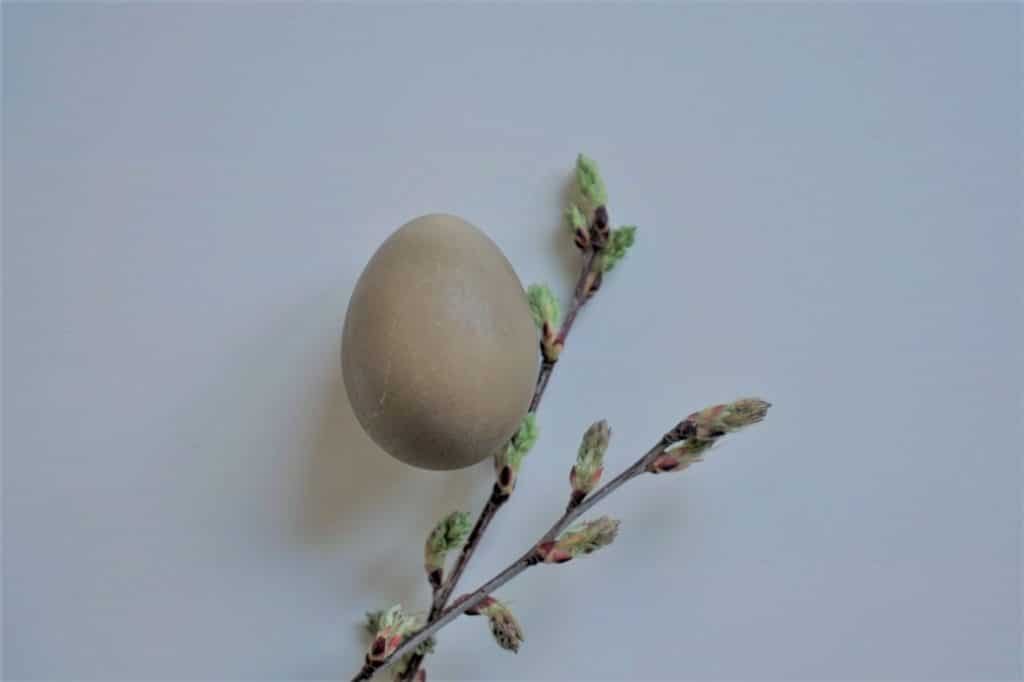 As you can see, dyeing Easter eggs with natural dyes from your kitchen requires some trial and error. I really had fund experimenting with different options and am quite pleased with the results, though. Do you have any more suggestions on natural dyes from your kitchen that can be used for dyeing eggs? Come share in the comments!
Pin It For Later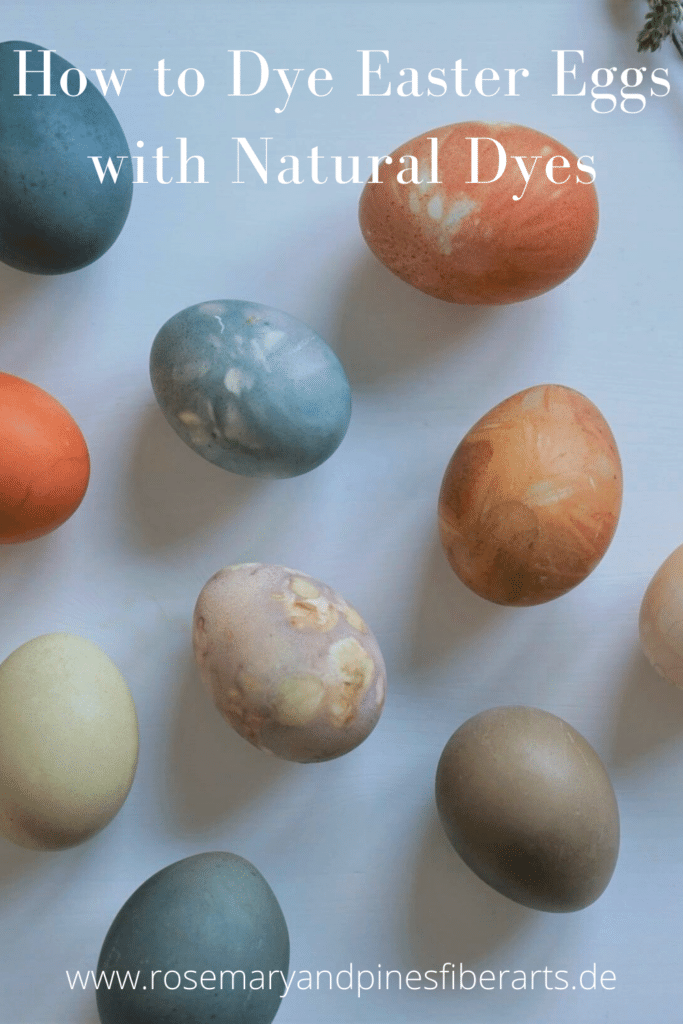 Are you interested in natural dyeing in general? I have written several posts on this topic which you can find here:
https://www.rosemaryandpinesfiberarts.de/category/natural-dyeing/
Did you find this blog post valuable or helpful? If so, you can support my website by buying me a coffee below, purchasing my knitting patterns or yarns or simply by leaving a comment. Thank you!