In this blog post I will share 3 easy hat knitting patterns with you. All of these patterns are favorites of mine and are not only relatively easy to make but also look and fit beautifully.
Fall & Winter Knitting Projects
Last week I talked about three favorite easy yoke sweater knitting patterns. But sometimes making a garment just feels like too much of a commitment. However, if you would like to knit something appropriate for the colder months of the year, a hat is a great choice. It is rather quick to make, the fit can be easily adjusted to perfectly fit your head and it comes in handy often during fall and winter. In fact, I would even recommend a hat as a first project for a beginner knitter. It takes a lot less time to make than a scarf, which is often recommended as a first project. And although you usually have to knit in the round in order to make a hat and do some decreasing at the end, the sense of achievement arises quickly and you have created something useful for you to wear.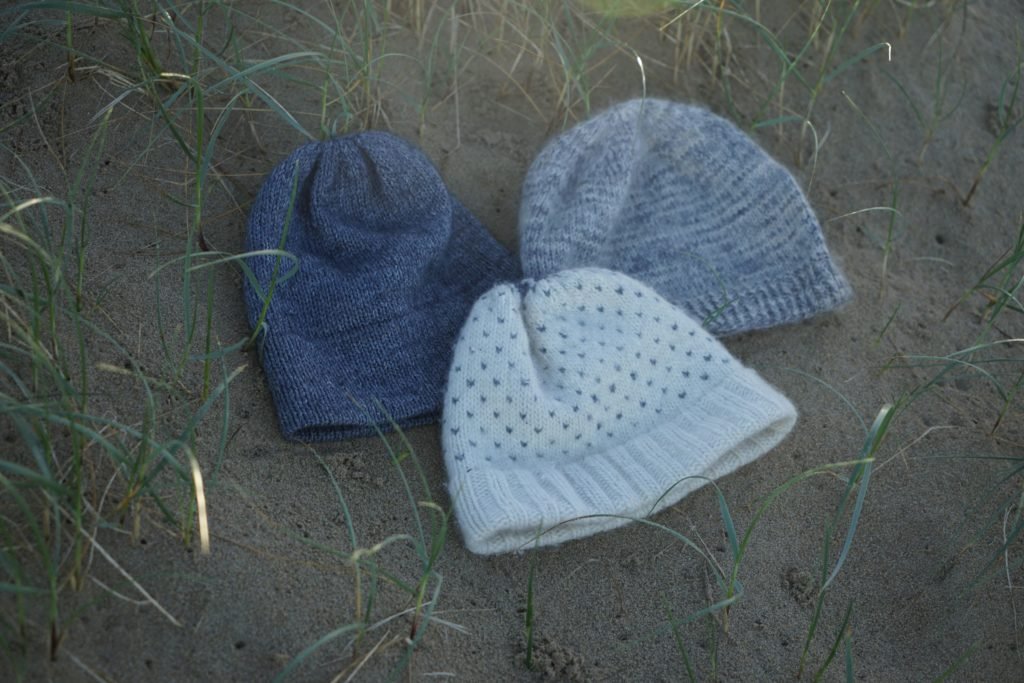 In case you don't have any prior or very limited knitting experience, I will list the hat knitting pattern recommendations easiest to a bit more challenging. Let's have a look.
Easy Hat Knitting Patterns Recommendation #1: Sockhead Slouch Hat
The Sockhead Slouch Hat is a free pattern by Kelly McClure. It is written for one skein of fingering weight sock yarn. I really like this pattern because it is so simple and highly customizable. You can decide how slouchy you want the hat to be. You can use only one color or several to create stripes, for example. For the version I made for myself, I used Ovis Et Cetera's Herba yarn which is a beautiful blend of wool and ramie. I paired it with some white mohair/silk yarn from my stash.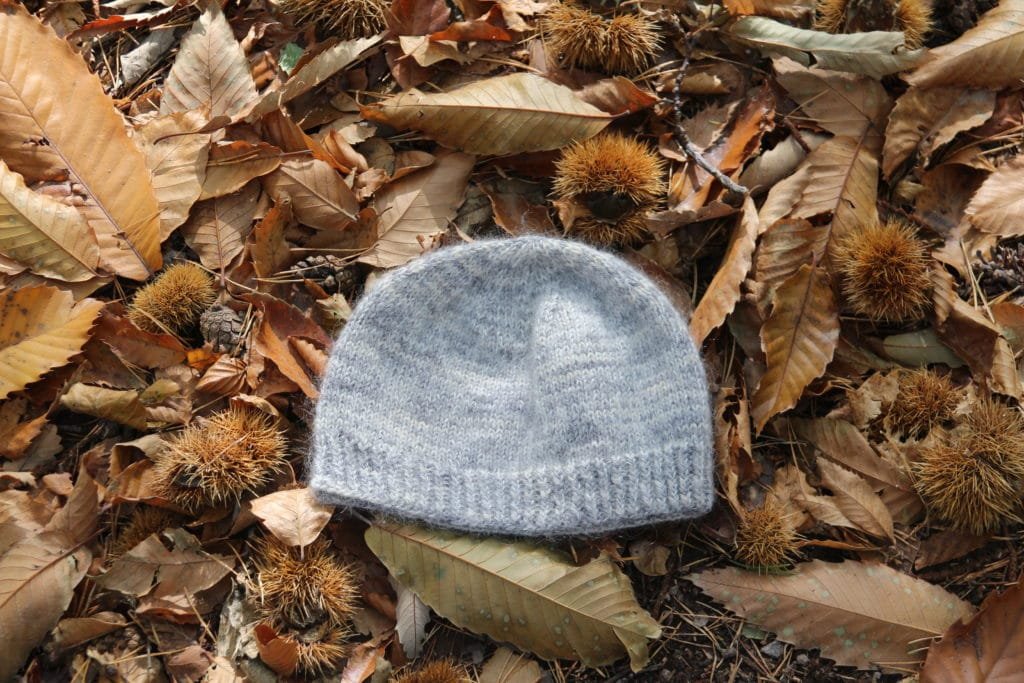 Easy Hat Knitting Patterns Recommendation #2: Trail 4 Hat
The Trail 4 Hat is another free pattern, written by Claire Borchardt. It features a folded brim and is originally written for three yarns held together to create a chunky yarn. So far, I have made two versions of this pattern, one for me and one for my husband. For my hat, I once more used some yarn from Ovis Et Cetera called Dimidium, another wool/ramie blend in a lovely marled shade of greyish blue.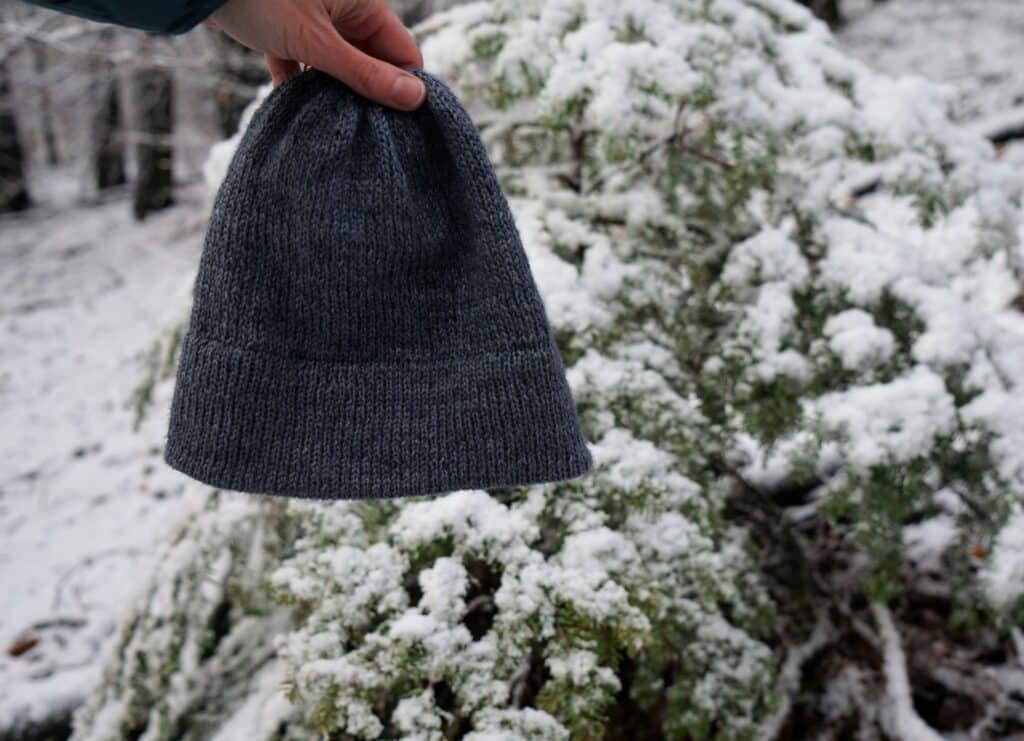 Easy Hat Knitting Patterns Recommendation #3: Schneeflöckchen
Schneeflöckchen is a hat pattern that I designed myself. It was published in December 2021 as part of Making Stories' annual winter celebration. It is available for purchase either on Ravelry or on the Making Stories website.
This simple and beginner-friendly colourwork hat is worked from the brim to the crown. The easy colourwork motif throughout the hat is reminiscent of snowfall and the pattern in the crown resembles a snowflake. The brim is worked as a double brim for extra warmth and comfort. The hat is fitted but could also be worked as a slouchy beanie by simply adding length to the body of the hat.
In general, the knitting pattern is suitable for beginner knitters. If you know how to knit in the round, purl and decrease and are open to learn some new techniques, you should be able to make the hat. There are two techniques involved that might seem a bit more challenging if you haven't done them before. Firstly, the pattern starts with a provisional cast on. This way you can create a folded brim for some added warmth and comfort. Secondly, there is some easy colorwork involved.
You can find tips and tricks for knitting the pattern and also some suggestions for possible modifications in this blog post.
The pattern is written for DK weight yarn. I made the sample using my own yarn, Rosemary & Pines Fiber Arts Luster Sock DK. It consists of organic, 100% German Merino wool. In case you would like to make your own version of this hat with the original yarn, you can find it in my Etsy shop. There is an option to purchase a white mini skein, then you can simply add a full skein in the color of your choice.
Pin It For Later: 3 Easy Hat Knitting Patterns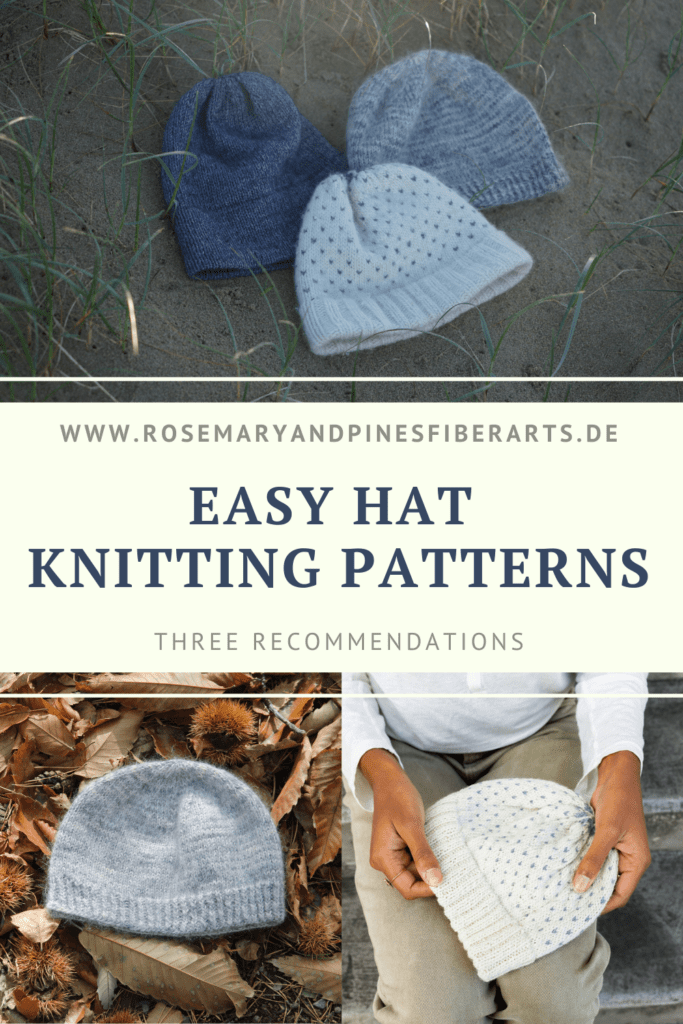 Do you like to knit hats as well? What are you favorite patterns? Come share in the comments!