Looking for an easy yoke sweater knitting pattern to snuggle up in during the upcoming fall and winter months? In this blogpost I will share three of my favorite patterns with you.
This post contains affiliate links. I may earn a small commission if you use these links, at no cost to you. As an Amazon Associate I earn from qualifying purchases. I only recommend products that I find value in myself. See my full disclosure here. Thank you for your support!
Garments – Perfect Fall & Winter Knitting Projects
With the days slowing getting cooler, the sun going up later and setting earlier and the leaves changing colors all around, fall is definitely here. As knitters, we have to start planning early to give ourselves enough lead time to finish our projects in time for the intended wearing season. After all, knitting is a slow process. And making your own garments simply takes time.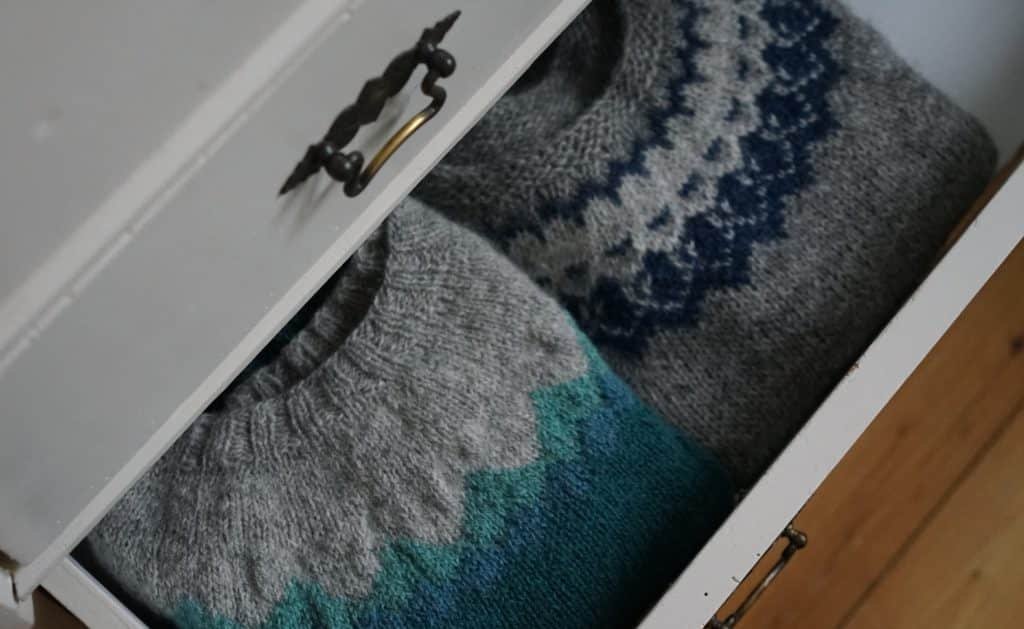 Sweater Knitting – Where It All Started
In the fall of 2017 I picked up my needles again after years of not knitting at all and began knitting nearly every day. The first project I wanted to tackle was to make myself a jumper. And not just a plain one, I set my mind on making a colorwork sweater. It felt a bit intimidating at first, but let me tell you, it was a lot easier than I anticipated. Even though I didn't have any experience with knitting colorwork or knowing anything about garment construction. So if I could do it, I think it is safe to say that a colorwork yoke sweater can be a suitable project even for a beginner knitter.
If you look for easy yoke sweater patterns on the internet, you will find a multitude of suggestions. This is why I decided to share three of my favorite yoke sweater patterns with you today. Just in case you might need some inspiration for your next garment project.
Easy Yoke Sweater Knitting Pattern #1: Strokkur by Ysolda Teague
Strokkur by Ysolda Teague is the sweater I told you about earlier. I was able to finish this project in less than two weeks even with my very limited knitting experience back then. It certainly helped that the pattern calls for an aran weight yarn.
I used the recommended yarn which is Léttlopi from Istex. If you like rustic yarns and haven't used Léttlopi before, you should definitely give it a try. Not only is it a beautiful yarn, it is also very cost effective. And I find it especially suiting for colorwork.
The needle I used for this project is a US 6 (4.00 mm) circular needle. I own a Chiaogoo Twist interchangeable needle set which I can recommend. But any needle of your preference in the right size is fine.
The sweater is knit bottom up and contains waist shaping. This makes for a beautiful fit. The colorwork part is rather short which makes it completely doable even if you haven't had any prior experience with knitting with more than one color at a time. I remember that I couldn't figure out how to knit with either two yarns in one hand or one strand of yarn in each hand. Thus I individually pick up one strand of yarn for each stitch. This took quite some time but since the colorwork part is only a couple of rounds it worked just fine.
Easy Yoke Sweater Knitting Pattern #2: SnowFlower by Heidi Kirrmaier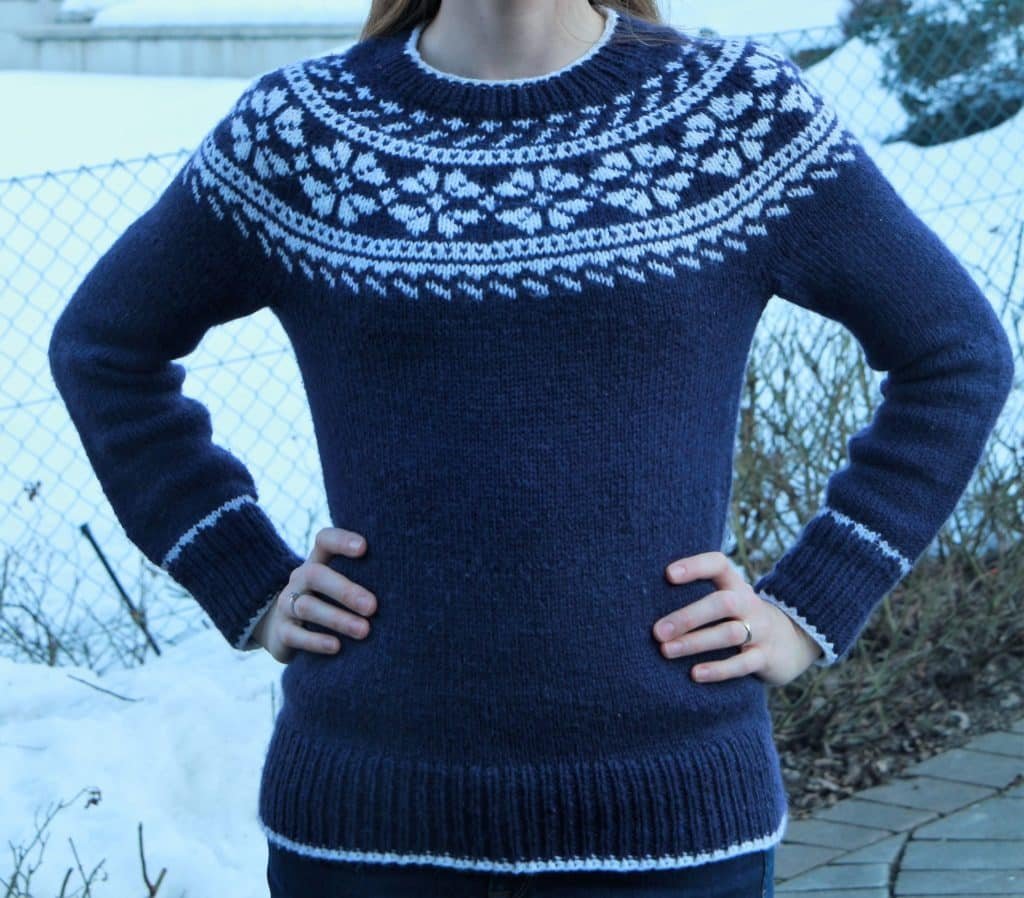 After successfully knitting Strokkur, I was ready to tackle another colorwork yoke sweater. I really like the design aesthetic of Heidi Kirrmaier and therefore decided to give her SnowFlower pattern a try. It is a little bit more advanced compared to Strokkur, because it starts with a provisional cast on. You knit the yoke part bottom up first, then pick up the live stitches from the provisional cast on and continue with the lower part of the sweater and the sleeves. They are worked top down.
I decided on a simple two color version but the pattern originally calls for one main and four contrast colors.
The needles I used for this project are a US 7 (4.50 mm) and a US 8 (5.0 mm) circular needle. I own a Chiaogoo Twist interchangeable needle set which I can recommend. But any needle of your preference in the right size is fine.
Easy Yoke Sweater Knitting Pattern #3: Mountain Mist by tincanknits
Mountain Mist is part of tincanknits Strange Brew book and it is essentially the reason why I bought the book. I think the pattern is so stunning yet simple at the same time. However, the book is well worth it in general. It contains several beautiful patterns and also instructions for creating your own yoke sweater pattern. I will definitely have to try this sometime in the future. If you have made a tincanknits pattern before, you know that their patterns always come with vast sizing options which is great. This means you can make a pattern in different sizes to fit your whole family.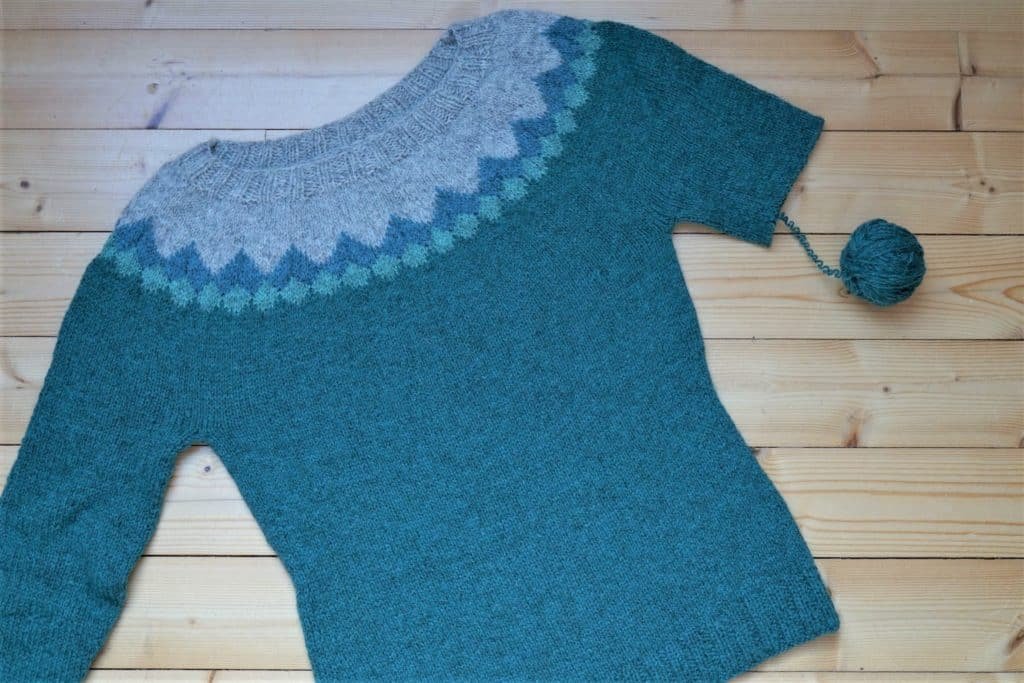 The yarn I used is Double Knit from Iona Wool. Since it is a DK weight yarn, I needed to rework the math for the pattern which is written for worsted weight. But the added effort was well worth it because the yarn is so wonderful and suits the pattern so well.
Iona Wool company is located on the isle of Iona which is part of the Hebrides of Scotland. The yarn is yet another rustic and simply beautiful yarn. And it comes in a number of lovely colorways.
For this sweater, I used a US 6 (4.00 mm) and a US 8 (5.0 mm) circular needle. I own a Chiaogoo Twist interchangeable needle set which I can recommend. But any needle of your preference in the right size is fine.
Sweater Knitting Tip: My Favorite Bind Off
When it comes to garment knitting, I used to struggle with the binding off part more than you would think. Oftentimes, the bind off would be too loose so that the hem would look wavy. Or it would be too tight which made it uncomfortable to put on and wear. Then I discovered the Icelandic bind off and have used it for every garment knitting project ever since. It is stretchy but firm at the same time. And it creates a lovely decorative edge. Here is a video from VeryPink Knits which shows you exactly how to knit the Icelandic bind off.
Pin It For Later: Easy Yoke Sweater Knitting Pattern (Three Favorites)
Do you like to knit colorwork yoke sweaters as well? What are your favorite patterns? Come share in the comments!
Looking for some more knitting inspiration? You can find more pattern, yarn and other knitting related suggestions in the knitting category of my website.
Did you find this blog post valuable or helpful? If so, you can support my website by buying me a coffee below, purchasing my knitting patterns or yarns or simply by leaving a comment. Thank you!