Today's post is going to be focused around fiber craft gift ideas for creative kids. I usually talk about handmade gifts you can make yourself to gift to others. This post is going to be a bit different. But I hope it will be helpful and interesting nonetheless.
This post contains affiliate links. I may earn a small commission if you use these links, at no cost to you. As an Amazon Associate I earn from qualifying purchases. I only recommend products that I find value in myself. See my full disclosure here. Thank you for your support!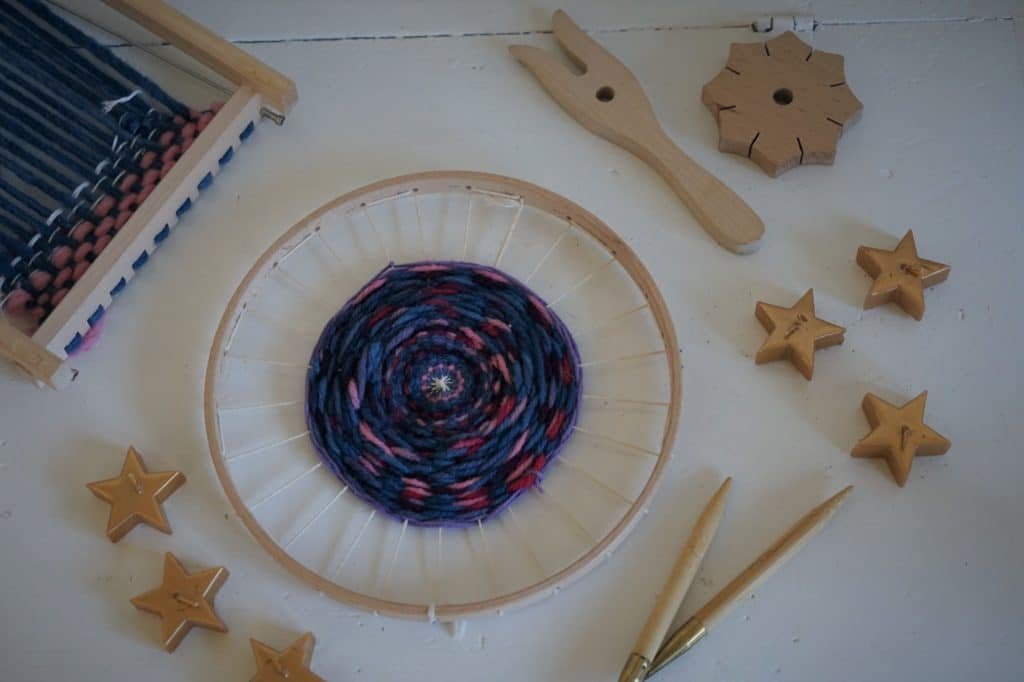 My kids are used to seeing me create something with my hands every day. Since they have been babies, I have constantly been around them either with my knitting needles, sewing machine or whatever fiber craft you can think of. They are always interested in my projects and want to learn new skills.
Unfortunately, fiber crafts aren't comprehensively taught in school anymore. At least not here in Germany. And since not only my own kids but also their friends are so interested and keen to learn these handcrafts, I want to share some gift ideas for different fiber crafts with you. Some of them will be suitable for younger kids (age 4 and up) while others are a bit more elaborate and more appropriate for children that are already in school (age 6 and up).
What are the Benefits of Arts and Crafts for Kids?
Fiber arts are a great way to strengthen the fine motor skills of children. Fostering creativity and the power of concentration are further benefits. And in my opinion, sharing an interest with your children or grandchildren is also very beneficial for your relationship.
Fiber Craft Gift Ideas for Creative Kids
I am going to mention the fiber craft ideas in an order roughly from easiest to more difficult. For each suggestion, I include a recommendation for the age group. Please note that this is highly dependent on the specific child, though. Some kids are very careful and skillful already at a young age while others might need some assistance.
Weaving Loom
My daughter owns a round loom similar to this one. If you assist with the threading, I find this circular version quite simple to use, even for kids who are not yet in school (age 4 and up). You only have to be a bit careful with the handling of the needle. And you should always use a needle with a rounded tip.
This peg loom from Harrisville Designs I chose as an example for a rectangular loom is recommended for age 6 and up. It contains a needle as well. But there are also other looms available, like this one, which don't require the handling of a needle at all.
Knitting Fork / Lucet
Using a knitting fork (also called lucet) will create a knitted braid or cord. You will need a relatively thick yarn that wraps easily around the fork. Learning the motion can seem a bit tricky at first. But once the child gets the hang of it, it most likely will be able to use the knitting fork on it's own. I would recommend it for kids age 4 and up.
Knotted Friendship Bracelets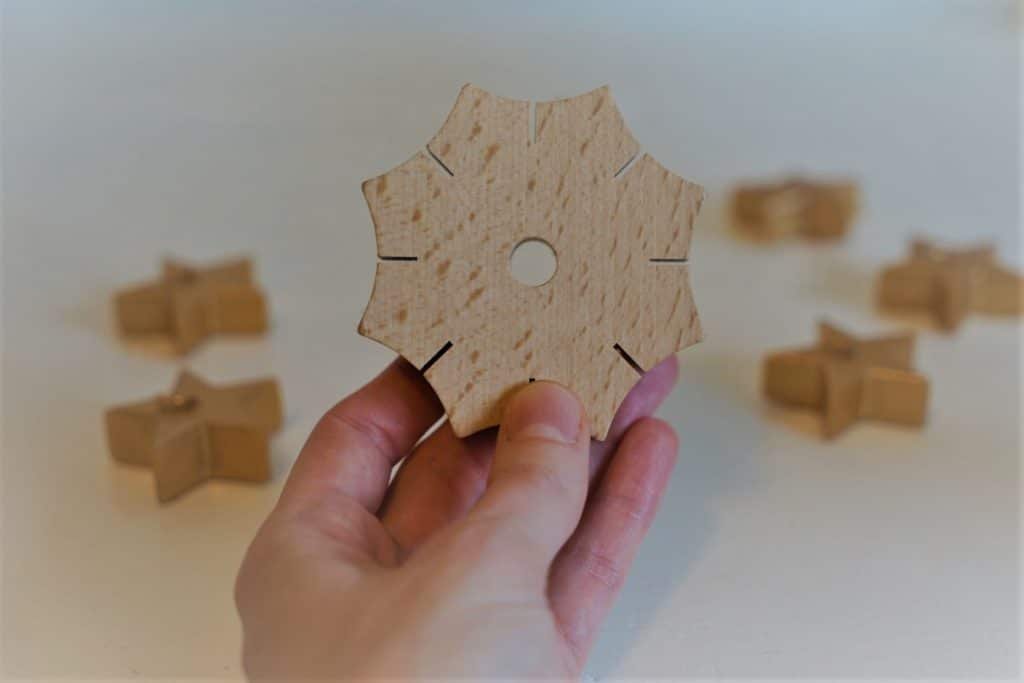 I can remember that knotted friendship bracelets were a huge thing back in the 90s, at least here in Germany. And it looks like they have made a comeback. This wooden device is called Knüpfstern in German (to be honest, I wasn't able to find a proper English translation – let me know if you know the English term). It creates a kind of fine cord which can be gifted as a friendship bracelet. Similar to the knitting fork, you have to show your kids the cycle of motion and assist them until they have internalized it. It is a bit trickier to handle than the knitting fork, therefore I would gift this to a kid who is at least 6 years or older.
There is of course also the possibility to create a knotted friendship bracelet without the help of any additional advice. I found this DIY kit on Etsy which comes with the floss, pattern descriptions and some charms.
Crochet
Learning how to crochet should be feasible for children about the age of 6 and up. The definite advantage of crochet is the lack of sharp needles. For beginners, it always makes sense to start practicing with a chunkier yarn. This set comes with five different pattern suggestions as well as accompanying videos and everything you need to make a crochet scarf.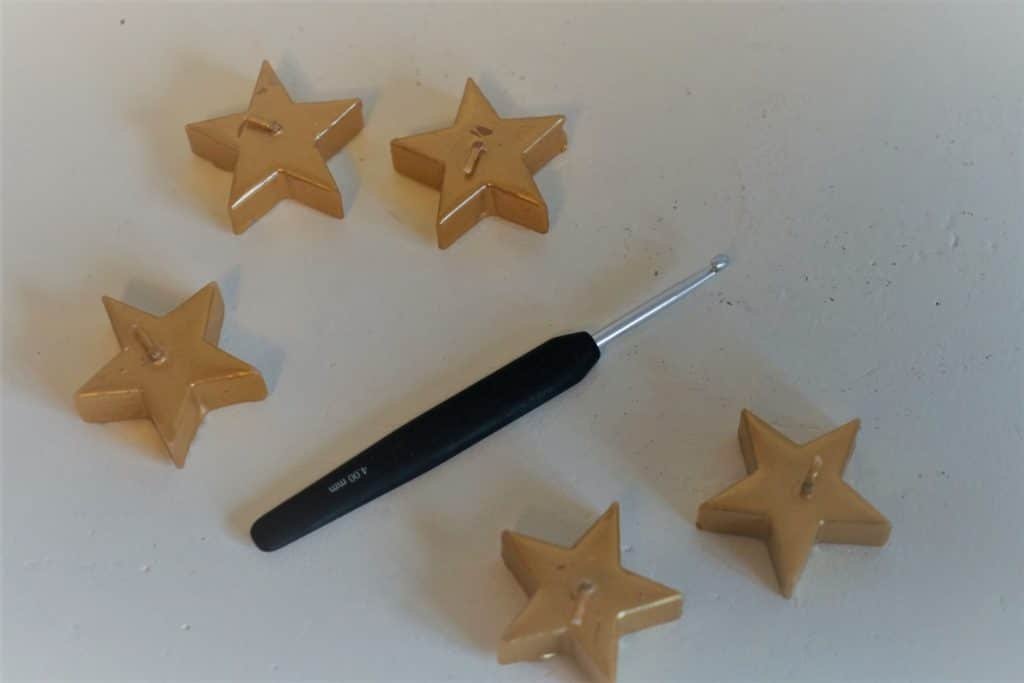 For kids who are already a bit older (about 10 and up) or might have some previous crochet experience, this amigurumi crochet doll is a very cute option. You can choose if you want the set to come with or without a crochet hook.
Knitting
Similar to crochet, I would recommend teaching children how to knit when they have started school. I have read here that kids are able to learn how to knit around the age of five six. From my experience, getting the hang of the motion can be rather tricky and requires a lot of perseverance on the child's side at the beginning.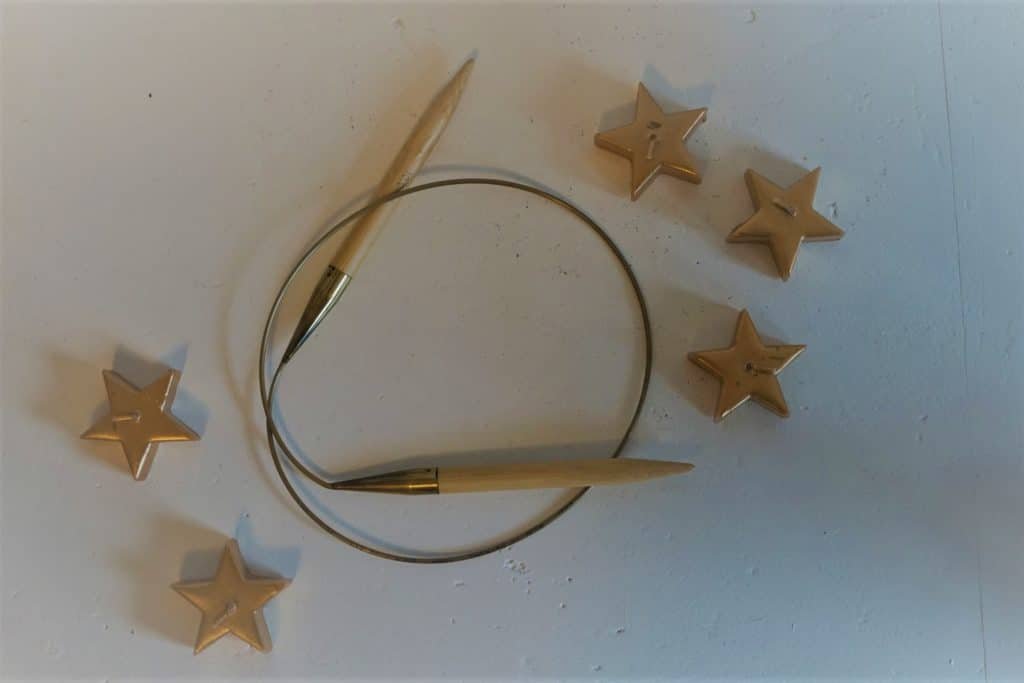 To start out, I recommend choosing a worsted or aran weight yarn and start by practicing knit and purl stitches. A garter dishcloth or a small doll blanket would be great beginner projects.
Embroidery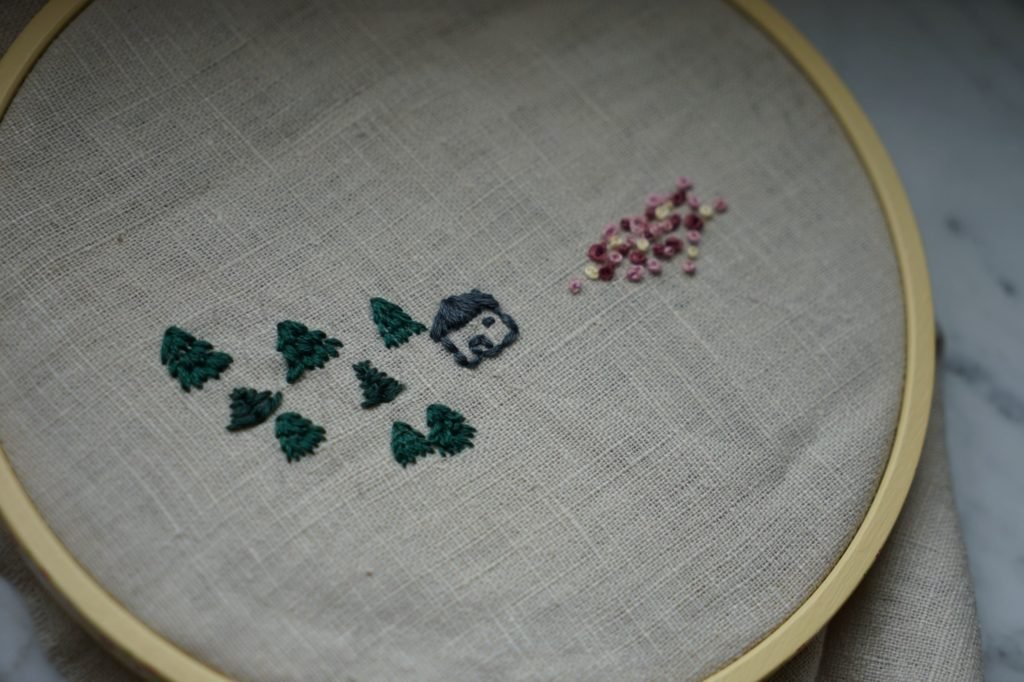 If you are looking for a very basic stitching project for younger kids (age 4 and up) that doesn't require a needle, lacing cards are a great option.
My older daughter who is almost eight has recently started to do some basic embroidery stitches. I think that a DIY set with some simple embroidery stitches like this fox set or even this jellyfish or this unicorn would be completely doable for children her age group.
Cross Stitch
Similar to embroidery, I think that cross stitch is a suitable project for kids who are already in school (age 6 and up). I found this set with three cute Christmas motives on Etsy. The projects look a bit more elaborate though, therefore I would only gift this to a patient child.
Here is one more cross stitch DIY set idea for a fox that can be stitched onto a piece of clothing.
Punch Needle Kits
For my own kids (ages 6 and almost 8), I have ordered two of these kits as Christmas presents this year. Unfortunately, they have not yet arrived. Apparently, it is a mixture of punch needle work and embroidery. I am very curious to see how it will work out.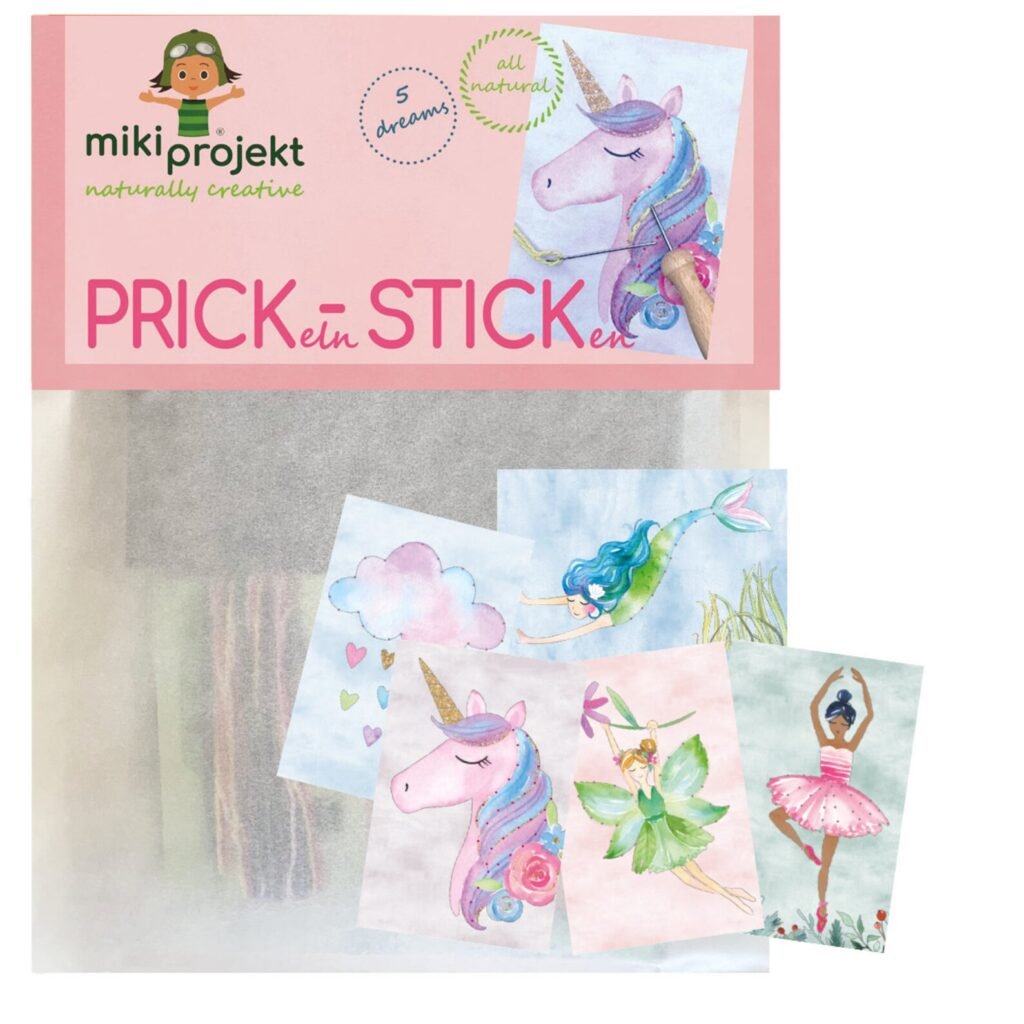 Here is an example for a classic DIY punch needle set which contains an embroidery hoop, a punch needle and everything else you need to complete the project. And if you are looking for a gift for a girl that likes unicorns, this might be a suitable set.
Since punch needles are rather sharp, I recommend that you don't leave the children unsupervised while they are working on the project. Personally, I would feel comfortable with a craft like this for kids ages at least 5 and up.
Felting
For younger kids (age 3 and up), wet felting is a great way to experiment with wool fibers. It doesn't require the handling of any needles, you simply need warm soapy water. This set allows the kids to create colourful and unique geodes. To me, it looks like the perfect set for beginner felters.
Needle felting has been on my bucket list for the longest time. Since there are sharp needles involved, similar to the punch needle kit suggestions above, I would recommend making this a joint activity with your children.
This is a set for a super cute baby penguin. According to the reviews, there is enough wool in the set to make a second, smaller penguin as well.
Those are my fiber craft gift suggestions for children. Let me know in the comments if you have additional ideas, I would love to know!
Pin It For Later: Fiber Craft Gift Ideas for Creative Kids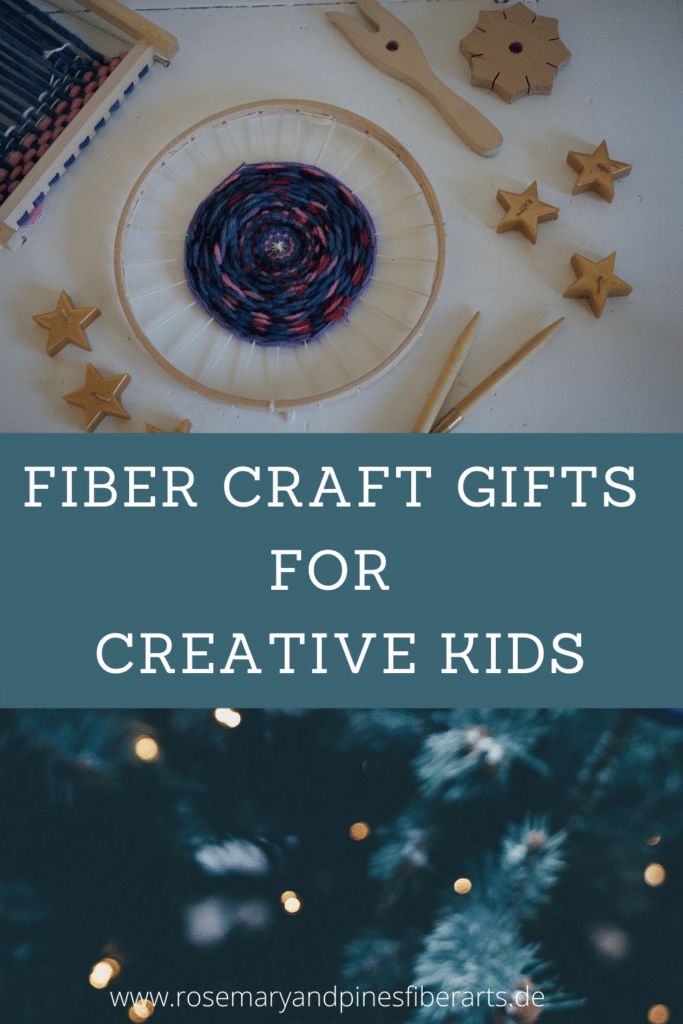 Did you find this blog post valuable or helpful? If so, you can support my website by buying me a coffee below, purchasing my knitting patterns or yarns or simply by leaving a comment. Thank you!