Happiness All Around Socks knitting pattern, published in October 2023
You can find my knitting patterns on Ravelry and Lovecrafts. If you click on the links or on one of the pictures below, you will be directed to the knitting pattern pages where you can purchase the patterns. You also have the option to purchase the knitting pattern directly (via PayPal): buy now
This post contains affiliate links. I may earn a small commission if you use these links, at no cost to you. And I only recommend products that I find value in myself. See my full disclosure here. Thank you for your support!
Inspiration:
The Happiness All Around Socks were designed to be easy and fun to knit. They are comfortable to wear and a versatile wardrobe staple. The adaptability of the pattern also makes them great for gift knitting. The name comes from an instrumental song by Audiosphere which is just as elated and uplifting as I hope knitting these socks will make you feel.
Description:
The socks are worked cuff down and contain a rib pattern all throughout. The heel is worked in a classic heel flap and gusset construction. This simplistic pattern lets every kind of yarn shine, from monochromatic colorways to speckled yarns. It is a great project for the beginner sock knitter.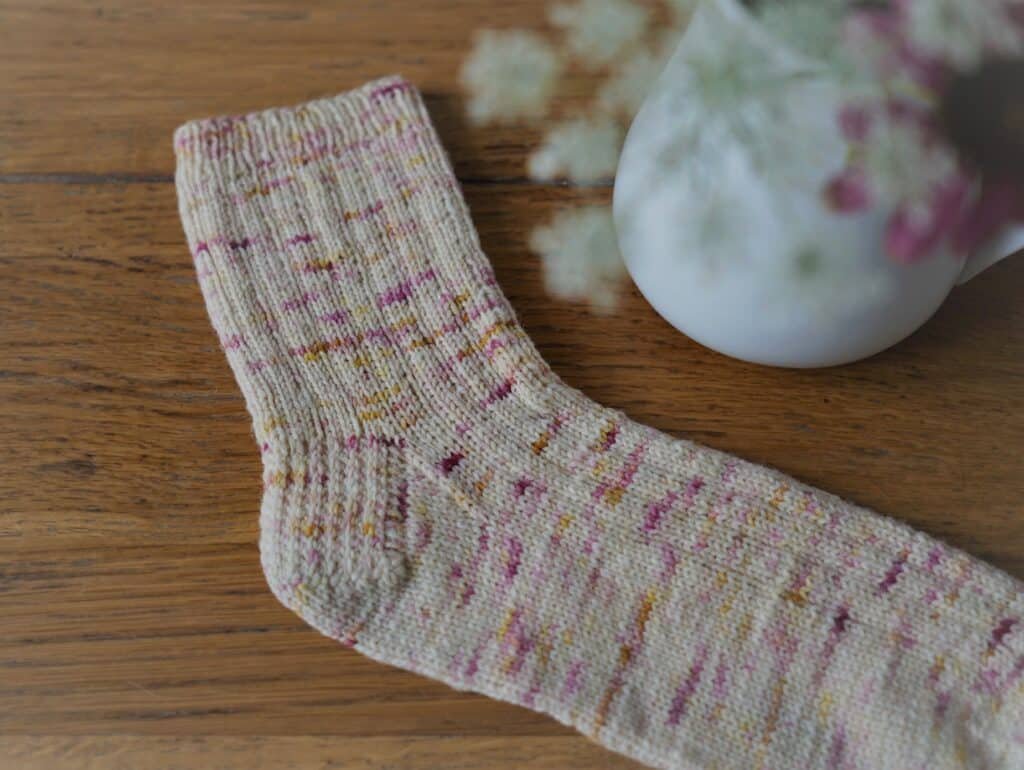 Yarn:
Rosemary & Pines Fiber Arts "Merino Lino", 100 g
colorways "Afterglow" (sample 1)
and "By the Ocean" (sample 2)
85% German Merino wool, 15% linen
400 m/437 yards per 100 g skein

estimated yardage (depending on size and foot length):
100 g or 400 m/437 yards in total
(sample in size S with a US women's size 8.5 or EU 39
uses 65 g)
Sizes:
Adult XS, S, M, L
with an ankle width of about 6/6.5/6.75/7.25 inches or 15/16/17/18 cm (unstretched). Due to the stretchy effect of ribbing the sock can comfortably accommodate an ankle circumference up to 9/9.5/9.75/10.25 inches or 23/24/25/26 cm.
Gauge:
36 stitches x 46 rounds in k3, p1 rib
32 stitches x 46 rounds in stockinette
(measured in the round over 4 inches or 10 centimeters, after blocking)
Before casting on please make sure to knit a swatch to check if your gauge is correct. If your gauge is off, consider knitting a different size or using different needles.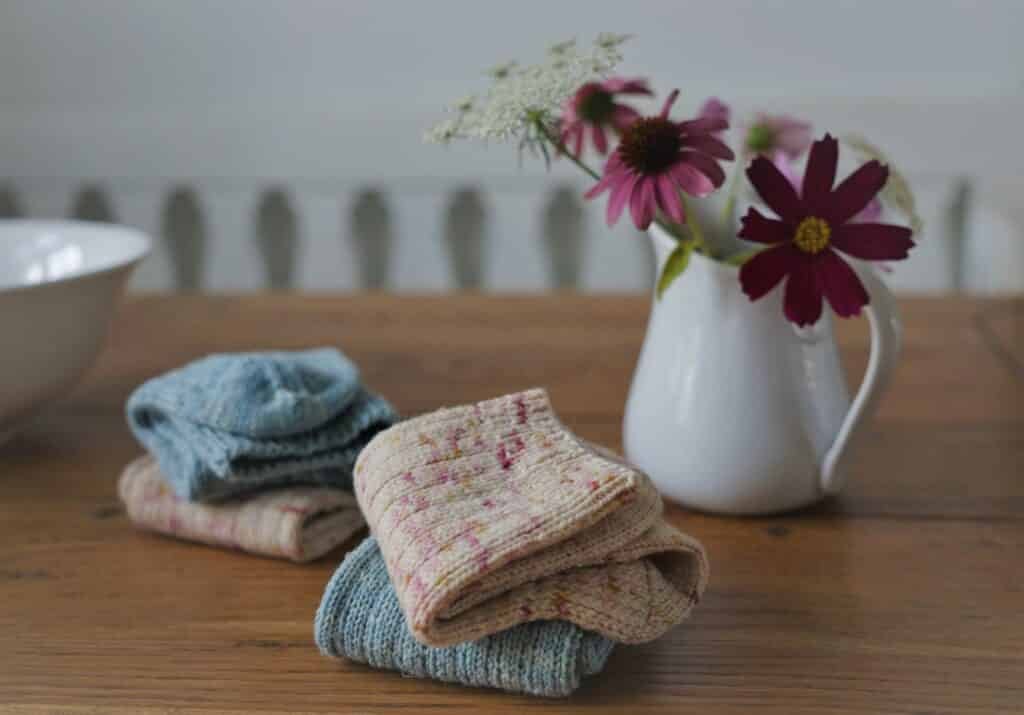 Are you interested in more of my knitting patterns? You can find the complete overview here.