Today I want to share how to make elderflower syrup with you. This is for sure one of my favorite homemade recipes. It is very simple and tastes delicious. It also makes for a great gift.
This post contains affiliate links. I may earn a small commission if you use these links, at no cost to you. As an Amazon Associate I earn from qualifying purchases. I only recommend products that I find value in myself. See my full disclosure here. Thank you for your support!
Elder (Sambucus) is one of the plants that grow wild in abundance in the area where I live. Not only is it a beautiful plant to grow in the garden, its different parts can also be used in multiple ways. I have already talked about the natural dyeing qualities of the bark and leaves in this blog post.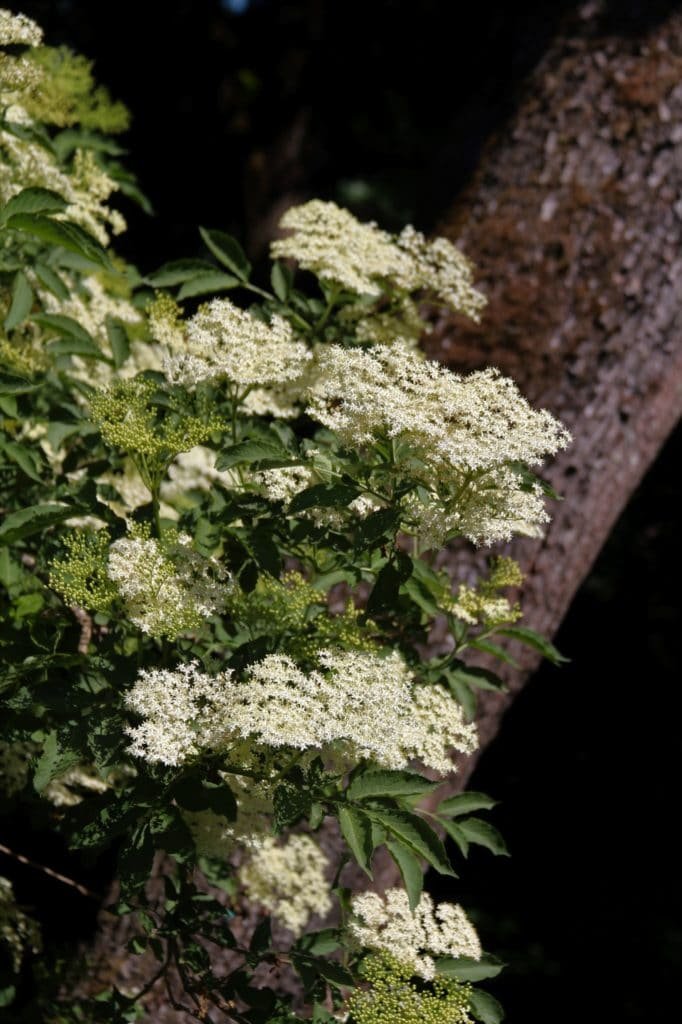 The elderberries can also be utilized in various ways, including elderberry jelly and juice. I haven't done this myself yet but I would love to process some elderberries once they are ripe this year.
My friend Anja over at Our Gabled Home has a blogpost about how to make elderberry juice which you can find here. She also wrote a post about homemade elberberry jam.
Alright, back to the elderflower syrup now.
How to Make Elderflower Syrup (Cordial)
The main ingredient is, of course, elderflowers. I usually pick them early in the morning when they are not yet droopy and worn out by the sun. I make sure to only pick a few umbels from each tree and look for the ones that are free of insects and other pollutants. Besides the umbels you only need a lemon, citric acid, sugar and water.
Ingredients
| | |
| --- | --- |
| 25 | elderflower umbels |
| 1 | lemon |
| 25 g (1/8 cup) | citric acid |
| 1000 g (5 cups) | sugar |
| 1000 ml (34 oz) | water |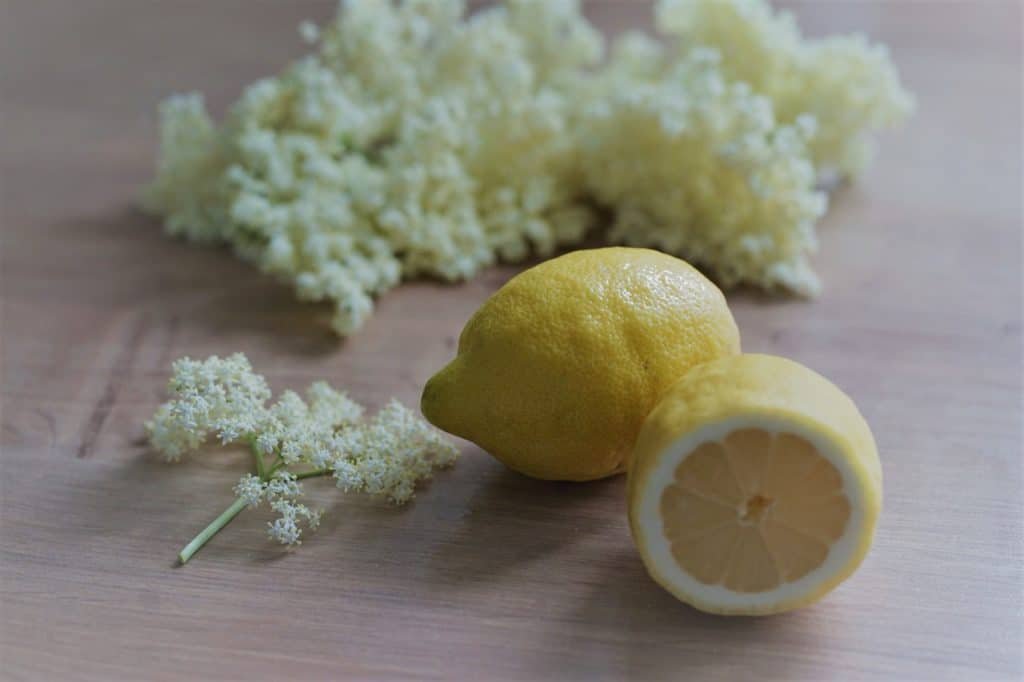 Tools
| | |
| --- | --- |
| pot | to boil the syrup and sterilize the glass bottles |
| bowl with a lid | to keep the syrup in before bottling |
| sieve | to strain off the elderflowers and citrus, to fill the syrup into the bottles |
| glass bottles | to store the syrup. We us swing top glass bottles similar to these ones. |
Instructions
After you have cut the elderflower umbels, they need to be cleaned carefully. You want to make sure not to wash off all the pollen. You can either plunge the umbels in a bowl of water or simply shake them out lightly.
Wash the lemon and cut it into thin slices. Put the elderflower umbels in a large bowl and lay the lemon slices on top.
Mix water, sugar and citric acid in a pot and bring it to a boil. Let it boil for five minutes.
Pour the hot liquid over the elderflowers and lemons. Put the lid on the bowl and let it sit for three days. Gently stir the mixture once per day.
On day three, pour the liquid through a sieve and into a pot to remove the elderflowers and lemon. Bring the mixture to a boil and let it boil for ten minutes.
Preparing the glass bottles:
The glass bottles have to be sterilized before bottling the syrup. Put the bottles, lids and rubber bands in a large pot filled with water. Then bring it to a boil and let it boil for ten minutes. In order not to contaminate the sterilized bottles afterwards, only touch them on the outside when taking them out of the pot.
Fill the hot syrup into the bottles and close them up immediately.
The elderflower syrup should be stored in a dark place. Due to its high sugar content, it is stable for at least a year, usually a lot longer. If you open a bottle, you should keep it in the fridge afterwards.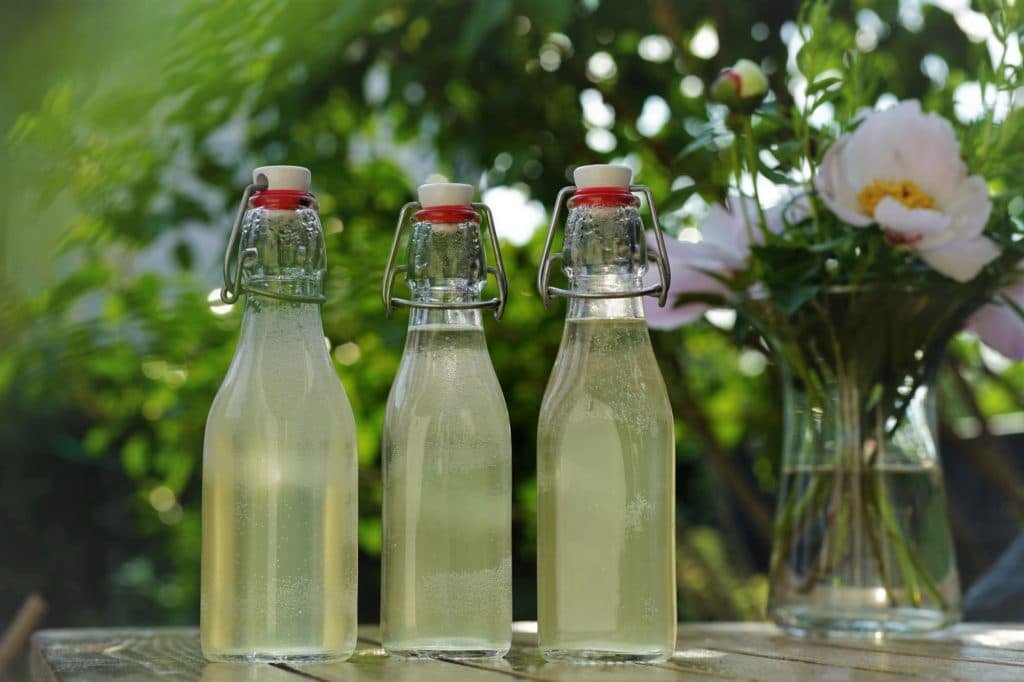 How to Use Elderflower Syrup
Elderflower syrup tastes delicious in drinks. If you like cocktails, you should definitely try using it to make "Hugo". You will need a shot of elderflower syrup, sparkling water, sparkling wine, a slice of lemon or lime, a few peppermint leaves and some ice.
For a non-alcoholic version, you can use a dram of elderflower syrup and simply fill it up with plain or sparkling water. Add some ice and you have a refreshing beverage with a sweet flowery taste.
You can also use elderflower syrup to sweeten desserts or to add it to ice cream.
Have you made something with elderflowers or elderberries yourself before? Come share in the comments!
Pin It For Later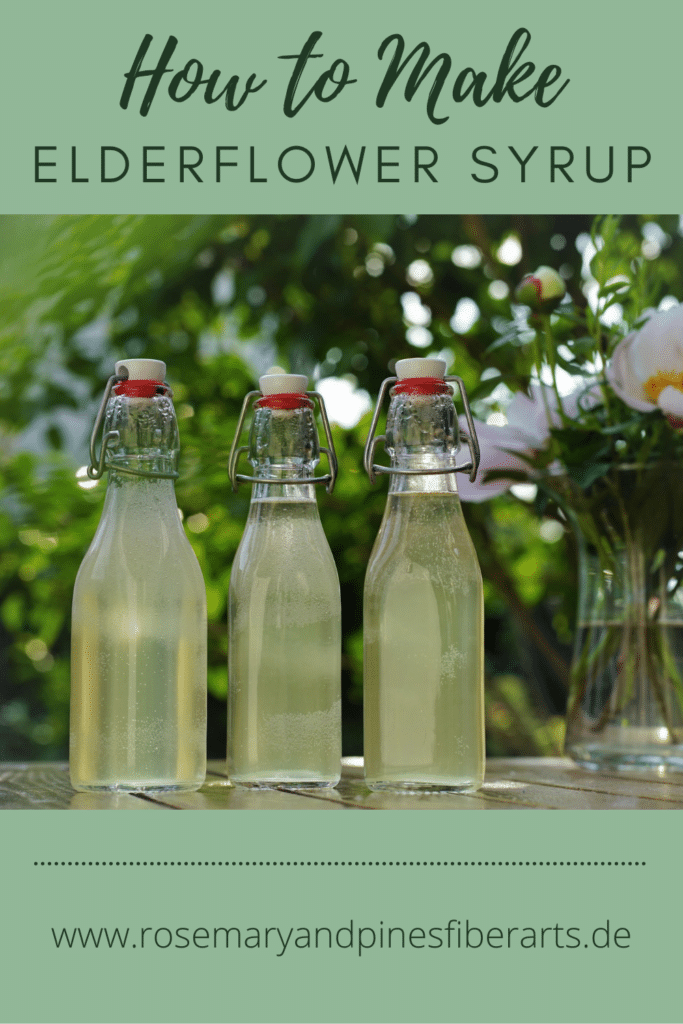 Did you find this blog post valuable or helpful? If so, you can support my website by buying me a coffee below, purchasing my knitting patterns or yarns or simply by leaving a comment. Thank you!