Have you ever wondered how to write and self-publish knitting patterns? In this post I will walk you through the whole process step by step and share what I know about designing and releasing a knitting pattern. We will see how long this post will get. I might break it up into several parts in order to have a closer look at some stages of the process. Let's start with a general outline.
Update (September 10, 2021): You can find the second part here.
How to Write and Self-Publish Knitting Patterns
Part I:
Inspiration
Choosing a Design Idea
Choosing the Yarn
Swatching
Knitting the Sample
Writing the Pattern
Part II:
Choosing a Name
Tech Editing
Test Knitting
Taking Pictures
Publishing
Promoting
Copyright
1. Inspiration
The first thing you need is a design idea. Since inspiration sometimes strikes at the weirdest times, I suggest that you keep a notebook with you to draw a quick sketch and write some notes whenever you get a new idea in your head. For me, this is often the case when I am already in bed at night, trying to fall asleep. I always make sure to make a note of the idea though in order not to forget it overnight. If you envision your design in a specific color or with a certain yarn, make sure to add those specifics as well. At this stage, your main goal is simply to collect ideas. The selection of the design ideas that are suitable for publishing will be part of the next step.
2. Choosing a Design Idea
If you have never published a knitting pattern before, choose your first design wisely. While you might have a ton of ideas for sweater patterns, publishing a garment pattern that requires a certain fit and grading into different sizes is a huge challenge. I suggest that you start with a pattern that only comes in one size and therefore doesn't require any grading at all. Shawls, wraps, scarfs or blankets come to mind here.
The first knitting pattern I published almost two years was a wrap, called the Losing Sight of Shore Wrap. It has a relatively simple stitch pattern that didn't require a complex chart and only comes in one size.
3. Choosing the Yarn
I suggest picking yarn that you have used before and are familiar with. It also makes sense to already think about how you would like to photograph the design and in which season you will publish it. For example, if you want to design a cozy shawl for the colder months, you could use a DK weight or thicker yarn in a fall color and photograph it when the leaves are starting to change their colors.
It is possible for knitwear designers to get yarn support from certain brands and indie dyers in order to keep the upfront costs lower. If you have never published a knitting pattern before it will probably be difficult for you to get yarn support though and the effort to ask for it might not be worth it. However, if you already have a certain following on social media or a blog, it might not hurt to reach out to the dyer or yarn company.
Either way, I encourage you to inform the yarn dyer or company that you are writing and publishing a knitting pattern using their yarn. They are often happy to share a picture of your design, for example in their Instagram stories. This will help you to let more people know about your new pattern.
4. Swatching
Now it is time for swatching. Creating large swatches of all of the stitch patterns you are planning to use as well as a swatch in stockinette stitch is very important. It also makes sense to try out different needle sizes and see which one creates the fabric you are looking for. Make detailed notes about the swatches – ideally measure the gauge before and after blocking – and take your time with this part of the process. The gauge decision is the basis for your whole design.
5. Knitting the Sample
This step and the next step which is writing up the pattern are interchangeable and depend on your personal preference. Whenever I create a new design, I knit up the sample first and make detailed notes along the way. Other people prefer to write the complete pattern first and then "test" their own pattern by knitting the sample. Do whatever works best for you.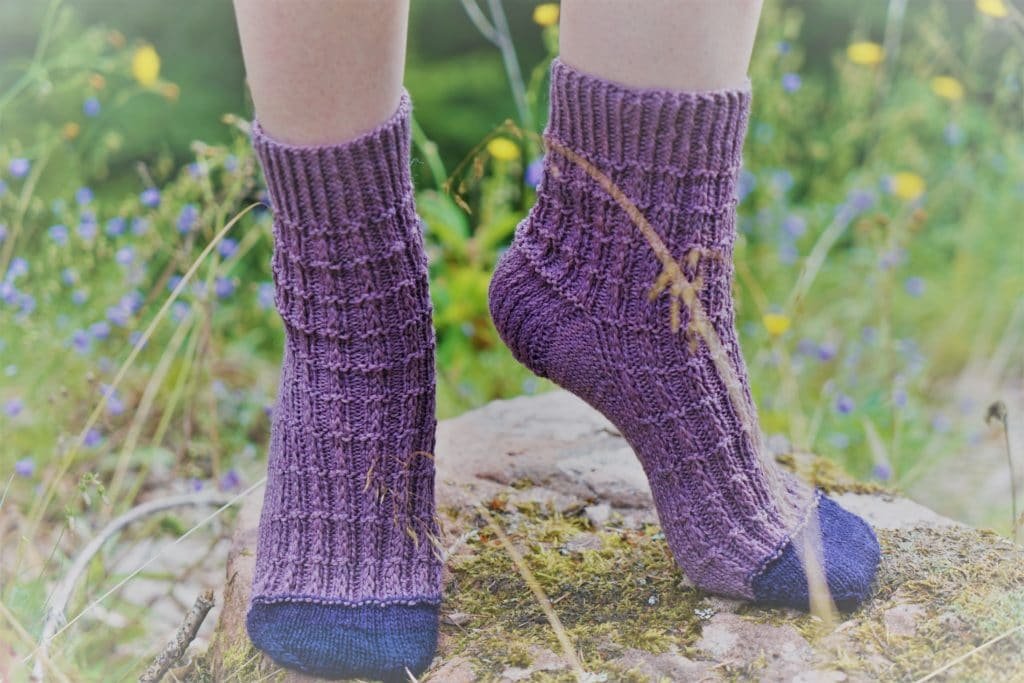 Either way, it is crucial to take very thorough notes during this step. Make sure to note the weight of the yarn before you begin knitting. Write down everything that seems noteworthy. If you are changing the stitch count through increasing or decreasing, for example, make sure to note the number of stitches after the respective row.
For me, there is at least one part in each design where I don't write something down because I think I will easily remember it and still manage to forget it later on. Then I have to figure it out backwards which takes a lot more time than it would have if I would have taken the time to write it down in the first place.
6. Writing the Pattern
Now it is time to write the pattern in a somewhat standardized way so that other knitters are able to understand it and knit your design the way you intended it. If you are creating your first knitting pattern it takes some work to create a template for this. Afterwards it becomes much easier because you can re-use your template.
You have to think through all of the information that has to be part of the pattern. I suggest you take a knitting pattern from an established designer that you like the structure of and see what kind of information it contains. Another great resource is the book "The Beginner's Guide to Writing Knitting Patterns" from Kate Atherley. She walks you through the setup of a knitting pattern which I found very helpful when I was writing my first pattern.
In summary, the pattern should include
an introduction of the design and some words about your inspiration
information on the required techniques
details about the yarn and yardage
sizing information and a sketch (if applicable)
some pattern notes (if needed)
a copyright statement and the date
pictures of your design from different angles and some detailed shots
and, of course, the written pattern instructions.
Since this is already a rather long post, I will end things here and write a part II about the remaining steps. Stay tuned for part II of how to write and self-publish knitting patterns, coming up next week!
If you would like to have a look at the knitting patterns I have self-published so far, you can find them here and on Ravelry.
Pin It For Later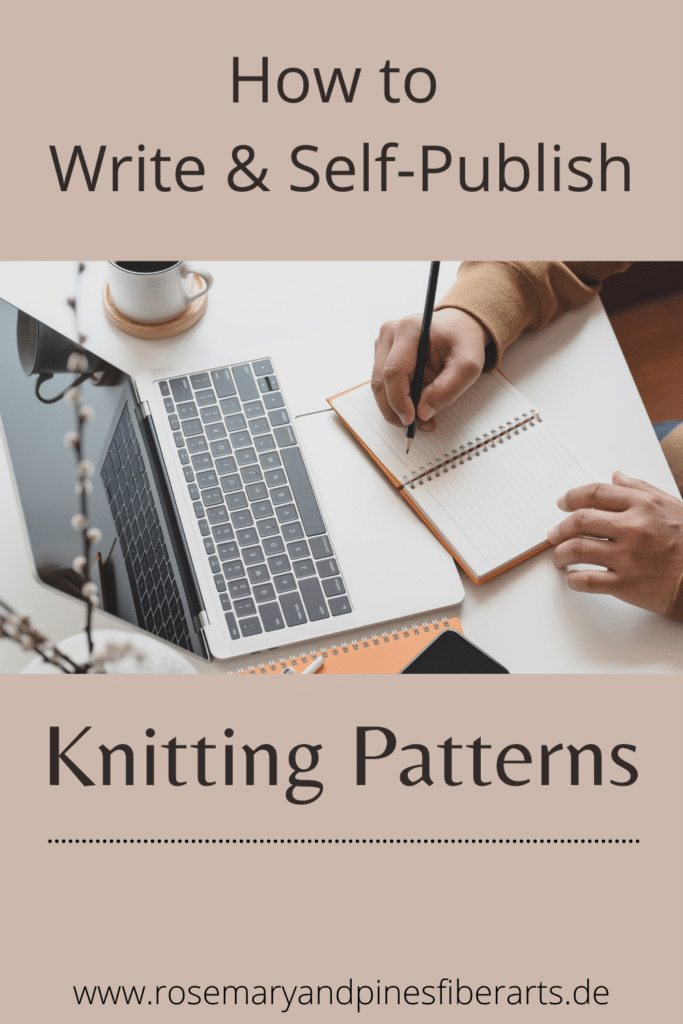 Did you find this blog post valuable or helpful? If so, you can support my website by buying me a coffee below, purchasing my knitting patterns or yarns or simply by leaving a comment. Thank you!