In today's world, knitting with all natural sock yarn is a bit unusual. Yarn brands generally offer a merino/nylon blend for sock knitting, in most cases with a superwash treatment on top. The nylon is added to increase stability and the superwash treatment provides the convenience to simply throw your handknittted socks into the washing machine along with the rest of the laundry. Who has the time to take special care of wool socks, right? In addition, socks with nylon content have a reputation for being more durable.
All Natural Sock Yarn vs. Nylon/Superwash Yarn
But Nylon wasn't invented until 1935 [1]. Therefore people must have been knitting and using all natural socks for hundreds of years. Considering the fact that knitted socks have been present since at least the 11th century [2]: Is this an indicator that it is very well possible to knit sturdy, lasting socks without any synthetic content?
From my experience, knitting with all natural sock yarn is definitely possible and not inferior to nylon/superwash sock yarn in any way. And there is so much more to consider than durability when choosing a sock yarn.
Nylon is a class of synthetic polymers which are, in fact, plastic [3]. And the superwash treatment is usually done with a coating of polymer or resin or an acid bath to remove the scales of the fibers [4]. It prevents the wool from felting. But this also means that the wool loses some of its natural properties and gets covered in plastic. It is therefore not biodegradable anymore.
Therefore, if the environmental impact of your consumer habits is something that is important to you, it makes sense to be aware of the properties and life cycle of the products you purchase.
Why I only use all natural fibers
Personally, I have been on a mission to lower the waste and overall consumption of my family since 2015. If you are interested in a bit more details, you can have a look at my About page.
Years ago, I decided to avoid using synthetic materials in our clothing whenever possible and started using exclusively natural fibers for my knitting.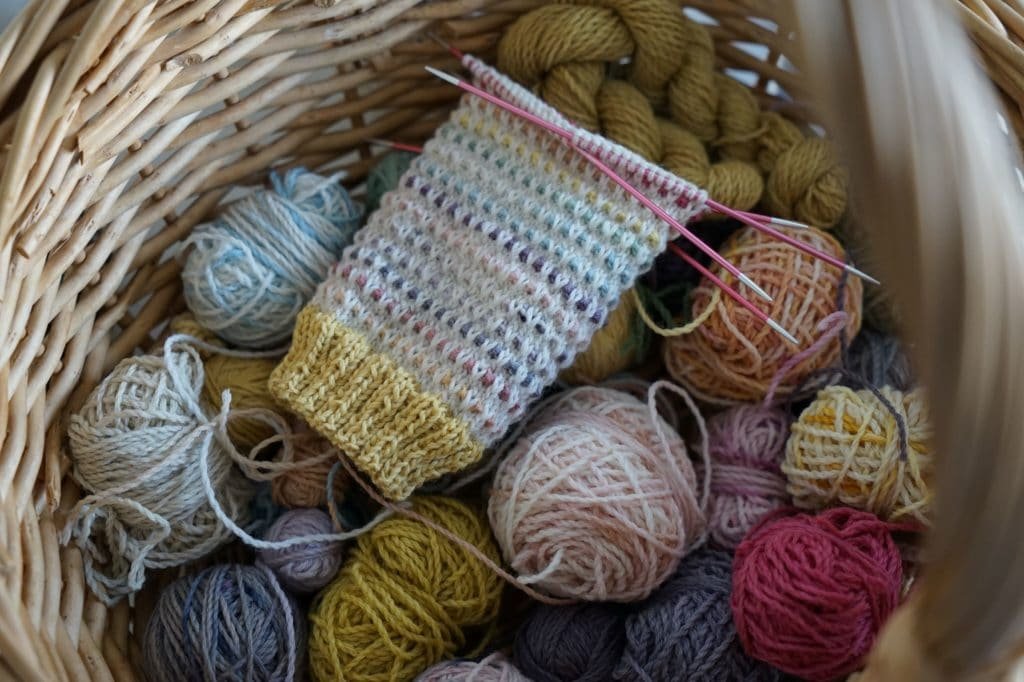 When I founded Rosemary & Pines Fiber Arts in 2019, it was obvious and very important to me to only ever offer all natural yarns in my Etsy shop. If you are interested, you can read more about the properties of my yarns here.
Tips for Knitting with All Natural Sock Yarn
Alright, assuming that I have convinced you by now to give all natural sock yarns a try, onto the tips.
#1 Gauge
My number one tip is to knit all natural sock yarn with a tight gauge to increase stability.
For example, both of my sock yarn bases are DK weight (250 m or 273 yd /100 g). Luster Sock DK is a bit finer and I generally knit it with a 2.0 mm (US 0) needle. Classic Sock DK is plumper and I usually use a 2.5 mm (US 1.5) or 3.0 mm (US 2.5) needle for it. Granted, I am a loose knitter and I knit continental style which tends to be a little looser anyway. You will have to experiment a bit for yourself and see how low in needle size you can go to still be comfortable while knitting and achieve a stable but not overly tight fabric.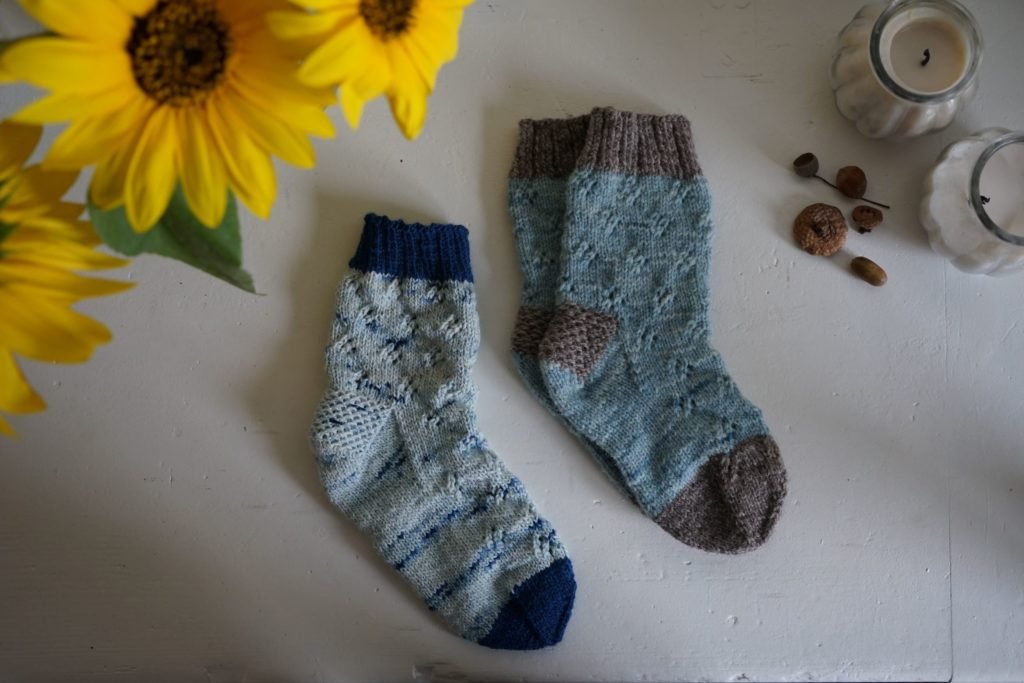 #2 Spinning
Not all yarns are suitable for sock knitting. If you choose an all natural sock yarn, you want to look for a yarn that is either spun with a high twist or with a multitude of plies to increase stability. Generally speaking, the more plies you add to a yarn, the more hard-wearing it will be.
For example, the Classic Sock DK yarn base that I offer in my shop is spun in a way where a mix of longer and shorter fibers are spun into one strand. Afterwards it is tightly plied with two other strands.
My Luster Sock DK base, on the other hand, consists of a 4ply yarn which gets plied again to achieve an 8ply yarn.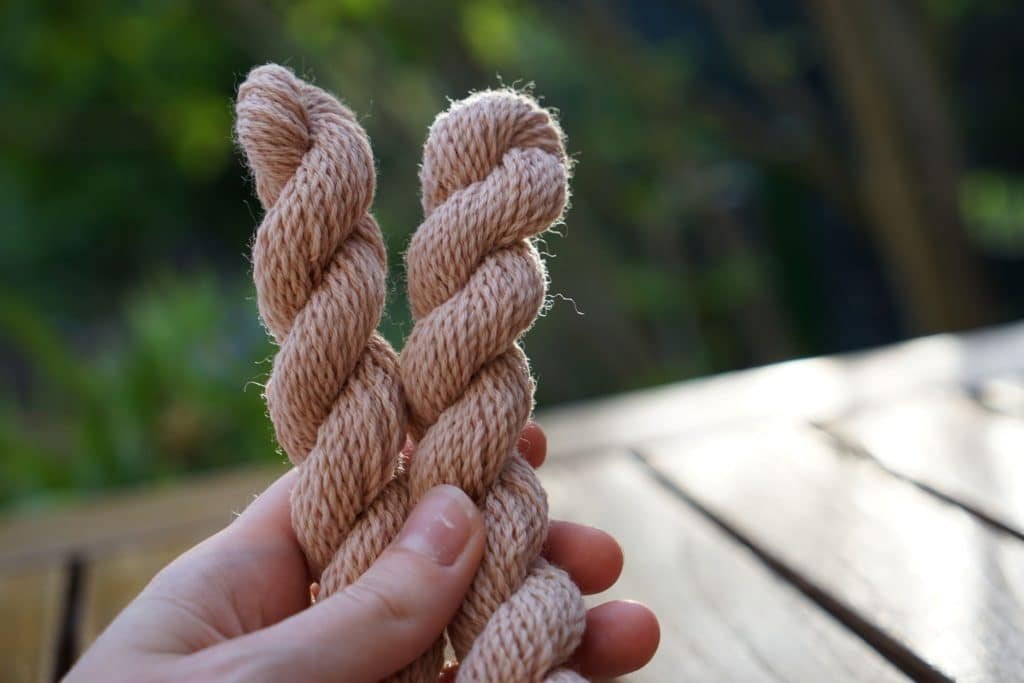 #3 Fiber Content
Choosing the right kind of fiber for sock knitting makes a huge difference. First, let's differentiate between protein fibers like wool and cellulose fibers like cotton.
Protein Fibers
Sheep, goats, camels and rabbits all produce protein fibers. Some of them are more suitable for sock knitting than others, depending on their individual properties. Listing all of the different kinds of protein fibers, sheep breeds and their characteristics would be enough content to write several more blog posts. Therefore I will only mention a few examples.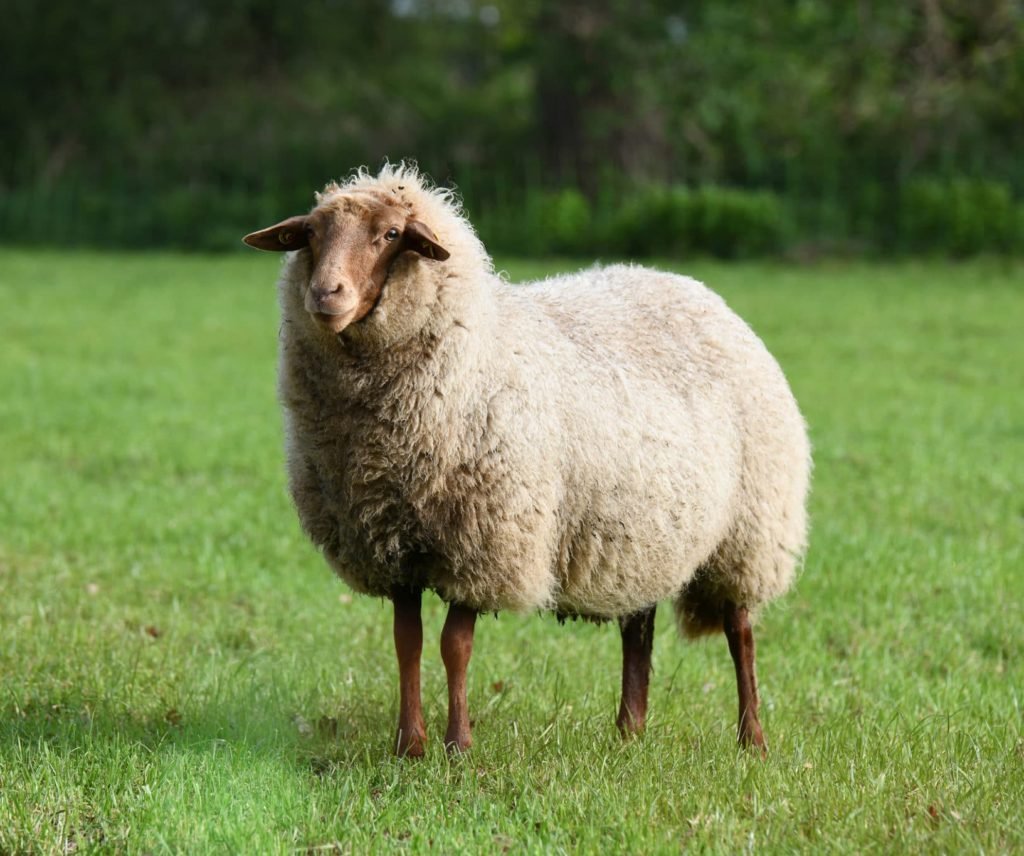 Wool is, of course, the most popular protein fiber. A number of sheep breeds, like Bluefaced Leicester (BFL) and Wensleydale, with long staple lengths are well known for creating suitable wool for sock yarns.
Mohair, which comes from the Angora goat, is known for its strength and warmth. It will, however, add a fuzzy look to your socks.
Silk is produced by silkworms and falls somewhere between protein and cellulose fibers. While it is made by an animal, the silkworms feast on plants. It is an extremely strong fiber and can absorb moisture really well.
Cellulose Fibers
The most popular cellulose fibers are cotton and linen. They are both very durable and strong but tend to stretch with wear and over time. Since they can absorb and quickly release a lot of moisture, they are ideal for warm-weather climates. Due to their lack in elasticity, choosing a blend of cotton or linen with another fiber seems more reasonable than using a 100% cotton yarn for sock knitting.
Ramie is another interesting option. The fibers are derived from a flowering plant in the nettle family. It is one of the strongest natural fibers and is also known for its ability to hold its shape. But since it is not as durable as other fibers, it is also usually used in a blend.
#4 Felting
Back in the days, socks were often knitted too large and then deliberately felted afterwards. Felting means that the scales of the fibers lock together and produce a denser, smaller fabric. It is caused by heat and agitation.
Personally, I have not tried felting my socks on purpose yet but I am curious to try it out and see how it will impact the stability of my socks. And of course, I will report back to you if I have tried it out.
#5 Type of Pattern
If you want to maximize the stability of your all natural socks, you should choose your pattern with this goal in mind. In general, slip stich patterns, colorwork or cables should work well. I recommend staying away from lace if stability is a primary concern for you.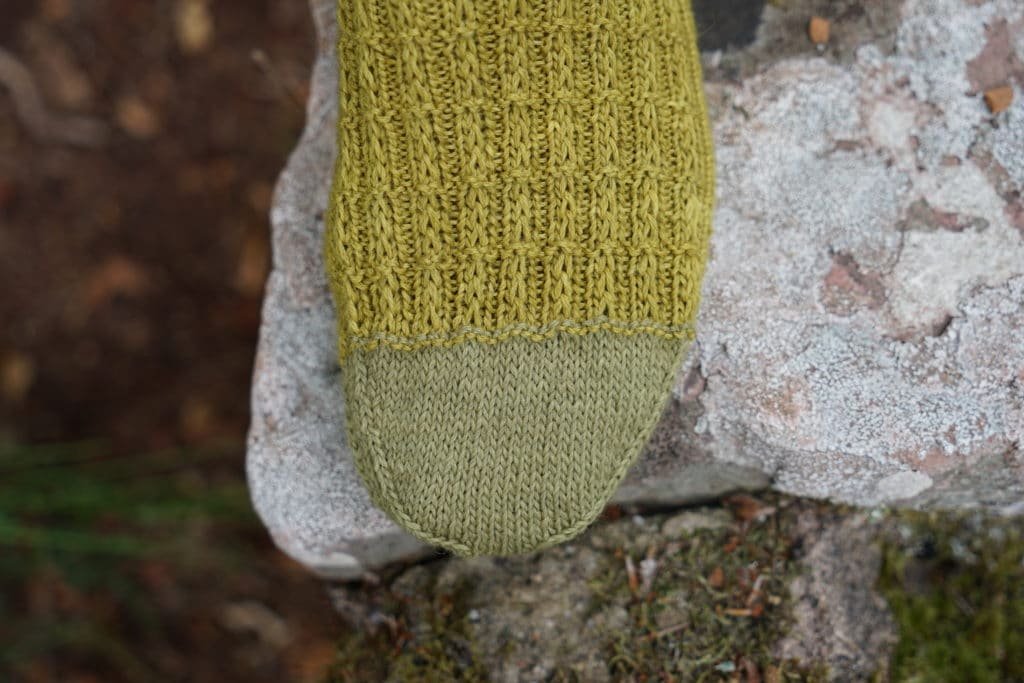 #6 Reinforcements
If you have knitted socks before and have worn them for a longer period of time, you probably know which spots are prone to break or get thinned out. The heel is often one of these spots. Many patterns therefore use a slip stich heel flap to reinforce this part. Even if you are knitting a pattern without a reinforced heel, you can always substitute for e.g. an Eye of Partridge heel flap to add stability to your socks.
In addition, you could add a piece of cotton thread (that is usually used for embroidery) when knitting the heel and other parts of the socks that are prone to get holes. Or you could add a strand of silk or mohair throughout your whole sock.
#7 Washing
Generally speaking, washing garments gently and less frequently prolongs their life span. If you are a sock knitter, you probably already know that wool socks don't need to be washed after every wear. Wool has some amazing properties, one of which is the ability to absorb large quantities of moisture and being naturally breathable. It is also odor and stain resistant.
If you have to wash your socks, washing them by hand is the gentlest option. In my experience, it is also possible to wash your 100% wool socks in the washing machine if you use a wool program. Lay them flat to dry afterwards and you are good to go.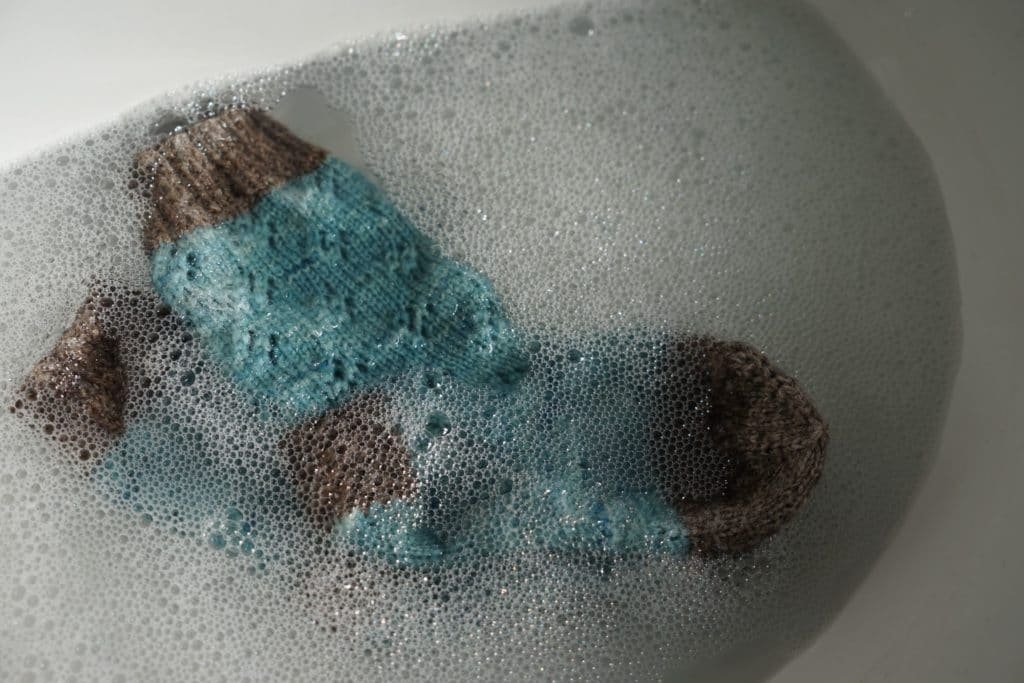 What are your experiences and tips for knitting with all natural sock yarns? Come share in the comment below!
Pin It For Later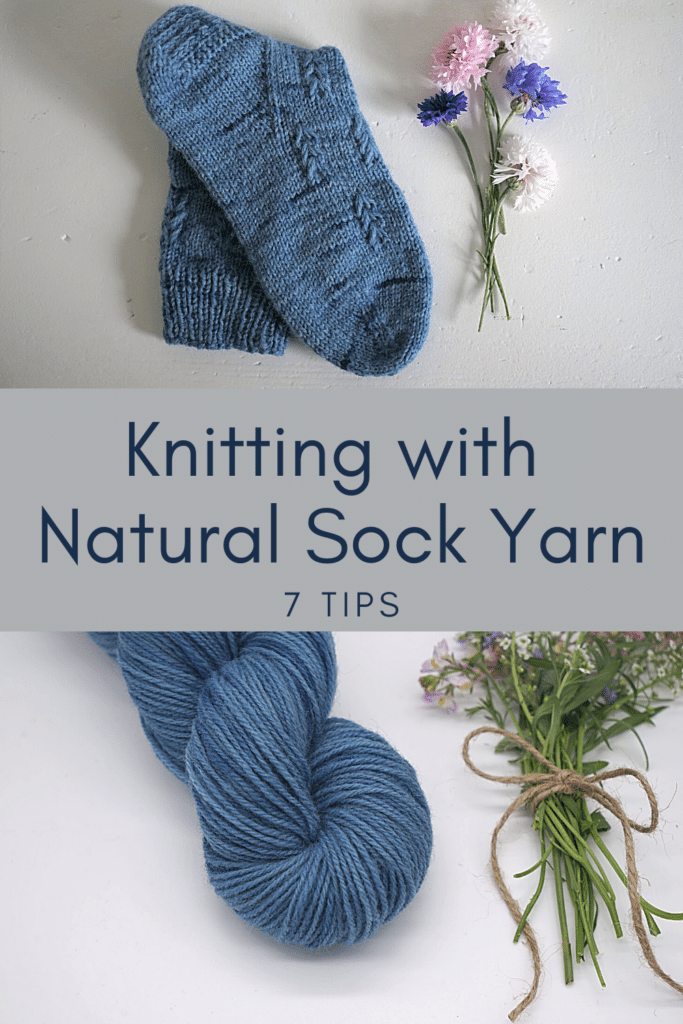 Further Reading:
The Knitter's Book Of Yarn. The Ultimate Guide to Choosing, Using and Enjoying Yarn by Clara Parkes
[1] https://en.wikipedia.org/wiki/Nylon
[2] https://en.wikipedia.org/wiki/Plastic
[3] https://en.wikipedia.org/wiki/History_of_knitting
[4] http://blog.lionbrand.com/faq-what-is-superwash-wool/
Did you find this blog post valuable or helpful? If so, you can support my website by buying me a coffee below, purchasing my knitting patterns or yarns or simply by leaving a comment. Thank you!