Today I want to share my simple homemade granola recipe with you. In my Simple & Sustainable Day In The Life post last week I mentioned that I have been having homemade granola with yoghurt for breakfast for the last couple of months. The granola is easy and quick to make and requires just a few ingredients. It is completely customizable and you can adapt it to your own preferences. After experimenting with different ingredients, I landed on this recipe that I have been making over and over again.
Simple Homemade Granola Recipe
Ingredients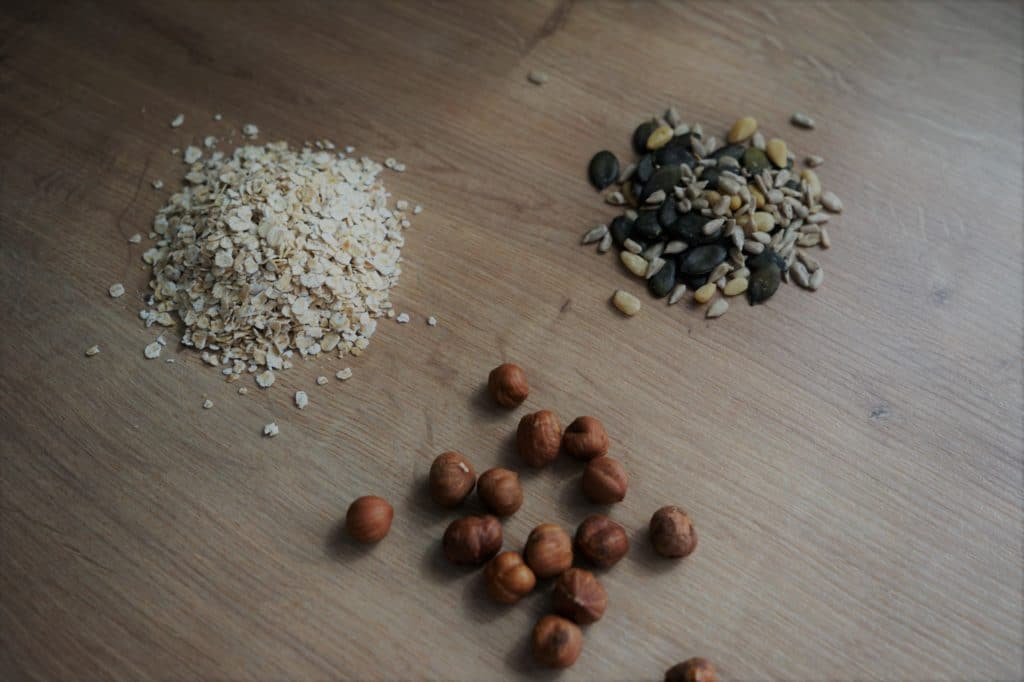 Ingredient
Amount
Remarks
Oats
400 g /
4.5 cups
Hazelnuts
200 g /
2 cups
whole or already crushed
Seeds: sunflower seeds, pumpkin seeds, pine nuts
175 g /
1.5 cups
I use a seed mix which is originally intended for salads
Honey
85 g /
1/4 cup
Maple Syrup
75 g /
1/4 cup
Coconut Oil
3 EL / TBSP
Salt
1/4 TL / TSP
Cinnamon
1/2 TL / TSP
Tools
oven
stove / microwave
large bowl
smaller bowl / pot
spoons
scale
baking tray + baking sheet
optional: food blender
Instructions
Preheat the oven to 175 °C / 350 °F.
Shred the hazelnuts in a blender.
Mix the dry ingredients in a large bowl.
Add the spices.
Mix honey, maple syrup and coconut oil. Melt them together either on low heat on your stove or in the microwave.
Pour the liquid ingredients over the dry ingredients and mix everything together with a spoon.
Spread the mixture evenly on a baking sheet.
Bake in the oven for 10 minutes, stir the mixture and bake for another ten minutes. The granola is ready when it turns slightly brown on the edges.
Take the granola out of the oven and let it cool. Then you can fill it in an airtight container.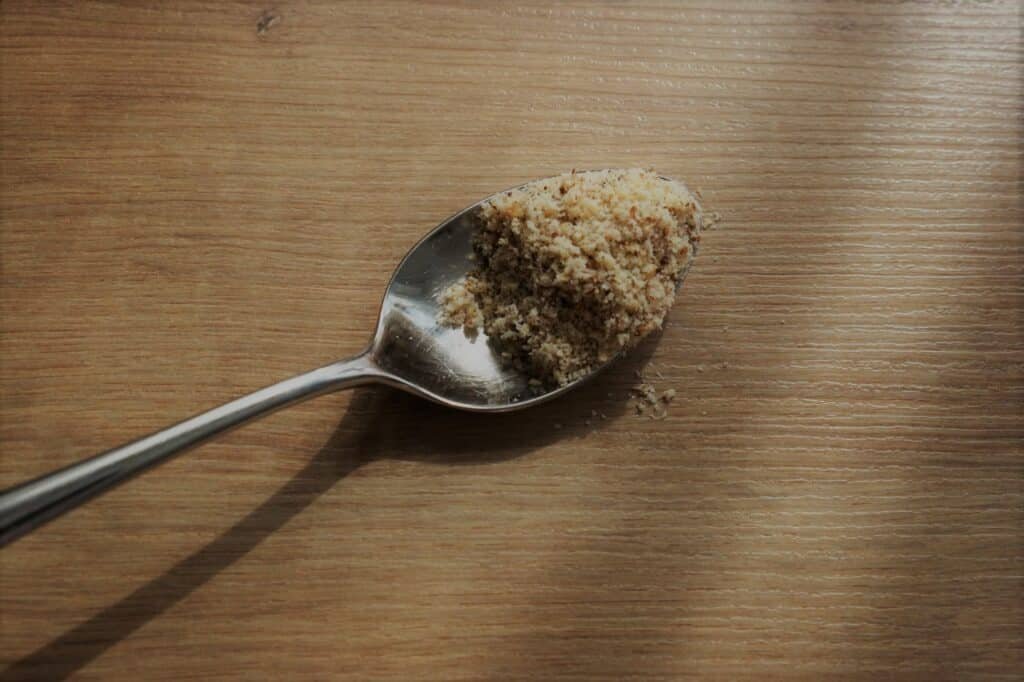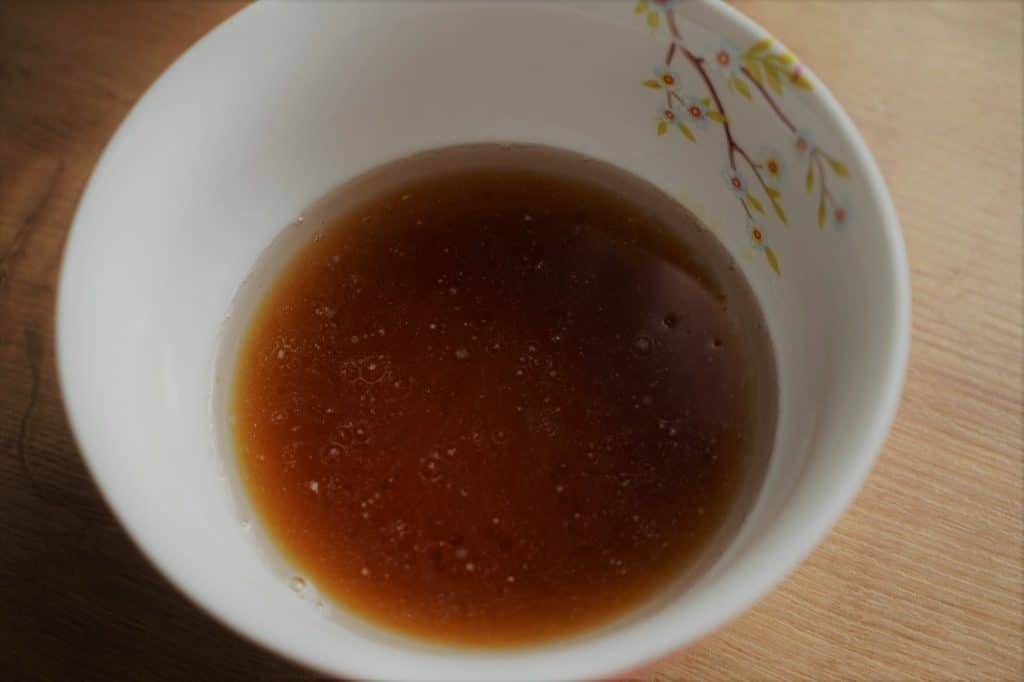 I usually eat the granola with some yoghurt. But you can also use milk instead.
Alternative Simple Breakfast Ideas
Although I love this simple homemade granola, I like to alternate what I have for breakfast from time to time. Here are two more simple breakfast ideas we eat on a regular basis.
Starting the day off with a warm meal is something we particularly enjoy during the colder months of the year. Oftentimes, we have a simple porridge. For this, I just heat some oats with milk. You can do this either on the stove or in the microwave. You can enjoy it just like this or add some fruits or cinnamon. The kids like to add a bit of honey.
Semolina pudding is another favorite in our house. All you have to do is slowly heat up milk until it is boiling. Then you add the semolina and stir it in until the milk thickens. Let it sit for a couple of minutes, then it is ready to enjoy. You could add fruits or honey but it also tastes very good without any further additions. I use 200 ml of milk and 24 grams / 0.85 oz of semolina per person.
Pin It For Later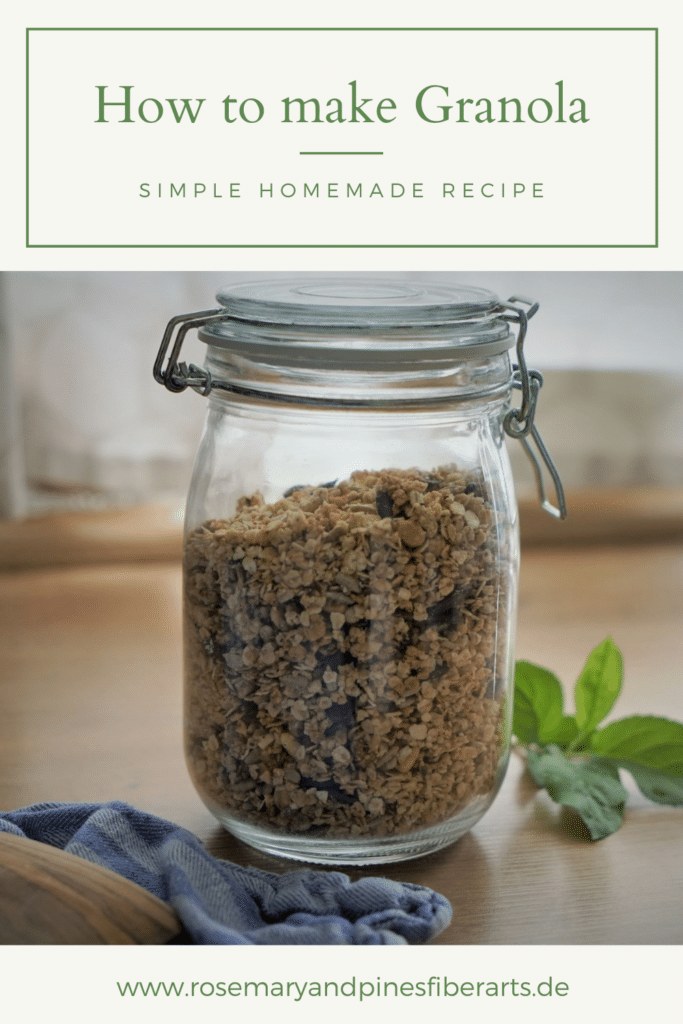 Did you find this blog post valuable or helpful? If so, you can support my website by buying me a coffee below, purchasing my knitting patterns or yarns or simply by leaving a comment. Thank you!