Have you ever wondered how to use up leftover sock yarn? If you are a regular sock knitter, chances are that you have amassed a bit of a stash of leftovers from previous sock knitting projects. Or maybe you have some single skeins of sock yarn in your possession that you hesitate to use up for a pair of socks. Don't ask me how I know about this – let's just say I know how you feel. Therefore I want to share with you what I like to do with these scraps or full skeins of sock yarn.
This post contains affiliate links. I may earn a small commission if you use these links, at no cost to you.As an Amazon Associate I earn from qualifying purchases. I only recommend products that I find value in myself. See my full disclosure here. Thank you for your support!
How to Use up Leftover Sock Yarn
Scenario #1: Full Skein or Several Scraps (each 10 grams or more)
Let me tell you a secret: You absolutely don't have to use sock yarn only for knitting socks. Sock yarn can be used for almost any knitting project. I have used it to make hats, shawls, sweaters, toys and even blankets.
A hat, for example, usually requires less than a full skein of yarn. You can use different colored scraps either to make a Fair Isle pattern or simply alternate the colorway every few rounds to create stripes.
A couple of years ago, I made a shawl (Boho Blush by Andrea Mowry) using a sock yarn blend of wool and ramie that I naturally dyed with cochineal. There was a decent amount of yarn left after the project was completed. To use up as much of the left over yarn as possible, I decided to come up with a simple circle scarf pattern. The great thing about circle scarfs is the fact that you have some wiggle room regarding the size and consequentially the amount of yarn you need. If you have very little yarn, you could even get away with making a cowl that you simply pull over your head and can't loop around. If you have more yarn, you can create a rather long circle scarf that you can wrap multiple times.
Free Circle Scarf Knitting Pattern
Introduction:
The pattern is very simple and straightforward. If you know how to make a Provisional Cast-On, knit and slip stitches and graft stitches together, you can make this pattern without any difficulties. But even if you have never done grafting or a Provisional Cast-On before, I encourage you to give this pattern a try nonetheless. Below I share some links to YouTube videos with you which explain how to conduct these techniques in detail.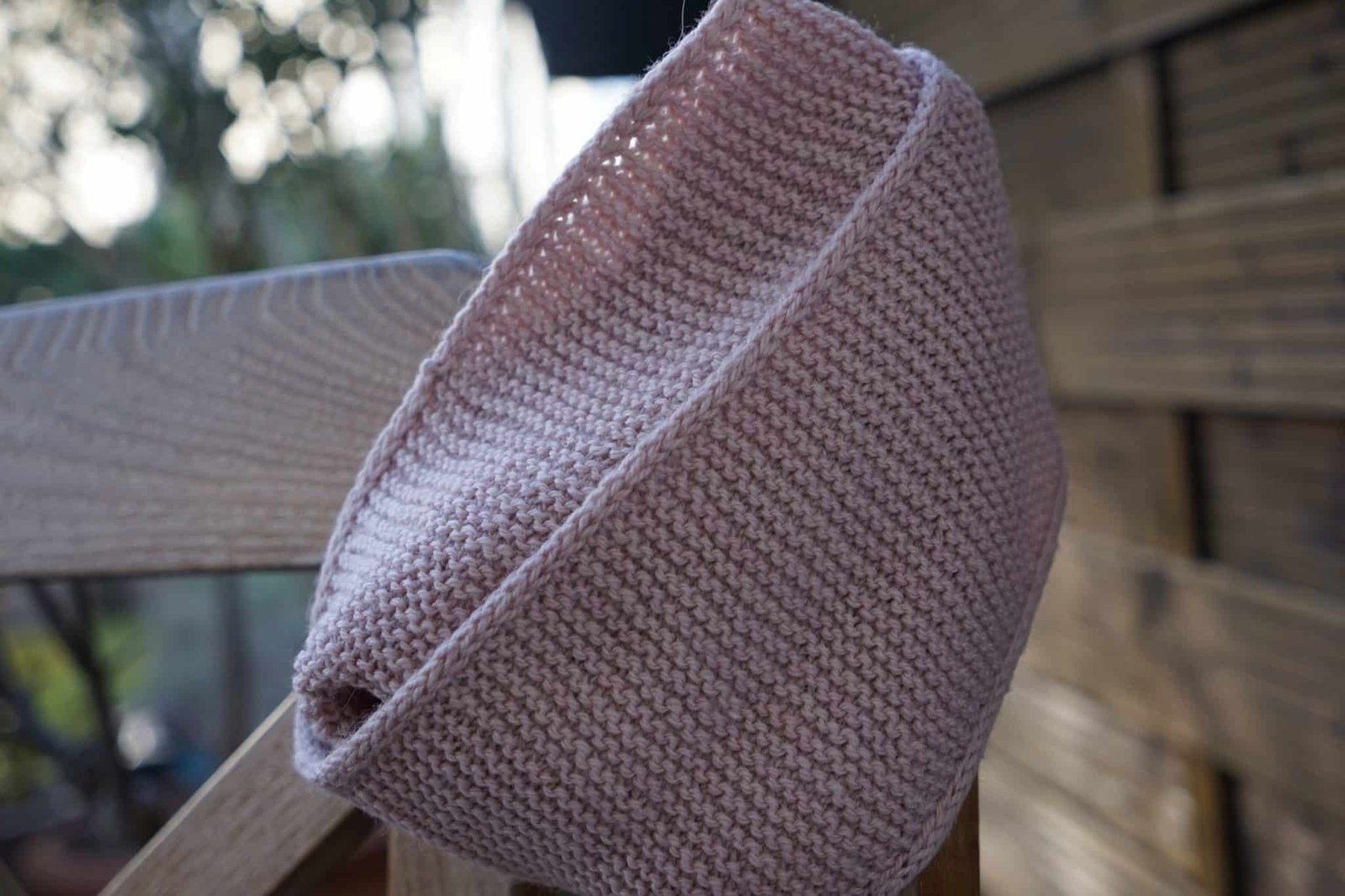 Yarn & Finished Measurements: You can use any yarn you like and choose the width and length of the circle scarf according to your preferences and amount of yarn you have. The numbers I share with you are just exemplary.
Yarn: 62g of sock yarn (80% wool, 20% ramie; 300m/328yards per 100g)
Needles: 3.5 mm needle (US 4) – I use these circular needles from Chiaogoo, but you can use any needle in the right side you have available
Notions: Straight or circular needle, darning needle, crochet hook, piece of scrap yarn
Size: Width 10.5cm/4'', Length 97cm/1yard
Gauge: 26 sts x 39 rows in garter stitch (measured in the round over 4 inches or 10 centimeters, after blocking)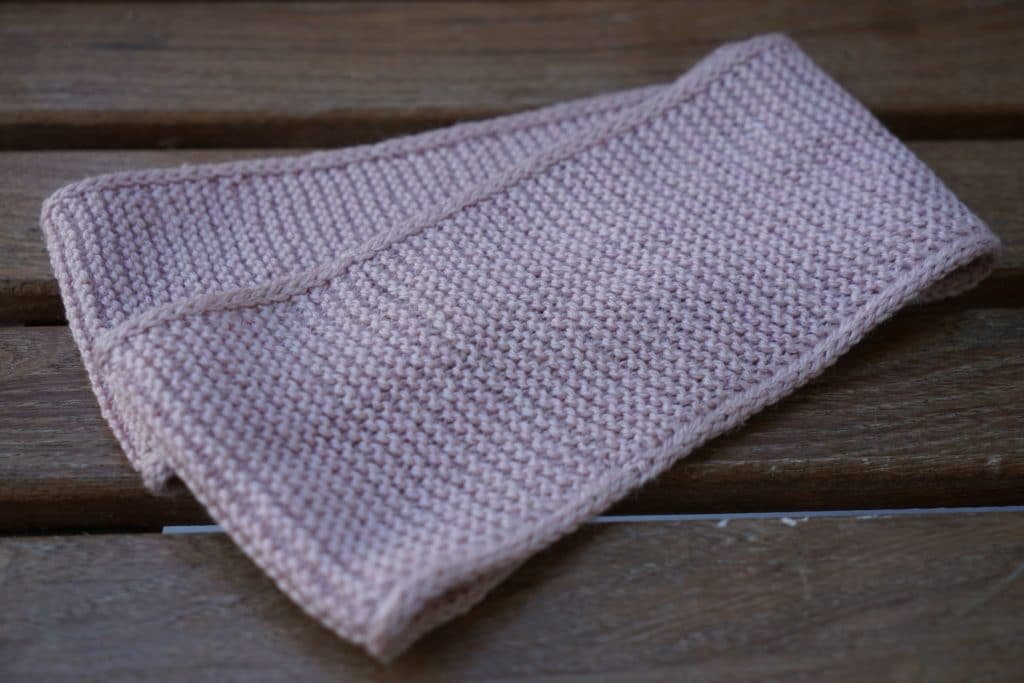 Instructions:
Cast-On
With a piece of scrap yarn and a crochet hook, CO 30 sts using the Provisional Cast-On. If you haven't done a Provisional Cast-On before, I can highly recommend these videos:
Provisional Cast-On with a crochet chain (by VeryPink Knits)
Provisional Cast-On without a crochet chain (by Purl Soho)
Pattern Repeat
Knit until the last three sts before the end of the row, slip sts purlwise with yarn in front.
Repeat until you have reached the desired length of the scarf. The slipping of the last three stitches in each row creates an I-Cord edge. Knitting each row forms a simple garter pattern.
Finishing
Carefully remove the scrap yarn and place the live stitches on a needle. Graft both ends of the scarf together.
If you have no prior experience with grafting, I recommend that you have a look at this video by Cheryl Brunette. The second option is to use the Kitchener Stitch.
Abbreviations
CO cast-on
sts stitches
And you are done! But what if you don't have a full skein of sock yarn or some sizeable scraps? Don't worry, I have some recommendations to use up smaller scraps of sock yarn as well.
If you like this pattern, your can support the existence of this website by buying me a coffee below. Thank you so much!
Scenario #2: Several Small Scraps of Sock Yarn
First, you need to group your sock yarn scraps by yardage. Aka, all fingering yarns, all DK weight yarns, etc. Keep in mind that you can also hold two fingering weight yarns double to create something between a DK and a worsted weight yarn. The next step is to weigh the yarns so that you get an overview of how much yarn you have available.
Suggestion #1: Scrappy Blanket
If you have a larger number but only small amounts of each yarn left I highly recommend starting a scrappy blanket. I actually have two long-term crochet blanket projects that I add to whenever I have some scraps. You can learn more about these two free blanket patterns in this blogpost.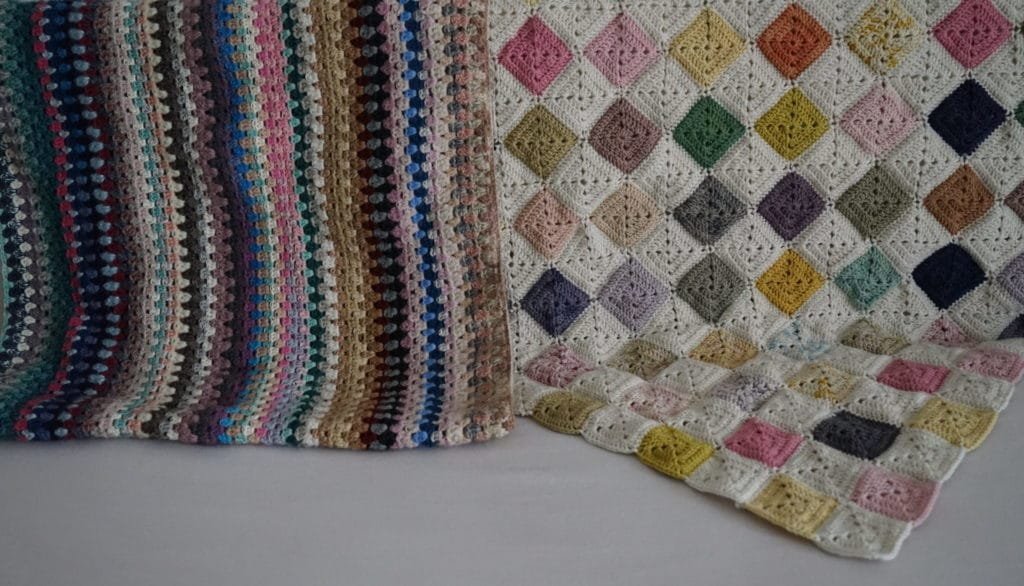 If you don't know how to crochet, don't worry, both of these blankets are ideal for beginner crocheters. But if you prefer knitting, there are also a number of patterns for knitted scrappy blankets available like The Coziest Memory by Kemper Wray.
Suggestion #2: Look for Colorful Patterns
Whenever I have some scraps left over that I want to use up, I have a look through my Ravelry favorites to see if there is a pattern I like that requires several smaller amounts of yarn. For example, circular yoke sweater oftentimes require several different colorways. But since the pattern part is usually limited to the yoke, you don't need very much of each yarn.
Suggestion #3: Toys or Decorations
I have made several toys for my girls that don't require a lot of yarn. Especially, since you can always alternate colors in a toy and make it more colorful. Patterns that I made and can recommend are:
Nilla the Unicorn by Rachel Borello Carroll (knitting)
Oso Donato Amigurumi by Lanukas (crochet)
Never Not Gnoming by Sarah Schira (knitting)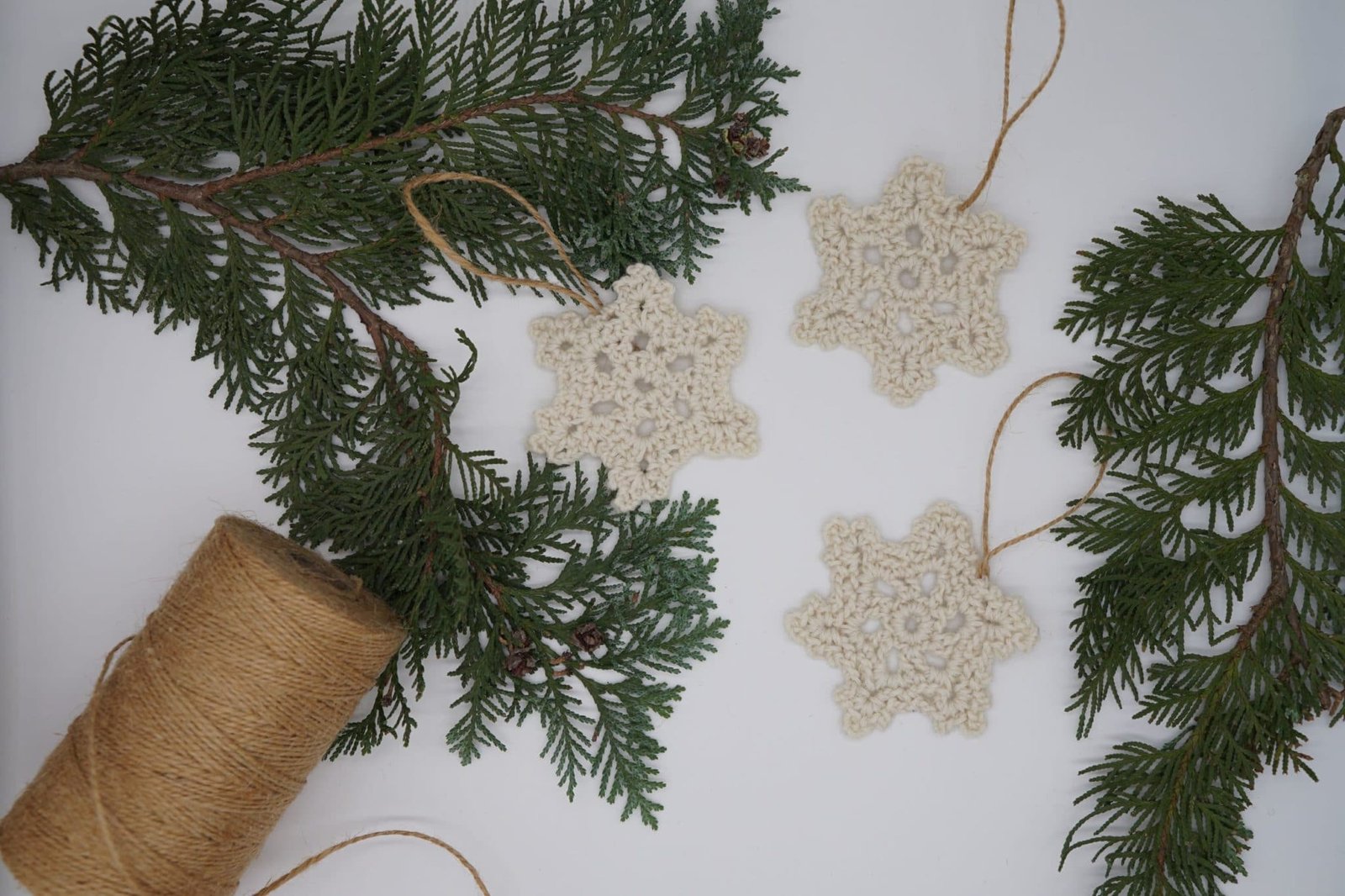 Another option that requires only very little amounts of yarn are Christmas ornaments like Snowflake Wishes 2 by Joanna Gait (crochet) or Baubles by Veera Välimäki (knitting).
What are your favorite ways to use up leftover sock yarn? Come share in the comments!
Do you want to give knitting with sustainable, all natural sock yarn a try?
In this free guide you will learn everything you need to know about knitting sturdy socks with plastic-free, all natural sock yarn.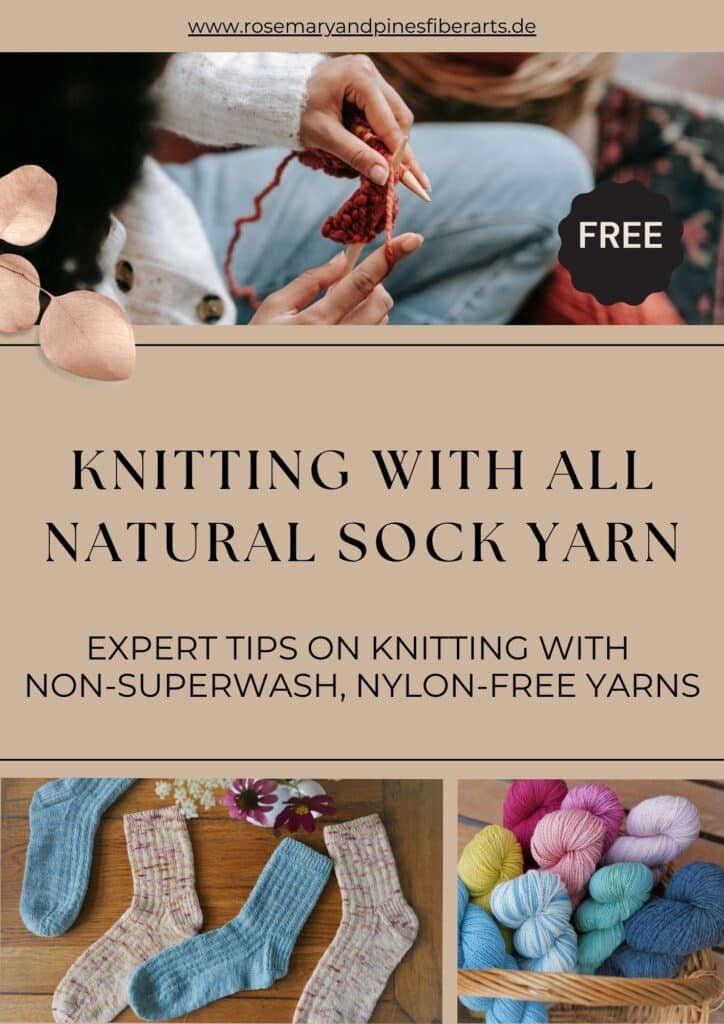 Pin It For Later: How to Use Up Leftover Sock Yarn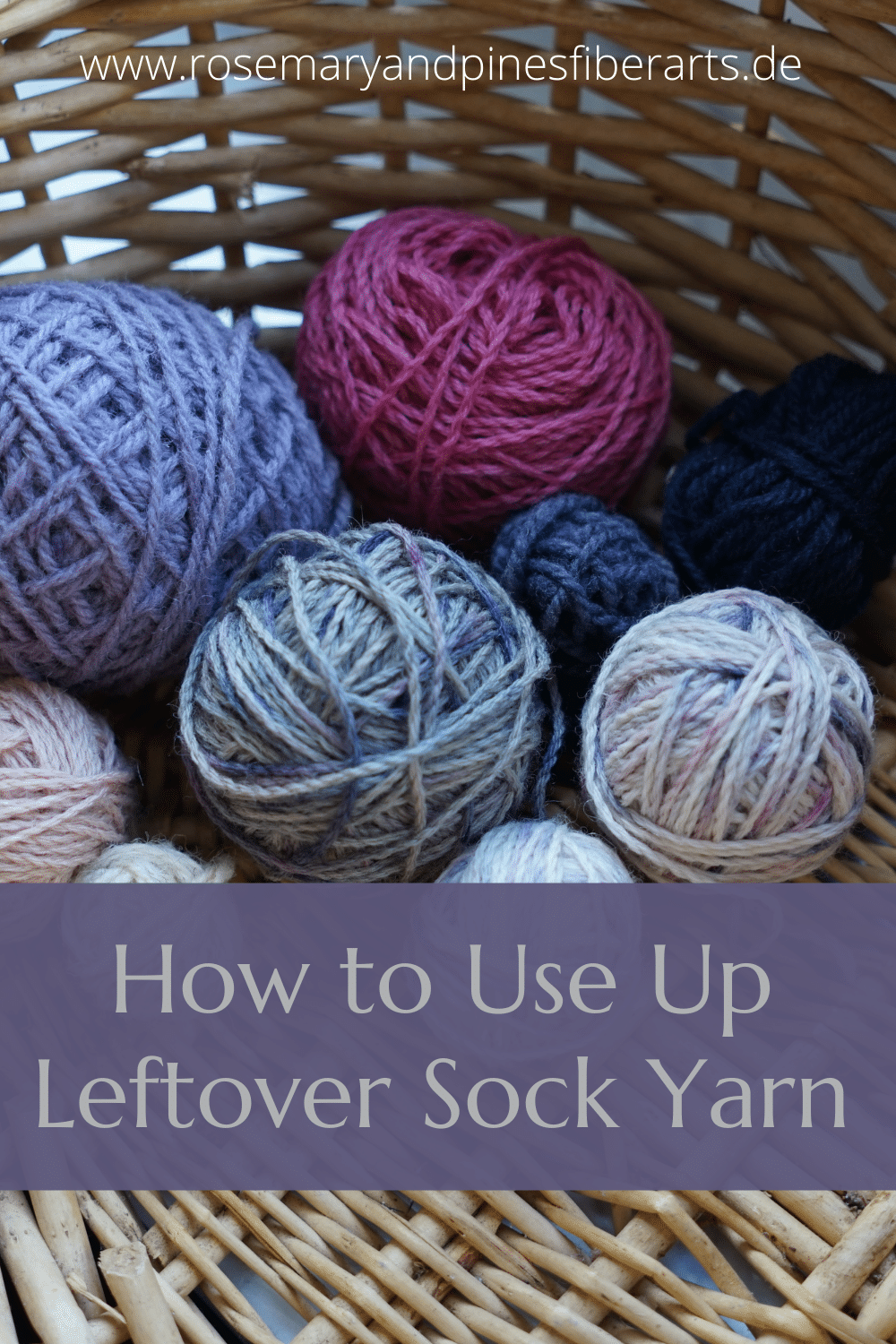 Did you find this blog post valuable or helpful? If so, you can support my website by buying me a coffee below, purchasing my knitting patterns or yarns or simply by leaving a comment. Thank you!