Today I want to share my favorite free & simple sock knitting patterns with you. I have compiled a list of my top 5 recommendations. These are my go-to sock knitting patterns that I have each made numerous times. All of these patterns have rather simple, intuitive pattern repeats which make them the perfect choice if you are looking for a mindless knitting project. And, to top it off, they are all available for free!
5 Free & Simple Sock Knitting Patterns
#1 Broken Seed Stitch Socks (by Hanna Leväniemi)
The Broken Seed Stitch Socks pattern is a great choice if you want to get a two color effect without having to knit with two strands of yarn at the same time. The look of the pattern also lends itself to speckled or variegated yarns in combination with a solid colorway very well.
You just have to be aware that the pattern is more of a recipe rather than a detailed step by step instruction. I don't recommend this pattern if you have never knitted socks before. However, if you are familiar with the construction of a sock and know how to knit a heel and toe that fits you well, I encourage you to give the Broken Seed Stitch Socks a try.
#2 Hermiones's Everyday Socks (by Erica Lueder)
The Hermione's Everyday Socks pattern is simply awesome and it was actually the first pair of socks I ever made. It is written in a detailed, thorough way for a standard women's size of 64 stitches.
But you can easily adapt it and make it bigger or smaller (e.g. casting on 60 or 68 stitches). All you have to do in this case is to adapt the heel part accordingly.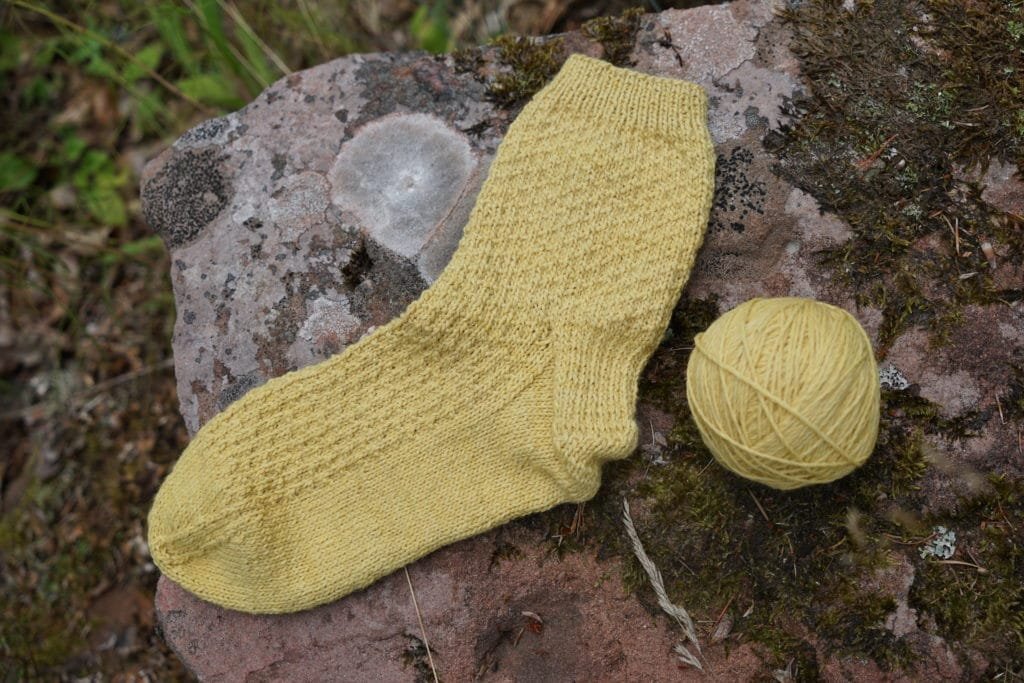 The pattern is a simple knit purl combination that makes for a comfortable, snug fit. It looks great with either solid, variegated or speckled yarns.
#3 Blueberry Waffle Socks (by Sandy Turner)
The Blueberry Waffle Socks are one of my go-to patterns when I knit socks for other people. They fit very well due to the ribbed part of the pattern. The pattern repeat is very intuitive and even though it is simple, it creates a not so basic look.
The pattern is written for DK weight yarn and a stitch count of 52 stitches. But you can easily adapt it for a fingering weight sock yarn by casting on more stitches.
#4 Ribbed Socks
This pattern is so simple that you don't actually need a pattern for it. Whenever I want to make a pair of socks with a snug fit or when I am knitting for someone else and am unsure of their leg and foot circumference, I choose this rib. All you have to do is knit a standard sock with a knit 3, purl 1 pattern repeat.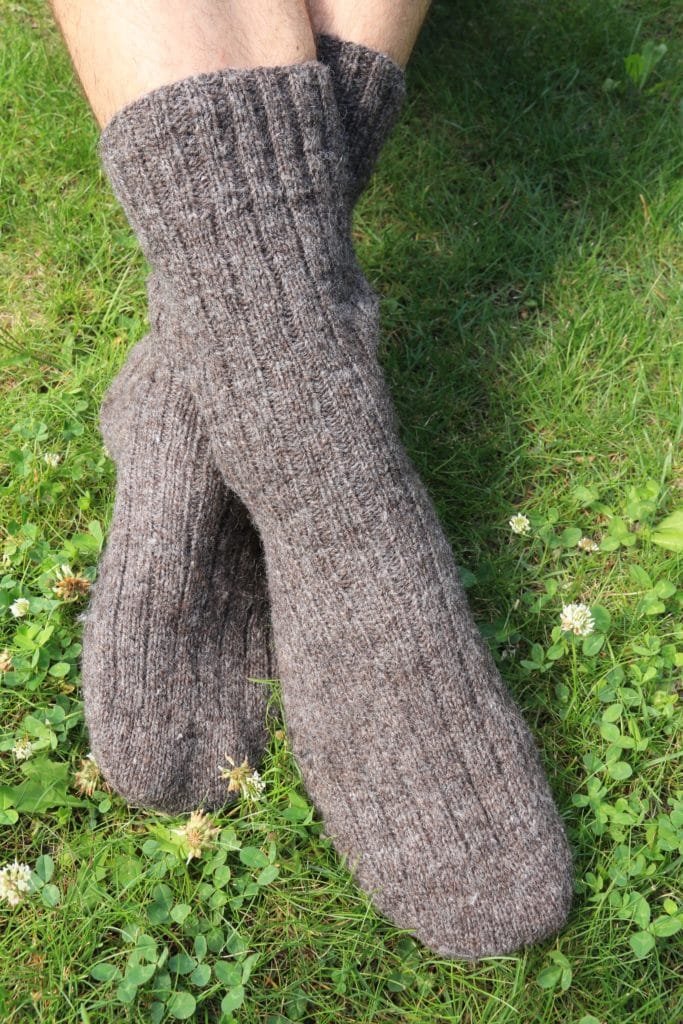 #5 Camaret Socks (by Annika Scheer)
The Camaret Socks are one of my own designs. They fit really well due to the ribbing in the pattern. The pattern itself is a variation of the classic broken rib and is very simple and intuitive. The knitting pattern used to be available for free for my newsletter subscribers, but it is now available for purchase on both Ravelry and Lovecrafts.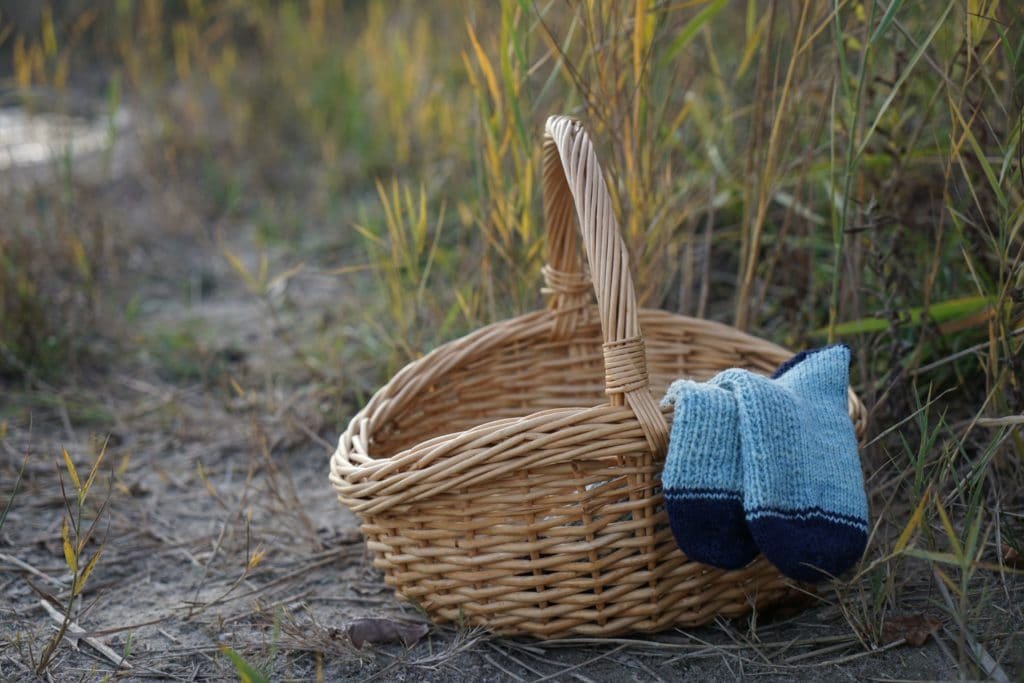 The pattern is written for a DK weight sock yarn (the sample was made with Rosemary & Pines Classic Sock DK yarn) but it can easily be adapted for a fingering weight yarn as well. It can be knitted with contrasting cuffs, heels and toes or in only one color.
What are your favorite sock knitting patterns? Come share in the comments below.
And if you are looking for more knitting pattern inspiration, I talked about five suggestions for knitting patterns for summer tops a couple of weeks ago. You can find the blog post here.
Do you want to give knitting with sustainable, all natural sock yarn a try?
In this free guide you will learn everything you need to know about knitting sturdy socks with plastic-free, all natural sock yarn.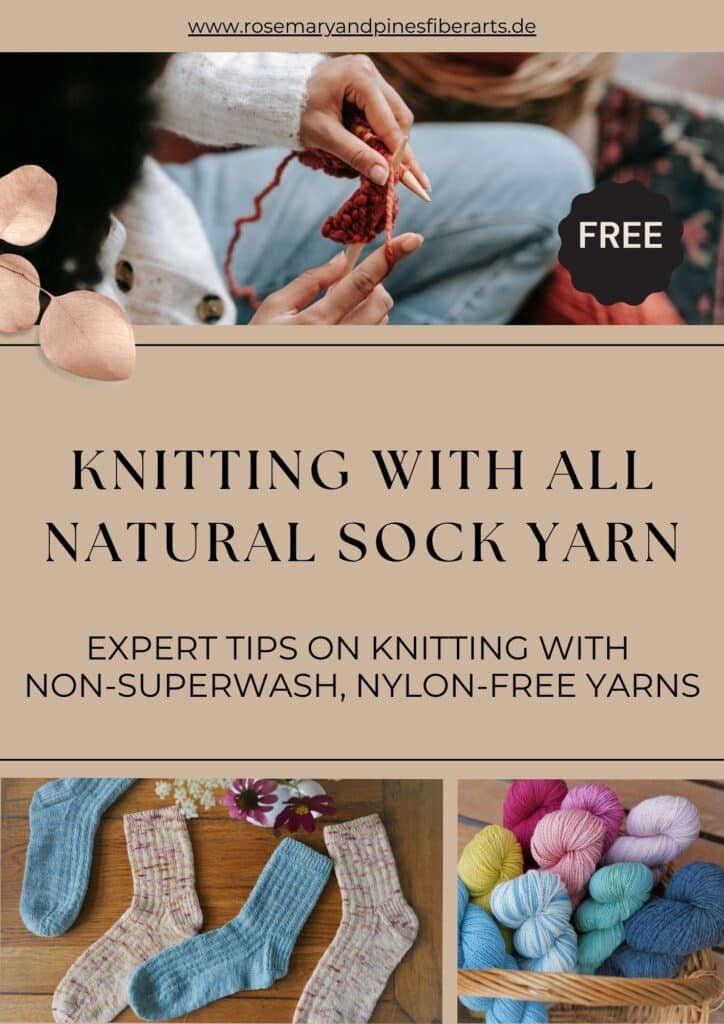 Pin It For Later: 5 Free & Simple Sock Knitting Patterns
Did you find this blog post valuable or helpful? If so, you can support my website by buying me a coffee below, purchasing my knitting patterns or yarns or simply by leaving a comment. Thank you!