Update (Jan 29th, '23): I included an additional pattern suggestion.
Today I want to share some recommendations for DK weight sock knitting patterns with you. I am sitting here typing this post on a gloomy, rainy Monday morning. Therefore it feels like the perfect time to put on cozy socks, pull out the blankets and light some handmade candles. Fall has definitely arrived here.
I personally like to knit socks year round and often use my own hand dyed yarns to make them. I offer two sock yarn bases in my shop which are both DK weight. The majority of sock knitting patterns are written for fingering weight yarn. Therefore it only seemed fitting to compile a list of knitting patterns for DK weight yarn. If you usually knit socks with fingering weight yarns, I encourage you to try making a pair of DK weight socks. The colder months will be here sooner rather than later. And not only is it a lot faster to knit with DK yarn, the socks are also so cozy and warm.
This post contains affiliate links. I may earn a small commission if you use these links, at no cost to you. As an Amazon Associate I earn from qualifying purchases. I only recommend products that I find value in myself. See my full disclosure here. Thank you for your support!
Where to Buy DK Weight Sock Yarn?
I have already mentioned that I carry two DK weight sock yarn bases in my Etsy shop. They are called Classic Sock DK and Luster Sock DK and have a yardage of 250 m (273 yds.)/ 100 g. Both bases are from German Merino sheep, organic, non-superwash and nylon free.
You can learn more about these two bases here.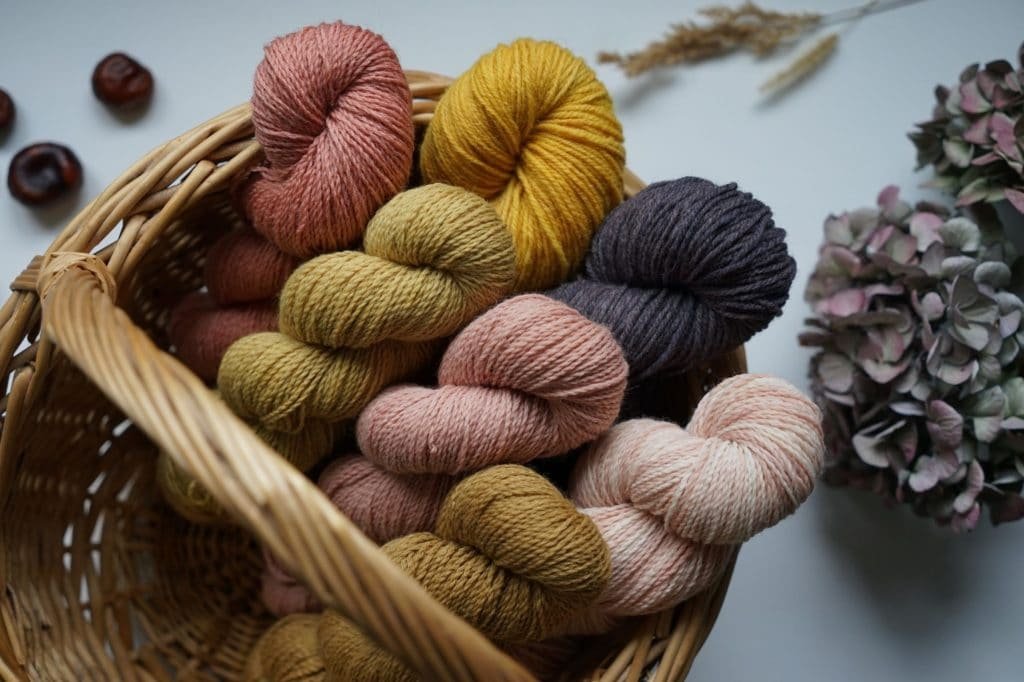 I also really like the sock yarn from Ovis Et Cetera. The base "Dimidium" consists of a wool/ramie blend. Ramie is a cellulose fiber which increases the stability of the yarn.
And while there are lots of other DK weight sock yarns out there, these are the ones that I have personal experience with. Let me know in the comments if you can recommend any additional yarn brands, I would love to know!
And if you would like to give DK weight socks a try and don't have any DK weight yarn on hand, you could also just hold two strands of fingering weight yarn double.
Which Needle Size should I use for Knitting DK Weight Socks?
This actually depends on a number of factors. Overall, your gauge and the type of pattern (stockinette, lace, cables, colorwork etc.) play an important role.
Personally, I am a rather loose knitter and knit almost exclusively with nylon free yarns. To achieve the required stability for my socks while using 100% natural fibers, I like to knit them at a rather firm gauge. If I knit with my Luster Sock DK base, I usually use a 2.0 mm (US 0) needle from Knitter's Pride Zing which are metal needles. If I use my Classic Sock DK base which is not spun as tightly, I gravitate more towards a 3.0 mm (US 2.5) needle. The specific needles I use are Knitter's Pride Dreamz which are made out of wood.
Are you interest in a detailed needle recommendation post? Please let me know in the comments below and I will share more about the needles I use in a future blog post.
The recommended needle sizes in my pattern recommendations below range from 2.0 mm (US 0) all the way up to 3.75 mm (US 5).
Which Type of Needles should I use for Knitting DK Weight Socks?
The type of needles is totally up to you and your preferences for sock knitting. You can use double pointed needles (dpns), magic loop or short circular needles (30 cm/ 12"). I generally knit all my socks with dpns.
DK Weight Sock Knitting Patterns: My Suggestions
First things first: A huge thank you to the designers and makers who kindly allowed me to use their photos!
#1 Simple Sport/Dk Weight Socks
Are you looking for a super simple pattern? Then I recommend that you have a look at Lindsay's blog A Wooden Nest where she shares a free, easy to follow pattern. The socks are knit in stockinette stitch with a garter heel.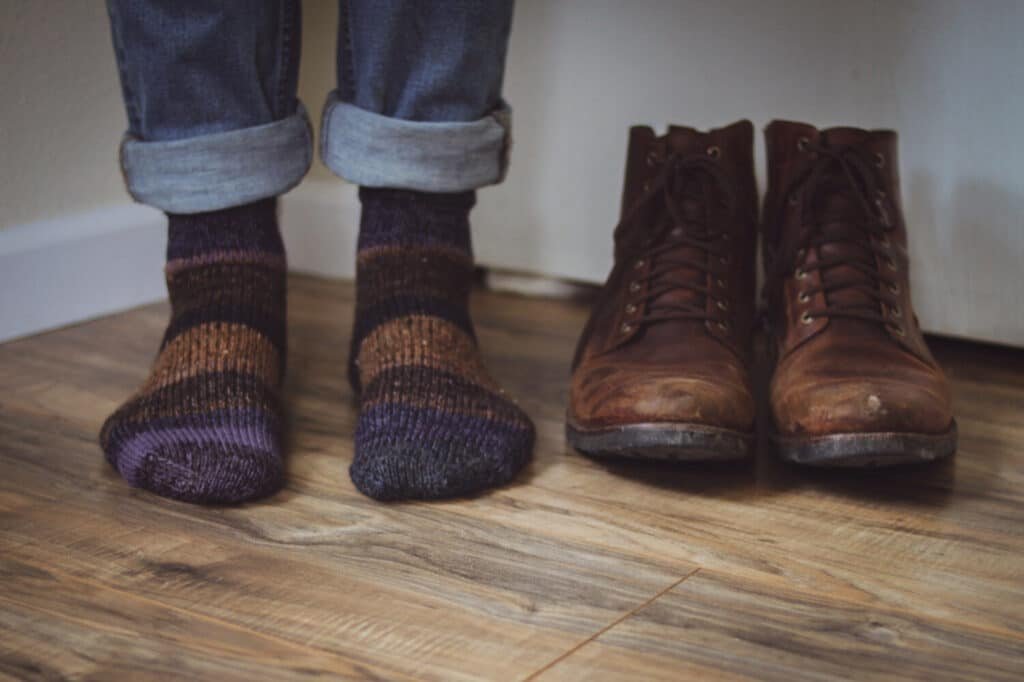 #2 Camaret Socks
I also have a free sock pattern called the "Camarat Socks". It is written for my Classic Sock DK base but of course you can use other sock yarns as well. The pattern is available for free exclusively for my newsletter subscribers. You can join my mailing list here, in case you are interested. It is also possible to purchase the pattern on Ravelry.
This beginner-friendly sock design is worked cuff down. The pattern is a variation of the classic broken rib. It creates a simplistic yet classy look while the ribbing ensures a comfortable fit. The sock can be worked with two colors where one color is used as a contrast for the heel, cuff and toe. The second option is to knit the whole sock with one colorway.
#3 Blueberry Waffle Socks
I have recommended the "Blueberry Waffle Socks" pattern before but I wanted to mention it again nonetheless. To me, this pattern is a perfect balance between mindless knitting and a simple but beautiful texture. It is available for free here and it is one of my go to sock knitting patterns.
The pattern is a simple knit purl combination. It is easy to remember and creates this nice and thick textured sock.
#4 Barre Socks
The "Barre Socks" is another one of my own knitting patterns and I knitted the original sample with my Luster Sock DK base. It is a mix of a ribbed and slip stich pattern which makes for a comfortable fit while also creating an elegant look.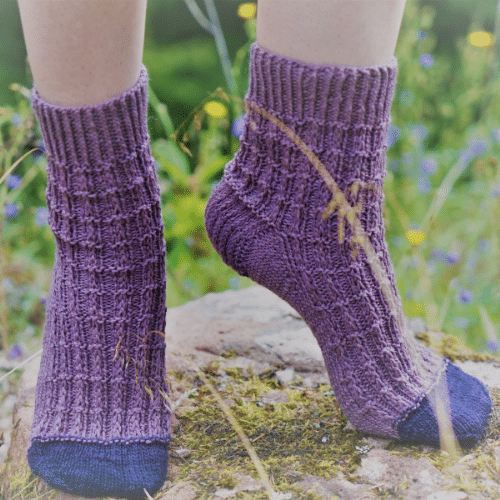 #5 lumberjack
When I was browsing through Ravelry looking for suitable patterns, I came across the "lumberjack" pattern by tincanknits. It is a ribbed sock which is knitted in two colors to create a classic look.
The pattern is written for a baby size up to a men's feet. It is part of a tincanknit's book but can also be purchased individually.
#6 Schneeflöckchen Socks
The Schneeflöckchen Socks knitting pattern is one of my designs. The pattern name "Schneeflöckchen" means "little snowflake" in German because the colourwork motif throughout the socks is reminiscent of snowfall. After designing the Schneeflöckchen hat, I was so in love with the pattern that I wanted to create a pair of socks using the same pattern.
This simplistic and beginner-friendly sock design is worked cuff down. The sock is worked with two colours, with every third round being a colourwork round. The cuff and toe contain some subtle scallops for an added detail.
Socktober
If you cast on a pair of DK socks in the next few weeks, it will be the perfect timing to participate in #socktober. Socktober was initially invented by Brad Montague in 2011. It was his intention to raise awareness for homeless people in the U.S. and donate a pair of socks as a small act of sympathy. By now it has become a popular term on social media and got the broader meaning in the knitting community of knitting socks in the month of October.
Pin It For Later
Did you find this blog post valuable or helpful? If so, you can support my website by buying me a coffee below, purchasing my knitting patterns or yarns or simply by leaving a comment. Thank you!