In this blogpost I will share with you how to make a dried flower wreath.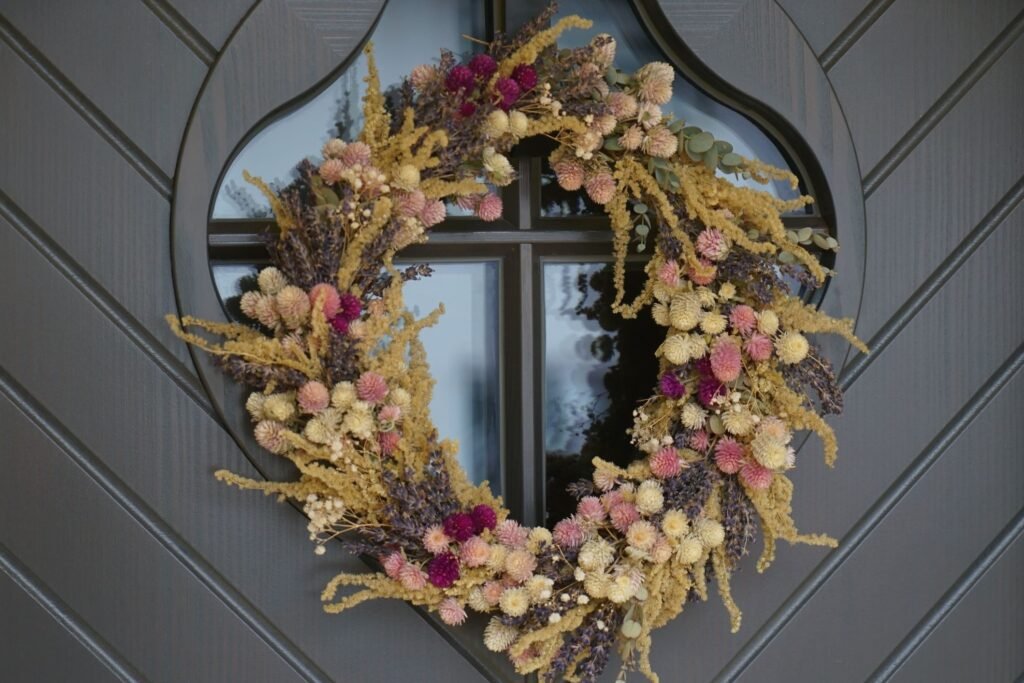 On more and more days now, the sun is shining for hours from a cloudless sky. And although it is still rather cold around here, it feels like spring might be just around the corner. Early bloomers like snowdrops, crocuses and winter aconites are popping up all around. Nature is slowly waking up and everything seems so auspicious.
Are you craving some flowers and pops of color to incorporate into your home decor? Using dried flowers is a great option this time of year. It is still way too early for most flowers to start blooming. In addition, dried flower wreaths or bouquets also last a long time which is another benefit.
This post contains affiliate links. I may earn a small commission if you use these links, at no cost to you. As an Amazon Associate I earn from qualifying purchases. I only recommend products that I find value in myself. See my full disclosure here. Thank you for your support!
Advantages of Making Your Own Wreath
Making your own wreath is a great alternative to buying pre-made wreaths. It is neither very time consuming nor difficult and is so much cheaper than buying a wreath. For comparison, there is a very nice flower shop in my small town. Last autumn, they sold some beautiful dried flower wreaths. The costs were 60 € /65 USD and upwards per wreath. On the other hand, if I take the wreath I am about to show you how to make, it didn't cost me nearly anything. All of the flowers were cut from my garden and dried. Even if you would take into account the costs of the seed packets, you will still come out under 5 € /USD. As a base, I used a willow wreath that I made myself from some willow branches a couple of years ago.
Materials You Need To Make A Dried Flower Wreath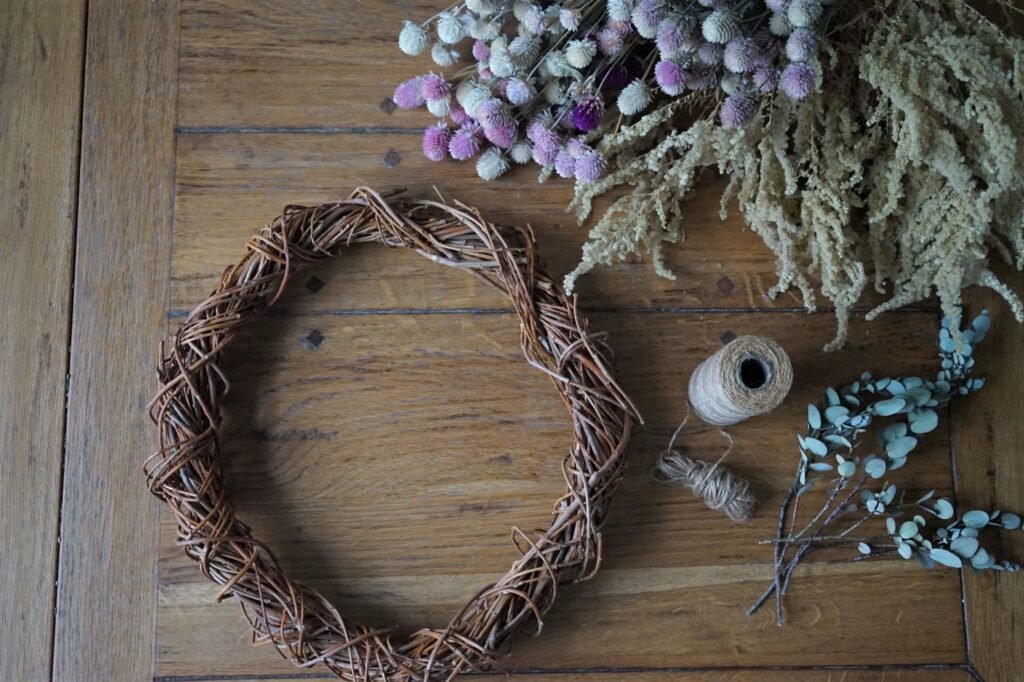 I used a willow wreath base that I made myself from willow branches a couple of years ago. But you can also use a store-bought wreath base. You can find wreaths made from bamboo, willow or straw in many different sizes. Here are some examples.
For this wreath version, I simply used all of the dried flowers I had on hand. At the end of summer last year, I cut and hung some goldenrod, lavender and globe amaranth stems to dry in my garden shed. In addition, I also had a couple of of baby's-breath (gypsophila) stems which I purchased last year and saved as well as some eucalyptus from my Christmas wreath. If you don't have anything on hand, you can buy some already dried flowers.
Drying your own flowers is not complicated at all. All you have to do is cut them, put them in small bundles and hang them to dry upside down in a cool, dry place. I have listed some flowers that are especially suitable for drying at the end of this post.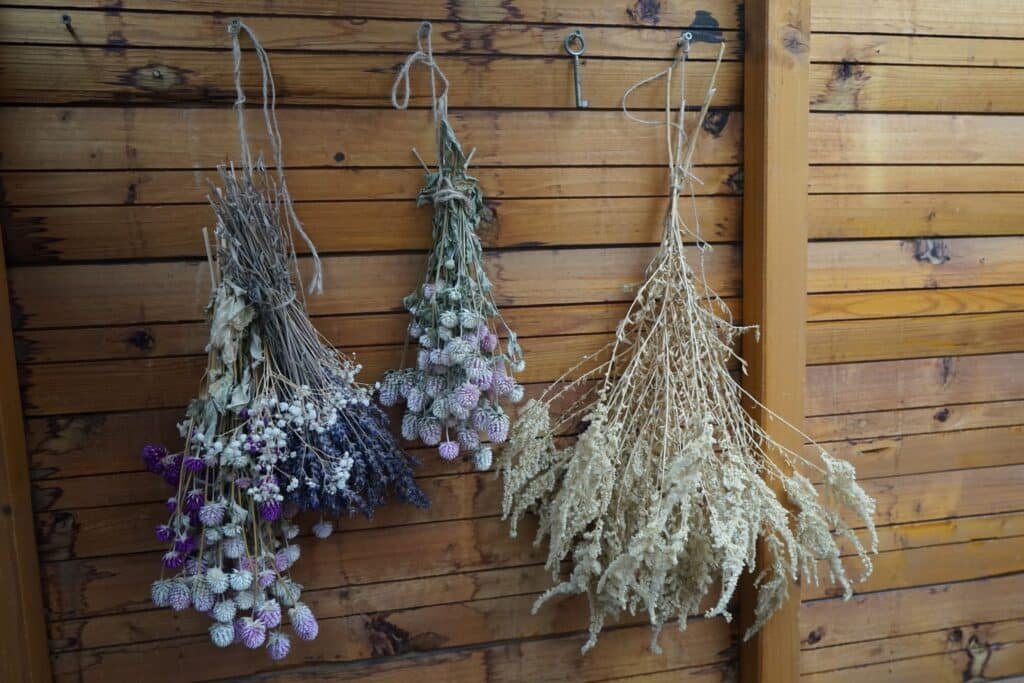 I use a jute string to secure the stems. You can also use floral wire.
If you want to hang the wreath on your front door, a wreath hanger is very handy. I use a black metal version which can easily be hung and removed and doesn't damage the door. But you can also simply tie a ribbon around the wreath and hang it that way.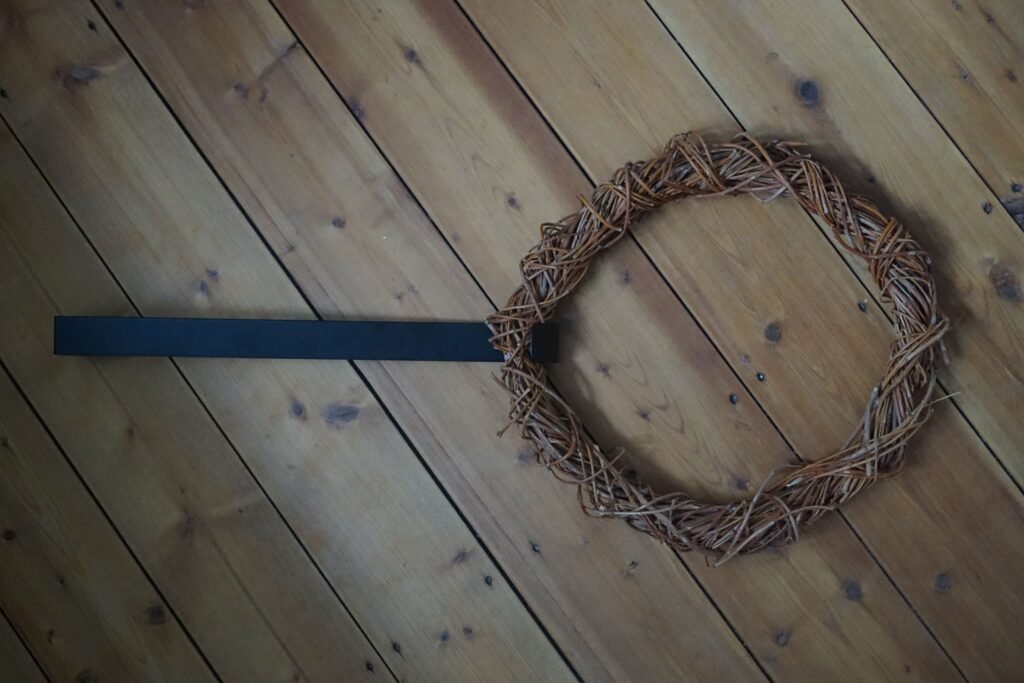 Instructions On How To Make A Dried Flower Wreath
The process itself is rather simple. You start by taking a small bundle of flowers and cut most of the stems off. Then you place the bundle on the wreath, spread the plants evenly and tie a piece of jute around them. Secure the twine by making a knot.
Going in one direction (I did it counterclockwise), place another small bundle on the wreath, overlapping with the stems of the first bundle. Wrap the jute string around it twice to secure it.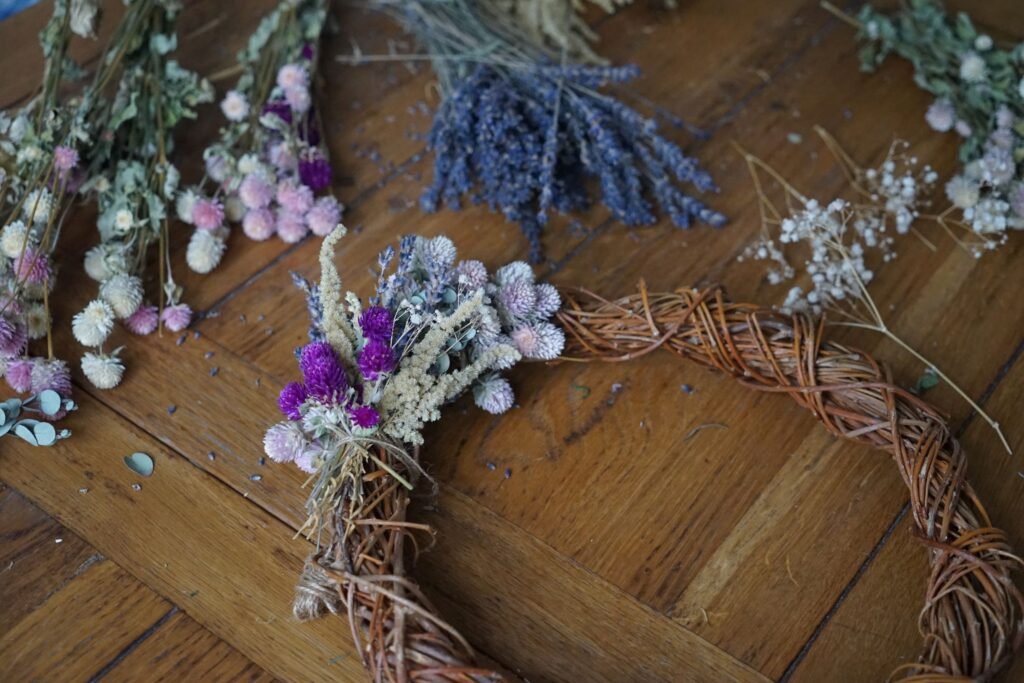 Repeat these steps over and over until you reach your starting point. Carefully tuck the stems of the last bundle under the first bundle. Tie the jute string into a knot.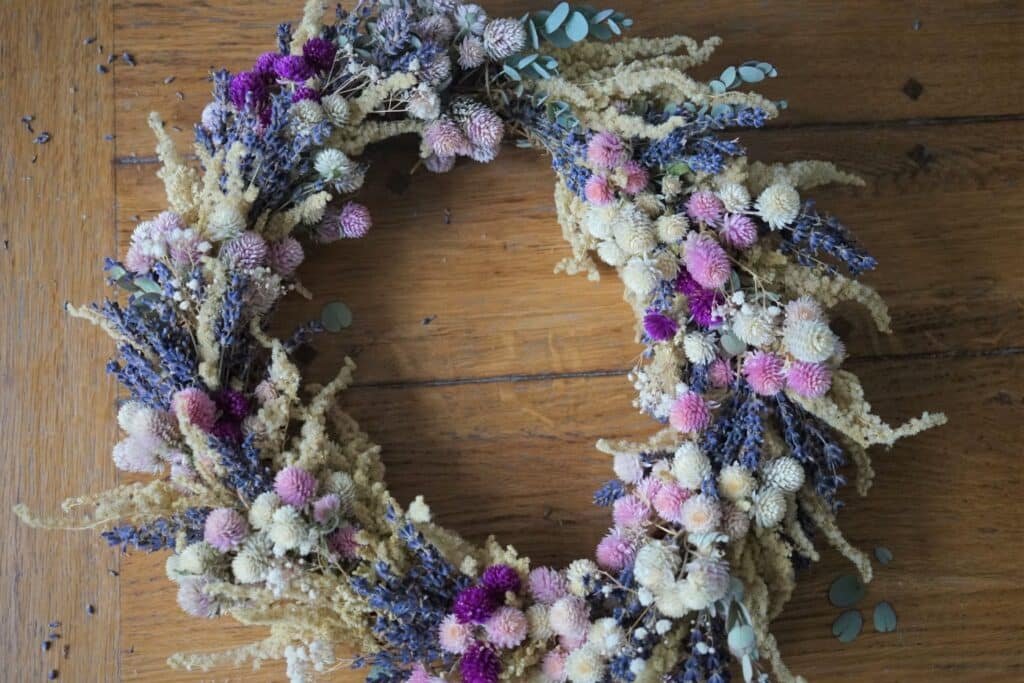 Suitable Flowers For Drying
If you would like to know which flowers are suitable for drying or look especially nice when they are dry, here are some examples. They can be used in addition or instead of the ones I utilized.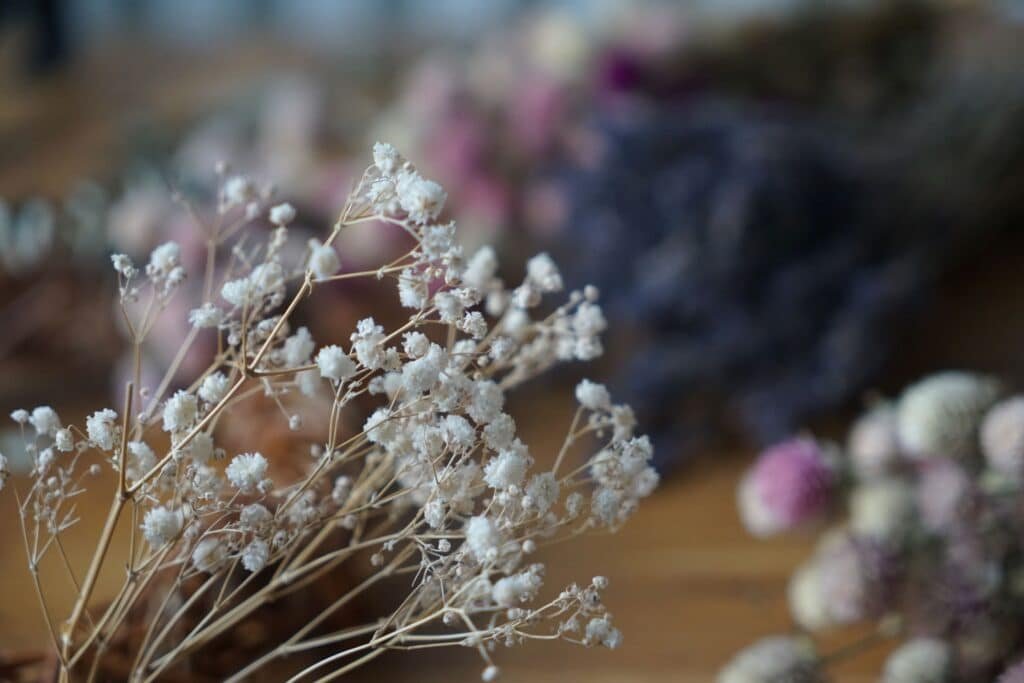 Willow Branches with Catkins (add to the wreath when they are still fresh, otherwise you won't be able to bend them)
Amaranth (Gomphrena)
Herbs
Hydrangea
Pincushion Flower
Salvia
Thistle
Alternative Options For Dried Flower Wreaths
Looking for more wreath inspiration? I have shared some DIY wreath ideas before. Last year, I made a wreath with dried flowers for Easter, you can find the blog post here. And in a previous summer, I showed you how to make a fragrant wreath using herbs and other plants from the garden.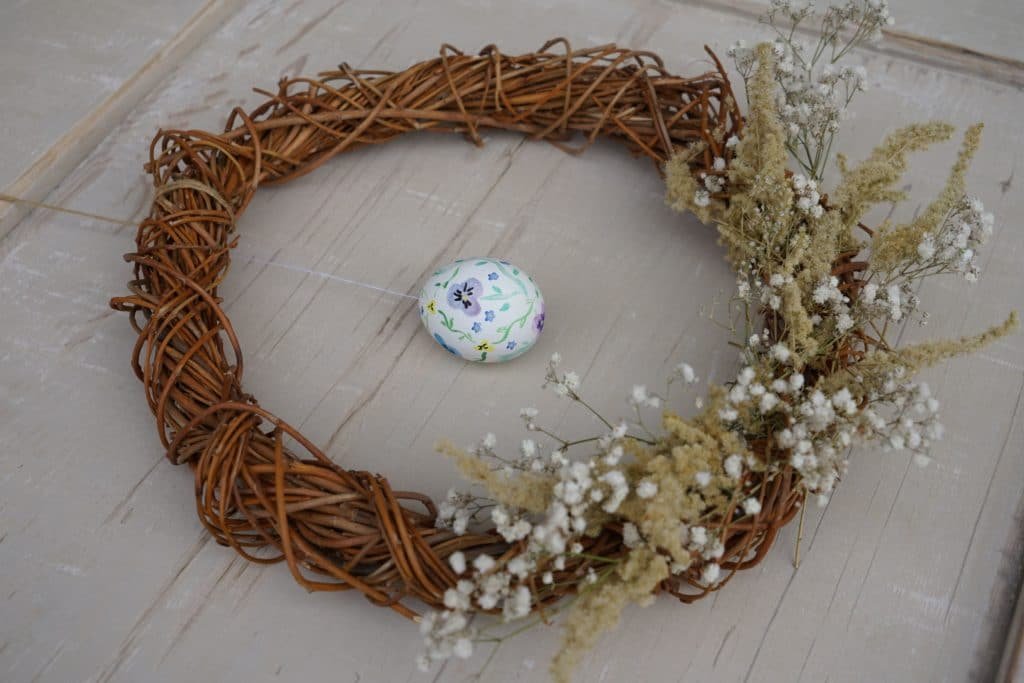 In addition, there are a lot of gorgeous wreaths on Pinterest if you need some more inspiration. For example, I think that these half hoop wreaths look very pretty as well. I have created a board with a collection of beautiful natural wreaths which you can find here.
And if you don't want to make your own, there are lots and lots of gorgeous dried flower wreaths available on Etsy.
Pin It For Later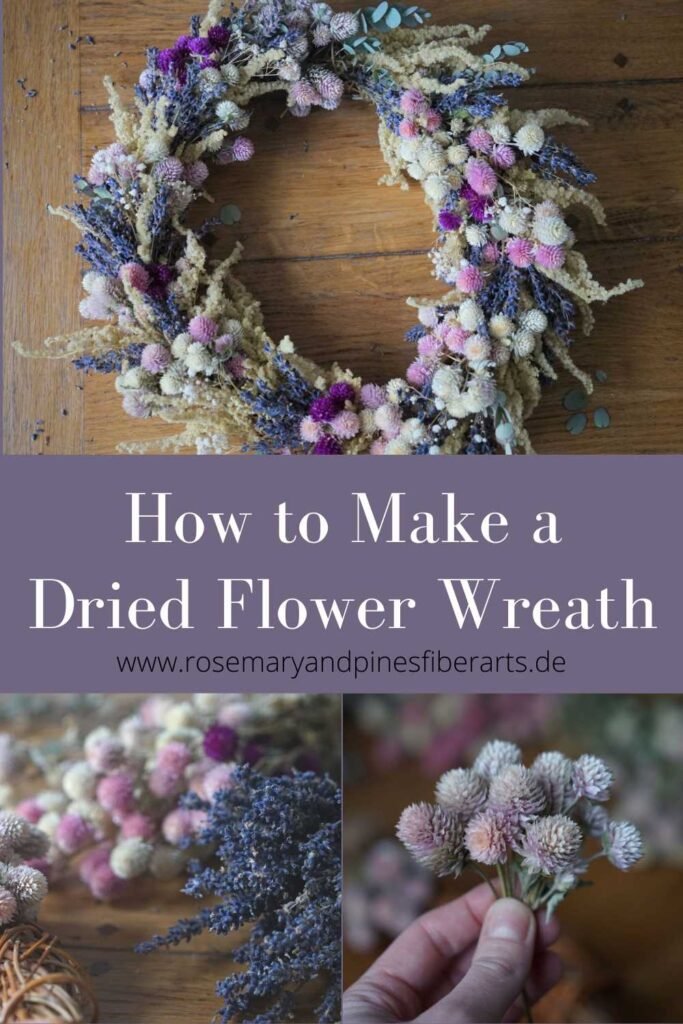 Did you find this blog post valuable or helpful? If so, you can support my website by buying me a coffee below, purchasing my knitting patterns or yarns or simply by leaving a comment. Thank you!