This eco friendly wrapping paper alternative is reusable, sustainable and beautiful, all at the same time! Homemade fabric bags have been my go-to choice for wrapping gifts for years now and today I will show you how to make them.
Back in 2015 I started focusing on reducing my family's waste. Especially products for one-time-usage are something I try to avoid whenever I possibly can. Wrapping paper is for sure one of these wasteful one-time-usage products. Not only is it not possible to reuse wrapping paper – unless you unwrap the present extremely carefully which is pretty much impossible if you have children around. But it also costs money to buy and ends up filling up your trash can.
What to Use instead of Wrapping Paper?
Well, this depends on what you have on hand. For some people, newspapers would be a great option. Others might pefer a reusable gift bag. For me, fabric as a wrapping paper alternative is the perfect choice. Since I sew a lot, fabric is something that is always available in my house. I save most of my fabric scraps as well as old clothing or bedsheets that have holes or stains in them and cannot be mended or fixed anymore.
How to Wrap a Present with Fabric
Since not everybody has a sewing machine at home or knows how to sew, I am going to show you three different options on how to make a fabric gift wrap. And only one of them requires actual sewing.
#1 Sewn Gift Bag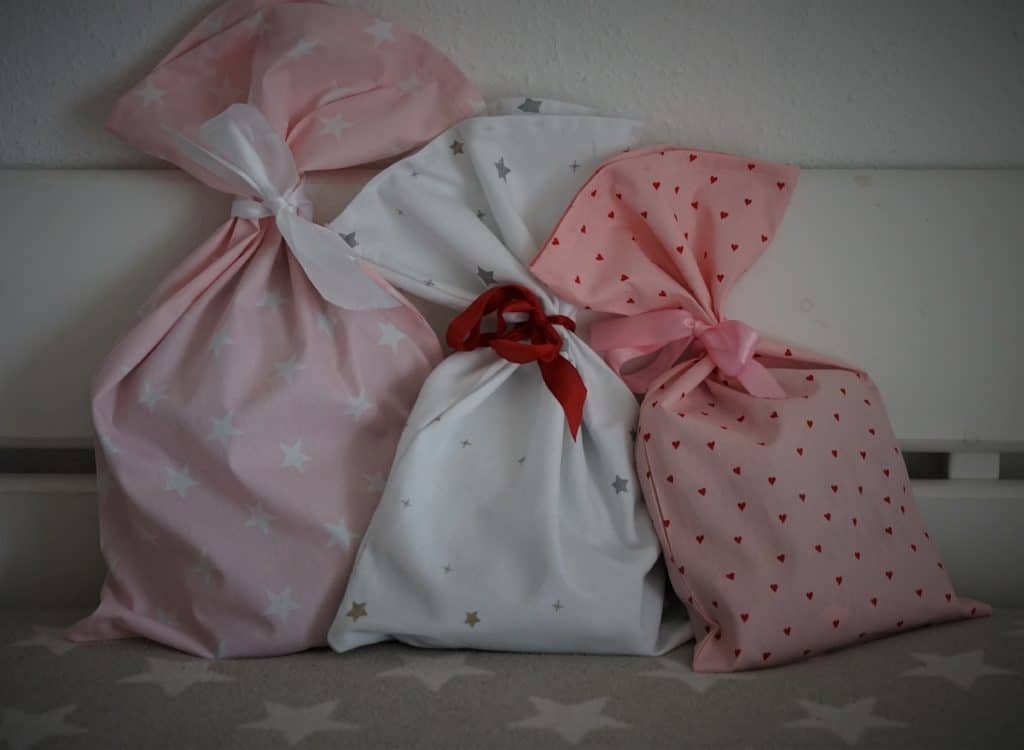 These simple cloth pouches are easy to make if you have a sewing machine and some basic sewing skills. All you need to do is sew the two side seams and hem the edge. They can be used over and over again. And if you have accumulated a number of different sizes of gift bags over time, you will find that you usually have the right size on hand for any gift size.
We have been using these fabric bags only for presents that we give within my immediate family so far. This means I can just fold them up after the present is unwrapped and reuse them again the next time.
There are lots of patterns on the Internet for a lot of different kinds of fabric bags. You can find bags with drawstrings, handles and other add-ons. For my taste though, this simple version is completely sufficient.
How to sew a fabric bag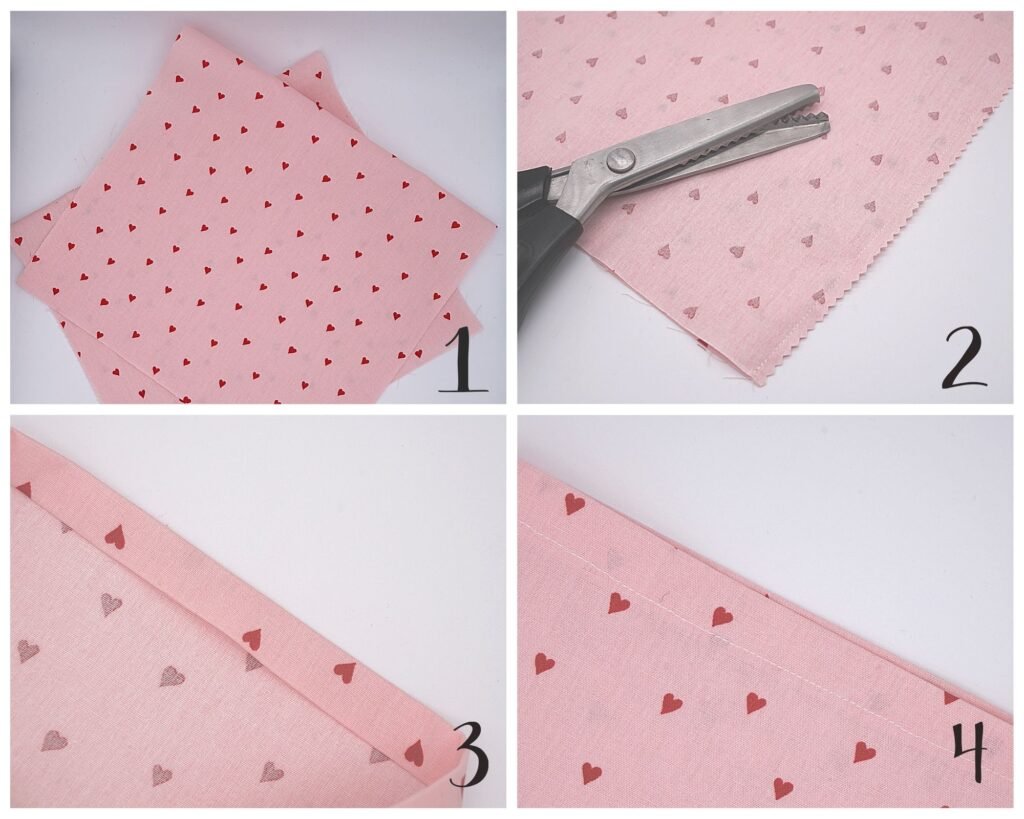 Cut out a piece of fabric that is double the length about 6" / 15 cm of how long you want your finished bag to be. Don't forget to add 1" / 2.5 cm for the hem on both ends. The 6" / 15 cm will end up to be the surplus fabric that gets tied together with a bow.
The width of the fabric strip should be the width of the finished bag plus double the seam allowance. The seam allowance is up to your preferences, I usually use 3/8'' / 1 cm.
Fold the fabric in half, the right sides are facing inwards. Sew the side seams. If you want a nicer finish, you can serge the edges or sew a zig-zag stitch. If you have a zig-zag scissor, you can simple cut off the excess fabric.
Fold the edge of the bag inward twice and iron it. If you have a serger, you can also serge the edges and just turn the egde inwards once. Sew a seam with a straight stitch around the edge to create the hem.
Turn your bag so that the right side of the fabric is on the outside of the bag. And you are done!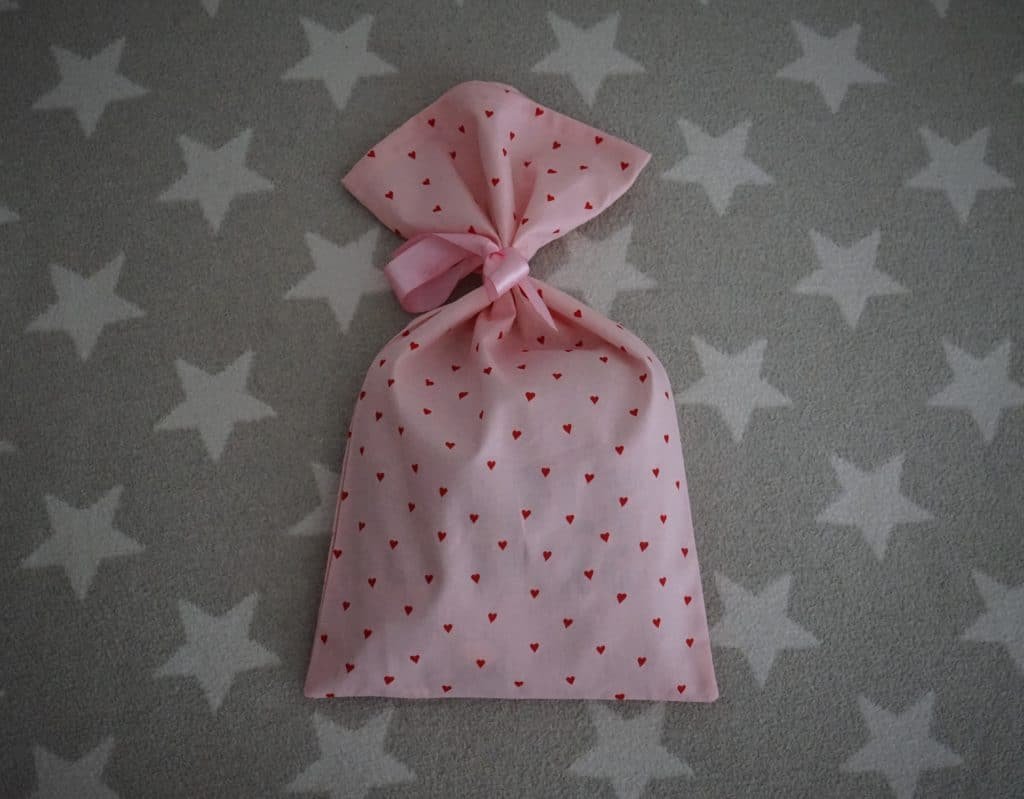 To finish up the gift bag I usually just make a bow with a ribbon that I have kept from other presents we received. Those ribbons can be reused many times. If they are crinkly, you can simply iron them on low heat.
#2 No-Sew Gift Wrap
I have accumulated a decent stash of old fabric pieces that my friends and family wanted to get rid of. It contains everything from clothing and bedsheets to fabric scraps and tablecloth. I am sure you have some pieces that you are not using anymore but are still in good condition at your home as well. Those are ideal to recycle as an eco friendly wrapping paper alternative.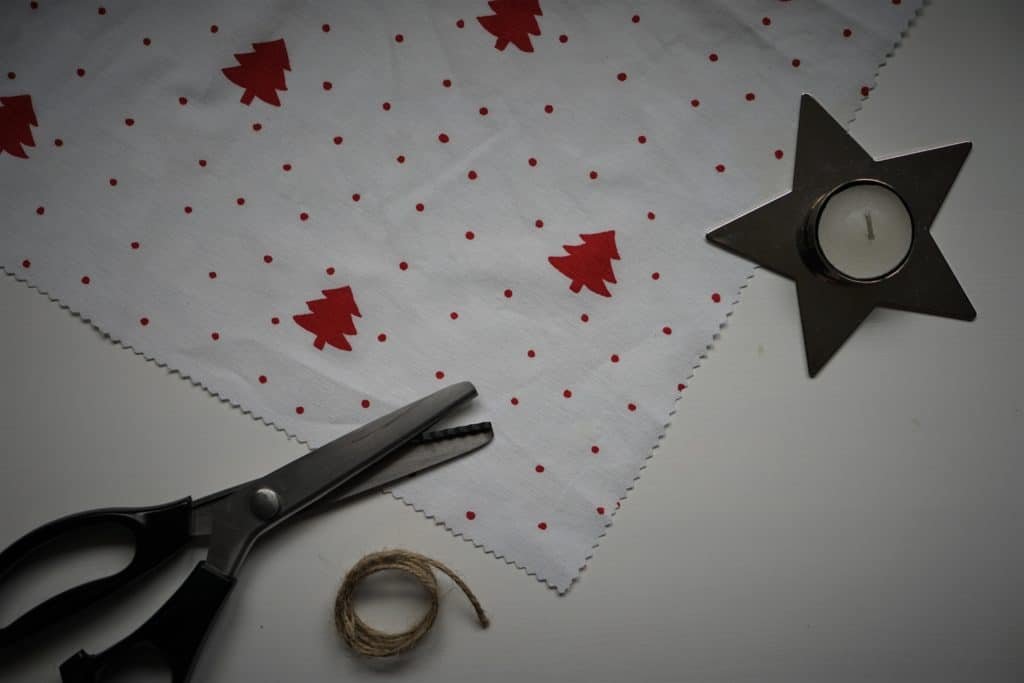 In the first example, I used some Christmas tree fabric that was given to me by a friend. She had used it for a project and didn't have any use for the leftovers. I simply took my zig-zag scissors and cut around the edges to prevent the cotton fabric from fraying. Then I tied a piece of jute into a bow to finish it up.
For the second wrapping method, I found an old dishcloth. Since it is already hemmed, I was able to use it as is.
If you have a similar hemmed piece of fabric, you only have to decide if you want to wrap the present like you would with standard wrapping paper. Or you could just place the present in the middle of the fabric, gather all the ends up and tie a ribbon into a bow. Just like I showed you with the tree fabric above.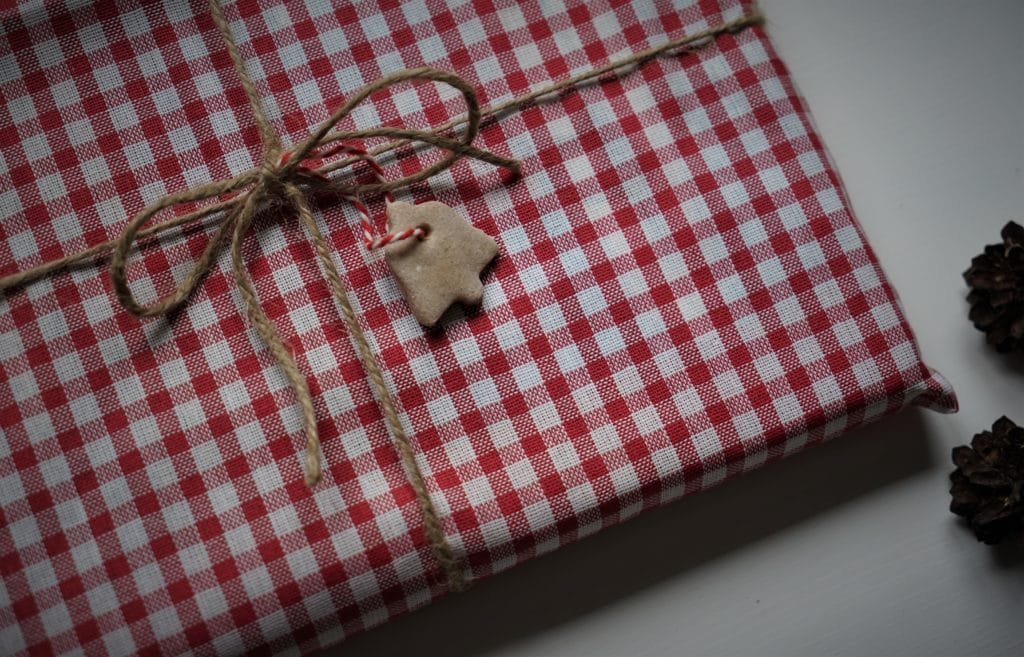 Again I used some jute that I had on hand as a ribbon. And I added a handmade salt dough ornament for a finishing touch.
These ornaments are very simple and quick to make. And they require only three basic ingredients. If you would like to know how to make them, you can check out this post from Anja over at Our Gabled Home.
#3 Furoshiki
Furoshiki are a type of traditional Japanese wrapping cloth traditionally used to transport clothes, gifts, or other goods.
For this gift wrapping example, I found an old silk scarf that I used for my gift. You just have to make sure that the cloth you are using is square.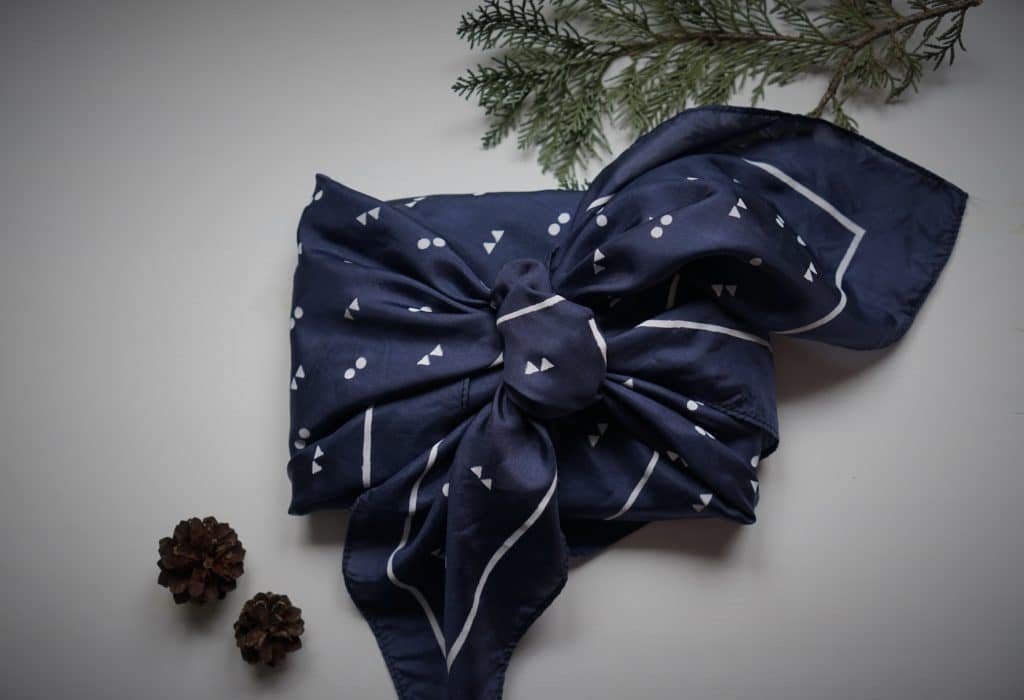 Here is short video that teaches you how to perform the Furoshiki method. It is made by Marie Kondo who you might know from her popular book "The life-changing magic of tidying up".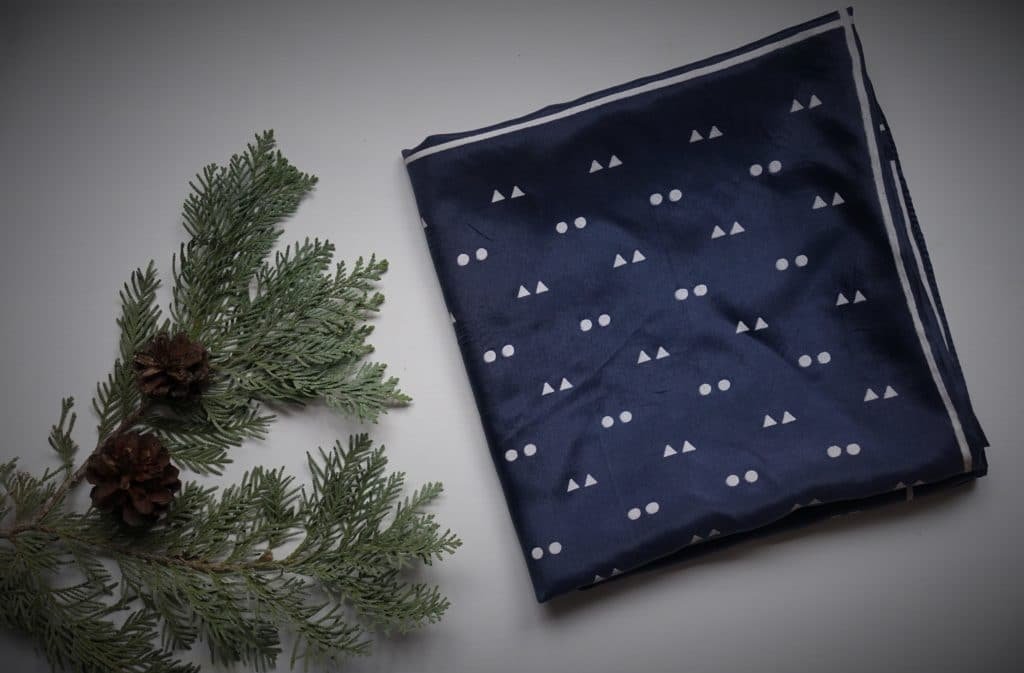 Fabric Suggestions
Natural & Sustainable
These wrapping paper alternatives will work with any kind of fabric. I personally prefer to use natural materials like cotton or linen.
Repurposing old clothing no matter the fiber content will still be an eco friendly solution though. For example, if you have a 100% acrylic sweater that you never wear you could give it a new life as a gift wrap. This would still be a much better option than simply throwing it in the trash.
Jersey
If you use jersey fabric you won't even have to hem or serge the edges. Jersey is a knit fabric which means it doesn't fray.
Fabric Scraps
If you are using scrap fabric you will probably have to deal with smaller pieces of fabric. You could piece them together to get a patchwork look. I imagine this would look very unique and beautiful.
Pin it for Later: Eco Friendly Wrapping Paper Alternative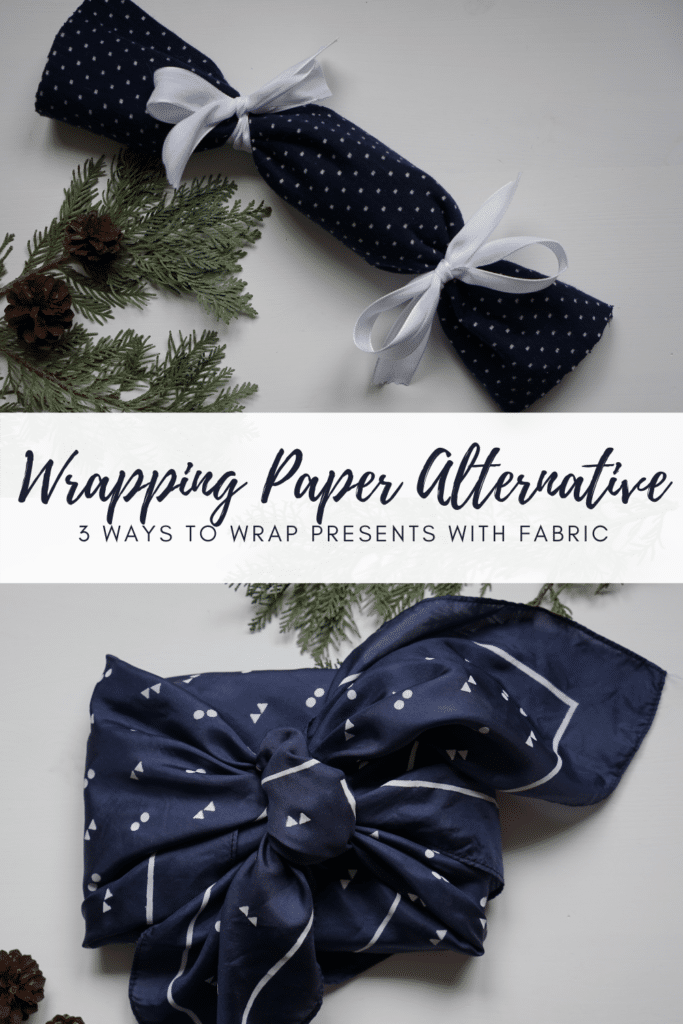 Do you need some more handmade gift ideas?
Check out this post where I talk about seven knitted and crocheted gift idea suggestions. A few of them are very quick to make and will take just a couple hours.
Do you use standard wrapping paper to wrap your gifts? Or do you have other alternative wrapping paper suggestions? Come share in the comments!
Did you find this blog post valuable or helpful? If so, you can support my website by buying me a coffee below, purchasing my knitting patterns or yarns or simply by leaving a comment. Thank you!