I recently created a candle for my niece and thus wanted to share an embellished candles DIY tutorial with you. I am not sure if this is a common thing, but here in Germany embellished candles are often made on the occasion of a christening, communion or confirmation.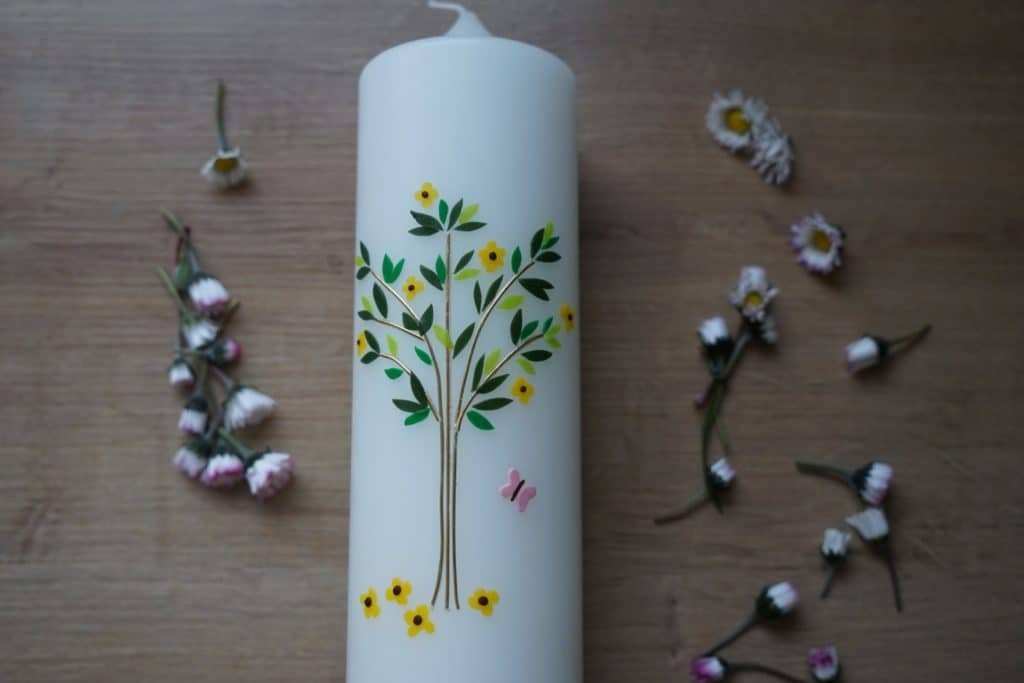 This post contains affiliate links. I may earn a small commission if you use these links, at no cost to you. As an Amazon Associate I earn from qualifying purchases. I only recommend products that I find value in myself. See my full disclosure here. Thank you for your support!
I used a store-bought pillar candle for this project and added the embellishments. There is another post on my blog about pouring your own candles from wax pastilles if you want to make a candle from scratch. You can find it here. If you wanted to make your own candles and embellish it later on, you can use a silicone mold like this one.
Embellished Candles DIY
List of Materials
Pillar Candle (25/7 cm or 8/3'')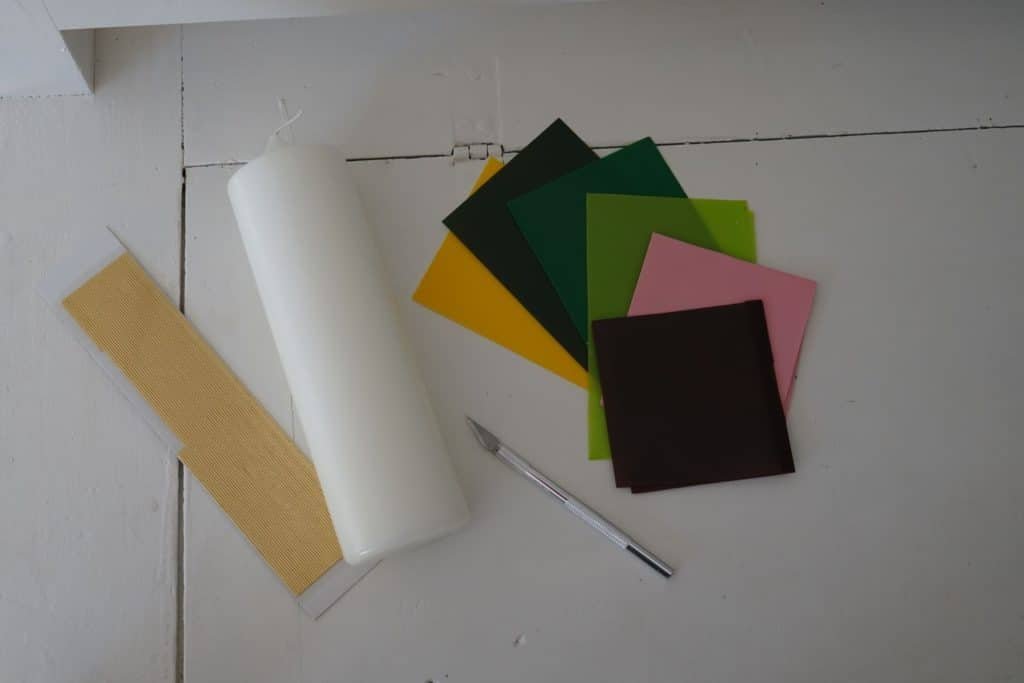 Instructions
Decide on a motif for your candle. I wanted to create some sort of an abstract tree, symbolizing the tree of life. If you want to make a similar tree, you can just follow the steps below. If you want to embellish a different motif, you simply have to alter the shapes of the pieces to fit your idea.
Start by cutting out wax strips in different lengths with the precision cutting blade. Carefully add them to the pillar candle. You have to gently press the strips onto the candle so that they will stick. Be careful not to press too hard in order to keep the shape of the strip intact.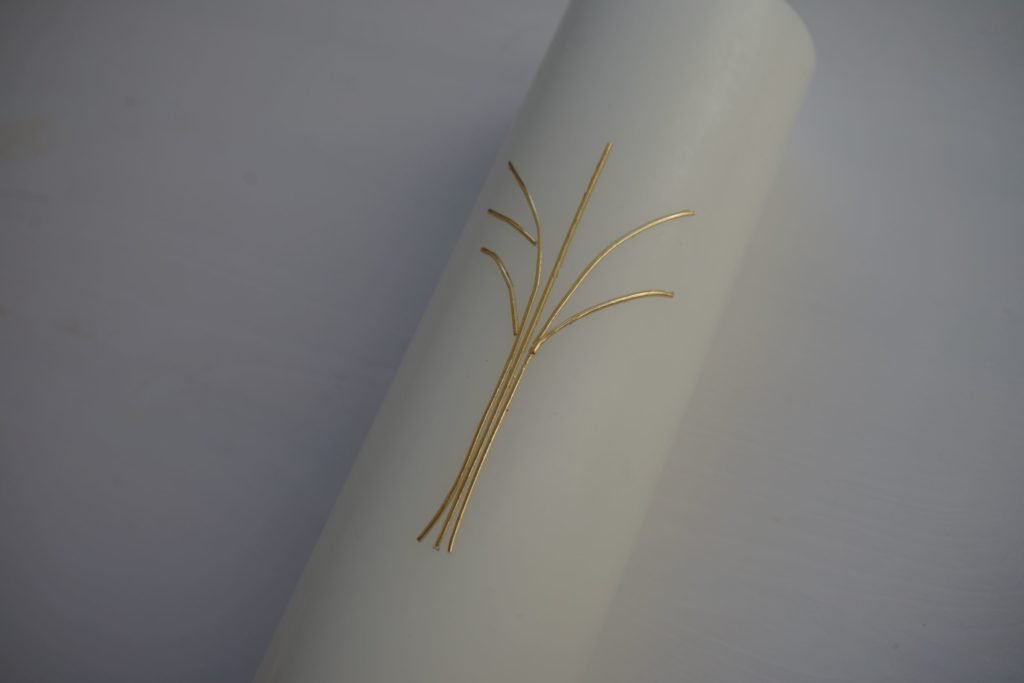 Use the green wax sheets to cut out leaf-shaped pieces. Add them to the tree and press down carefully.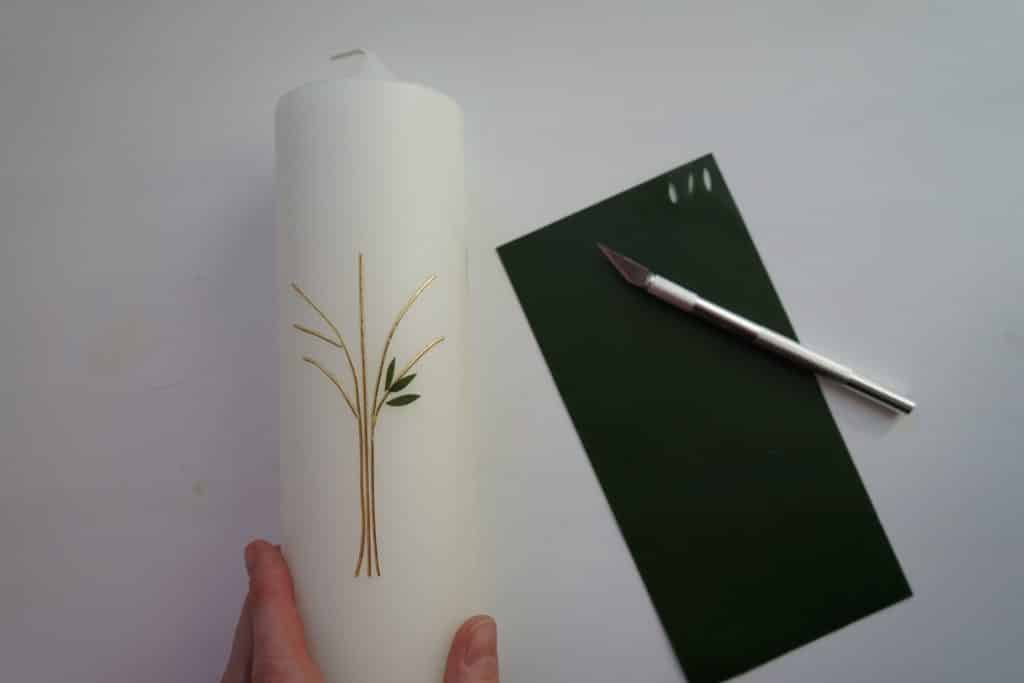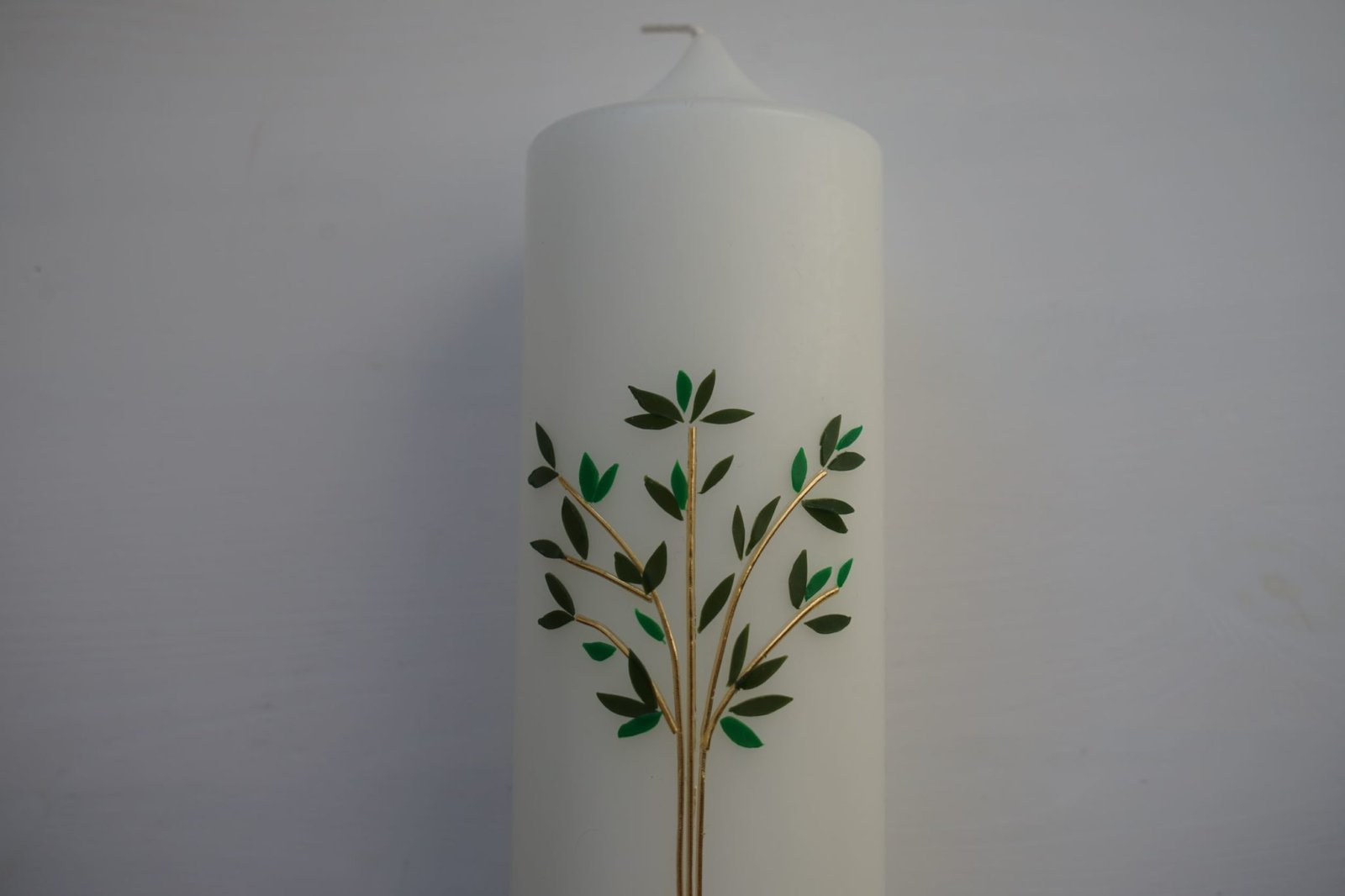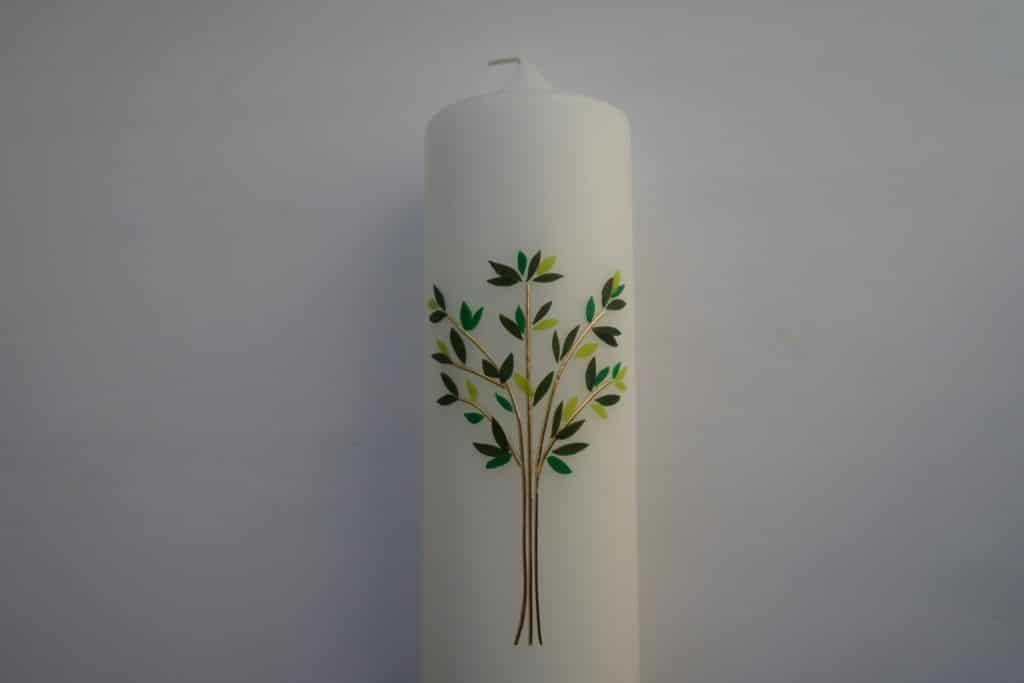 Next I decided to add some flowers. Cut out flower shapes from a yellow wax sheet using the precision cutting blade. Add the flowers to the tree. Then cut out very small pieces from a brown wax sheet and roll them into little balls. Use a bit of pressure to press onto the flowers so that they are flattened.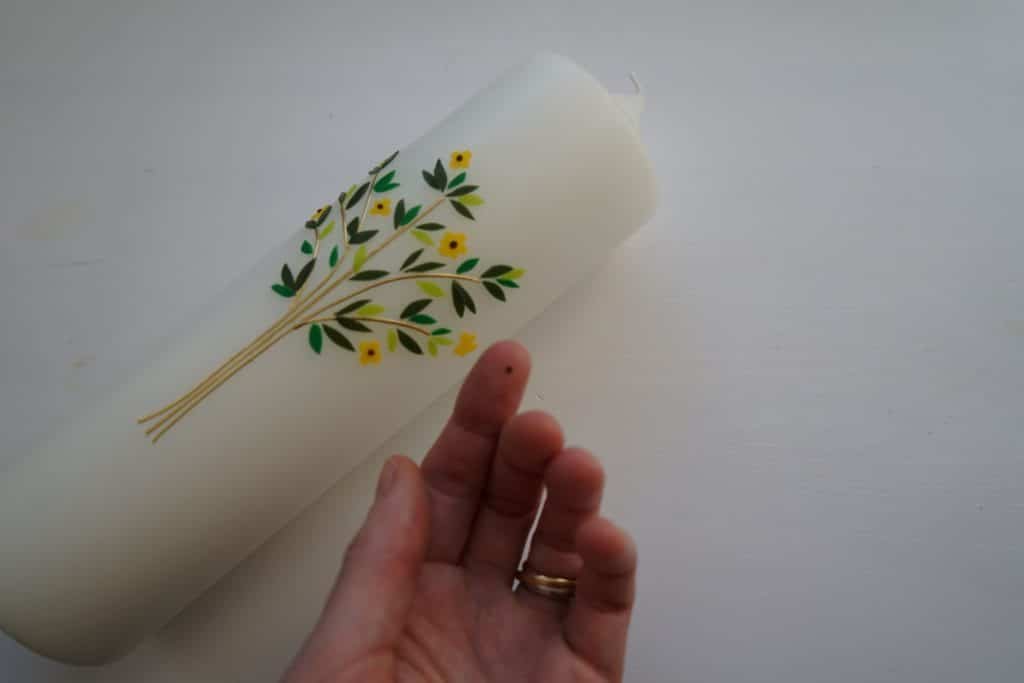 Add a butterfly by cutting out two pieces of pink wax sheet for the wings. Cut out a very thin strip of brown wax sheet for the body. Add the butterfly to the pillar candle.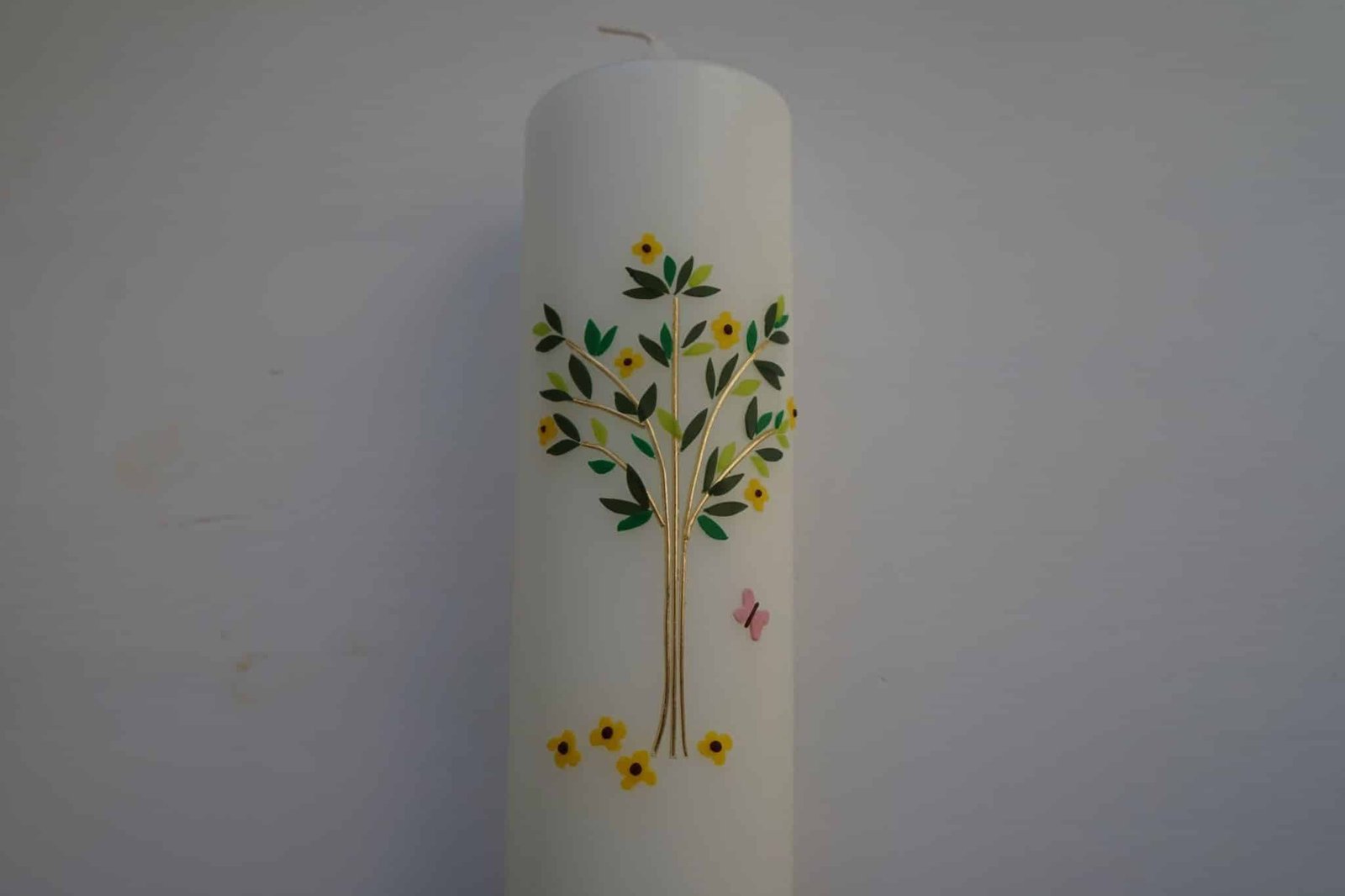 And you are done! If you are making the candle for a special occasion, you could also add a name and date. The letters and numbers can be formed with the wax strips.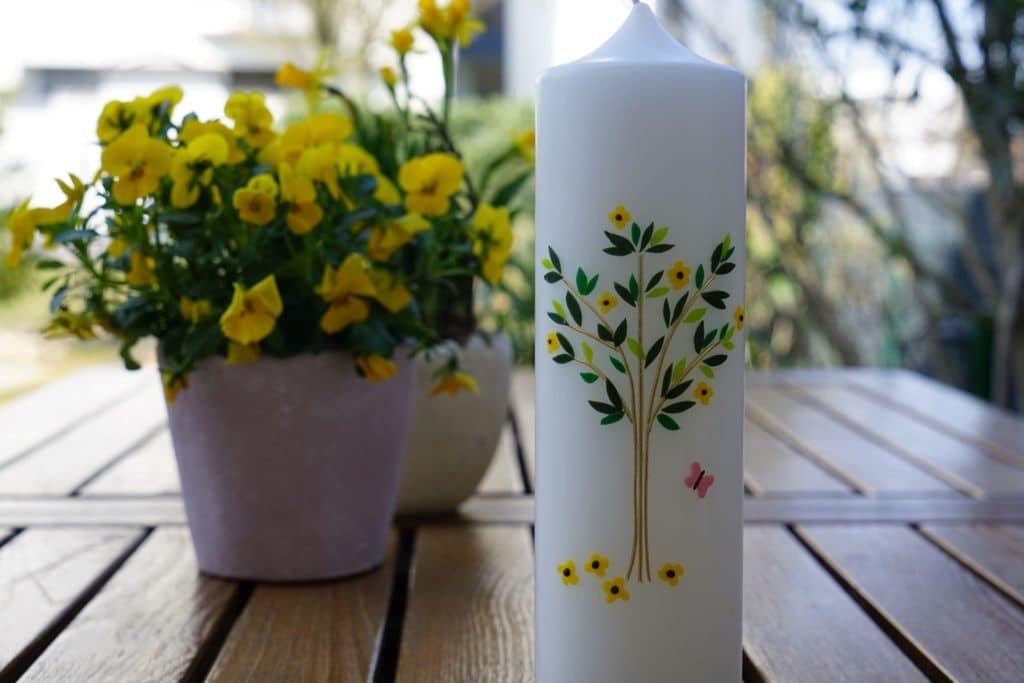 But if you feel like you don't have the time or inspiration to create your own candle, don't worry! There are lots of beautiful options available for purchase on Etsy. I have compiled a few of them for you below.
Great Flower Wreath in Vintage Style
Pin It For Later: Embellished Candles DIY
Have you embellished candles before? Which motifs did you create? Come share in the comments below!
Did you find this blog post valuable or helpful? If so, you can support my website by buying me a coffee below, purchasing my knitting patterns or yarns or simply by leaving a comment. Thank you!