Today I am sharing a free & simple floral border embroidery pattern with you. At the end of last year I wrote a post called Embroidery For Beginners. This post contains everything you need to know if you want to get started with embroidery.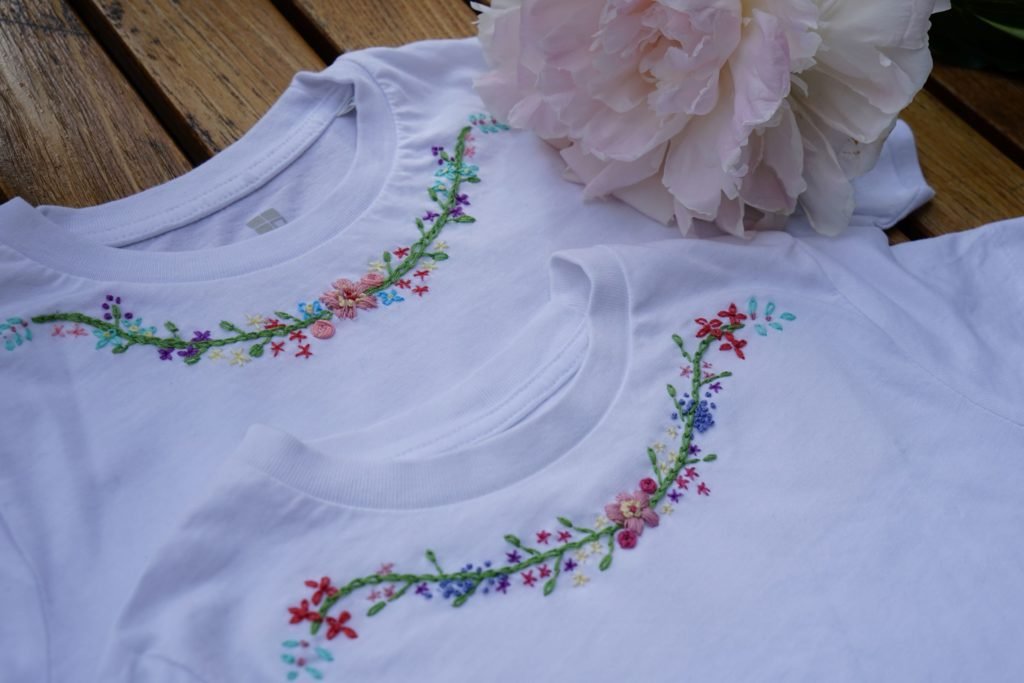 This post contains affiliate links. I may earn a small commission if you use these links, at no cost to you. As an Amazon Associate I earn from qualifying purchases. I only recommend products that I find value in myself. See my full disclosure here. Thank you for your support!
At that time I was working on embroidering a self-drafted floral pattern onto two shirts for my daughters. And I promised to share the finished results with you. Well, it took me a while, but the day has finally come to show you how the shirts turned out.
Since I am rather new to embroidery myself, the pattern that I share with you down below is beginner friendly. But if you have never done any embroidery before, I encourage to read the other blog post first before diving into this one.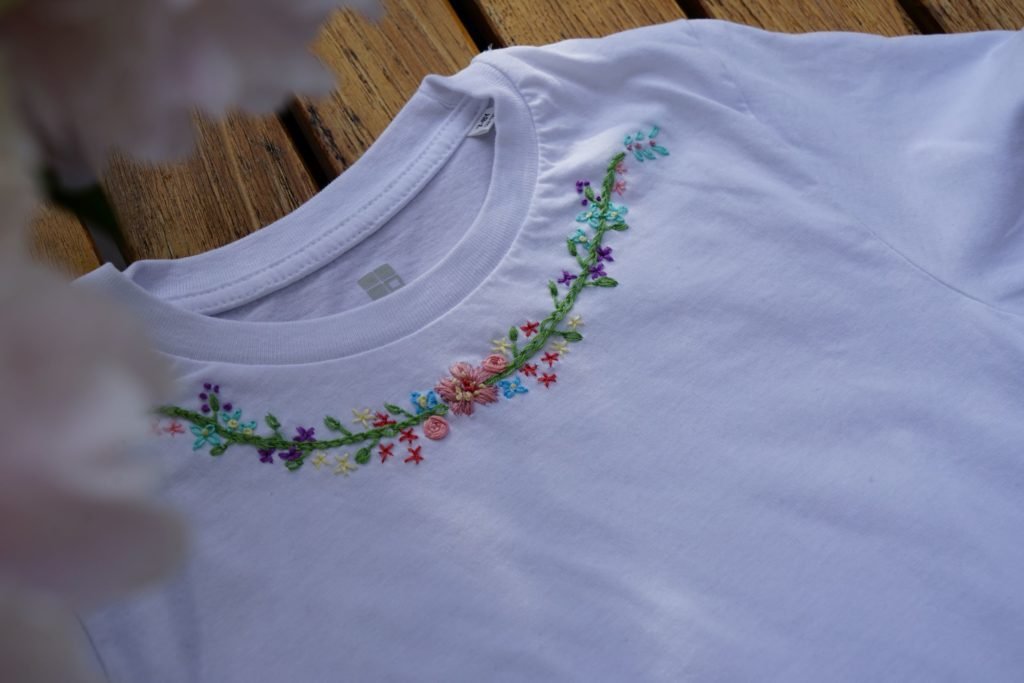 List of Materials for Free & Simple Floral Border Embroidery Pattern
When it comes to embroidery, you only need a couple of items to get started. The basic materials are:
| | |
| --- | --- |
| embroidery hoop | I use this one from DMC |
| embroidery floss | I can recommend DMC and Anchor |
| embroidery needles | I own this needle set from DMC |
| embroidery scissors | These are the ones I use |
| fabric | I chose to embroider on some jersey shirts which are made from 100% organic cotton. You can find them here. |
| stabilizer sheet | optional |
| marker for tracing the pattern | optional |
If you plan to embroider on a stretchy fabric like jersey, you can add a stabilizer sheet for stability purposes. It provides support for the stretchy fabric which allows you to create even stitches. But if you are careful about your tension, it is totally possible to embroider on a stretchy fabric without a stabilizer sheet. In fact, I embroidered one of the shirts with the addition of a stabilizer sheet and one without.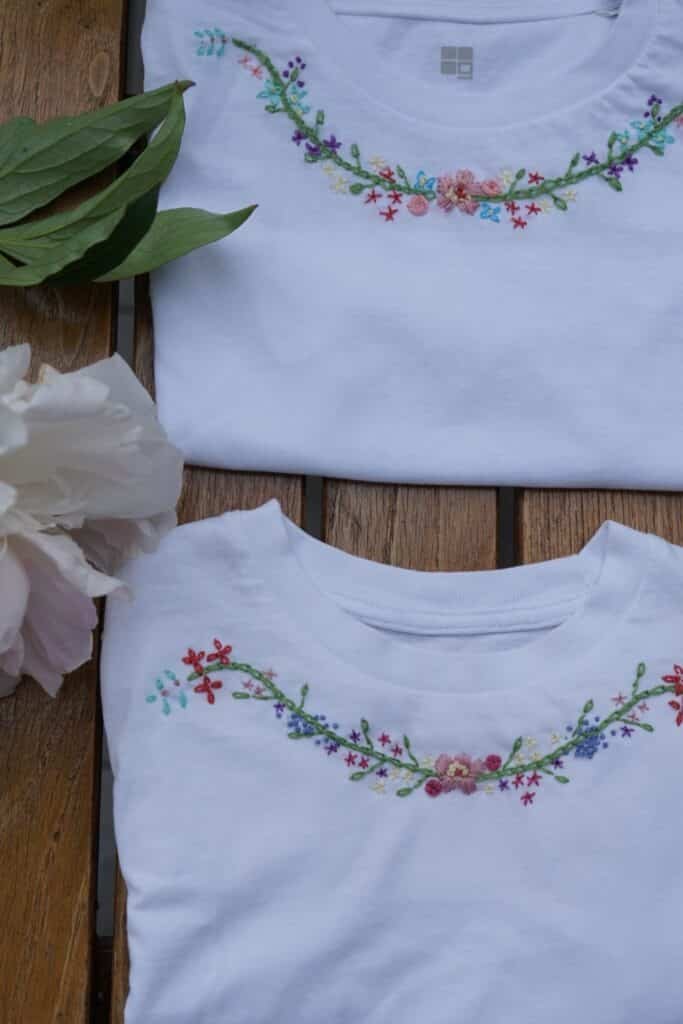 Stitches Used in free & simple Floral Border Embroidery Pattern
Here is a list of all the stitches I used to create the floral patterns. If you are not familiar with how to execute those stitches, I can recommend several sources. This is the book I own which contains a stitch dictionary of all the common embroidery stitches.
If you prefer to learn by watching videos, there are lots of embroidery videos on YouTube. You simple have to search for "embroidery … stitch" and add the term of the stitch you are looking for. For this specific pattern, you need:
Spiderweb Rose Stitch / Woven Wheel Stitch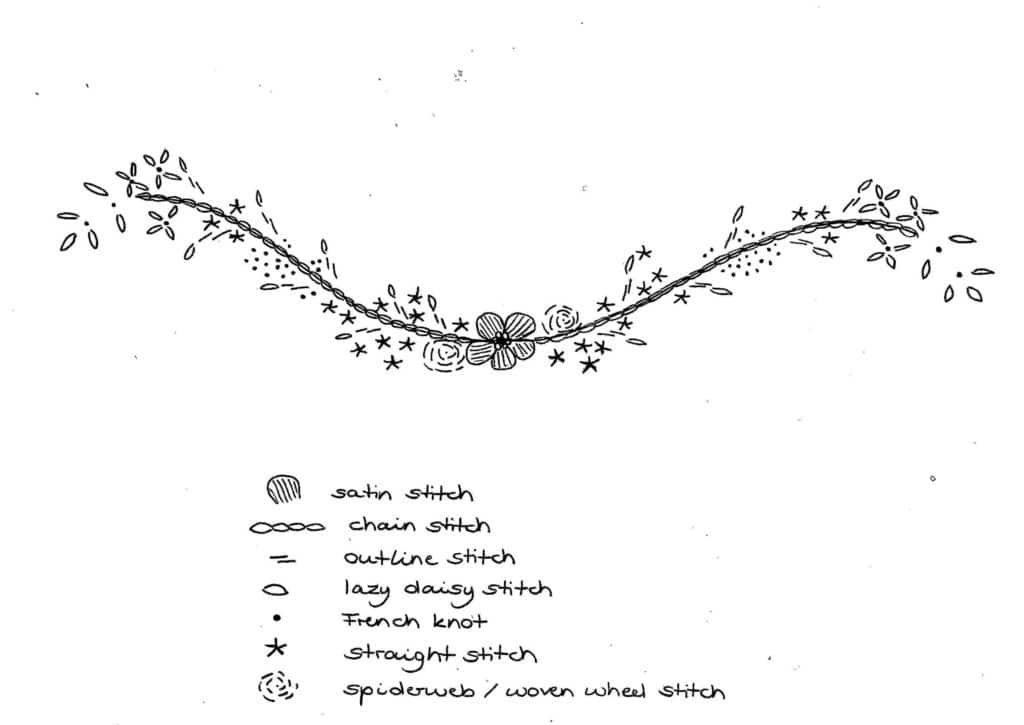 Instructions on free & simple Floral Border Embroidery Pattern
Trace the pattern onto your fabric. You can either use a fabric marker or a pencil. If you are working with a light fabric, you can hold it up against a window and place the pattern behind it. Then you should be able to see the pattern shining through the fabric. But of course, it is also possible to use the pattern only as a point of reference and freestyle the embroidery. That is what I usually do.
Put the fabric into the hoop. If you are using a stabilizer sheet, make sure that it lays firm and evenly behind the fabric.
Prepare your floss
Embroidery floss comes in multiple strands, often six. I usually use three strands of the embroidery floss at a time. It is also important to use a thread that isn't too long in order to prevent tangling. As a rule of thumb, I roughly aim for the length of the thread to be as long as my forearm.
Stitching
Make a knot in one end of the thread and start embroidering. I started with the green garland (chain stitch). Afterwards I added the leaves (outline stitch, straight stitch and lazy daisy stitch). Next up was the large flower in the middle (satin stitch, French knot). Then I added the two roses next to it (spiderweb or woven wheel stitch). Afterwards I added the smaller flowers in various colors wherever it seemed fitting (French knots, lazy daisy stitch and straight stitch).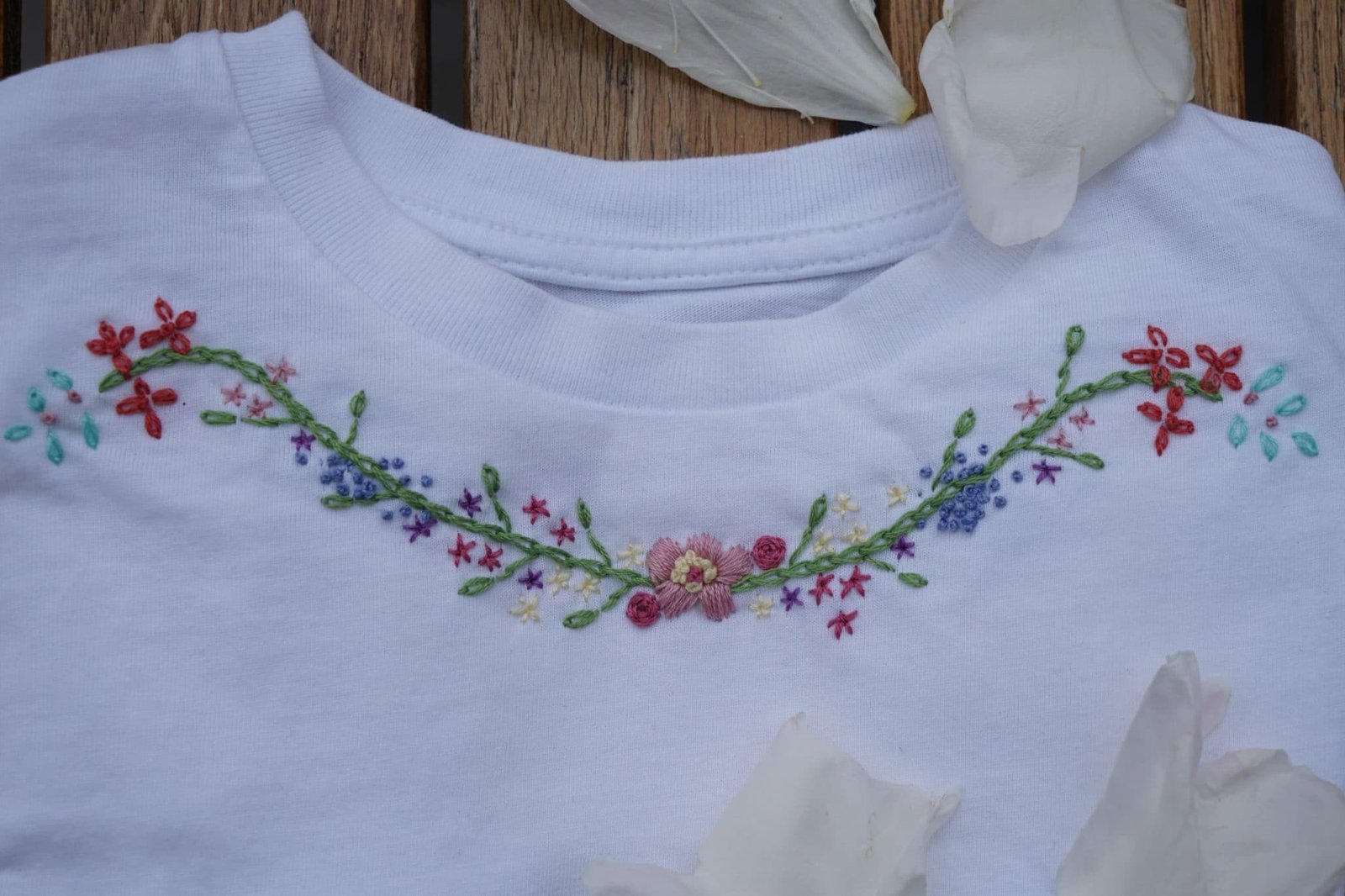 You will notice that the patterns on the two shirts are similar but not completely alike. This is due to the fact that I freestyled the pattern after embroidering the basic outlines. The color choice is also different because my daughters chose the combination of embroidery floss for each of their shirts themselves.
Caring For Embroidered Clothing:
With my first embroidered shirts, I was very careful and only washed them by hand the first couple of times. But since I try to keep everything as simple as possible, I tried washing them in the washing machine with the regular laundry after a while. It worked just fine and now I don't treat them any differently than the rest of the laundry.
Have you tried adding embroidery to clothing yet? What kind of motifs did you embroider? Come share in the comments!
Pin It For Later: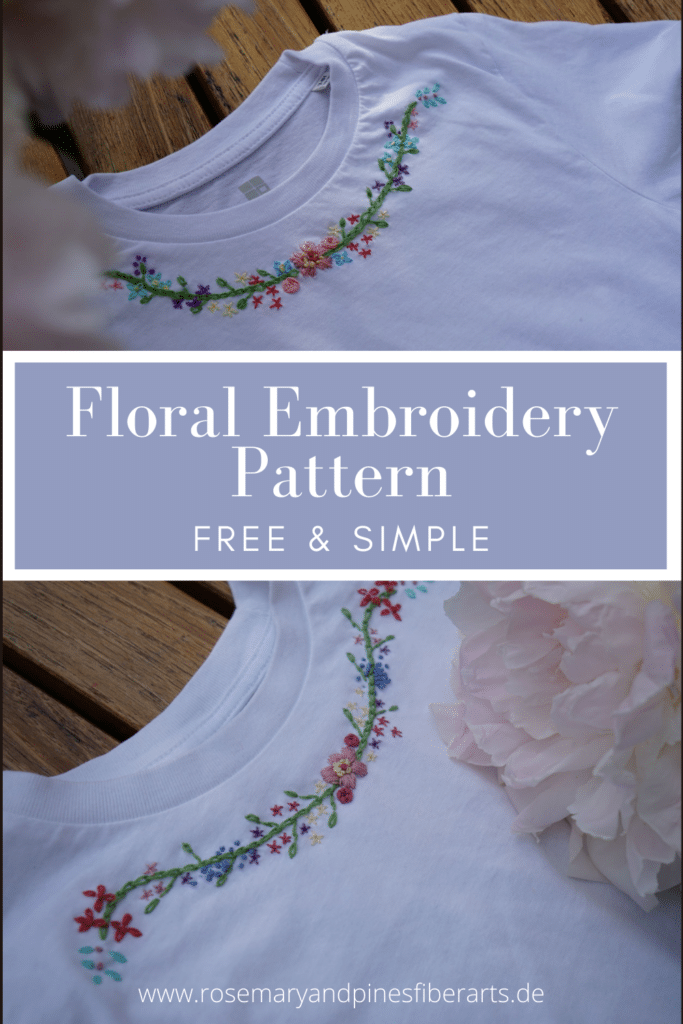 Did you find this blog post valuable or helpful? If so, you can support my website by buying me a coffee below, purchasing my knitting patterns or yarns or simply by leaving a comment. Thank you!