In this DIY tutorial I will show you how to make a Christmas card with an embroidery motif.
This post contains affiliate links. I may earn a small commission if you use these links, at no cost to you. As an Amazon Associate I earn from qualifying purchases. I only recommend products that I find value in myself. See my full disclosure here. Thank you for your support!
These cards are easy to make and require just a few materials. The embroidery pattern is completely customizable. You can create a simple design like the star I made or get creative with a more elaborate pattern. I only used one colour for my version but several colours would also look great.
Embroidered Christmas Cards
I have only embroidered a few pieces so far. But in my opinion, embroidery is one of the most relaxing crafts. So if you like embroidery or have always wanted to try it out, these cards are for you!
How to Make a Christmas Card with Scrap Yarn
I always try to find ways to avoid waste whenever possible. If you are like me and low impact living is something that is important to you, these Christmas cards might be an option for you. In case your are a knitter or crocheter, making these embroidered Christmas cards is a great opportunity to use up scraps of yarn. For the star motif I made you will need about 80 cm / 32 inches of yarn per card. I used white, blue and red because I had some yarn leftover from several Christmas presents I knitted. If you have a look at my Instagram feed or Ravelry projects page you might be able to spot them.
List of Materials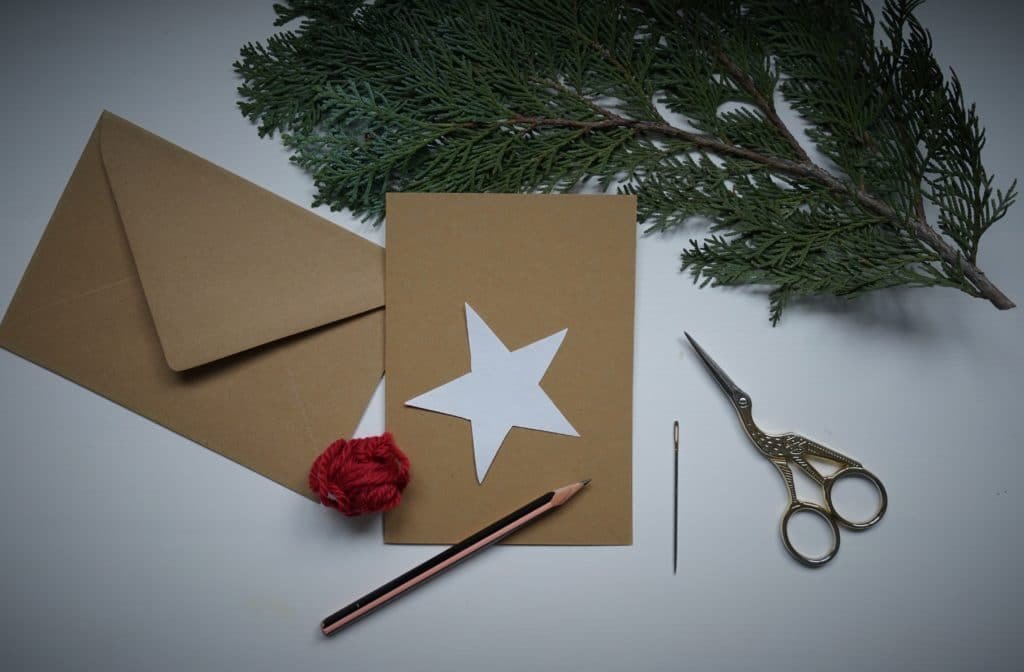 You will need:
Blank cards – I used recycled cardboard cards
Scrap yarn – about 80 cm / 32 inches per card
Needle – a darning needle works best
Scissors – to cut the yarn, I use embroidery scissors
Nail/Screwdriver or another sharp object – to create small holes for the yarn
Optional:
Pencil – to trace the pattern onto the card
Paper – to create a stencil
DIY Tutorial on How to Make a Chrismas Card
Note: The first two steps are optional. It is also possible to freestyle the pattern directly during the embroidery process if this is what you prefer.
1. Create a stencil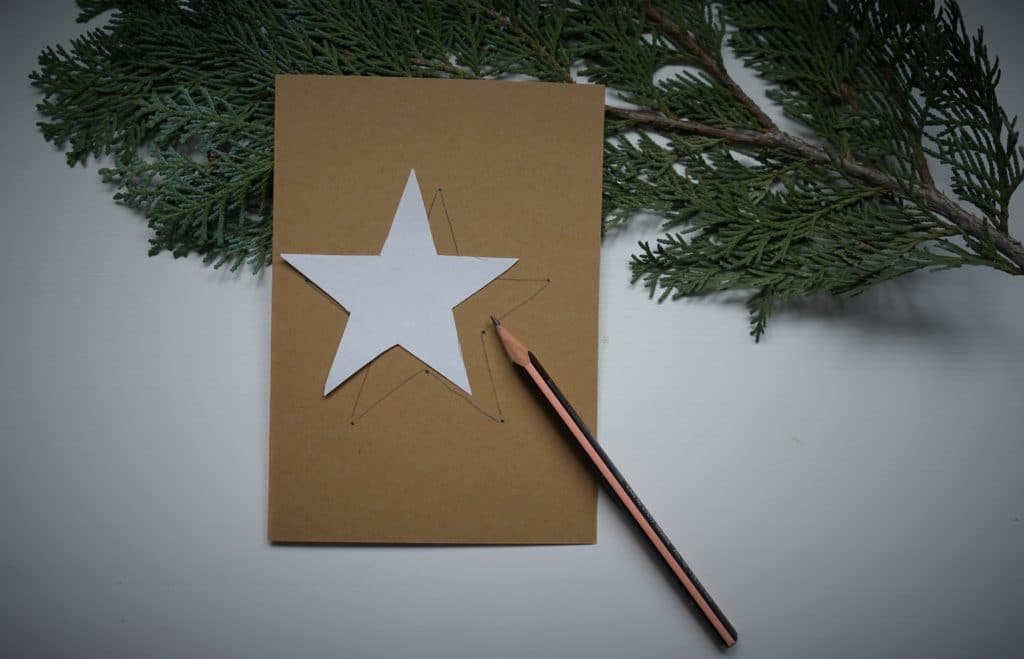 Draw a star – or any other pattern of your choice – on a piece of pattern. Using cardboard will make the stencil more durable and easier to trace around. But regular paper works as well. If you have difficulties drawing a stencil freehand, there are tons of free templates available on the Internet.
Cut out the stencil.
2. Trace the pattern onto the card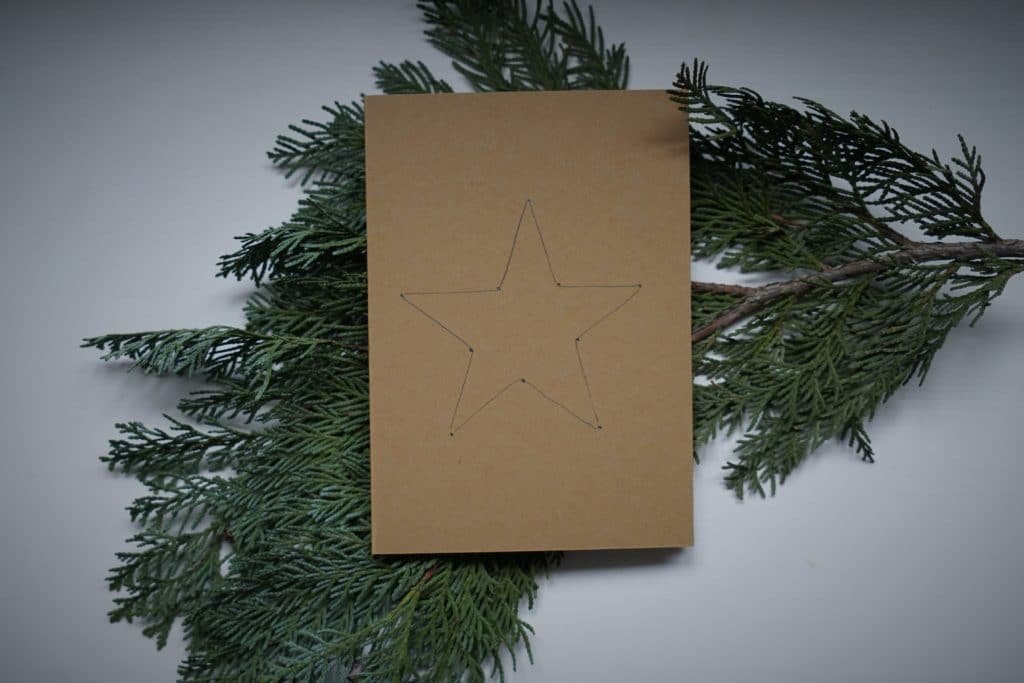 Lay the stencil on the card and lightly draw around it with a pencil. You won't have to erase the markings later on, because they will be hidden under the embroidery.
Whenever you reach a corner, make a small dot. These dots indicate the spots where you will make a hole in the next step.
3. Punch small holes in the corners
You need a sharp tool to make several holes in the card for the yarn to pass through. The kind of tool you need depends on the thickness of your card as well as the thickness of the yarn you are using. Be careful not to tear the card when making the holes.
For my Christmas cards, I used rather firm, recycled cardboard cards. At first, I created tiny holes with a nail. Then I widened the holes carefully with a small screwdriver.
4. Embroider the pattern onto the card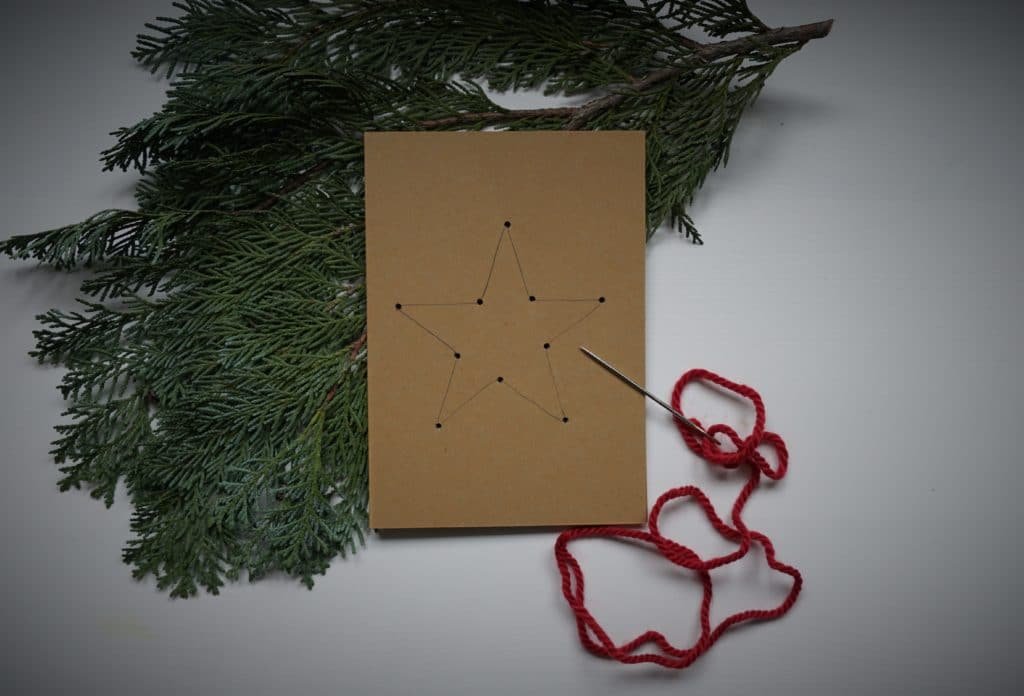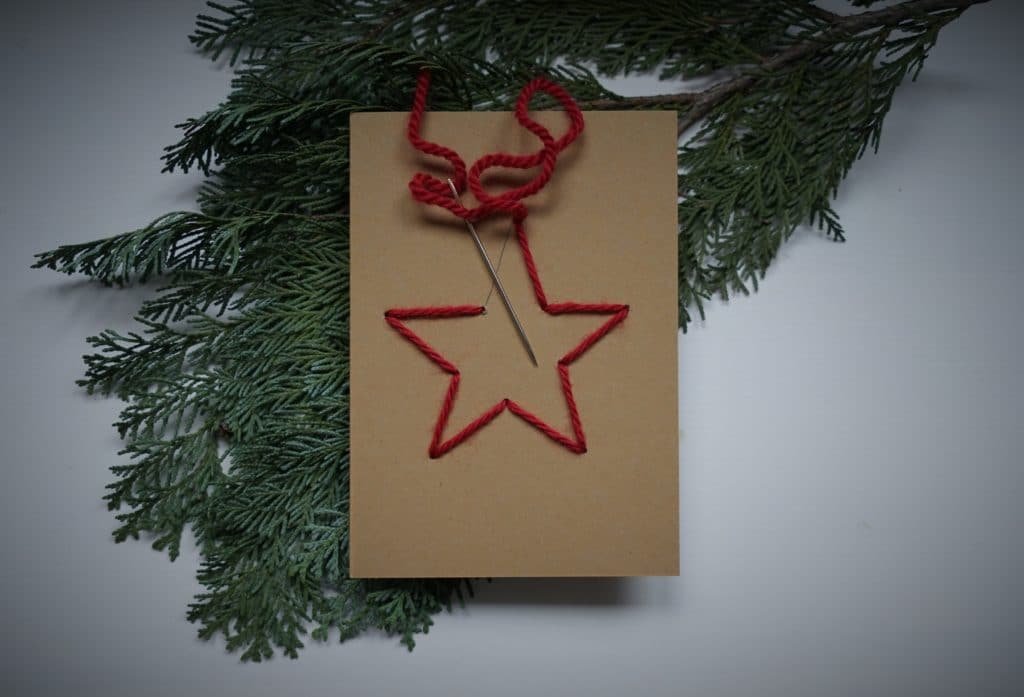 Thread the needle with the yarn and make a knot in one end. Start embroidering the pattern onto the front of the card. To do so, you have to pull the yarn through the first hole to the front of the card coming from back. When you are done, pull the yarn to the reverse side and make a second knot in the other end. Cut the yarn.
5. Cover up the reverse side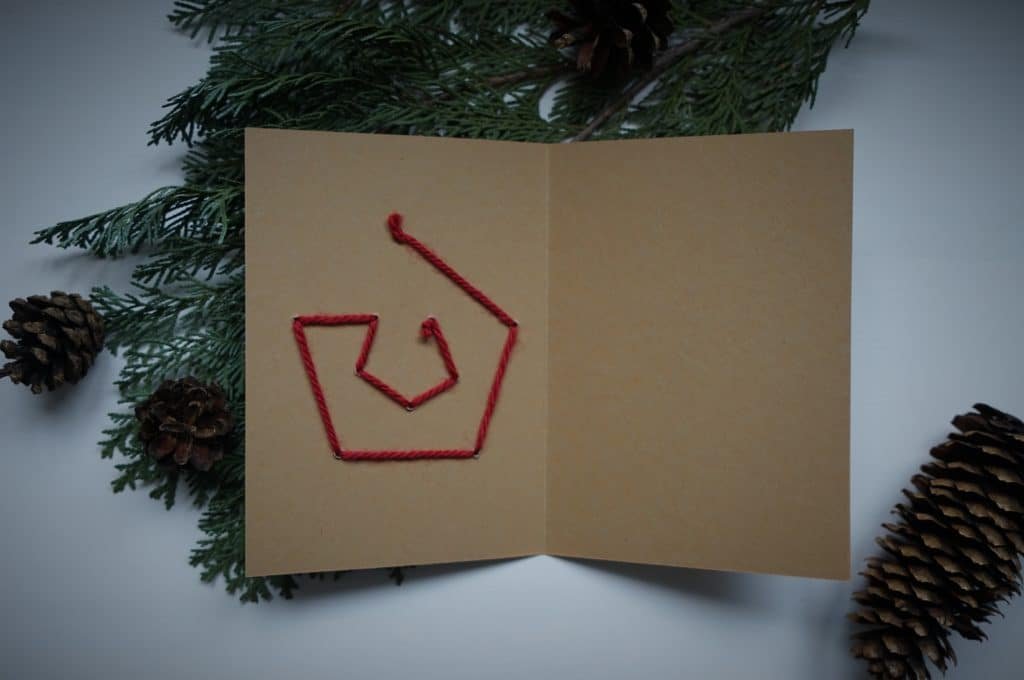 The blank cards I bought came with a folded card, an inlay and an envelope. I embroidered the pattern onto the outside of the folded card and glued the inlay onto the inside of the folded card. This covered up the reverse side of the embroidery.
Note: You could totally forego this step and leave the reverse side of the embroidery visible. You can see on the pictures how this is going to look. In my opinion this can totally be left as is. I only covered it up because I had the inlays on hand anyway and didn't have any other use for them.
And with that, you are done! If you want, you could add a text like "Merry Christmas" or whatever you prefer to the front of the cards. As you can see, I left my Christmas cards blank and I think this looks very beautiful as well.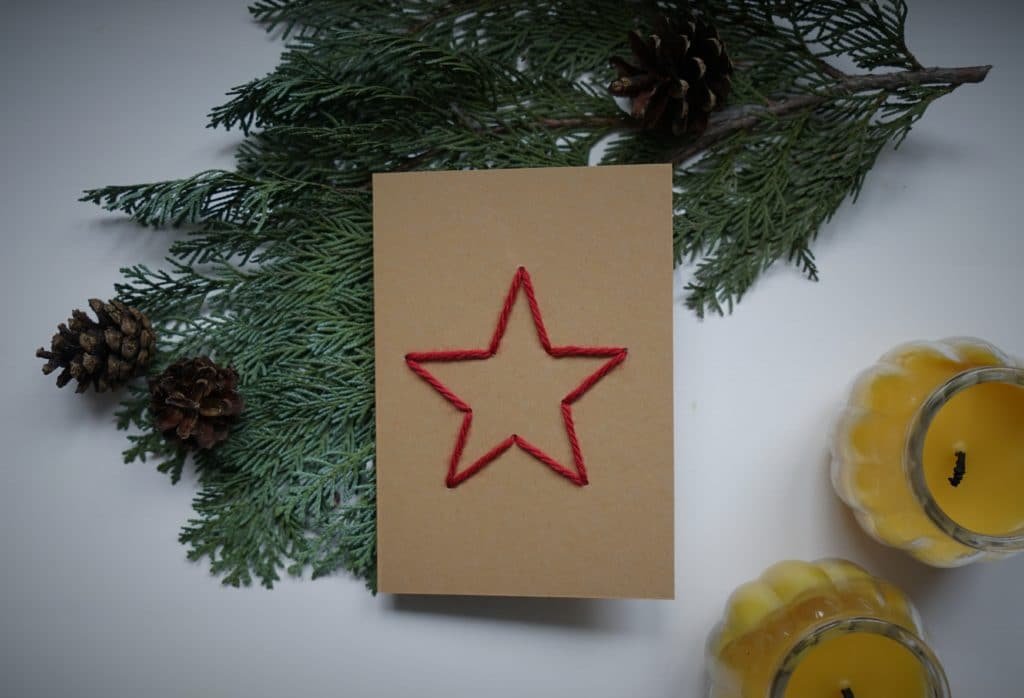 Making Christmas Cards with Children
We have been making our own Christmas cards for several years now. My children always enjoy helping me, so this has been a joint activity that we all look forward to every holiday season. When they were really little, we made very simple cards. For example, one year we created snowmen with basic potato prints. As they got older, the cards became slightly more challenging. They are now five and six years old and with a little help, embroidering the pattern of this year's Christmas cards themselves worked quite well. So if you have children that are about five years or older, you can make these cards together!
Other Embroidery Pattern Suggestions for Christmas Cards
The star I used for my cards is very classic and simple to make. Especially if you want to create the cards together with your children and are looking for an easy embroidery motif. But I can imagine that different patterns would work out beautifully as well. Other pattern ideas that would look wonderful on a Christmas card and could be embroidered are: a Christmas tree, a candle, a snowflake, a pine cone or a gingerbread house.
More Ideas for Handmade Christmas Cards:
Gingerbread House Christmas Card DIY & Template
Are you making your own Christmas cards as well? What kind of cards do you make? Come share in the comments below!
Pin it for later: How to Make a Christmas Card DIY Tutorial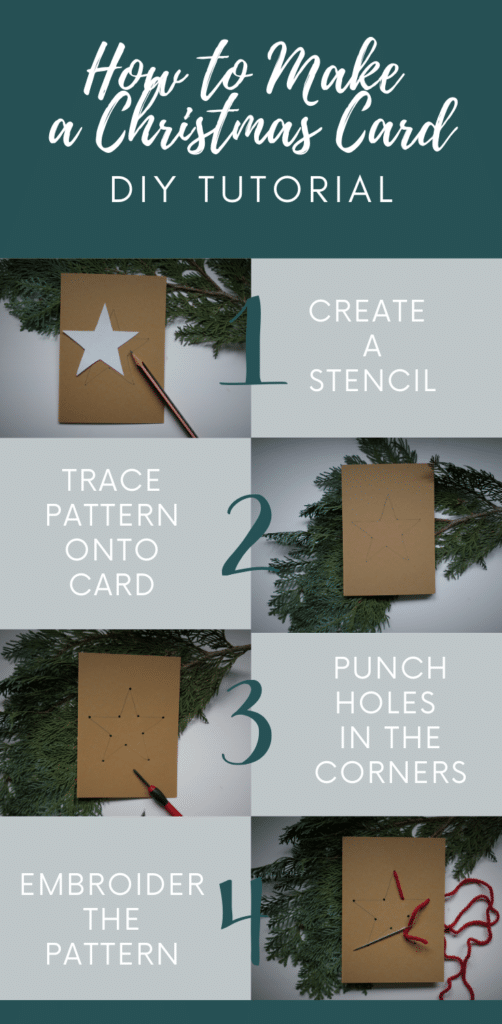 Did you find this blog post valuable or helpful? If so, you can support my website by buying me a coffee below, purchasing my knitting patterns or yarns or simply by leaving a comment. Thank you!