In this DIY tutorial I will show you how to sew a cloud pillow. This tutorial is suitable for beginners who know the basics about operating a sewing machine. If you don't have a sewing machine, it would also be possible – yet more time consuming – to sew the pillow by hand.
This post contains affiliate links. I may earn a small commission if you use these links, at no cost to you. As an Amazon Associate I earn from qualifying purchases. I only recommend products that I find value in myself. See my full disclosure here. Thank you for your support!
When my daughter was a baby, I taught myself how to sew and was looking for easy and simple yet useful project ideas. Since babies grow quickly and the clothes they wear seemed too complicated to make for me, I wanted to start with something different than clothing. Decoration for the nursery and especially pillows quickly came to mind.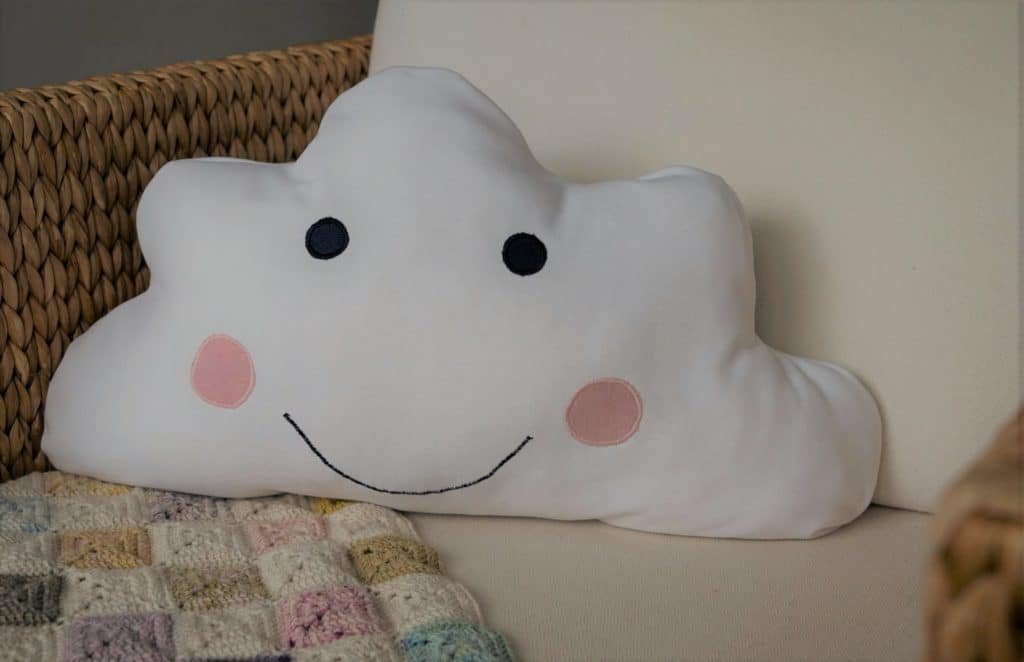 I really like this project as a beginner's project because it is highly customizable and fairly easy. You don't need to purchase expensive fabric for it. You can look around your house to see what you have and go from there. This could be as simple as using an old bedsheet or a woven, non-stretchy shirt. If sustainability and eco-consciousness are as important to you as they are to me, you could make this pillow using all natural materials, including the stuffing.
Today, around seven years after I sewed my first cloud pillow, it still sits on my daughter's bed and is well loved. I feel like it is neutral enough to not only look cute in a nursery but is also suitable for older children.
Tips Before You Start Sewing Your Cloud Pillow:
Always prewash your fabrics to avoid irregular shrinkage of the finished product when you wash it for the first time.
Practice appliquéing on a piece of scrap fabric first. This is the trickiest part of the tutorial and you should gain some confidence before appliquéing on your project.
There are a number of fabrics suitable to use for the main part of the cloud pillow. I have made five cloud pillows and have used cotton, velour, terry cloth and a cotton teddy fleece so far.
This is a perfect scrap and upcycle project. You can use and old bedding, towel or button-down shirt for the body and some leftover fabric for the eyes and cheeks.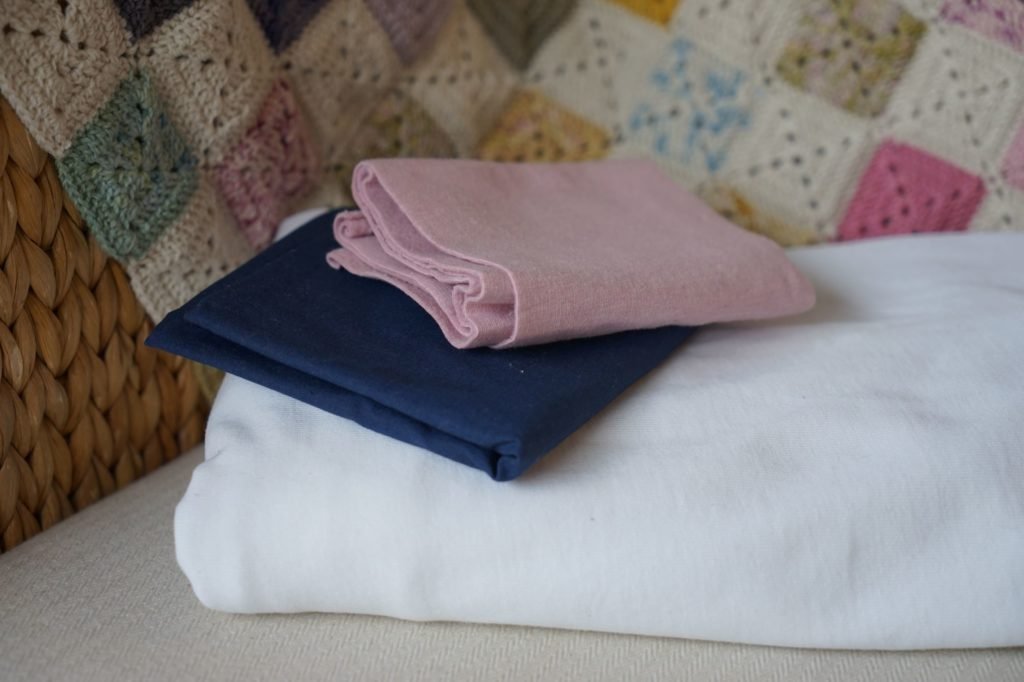 List of Materials:
0.5 yard / meter of white fabric
The measurements of my pillow are 20 x 14 inches / 50 cm x 35 cm but you can vary the size according to your preferences. You will need two pieces, one for the front and one for the back.
2 scraps of fabric for the cheeks (pink)
2 scraps of fabric for the eyes (black or dark blue)
Iron on Interfacing
This double sided interfacing has adhesive on both sides. It helps stabilize the appliqué but if you don't have it on hand, you could forego this step.
Matching thread plus black thread for the mouth
Marker / Chalk
This the marker I use. The markings disappear either over time or by applying a little bit of water. There are also water soluble markers available that can only be removed with some water.
Sewing machine
How to Sew a Cloud Pillow Instructions
Take two pieces of the main fabric and put them right sides together. Draw the cloud pattern with an erasable marker or some chalk. Cut out the two pattern pieces.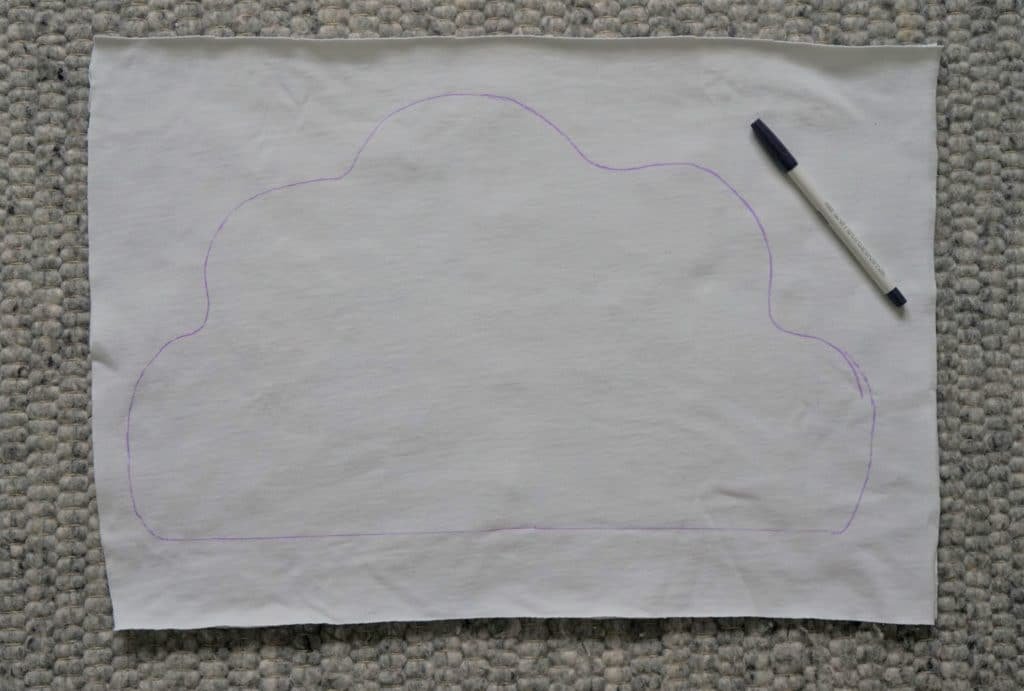 Take a piece of pink fabric for the cheeks and cut out a piece of iron on interfacing that is just a little bit smaller. Iron the interfacing onto the piece of fabric. Remove the anti-adhesive paper of the interfacing.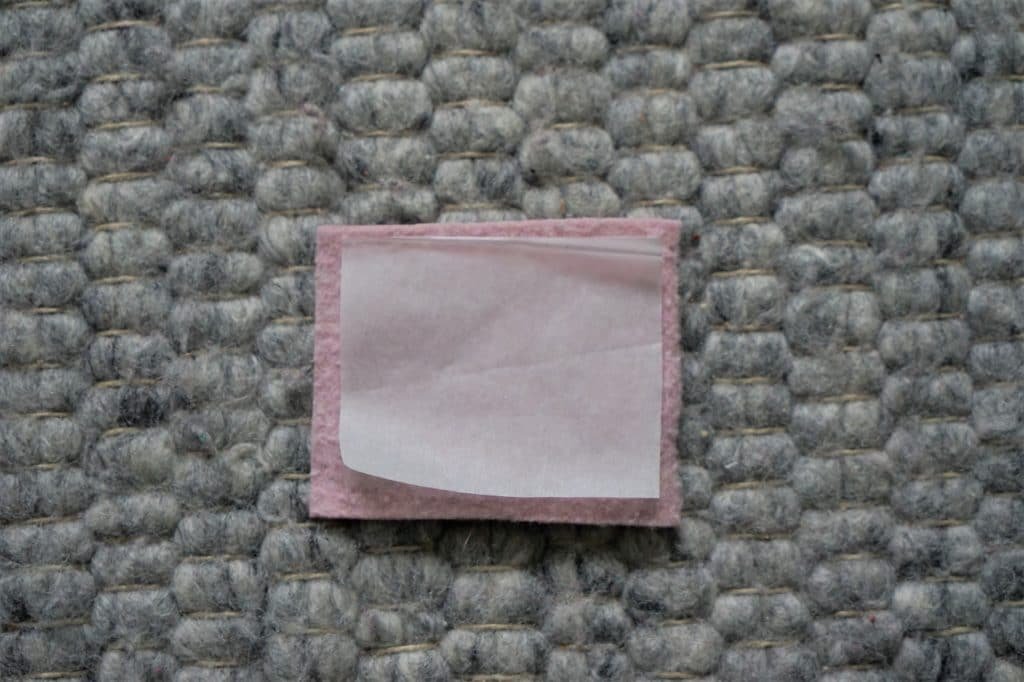 Draw the circles for the cheeks onto the pink fabric and cut them out. You can use any round item in your house that has the size you want (like a spool or eggcup).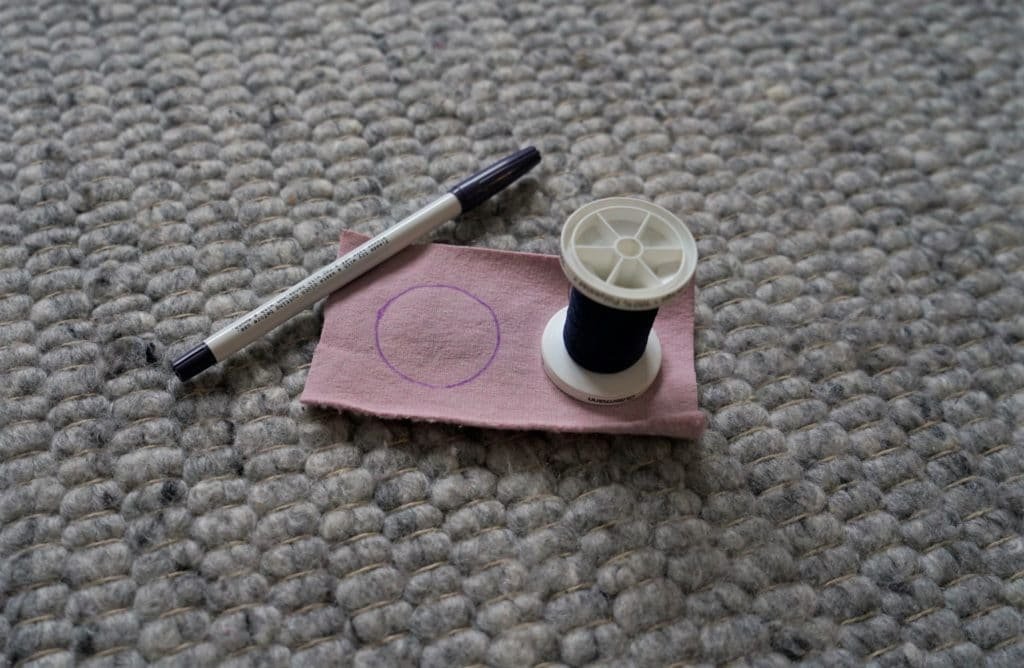 Repeat steps 2 + 3 for the eyes.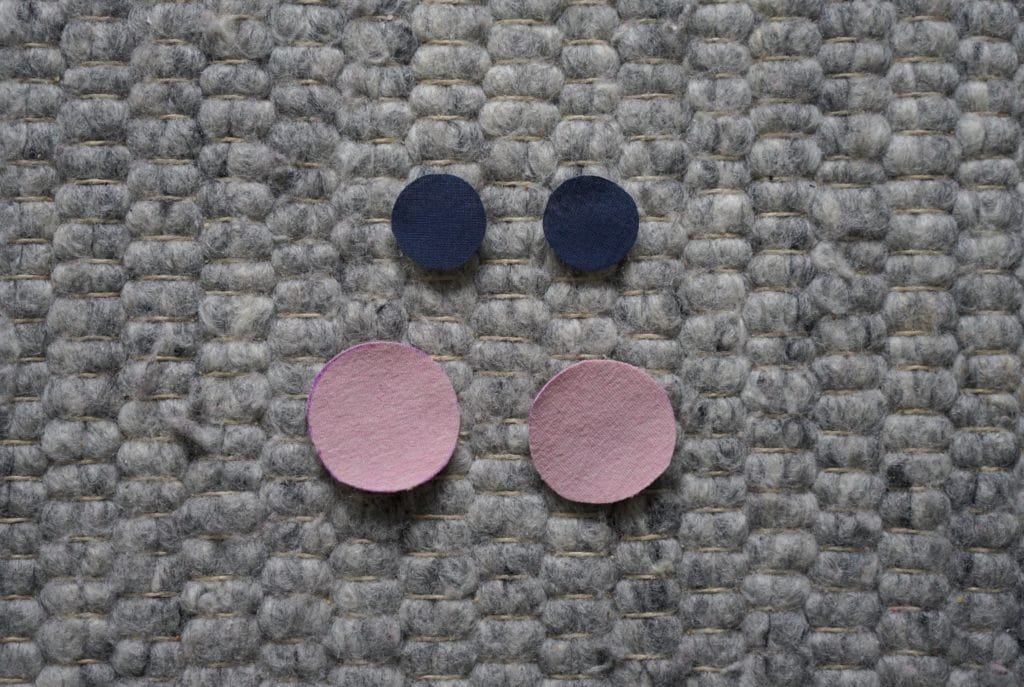 Put the circles in their final positions onto the front piece of the cloud pillow and iron them on.
Set your sewing machine to a zig-zag-stitch with the lowest stitch length. For my sewing machine, this is 0.5. I used the standard stitch width (3.5 for my sewing machine). Slowly sew around the circles to secure them.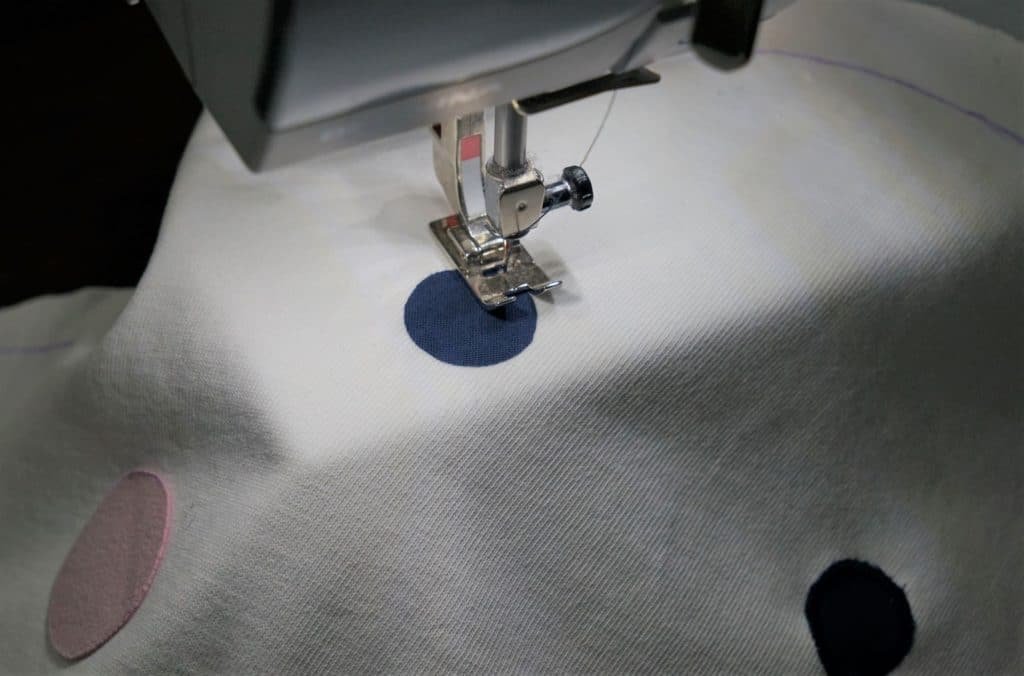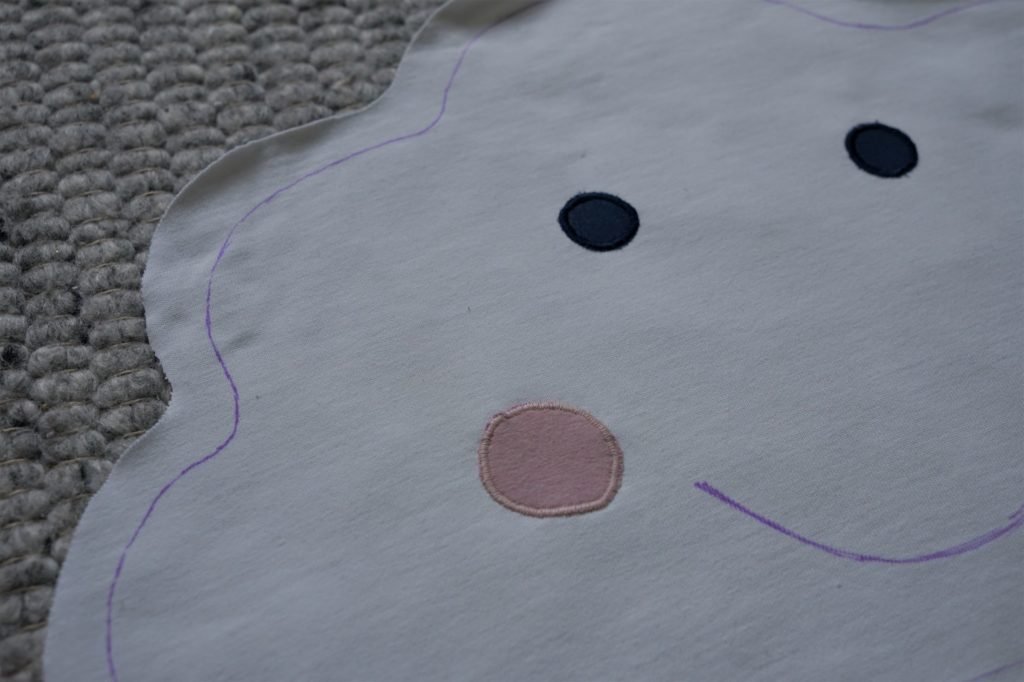 Draw a mouth on the front piece and sew over it with a zig-zag-stitch (again with the lowest stitch length). I used black thread for the mouth.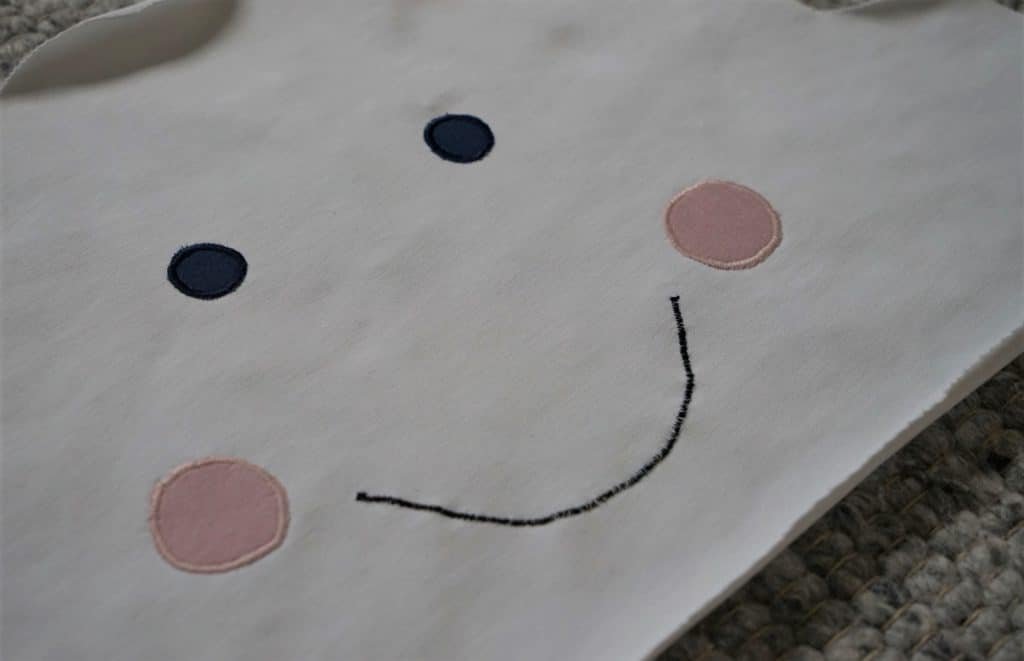 Iron the front piece.
Put the front and back piece with right sides together and pin. Sew around the edge, leaving about 4 inches / 10 cm of the straight edge open (see blue line on the picture). Cut off the seam allowance with a zig-zag scissor to prevent the fabric from fraying.
Turn the pillow inside out. Iron again if needed.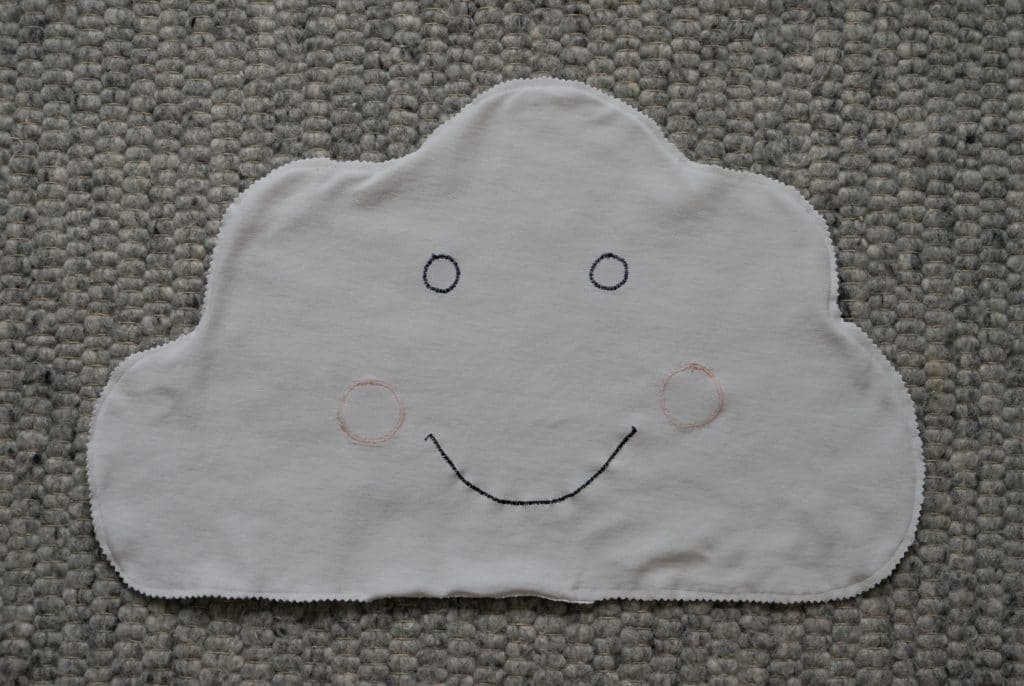 Stuff the cloud pillow. There are numerous options for stuffing available. Since I opt for the natural alternative whenever possible, I used a wool fleece for the filling.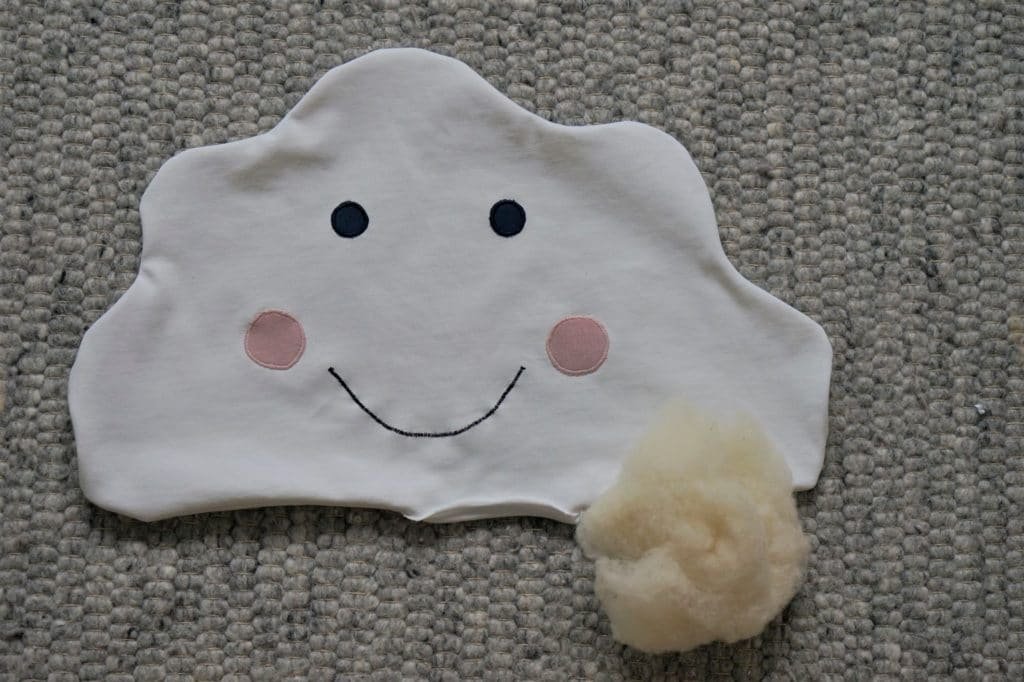 Close the gap either by slightly folding the edges inward and sewing a straight line with your sewing machine. It is also possible to close the opening by hand with a mattress stitch.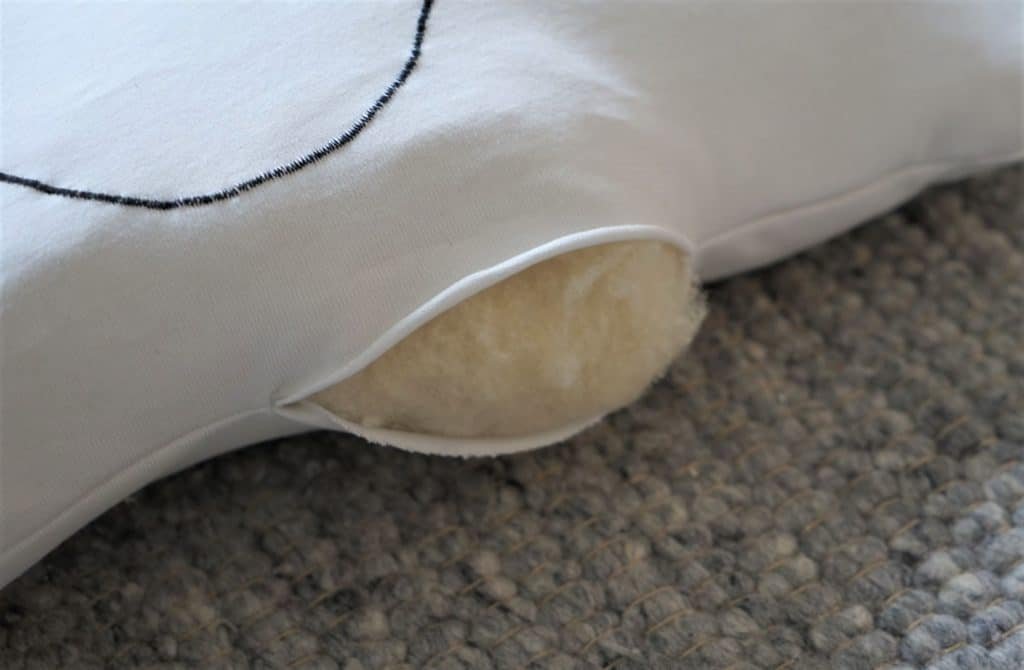 And you are done! Let me know if you make the pillow, I would love to see your versions! If you are on Instagram, you can tag me @rosemaryandpines.
Pin It For Later
Did you find this blog post valuable or helpful? If so, you can support my website by buying me a coffee below, purchasing my knitting patterns or yarns or simply by leaving a comment. Thank you!