I have compiled a list of 5 knitting patterns for summer tops that I want to share with you today.
I don't know about you but I always feel like summer comes overnight. And although I don't mind knitting wool sweaters and cozy socks year-round, I also like making garments to wear during the warmer months of the year. Since summer tops or shirts don't have long sleeves they generally knit up faster. In addition, I also like the alternation of knitting with cellulose fibers like cotton or linen instead of wool yarn from time to time.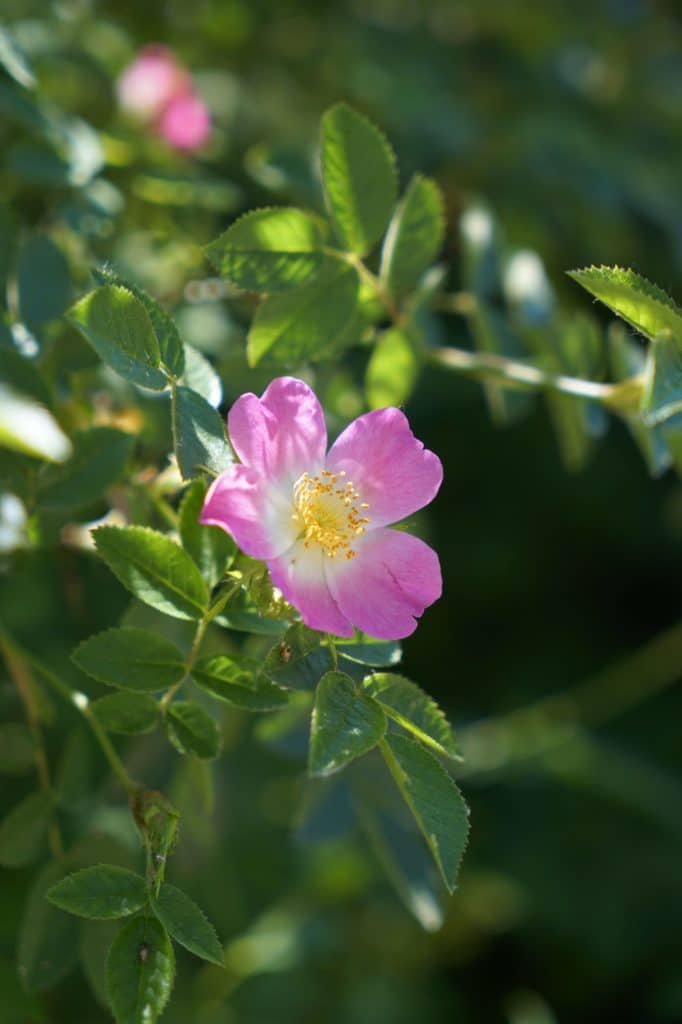 When I was browsing through knitting patterns for summer tops and trying to determine which pattern to choose for my summer garment knitting project, I decided to share some of my favorites with you. One of them I have knitted before, the others are new to me. And one is actually not a knitting but a crochet pattern. Let's have a look.
5 Knitting Patterns for Summer Tops Suggestions
#1 Night Sky / Morning Sky by Heidi Kirrmaier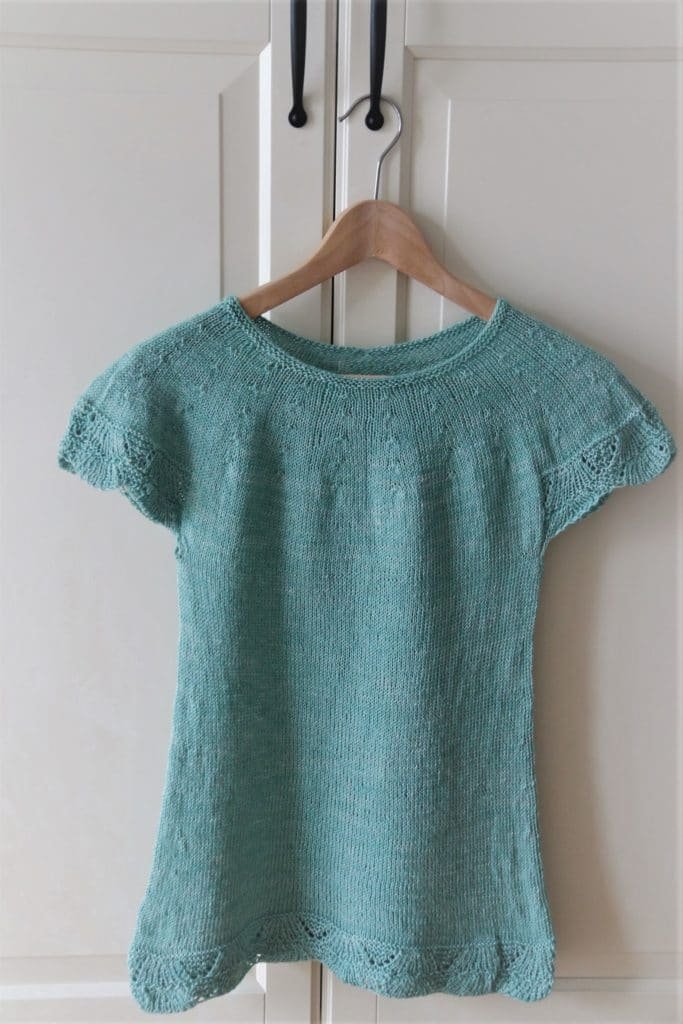 Night Sky is the knitting pattern I have made before. I knitted a top for myself which you can see in the picture. Since I liked it so much I also adapted it to be a dress for my daughter. I used the lace for the bottom hem as well as the sleeves and constructed the rest of the dress myself.
This is the description from the pattern page:
This summer tee is knit seamlessly from the bottom up. Short rows are worked at the back neck, and otherwise it is knit entirely in the round.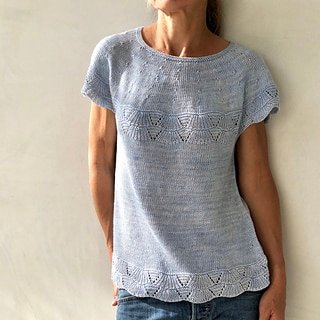 There is also a second, very similar version available which is called Morning Sky. The difference is that Morning Sky has a lace insert all around the chest.
#2 An Avel by Josephine & the Seeds
An Avel is actually the top I decided to make when I am done with my current two WIPs. I really like the lace detail at the hem and I generally tend to like everything that has stripes on it. But I think that this would look beautiful as a solid version as well.
Here is the description from the pattern page:
An Avel is a light and delicate basic top, easy to wear over jeans or any time you see the sun shining. The top is fitted at the bust and has A-line shaping for ample drape on the hips to flatter most bodies. A little bit of lace and some beads (optional) add a feminine and vintage touch.
The top is worked bottom-up, seamlessly, and in the round until the underarm, when the front and back are divided and worked separately. For a neat and professional finish, an applied i-cord is worked on the lace edge, while the neckline and armholes are finished with a special firm bind off.
#3 Vasa by Dianna Walla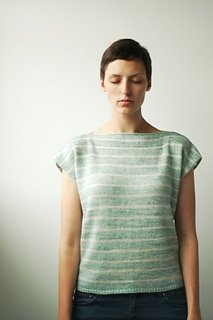 Vasa is a loose fitting, versatile tee that will suit a lot of different body types and styles. It has vertical stripes on it – are you sensing a pattern here? But again, I think a one colored version would be beautiful, too. I also imagine that a speckled version would look pretty.
Dianna Walla, the designer, describes the pattern as follows:
Vasa is an oversized, drapey tee, knit flat in two pieces and then seamed at the sides and shoulders. The simple construction makes it suitable for knitters of all levels, and yields a versatile garment that's easy to wear for any occasion.
#4 Soulmate Summer Shirt by schnieslii
When I was scrolling through Instagram a couple of weeks ago, I stumbled upon a beautiful summer top. It is knitted from the top down and has a simplistic eyelet design.
The pattern is called Soulmate Summer Shirt by Lisa Kirchhoff. It has just been released on July 1st and is available on Etsy.
Unfortunately it is only available in German at the moment. But the designer told me that an English translation will follow.
Update: The pattern is now available in English as well!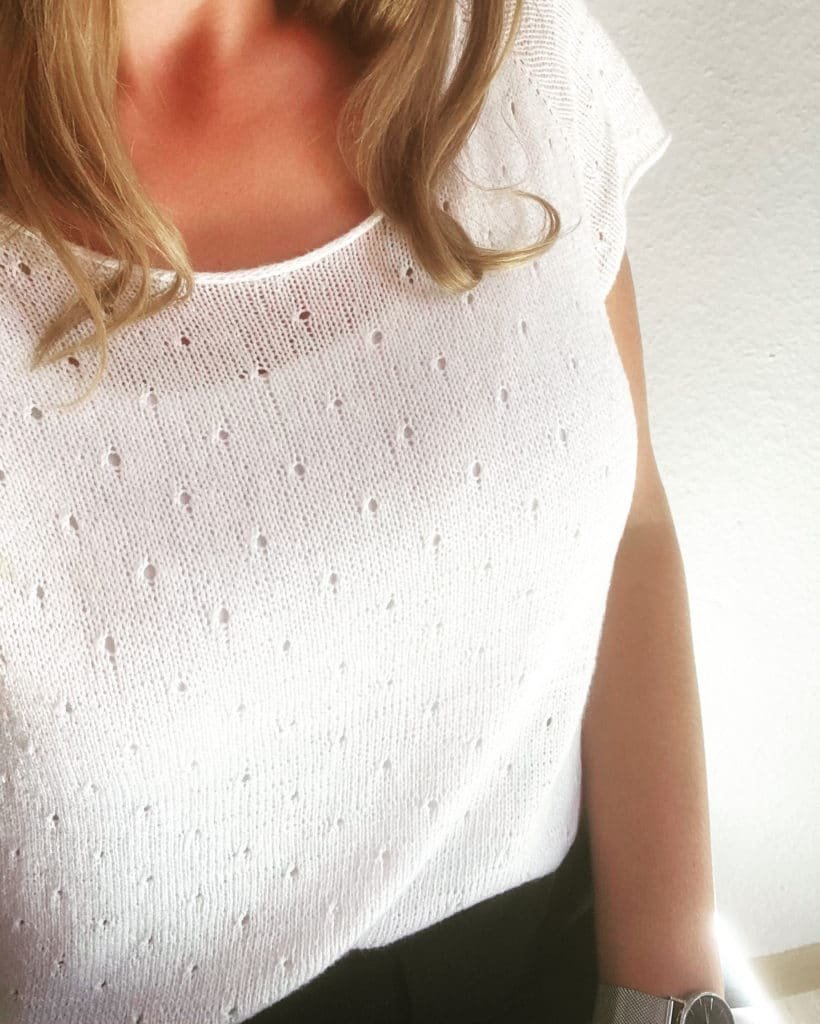 #5 Water Clover by Isa Catepillán
When Pom Pom Quarterly released its spring issue in 2019 (issue 28) I was immediately drawn to the Water Clover top. It is a gorgeous crochet design and looks very comfortable to wear.
Here is the description from the designer:
Water Clover is worked in one piece from the bottom up in rounds to the armholes, then the back and front are worked separately back and forth in rows. The shoulders are shaped, then seamed together. Finally, a neckband and armhole edging are added in single crochet.
US crochet terms used throughout.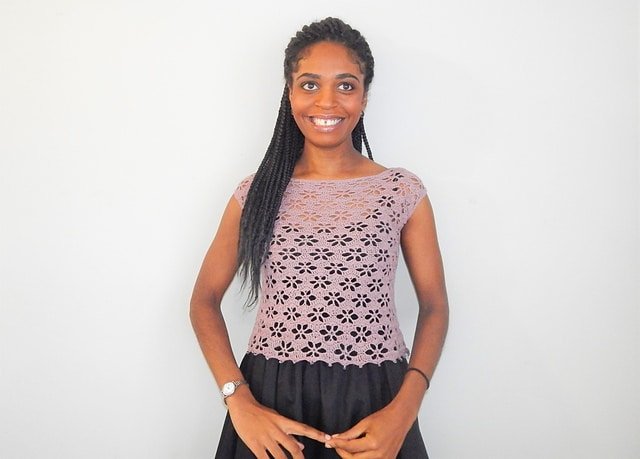 I feel that choosing the right color and yarn for this pattern is really important. In my opinion, crochet can look a bit old-fashioned. One perfect example of a great choice of yarn and colorway is from Constance (CLEOCMC on Ravelry). As you can see in the pictures, this dusty pink suits the pattern really well.
And there you have it, my 5 suggestions for knitting patterns for summer tops. A huge thank you to the designers and makers who kindly allowed me to use their photos!
What are your favorite patterns for summer knits? Let me know in the comments below.
Do you want to give knitting with sustainable, all natural sock yarn a try?
In this free guide you will learn everything you need to know about knitting sturdy socks with plastic-free, all natural sock yarn.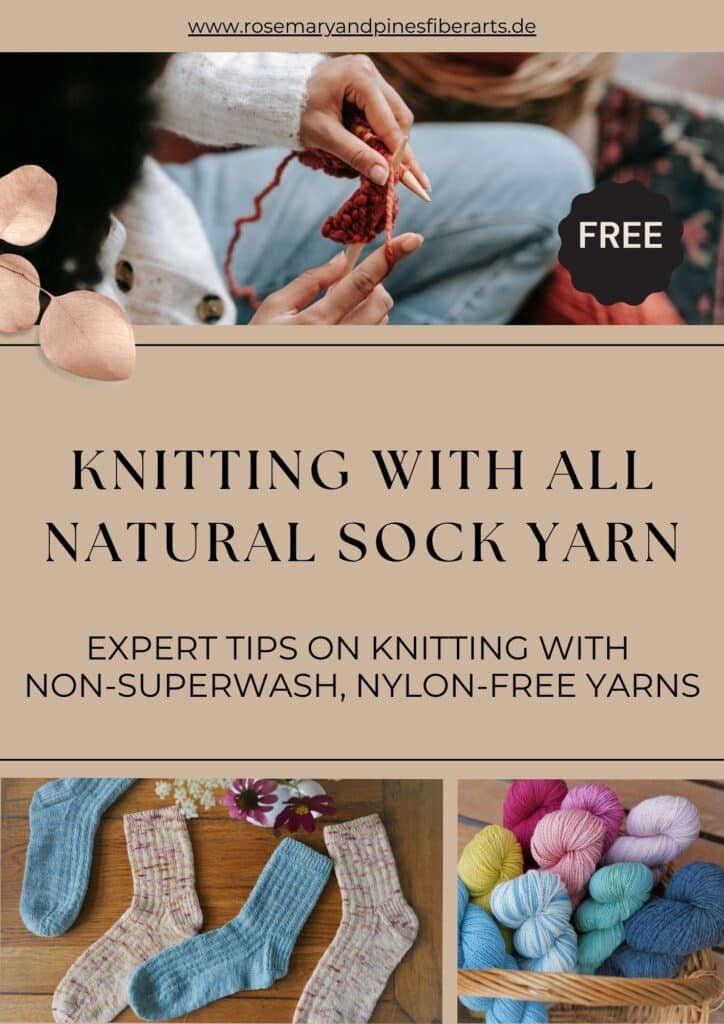 Pin It For Later: Knitting Patterns for Summer Tops
Did you find this blog post valuable or helpful? If so, you can support my website by buying me a coffee below, purchasing my knitting patterns or yarns or simply by leaving a comment. Thank you!