Welcome to the second post of my natural dyeing series. Today I want to talk about natural dyeing resources. If you want to get a deeper knowledge of natural dyes, I recommend that you have a look at these three natural dyeing books.
The first post of this series is a tutorial about how to dye yarn using natural dyes for beginners. There are step-by-step instructions for dyeing yarn wih onion skins. If you want to read it, you can click here.
Update: The third post is now available as well. It covers the topic of mordanting. Mordants are essential if you are dyeing either protein or cellulose fibers with natural dyes. Therefore, I will explain in detail what a mordant actually is and how to use it. You can read it here.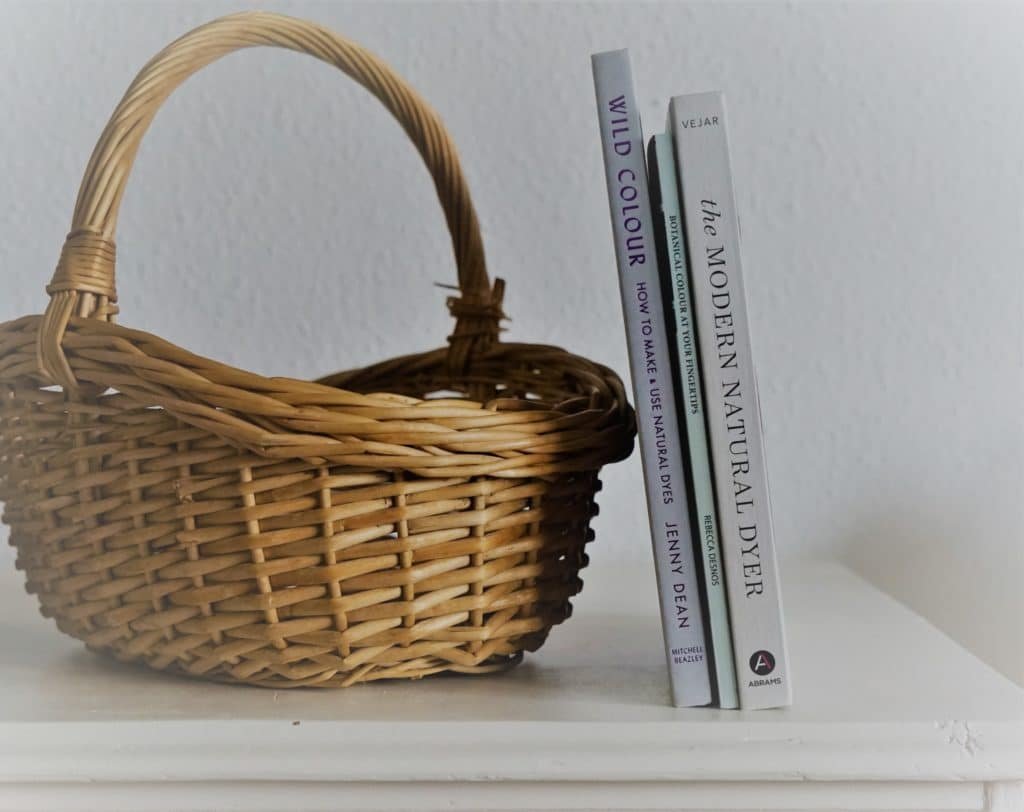 This post contains affiliate links. I may earn a small commission if you use these links, at no cost to you. As an Amazon Associate I earn from qualifying purchases. I only recommend products that I find value in myself. See my full disclosure here. Thank you for your support!
My Top 3 Recommendations for Natural Dyeing Books
There are lots of books on botanical dyes available. I have acquired several over the years but there are a few that I keep coming back to over and over again. So without further ado, here are my recommendations (listed in no chronological order).
Softcover / Ebook
Published 1. October 2016 (2nd edition)
106 pages
Self-publication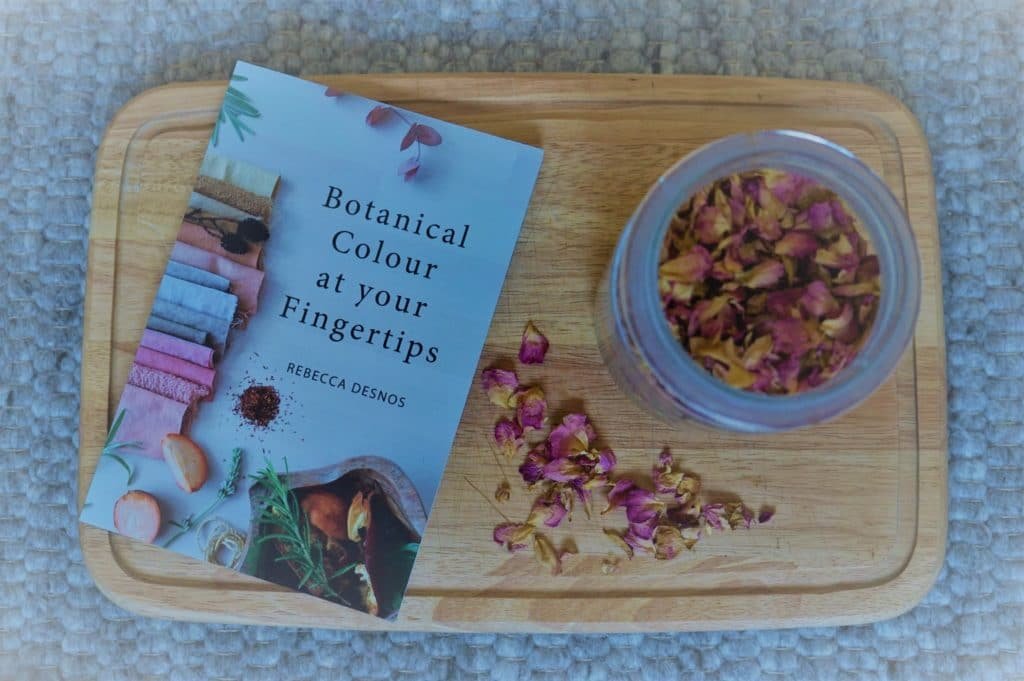 Excerpt:
Do you love plants? Do you love crafting? Would you like to dye your own fabric, yarn or clothing? Learn the relaxing art of botanical dyeing with natural dyer, Rebecca Desnos. Connect with nature and open your eyes to the colour potential of plants.
Discover how to:
produce a wide palette of colours, including pink from avocados, yellow from pomegranates and coral from eucalyptus leaves.
extract dye from just about any plant from the kitchen, garden or wild.
use the ancient method of soya milk mordanting to achieve rich and long-lasting colour on plant fibres, such as cotton and linen.
produce reliable colours that withstand washing and exposure to light.
If you enjoy sewing, knitting or any other fibre craft, this is the book for you.
My Review:
Rebecca Desnos is an advocate of using local, fresh plants or kitchen waste for natural dyeing rather than plant extracts. She applies soy milk as a mordant or utilizes the natural mordanting properties of dyestuff that contains tannins. Although the instructions in this book also apply to wool, "Botanical Colour at your Fingertips" is focused on fabric and cellulose fibers.
There are lots of tips on which plants can be used for natural dyeing and which colorways they produce. The pictures are very beautiful and inspiring. Her instagram feed is worth seeing as well.
The book contains more of a general guide to approaching natural dyeing in contrast to specific recipes for different plant materials. However there are several pages dedicated to dyeing with avocado pits and skins which I find very helpful and refer back to on a regular basis.
Hardcover
Published 6. December 2018
144 pages
Publisher Mitchell Beazley
Excerpt:
This practical and inspiring guide to creating and using natural dyes from plants, offers information on current environmentally friendly dyeing techniques and more than 65 species of plants and natural dyestuffs.
This comprehensive book outlines how to:
Select fibres and plant parts
Choose the right methods for mordanting and dyeing
Obtain a range of gorgeous colours from every plant.
Wild Colour is the all-in-one resource for fibre enthusiasts, including knitters, sewers and weavers gardeners who are interested in new uses for traditional dye plants and eco-conscious DIYers who want authoritative information about the natural dyeing process and the plants that are essential for it.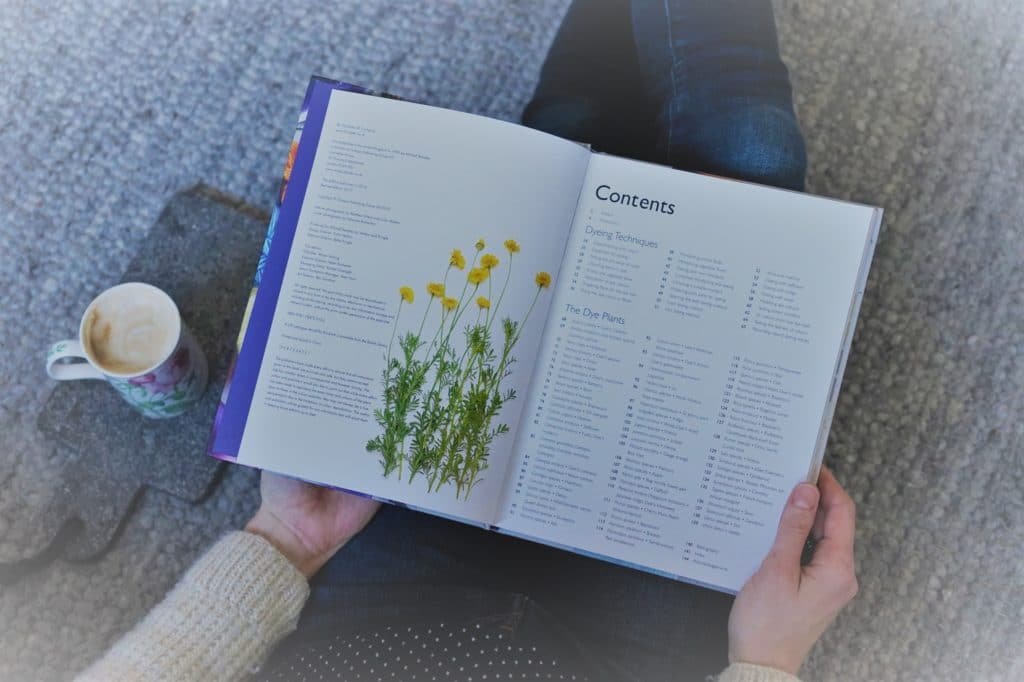 My Review:
"Wild Colour" is a great reference book if you are looking for natural dyeing recipes for specific dyestuff. Altogether, it covers more than sixty different dye plants.
Jenny Dean included color charts for each plant differentiating between the color result of dyeing with or without a mordant and a modifier. Furthermore she distinguishes which parts of the plants (e.g. leaves, bark, berries) create which colors. For plants that yield different colors depending on the season (like nettles), she added comparison color charts as well.
Additionally, there is a chapter on some general dyeing techniques that I find very useful. Dyeing with indigo, which requires a different dyeing method in order to bond the indigo molecules to the fibers, is also covered in detail in this book.
Hardcover / Ebook
Published 20. October 2015
192 pages
Publisher Abrams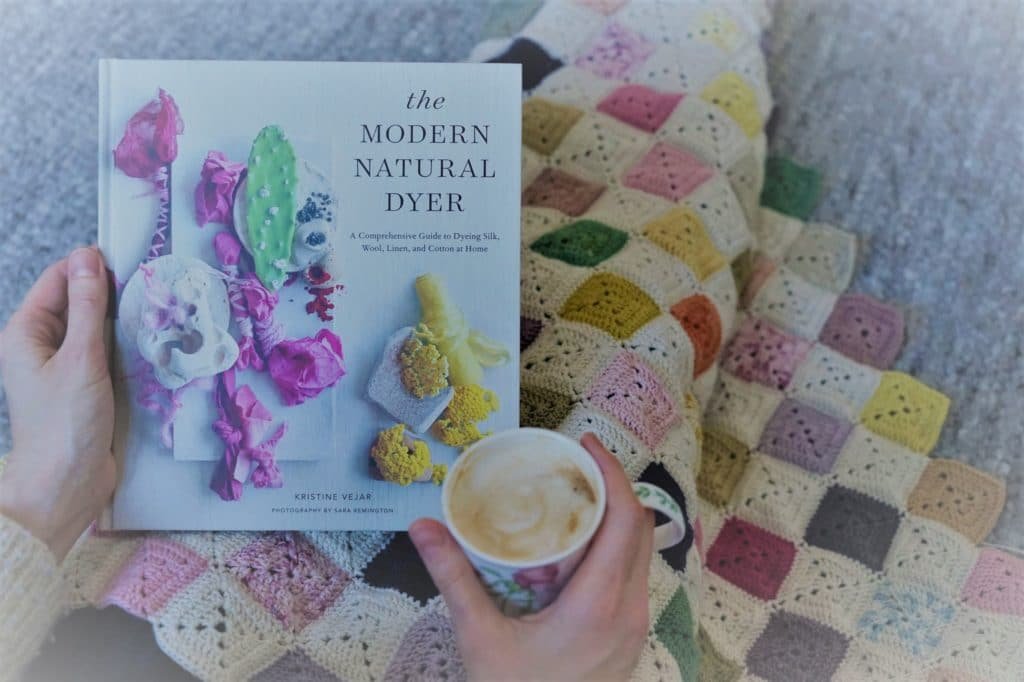 Excerpt:
Thousands of natural materials can produce glorious color – the insect cochineal produces pink, maroon, and purple, and more than 500 species of plants produce indigo blue.
Now, in The Modern Natural Dyer, expert Kristine Vejar shares the most user-friendly techniques for dyeing yarn, fabric, and finished goods at home with foraged and garden-raised dyestuffs as well as with convenient natural dye extracts. Demystifying the "magic", Vejar explains in explicit, easy-to-follow detail how to produce consistent, long-lasting color.
With stunning photography of the dyes themselves, the dyeing process, and 20 projects for home and wardrobe (some to knit, some to sew, and some just a matter of submerging a finished piece in a prepared bath), The Modern Natural Dyer is a complete resource for aspiring and experienced dye artisans.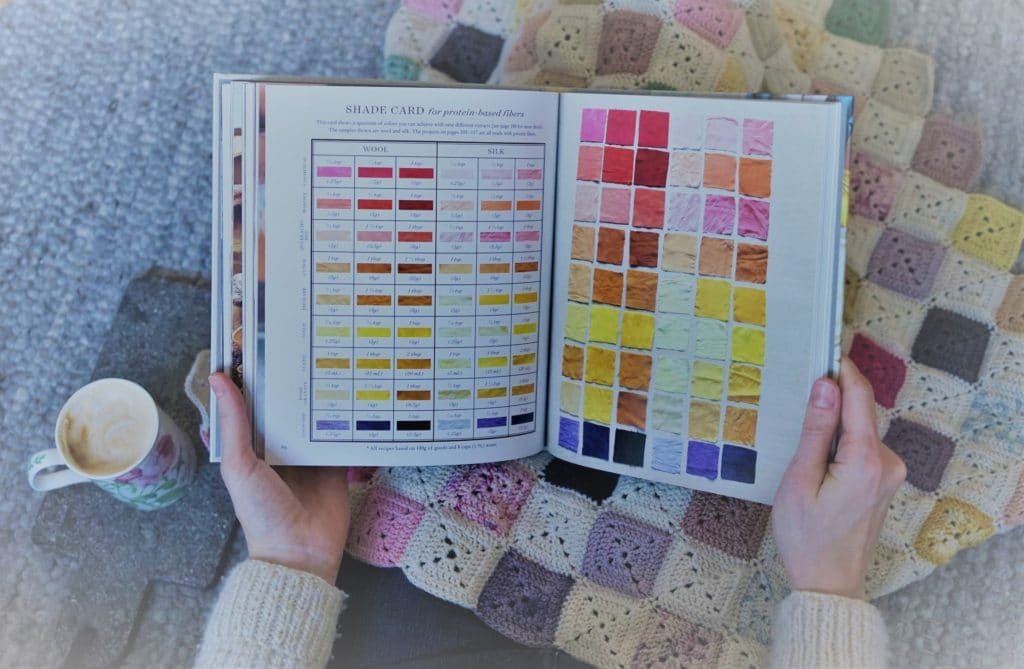 My Review:
"The Modern Natural Dyer" is a comprehensive book with stunning photography. There are several projects containing dye recipes as well as specific recommendations on which fabric or yarn to use and what to create with the naturally dyed product.
For my personal use, I find that I refer back more to the general dyeing instructions in this book. There is a very clear and detailed chapter about "Dyeing 101" with step-by-step instructions that I found extremely helpful when I started experimenting with natural dyeing. The instructions on dyeing with indigo are also very thorough and easy to follow.
Another helpful feature of this book are the so-called "shade cards". They consist of small color samples of nine different dye materials applied in three different concentrations. There are two different shade cards, one for protein fibers and one for cellulose fiber and each fiber type is represented by two different materials.
Pin It For Later:
What are your favorite natural dyeing books? Come share in the comments!
Did you find this blog post valuable or helpful? If so, you can support my website by buying me a coffee below, purchasing my knitting patterns or yarns or simply by leaving a comment. Thank you!