Today I want to share my experience on natural dyeing with amaranth with you. I grew the amaranth 'Hopi red dye' variety from seed for the first time this year. And I am absolutely delighted with the color potential of this dyestuff.
This post contains affiliate links. I may earn a small commission if you use these links, at no cost to you. As an Amazon Associate I earn from qualifying purchases. I only recommend products that I find value in myself. See my full disclosure here. Thank you for your support!
Last year I ordered some seeds of a couple of dye plants. Amaranth 'Hopi red dye' was one of them. I had actually not heard of amaranth as a dye plant before since it is not mentioned in any of my go-to natural dyeing books. But I wanted to give it a try nonetheless.
If you would like to know what my favorite natural dyeing books are, you can find the blog post here.
Back to the amaranth. Some species are cultivated as pseudocereals, leave vegetables or ornamental plants. The 'Hopi red dye' variety is traditionally used by the Hopi, a Native American tribe from the Western United States, as a dye plant. They use the deep red flower bract to color their world-renowned piki bread.
Growing Amaranth 'Hopi Red Dye' from Seed
The plants are very easy to grow. I planted the seeds directly into a pot outside at the beginning of April. They grew to a height of at least 1 m ( 3 foot) and most of the seeds germinated. For my natural dyeing experiment I only cut off the three strongest stems. This time I used the fresh seeds and leaves. But I will also harvest some more to dry and compare the natural dyeing results later on.
Natural Dyeing with Amaranth 'Hopi Red Dye' Experiment
List of Materials
Undyed skein of yarn
100 g
There are a number of yarn companies that sell yarns in skeins rather than wound up in balls or cakes (e.g. Malabrigo or Blacker Yarns). You could simply use one of their undyed, natural colorways. Maybe you even have some suitable yarn already in your stash. If you want to use a yarn that is in the form of a ball or cake, you have to create a skein first. This can be done by using a swift (this is the one I use and can recommend).
Alum
14 g
Alum or potassium alum (KAl(SO4)2·12H2O) is a mordant which means that it is used to set dyes on fibers by forming a coordination complex with the dye. It increases the fastness of the dye.
Dyestuff
Amaranth
Pot
You can use an old pot or acquire one just for natural dyeing purposes. This is the size I use if I dye only one skein at a time, it has a holding capacity of 6 qt (5.7 L).
Bucket or Washing Pan
To scour and wash the yarn.
Kitchen Scale
To measure the alum and dyestuff. This is the one I use.
Tie
To secure the yarn and avoid tangling. You have to use something that is stable in boiling water and doesn't give off any color. I usually use some kind of package cord.
Spoon
Wooden or stainless steel
Dish Shoap
Whatever you have on hand.
This is used to scour and wash the yarn.
Wool Laundry Detergent
This is the one I use and can recommend. It is gentle and doesn't have any smell.
Precautions: Don't use the same pots and utensils for natural dyeing that you use for food preparation. Always wear gloves. Creating the dye solution and the dyeing process itself should be done in a well ventilated area. I often use a cooking plate that I put on my patio.
Mordanting
I generally mordant all of my yarns with alum before they go into the dye bath. If you want to know more about mordanting, you can have a look at this blog post.
Gentle Dyeing Process
As I have stated in numerous blog posts before, with natural dyeing, slow and gentle is usually best. Since I hadn't dyed with amaranth before and wanted the dye stuff to unfold its full color potential, I only heated the dye solution up to 60 °C (140 °F). Depending on the dye material you are using, it is very easy to overheat and dull or change the color result. Therefore it is best to start slow and watch the dye pot carefully. If you are not able to extract enough color from the plants with lower temperatures, you can always increase the heat or leave the dye stuff in the pot on the stove for longer time periods.
Natural Dyeing with Amaranth: Dyeing Process
I used 120 g of fresh amaranth 'Hopi red dye' seeds and leaves. I put the dye stuff in a pot and filled it with tap water. Then I left the pot on my south facing terrace for three days to see if it was possible to extract enough of the dye color solely through the exposure of the dye stuff to the sunlight.
In other summers where we usually experience temperatures about at least 30 °C (86 °F) this might have been sufficient. But since we have had a lot cooler temperatures in the last of couple of weeks, I decided to heat the pot for one hour at 60 °C (140 °F). Then I let it cool off and sit for another two days afterwards.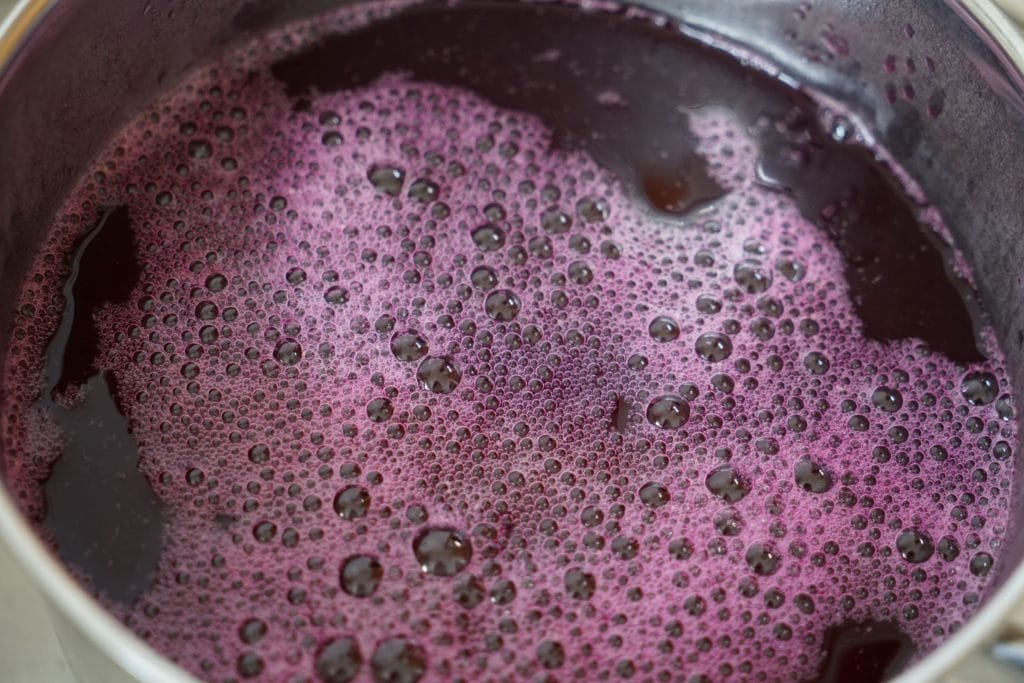 I filtered off the dye stuff and put in one skein of yarn (120 g). Beforehand, I had mordanted the yarn with alum. I heated the pot up to 60 °C (140 °F) for one hour and let it sit overnight.
In the picture below, you can really see how well the dye color has been extracted from the leaves.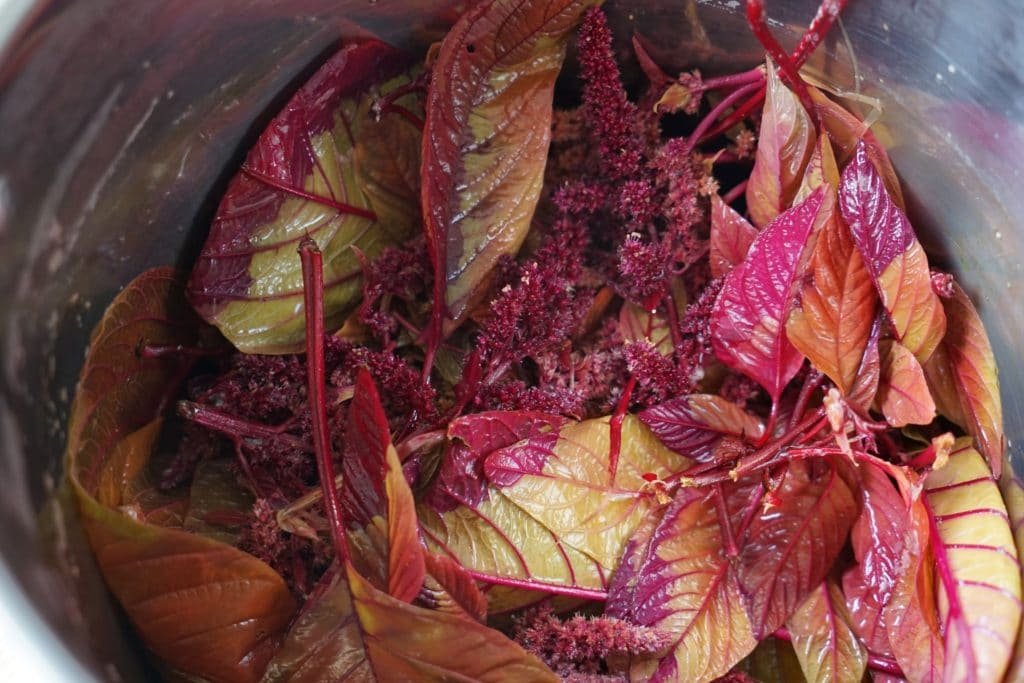 Since there was still a lot of color left in the dye bath after I took out the skein, I used the exhaust to dye two more skeins of yarn (120 g each). I twisted the first skein before putting it in and only heated the dye solution for 30 minutes. After the pot was cooled down, I took out the twisted skein and let the second skein sit overnight. On the next day, I heated the pot up to 60 °C (140 °F) for another hour.
Natural Dyeing with Amaranth: Color Results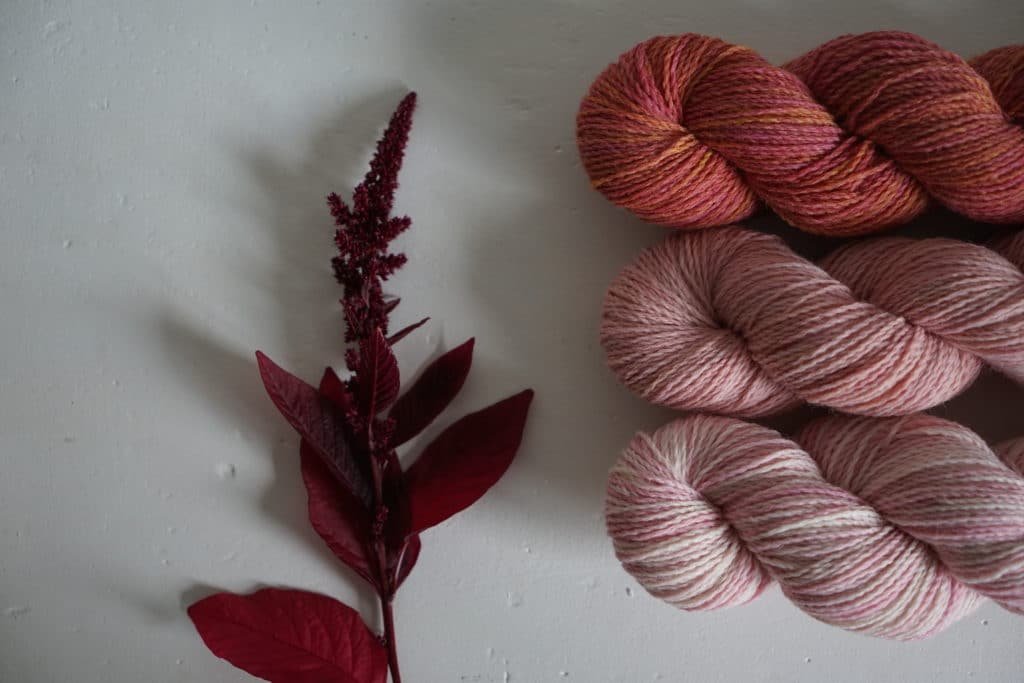 In my opinion, the color results are just spectacular. I have never seen a skein of yarn with so much color variation naturally dyed with the use of only one dye material. While the yarn of the first exhaust looked very much deep red with a pink undertone while it was still in the dye bath, it transformed into a beautiful blend of pink, red and orange shades while drying.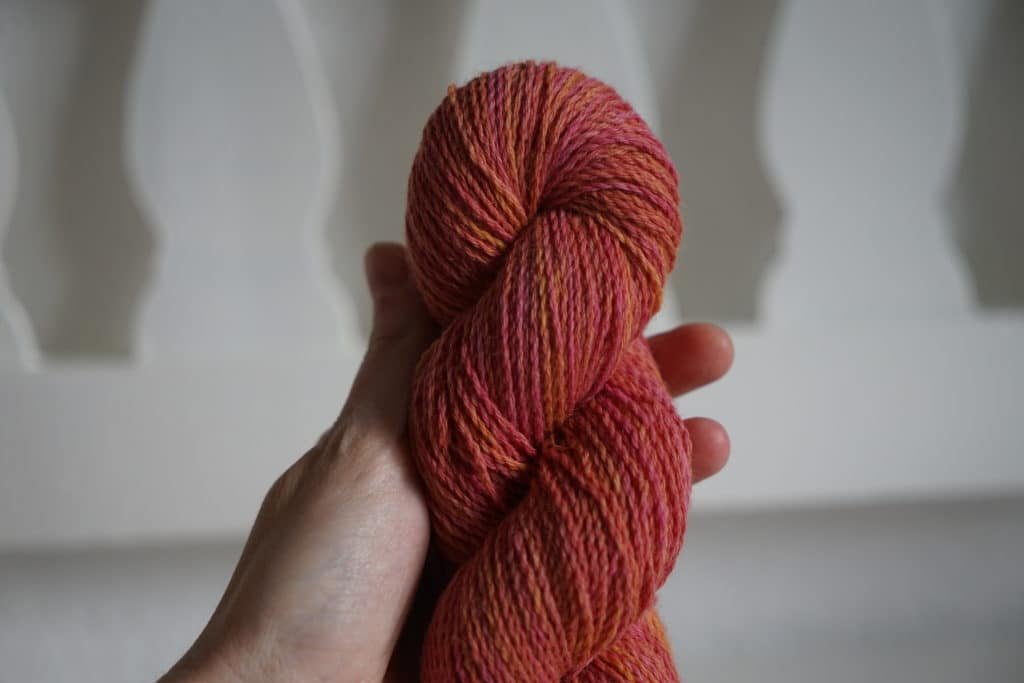 The color results of the second exhaust are very different but beautiful in their own way. The second exhaust yielded a soft pink which much less color variations than the first exhaust. The skein that I twisted before putting it in the dye bath and took out after only 30 minutes of heating turned into a lovely pink and white variegated colorway. The color of the second skein is a blend of soft pinks tones and a trace of salmon.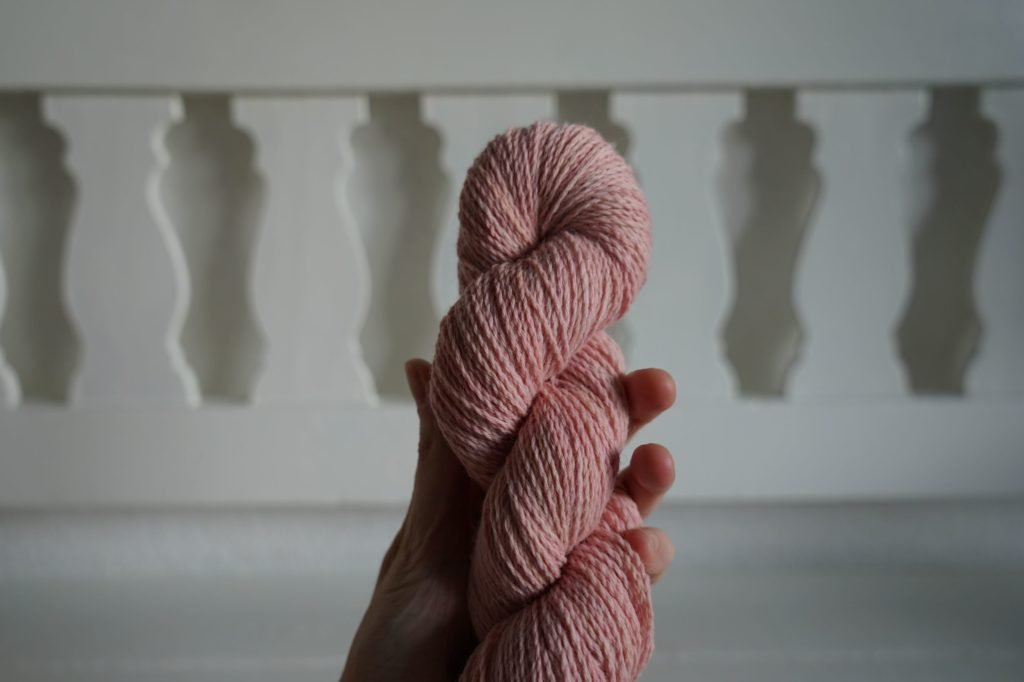 Natural Dyeing with Amaranth: Conclusion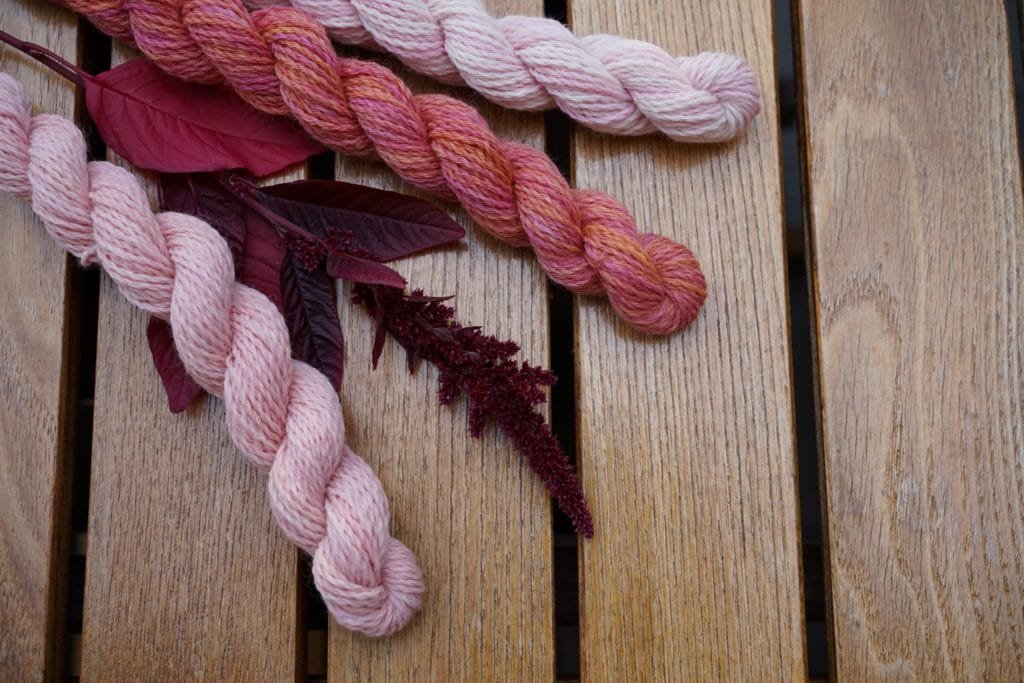 There is still so much more to experiment with when it comes to dyeing with amaranth. I am curious to see how well the color will hold up over time. If the color fastness is adequate, I will definitely dye up some yarn for my Etsy shop. But I always make sure to test out my yarns thoroughly before selling them.
I am also looking forward to comparing the color results of fresh and dried dye stuff. And I would also like to try modifying some skeins with iron afterwards to see if and how the colorways change. As you might have guessed, this will definitely not be my last post about natural dyeing with amaranth 'Hopi red dye'.
Pin It For Later: Natural Dyeing With Amaranth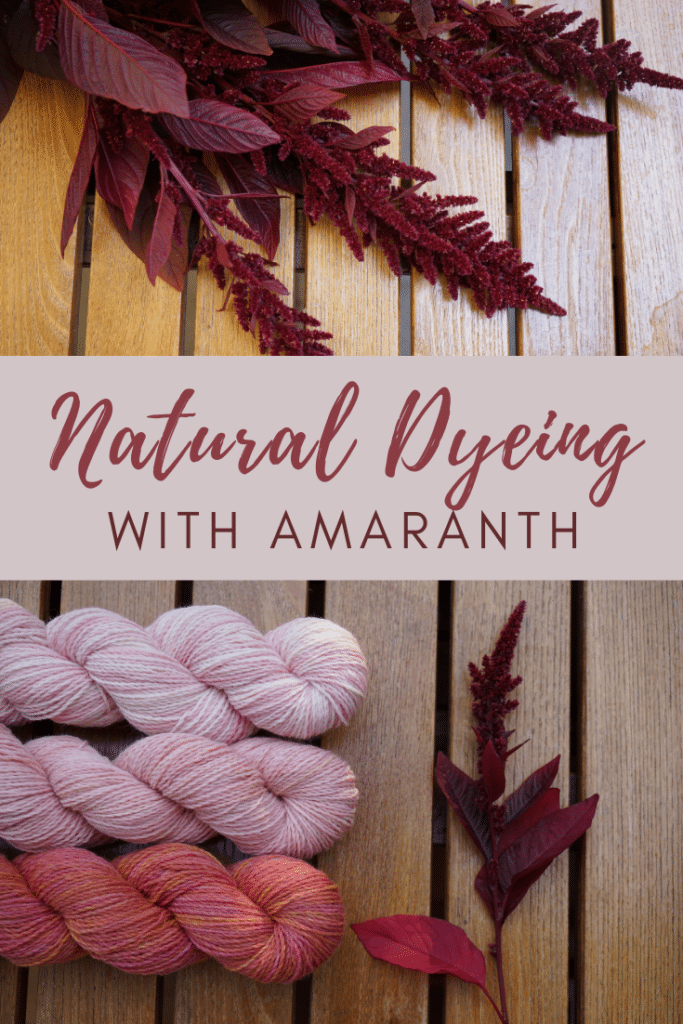 Further Reading Recommendations:
If you would like to know how to naturally dye yarn with other dye materials like onions, avocado and cochineal, you can have a look at these blog posts:
https://www.rosemaryandpinesfiberarts.de/dye-yarn-with-natural-dyes/
https://www.rosemaryandpinesfiberarts.de/natural-dyeing-with-avocado-pits-vs-skins/
https://www.rosemaryandpinesfiberarts.de/natural-dyeing-with-cochineal/
Sources:
https://en.wikipedia.org/wiki/Amaranth
https://www.rareseeds.com/store/vegetables/amaranth/hopi-red-dye-amaranth
Did you find this blog post valuable or helpful? If so, you can support my website by buying me a coffee below, purchasing my knitting patterns or yarns or simply by leaving a comment. Thank you!