Today I want to show you how to recycle a sweater into a pillow. This way, you can give new life to something old or even damaged and use it as a piece of décor in your home. Not only is it sustainable, it also is a very cost effective way to create new pillow covers.
This post contains affiliate links. I may earn a small commission if you use these links, at no cost to you. As an Amazon Associate I earn from qualifying purchases. I only recommend products that I find value in myself. See my full disclosure here. Thank you for your support!
DIY Sweater Pillows
The old sweater that I used for sewing my pillow cover was knitted by my husband's grandmother. My mother-in-law gifted me the sweater because she knew I would appreciate the craftsmanship of the all-over Fair Isle pattern. However, since I keep a very minimal wardrobe and the sweater wasn't even close to my size, I didn't get any use out of it. But since I liked the pattern very much and wanted to turn the sweater into something else, I decided to make a pillow cover.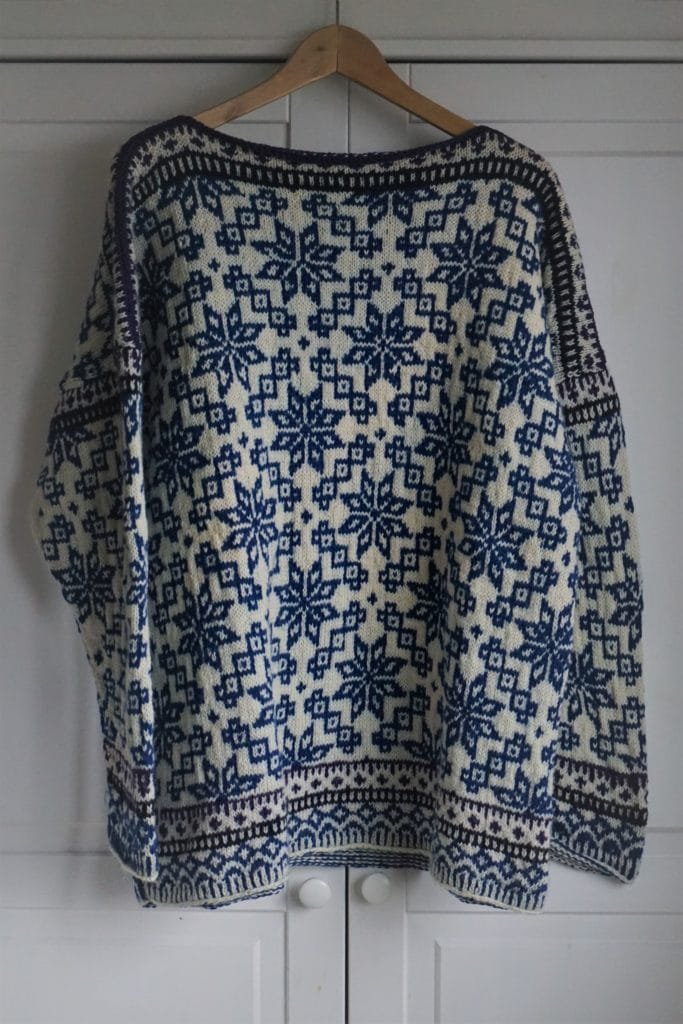 There are different ways to sew a pillow cover and if you have some sewing experience, you could of course choose a different closure option. Since I was looking for a simple project, I opted for two overlapping flaps in the back rather than adding a zipper or buttons.
I used a pillow insert that we already had and based the measurements of the sweater pillow cover on this insert.
List of Materials
Old sweater, garment or other piece of fabric
Matching thread – I like the German brand Gütermann which offers high quality threads
Sewing machine – I personally own a sewing machine from the Swiss brand Bernina (Bernette) and can recommend it
Serger (optional) – I personally own a serger from the Swiss brand Bernina (Bernette) and can recommend it
How to Recycle a Sweater into a Pillow: Instructions
Determine the size of the pillow cover. My pillow inlet has a size of 34 x 34 cm (13.5 x 13.5 in). I added 1 cm (0.4 in) for the seam allowance and an additional 1 cm (0.4 in) for some "wiggle room". This resulted in 36 x 36 cm (14.5 x 14.5 in) for the final pillow cover measurements.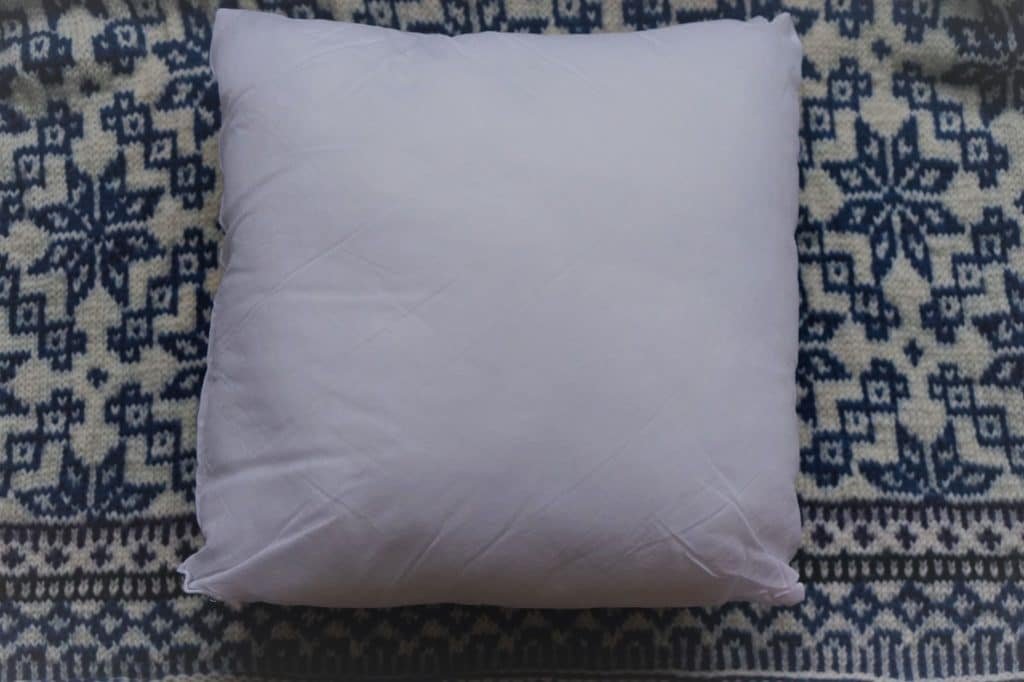 Cut the pieces. I cut one 36 x 36 cm (14.5 x 14.5 in) piece for the front and two 36 x 25 cm (14.5 x 10 in) pieces for the back. To calculate the height of the back pieces, I determined that I wanted a 5 cm overlap and an additional 1 cm (0.4 in) each for the seam allowance and the seam of the flap.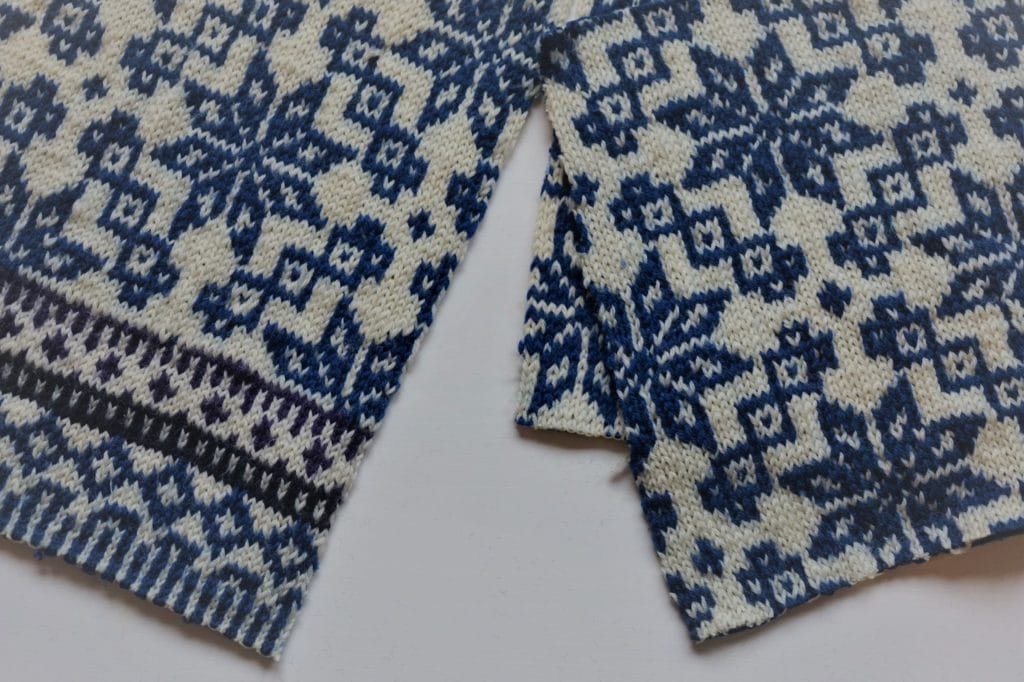 Gently iron the pieces.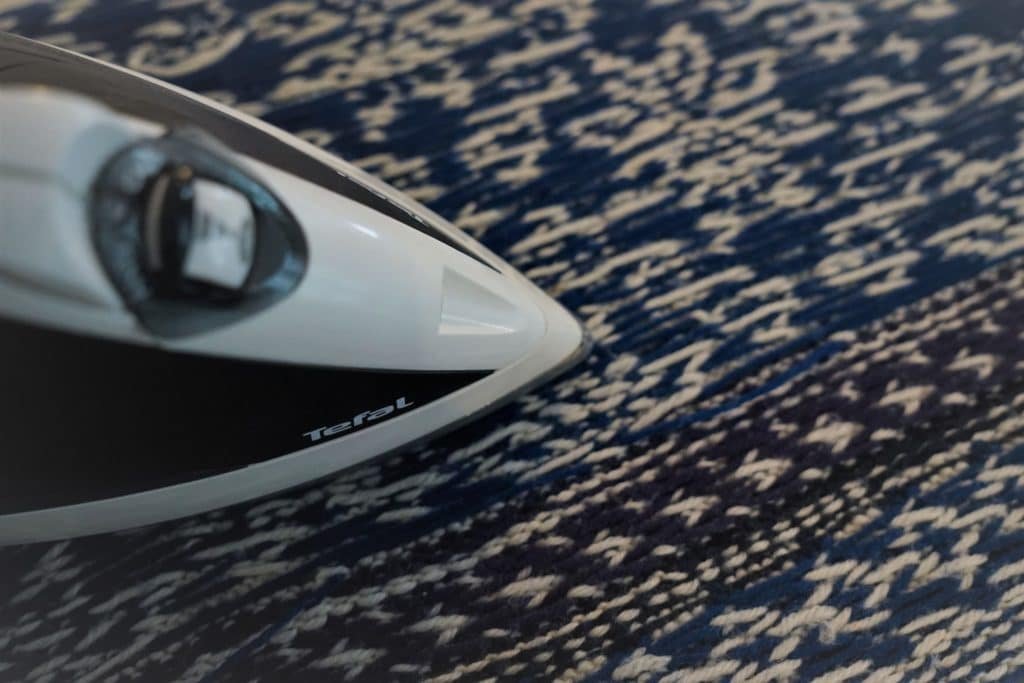 If you have a serger, serge the edges to keep the fabric from unraveling. If you only have s sewing machine, you can use a zig zag stitch.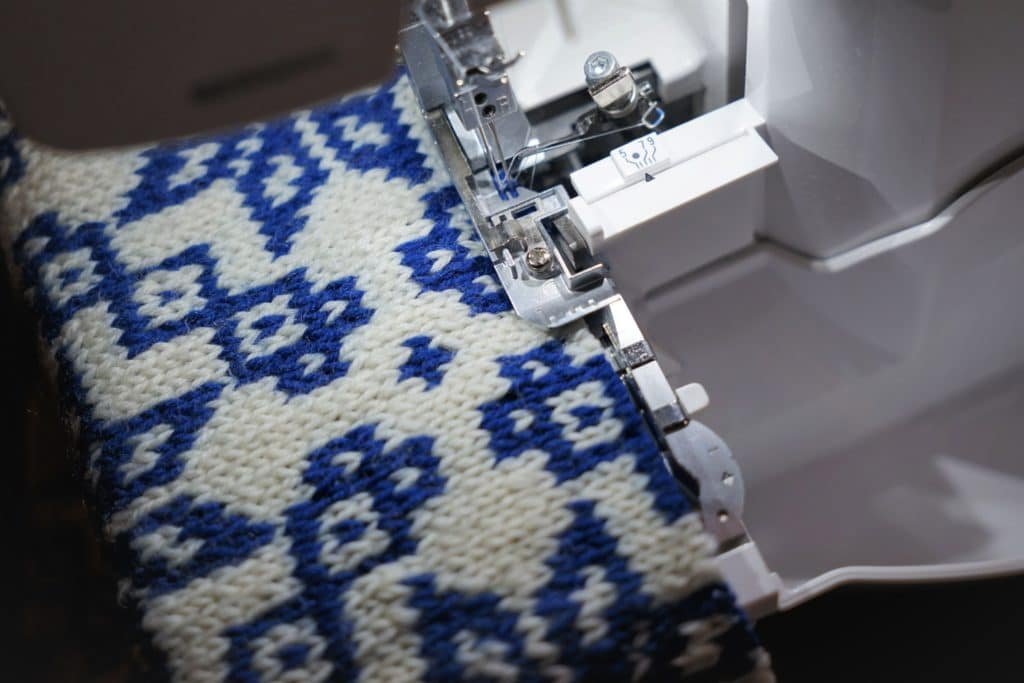 Fold the edge of the flap of the two back pieces 1 cm (0.4 in) inwards, gently iron it and secure with pins.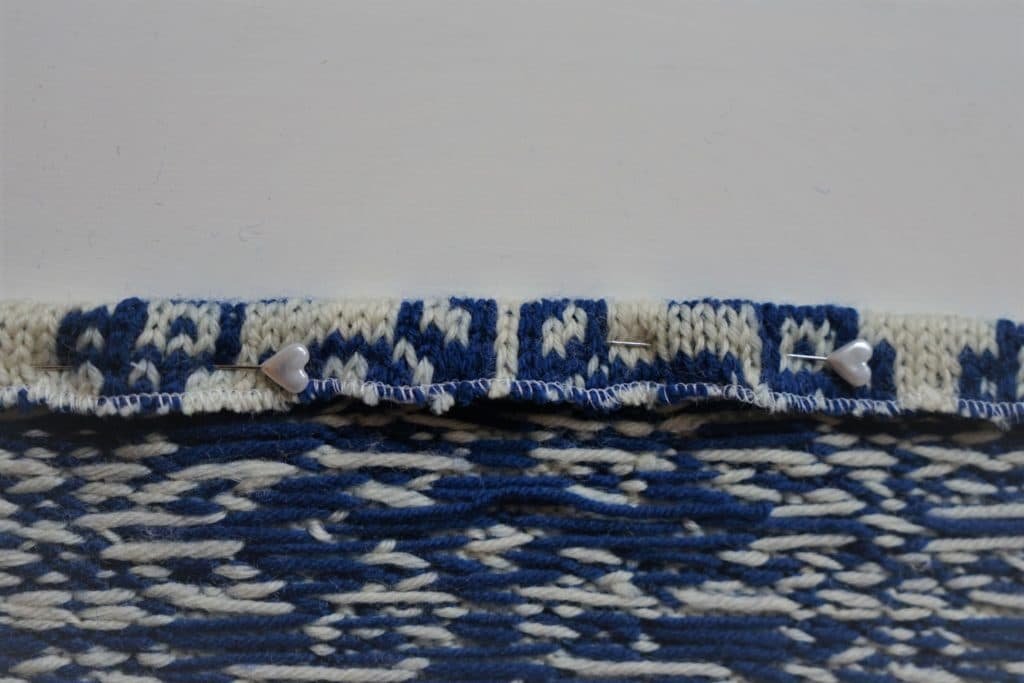 Sew along the edge of the flap on both back pieces with a straight stitch.
Put the back pieces and the front piece with right sides together. Make sure that the back pieces overlap to create the flap. Secure with pins.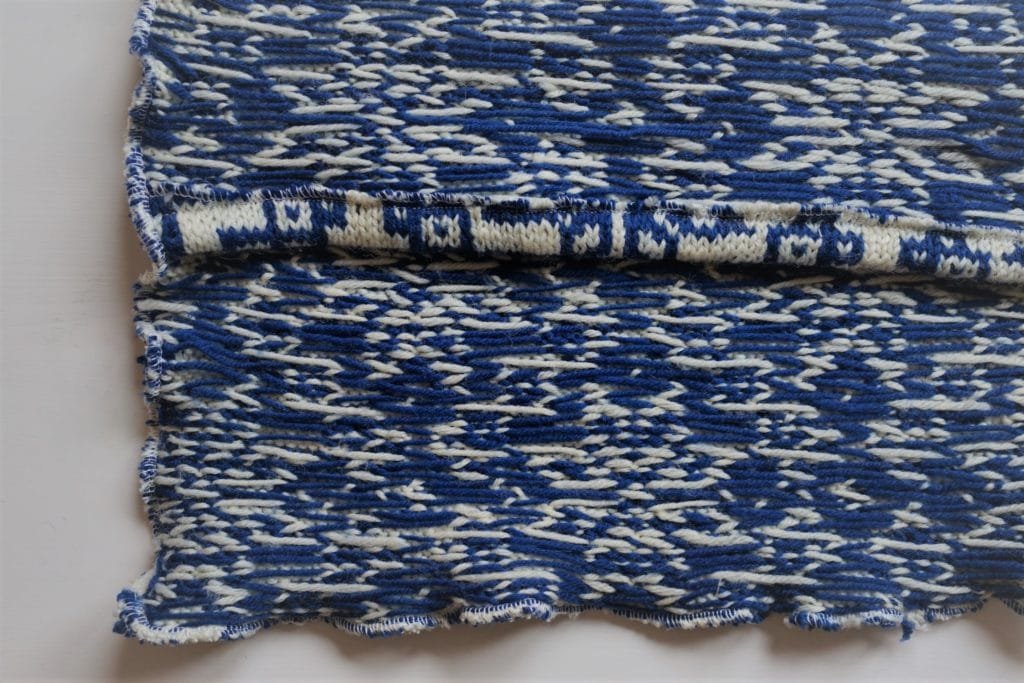 Sew along the edges with a straight stitch. It can be a bit tricky to sew over the back flaps since you are sewing three pieces of fabric together on the overlapping part. For the edges, I opted for rounded edges. Since I had added 1 cm (0.4 in) of "wiggle room" in the measurements, this was possible without any difficulty. But of course, you can also go for a standard rectangular edge.
Turn the pillow cover right side out and put the insert in.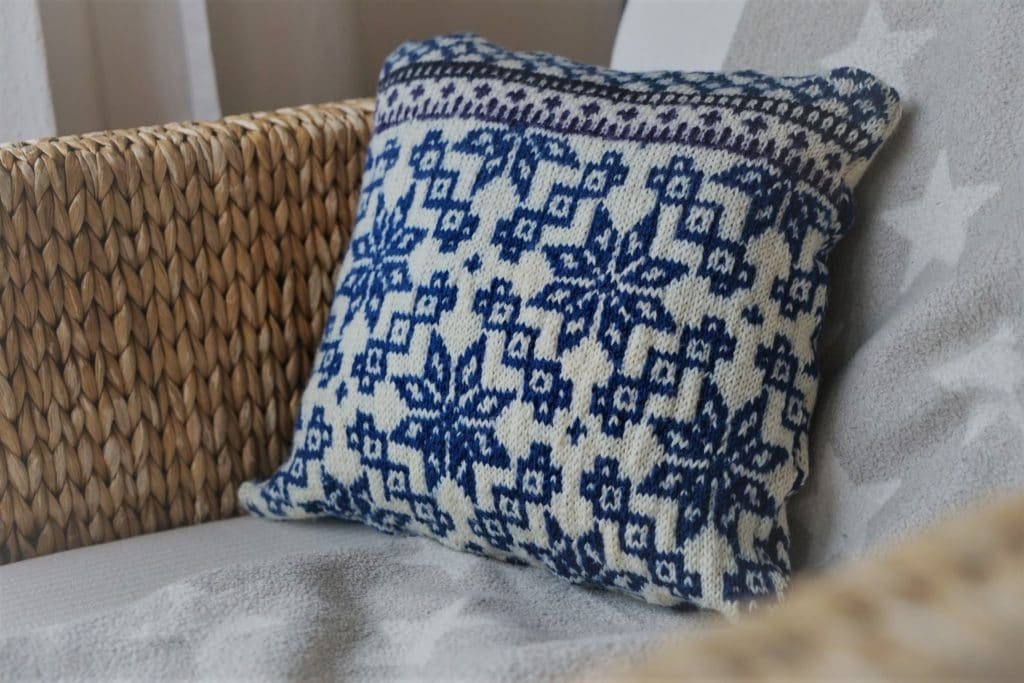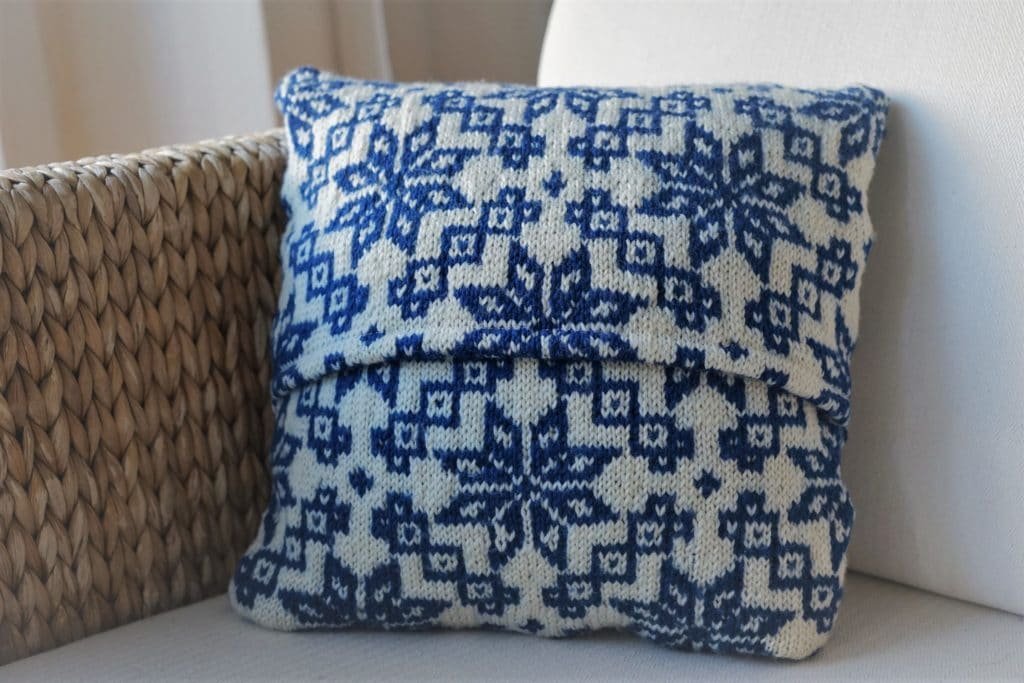 And that's it! You have created a beautiful pillow cover by reusing and giving new life to an old keepsake.
Tips for DIY Pillow Covers:
When using a hand knitted sweater for sewing a pillow cover, you have to be very careful not to unravel the sweater accidentally once it is cut into pieces. Try to move it as little and with as much care as possible.
If you don't have a suitable piece of old clothing on hand, you can always find something secondhand. It doesn't have to be an all-over Fair Isle sweater like mine. A cabled sweater would look beautiful as a pillow as well. I can also imagine that a plain wool sweater would be very beautiful as a pillow cover. You could even add some embroidery to the front.
Other Ways to Recycle a Sweater:
If you don't want to make pillow covers, there are lots of other possibilities. Depending on the size of the sweater or garment you are using, a small baby blanket would be a lovely option. Christmas ornaments are another great way to use an old garment. Another possibility would be a hat.
Let me know if you have any questions about these suggestions. I would be happy to show you how to make them!
Pin It For Later: Recycle A Sweater Into A Pillow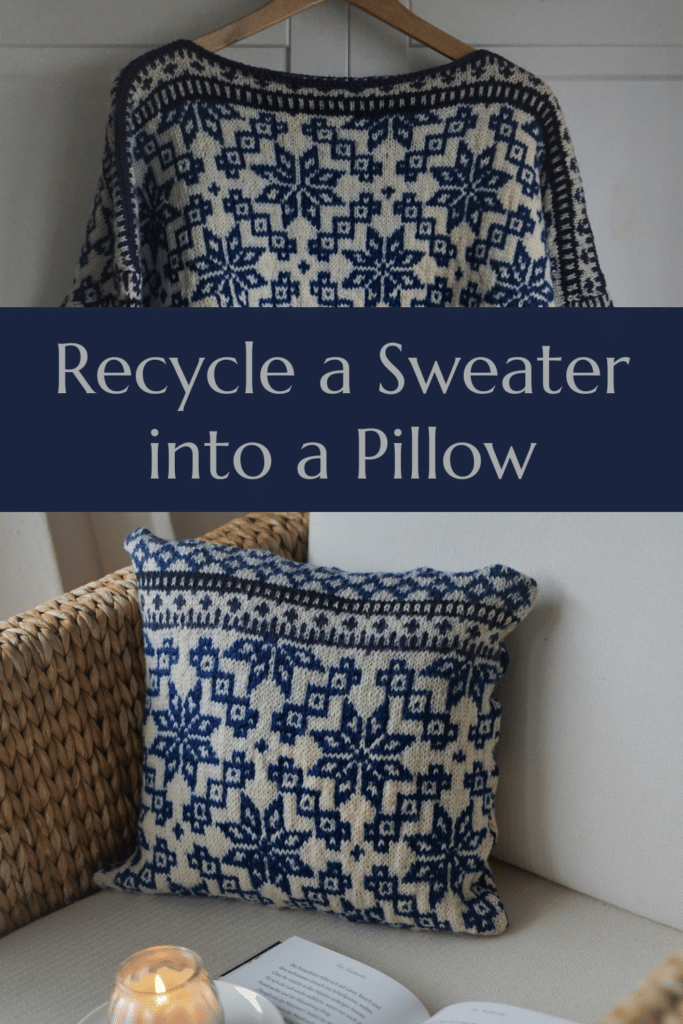 Other Sewing Ideas:
Eco Friendly Wrapping Paper Alternative
Did you find this blog post valuable or helpful? If so, you can support my website by buying me a coffee below, purchasing my knitting patterns or yarns or simply by leaving a comment. Thank you!