In December 2021, Making Stories published my Schneeflöckchen hat knitting pattern as part of their annual Winter Celebration. Today I would like to share some tips and tricks for knitting the hat pattern with you. I will also include recommendations for some modifications and add-ons you can make.
This post contains affiliate links. I may earn a small commission if you use these links, at no cost to you. As an Amazon Associate I earn from qualifying purchases. I only recommend products that I find value in myself. See my full disclosure here. Thank you for your support!
In general, the knitting pattern is beginner-friendly. If you know how to knit in the round, purl and decrease and are open to learn some new techniques, you should be able to make the hat. There are two techniques involved that might seem a bit more challenging if you haven't done them before. Firstly, the pattern starts with a provisional cast on. This way you can create a folded brim for some added warmth and comfort. Secondly, there is some easy colorwork involved. Let's have a look at both of these techniques in a bit more detail.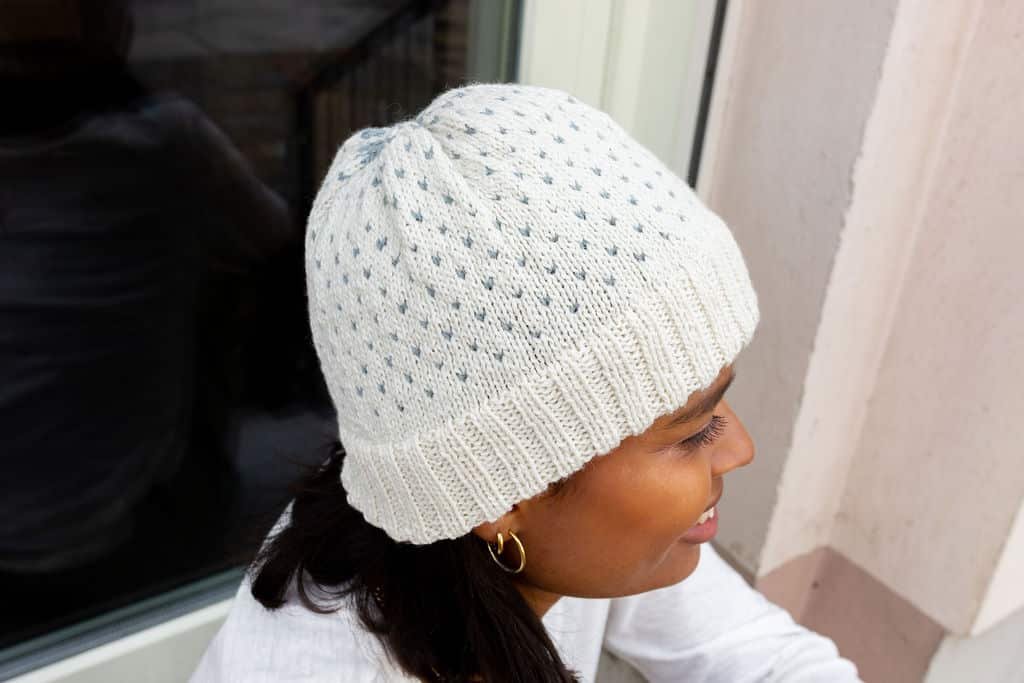 Schneeflöckchen Hat Knitting Pattern: Techniques
Provisional Cast On
Generally speaking, a provisional cast on is a temporary cast on method that can be undone. It thereby leaves live stitches that can be knit in the opposite direction. For Schneeflöckchen, this is necessary in order to create the double brim.
There are different ways to create a provisional cast on. In my opinion, the easiest way to do it is to use a crochet hook, a knitting needle and some thick waste yarn and chain the number of stitches you need directly onto the knitting needle. This video from Purl Soho shows you how to do it. You don't necessarily need to know how to crochet in order to do this method. If you have chained enough stitches, you cut the waste yarn and take your actual yarn. All you have to do is knit one row and join to knit in the round at the end. Then you can start working according to the pattern.
If the length of your brim is as long as indicated in the pattern, it is time to create the double brim. To do so, you have to carefully unravel the provisional cast on. Unpick the end of the waste yarn and slowly start unzipping the chain. Pick up the live stitches with a spare knitting needle as you go. Follow the pattern instructions to join the two sides of the knitted piece together and create the double brim.
Colorwork / Knitting with Two Colors at a Time
If you have never done any colorwork before, knitting with two strands of yarn at the same time can seem a bit daunting. Personally, I am not a colorwork knitting expert by any means and I can assure you that the colorwork in this hat pattern is rather simple to create.
However, if managing two strands of yarn intimidates you, you could totally pick up only the strand of yarn you need and put it down once you knit the stitch. Since not every round of the body of the hat contains the colorwork section, this is totally doable.
If you are a bit more comfortable with knitting colorwork, I recommend holding one strand of yarn in your left and the other one in your right hand. This technique, however, requires you to know how to do the Continental knitting with your left and the English knitting method with your right hand.
There is a very informative video by Dianna Walla (Paper Tiger) on YouTube where she shares a lot of information about knitting stranded colorwork. She covers everything from catching floats to keeping the yarn from tangling. I highly recommend it if you are looking for some background information and tips on knitting stranded colorwork.
Schneeflöckchen Hat Knitting Pattern Modifications
#1 Adapting the Fit
The pattern is written to create a fitted hat (total length 18.5 (19, 21) cm / 7.25 (7.5, 8.25)"). If you prefer a more relaxed beanie fit, you can simply add some length to the hat by adding some more repeats of the body chart.
#2 Adding Pompoms
Adding a pompom is a simple but impactful modification for any hat pattern. There are different ways to create a pompom. You can purchase some specific pompom making tools, make your own template from a piece of cardboard or, like I did for my mini pompoms, use a fork.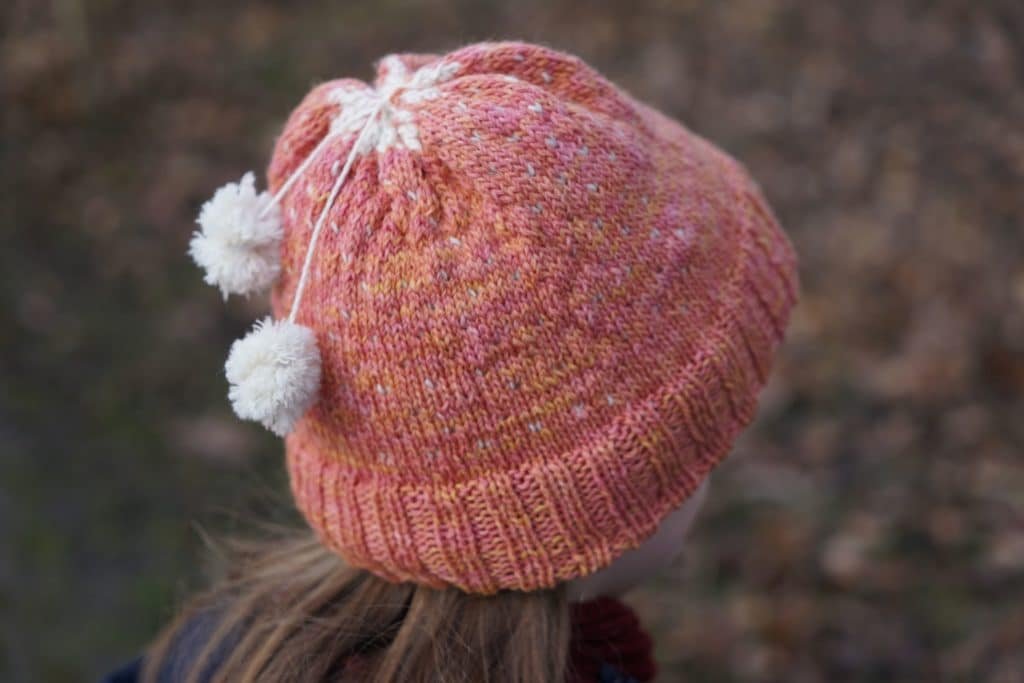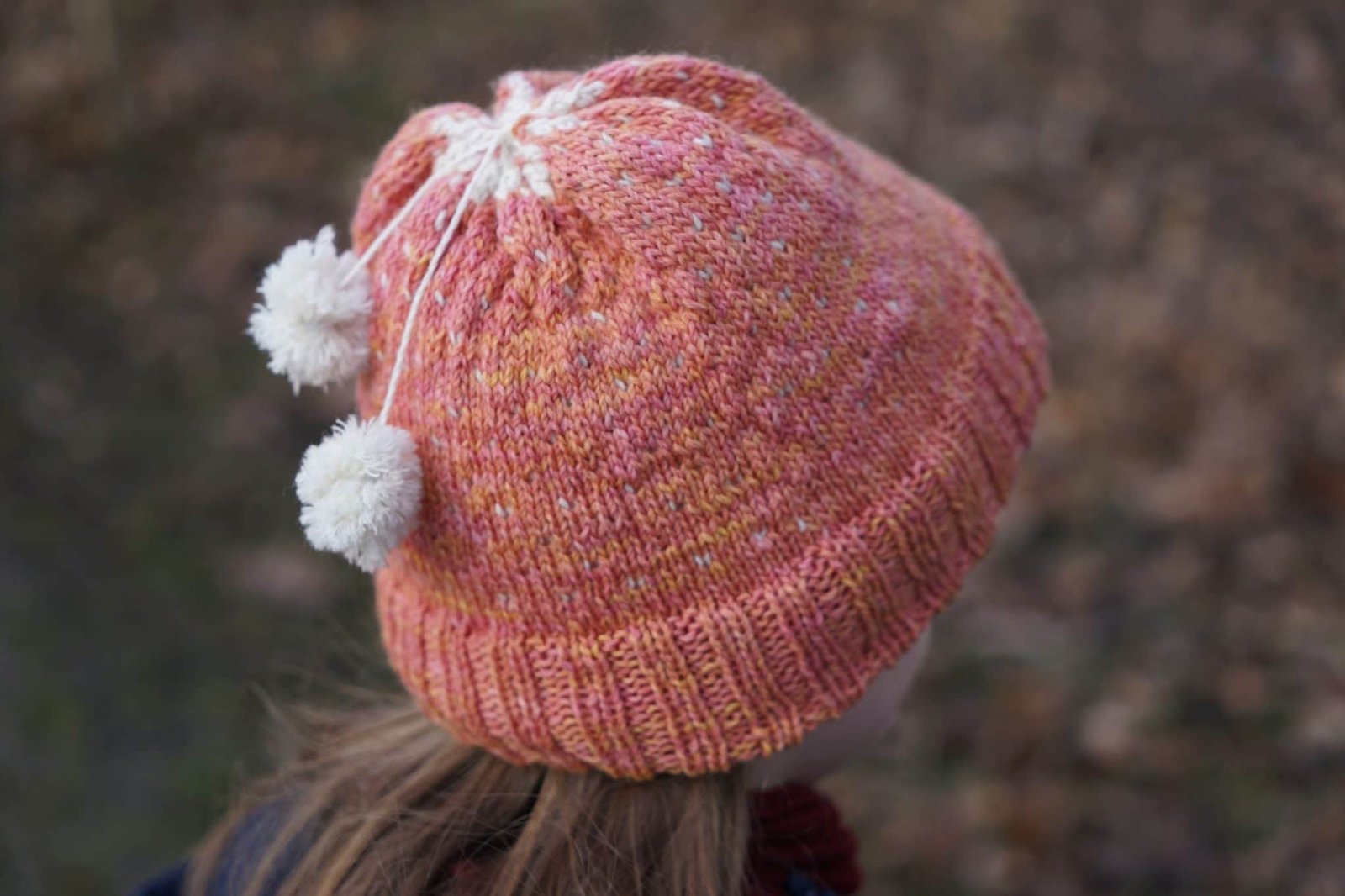 Since one special feature of the Schneeflöckchen hat is its crown which resembles a snowflake, I didn't want to completely cover it up with a pompom. Therefore I decided to make these mini pompoms and attach them with longer strands of yarn so that they would dangle on the back of the hat. Each pompom required about 1.5 g of yarn.
I also added a lining to my hat (see below for more details). If you decide to line your hat as well, make sure to add the pompoms before adding the lining.
#3 Line your Hat
I made this version of Schneeflöckchen for my younger daughter who doesn't like wool touching her forehead. Therefore I decided to line her hat. Adding a lining is a great option for any hat pattern. Not only is it soft, it also increases the warmth of the hat due to the extra layer of fabric.
When adding a lining, I do recommend adding a bit of length to your hat when knitting the body. When the knitted piece is sewn together with the lining I find that you lose some of the overall length. You also have to make sure to prewash your lining fabric in order to prevent any future shrinking issues. To create the lining piece and sew it onto the knitted hat, I loosely followed this tutorial on YouTube. However, in contrast to what is shown in the video, I chose to sew the two pieces of the lining together with my sewing machine instead of using fabric glue.
Schneeflöckchen Hat Yarn Recommendations
The Schneeflöckchen hat I knit as a sample for Making Stories as well as the pink version for my younger daughter were both made with Rosemary & Pines Fiber Arts Luster Sock DK. If you would like to make your own Schneeflöckchen hat using the same yarn, you could either use a kit that I compiled specifically to go with the pattern. These sets consist of a 100 g skein in the natural white colorway ("Snow") and a 10 g contrasting mini skein.
You could also use a 100 g skein in the colorway of your choice from my Etsy shop along with a 10 g mini skein "Snow" in the natural white. If you have been around here for a while, you might remember the skein I used for my version of the hat. This skein was dyed with amaranth "Hopi Red Dye" that I grew in my garden last year. I am currently testing the colorfastness of this dye and it looks promising so far. If it holds up to my expectations, I am going to bring this colorway to the shop in the future. If you would like to know more about dyeing with amaranth, you can find the blogpost here.
But of course you can totally substitute the recommended yarn for another yarn with a similar yardage. The yardage of Luster Sock DK is 250 m (273 yrds)/100 g, so if you already have a suitable yarn in your stash, you are good to go.
Notions Needed
Knitting Needles – I personally own an interchangeable circular needle set from Chiaogoo with metal needles which I can recommend. But of course you don't have to use circular needles, double pointed needles work as well.
Crochet Hook – This is the one I use and can recommend, but any crochet hook will do.
Darning Needle
Stitch Marker – I really like these simple, metal ones but any stitch marker will do.
Tape Measure
Do you want to give knitting with sustainable, all natural sock yarn a try?
In this free guide you will learn everything you need to know about knitting sturdy socks with plastic-free, all natural sock yarn.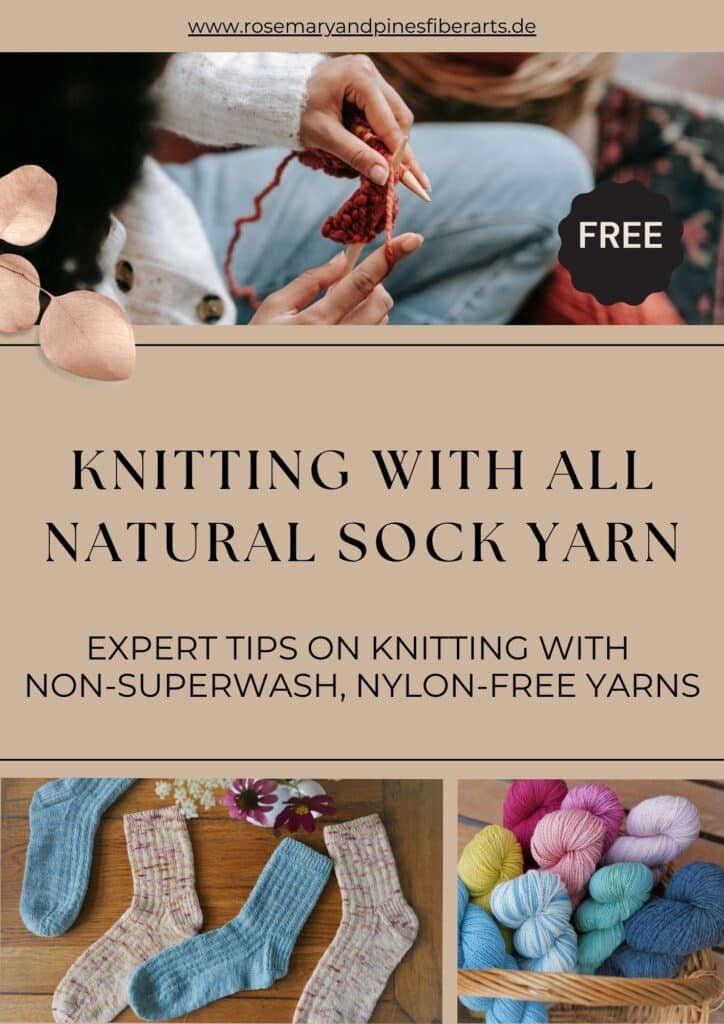 Pin It For Later: Schneeflöckchen Hat Knitting Pattern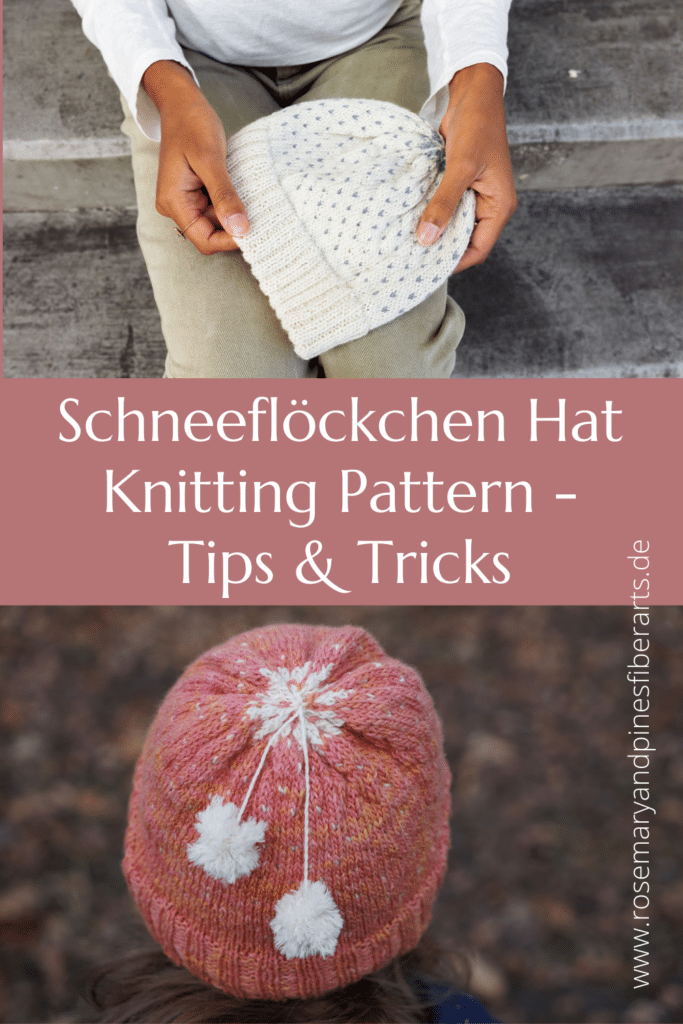 Did you find this blog post valuable or helpful? If so, you can support my website by buying me a coffee below, purchasing my knitting patterns or yarns or simply by leaving a comment. Thank you!