These easy crochet blankets are suitable for beginners who want to learn how to crochet while creating a beautiful blanket.
As an Amazon associate, I earn a small commission from qualifying purchases made through my links. This applies to any items you place in your cart and purchase within 24 hours after going to Amazon from one of my links.  If you're going to be making a purchase from Amazon anyway, thank you so much for using my links to support this site.
I consider myself an adventurous beginner when it comes to crocheting. I am definitely a lot more experienced in knitting and sewing. If you are interested in
teaching yourself how to crochet or
are looking for a mindless project or
want to use up some scrap yarn
stay tuned, because this post is for you!
I want to give you two suggestions of crochet blankets which are simple to make, even for complete beginners, and look beautiful. I made both of these blankets myself and can completely recommend the patterns. In my opinion, both patterns are suited for someone just starting out with crochet. In addition, they are just perfect for using up scraps and leftover yarns from other projects!
There is just one thing you need to be aware of when it comes to pattern instructions. In crochet, there are two different terminologies, called US and UK terms. Some of the stitches have the same name (e.g. dc = double crochet) but they are worked differently in US and UK terms. Before you start with your project, make sure to check which terms the designer is using.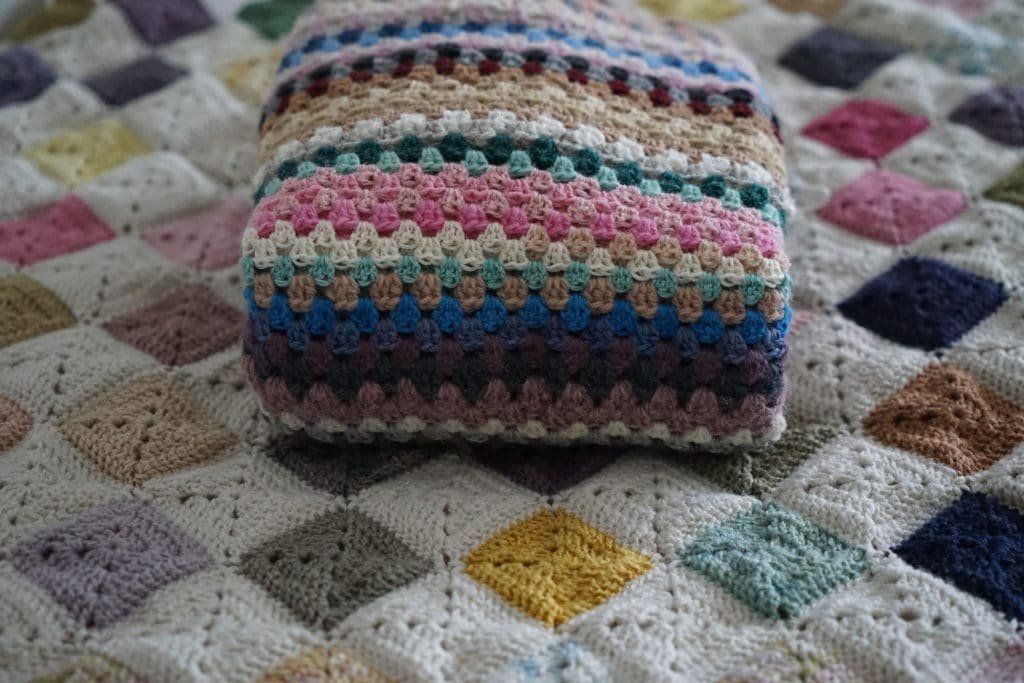 Alright, let's get into my suggestions:
#1 Simple Granny Square Crochet Blanket
This blanket ist called the "Battenberg Blanket" and the pattern is available for free. If you want to make one yourself you can find the pattern here. It is super simple to learn how to make this blanket because there is both a photo and video tutorial for it. The designer and creator is Sandra Paul from the blog www.cherryheart.co.uk. The instructions are written in UK terms.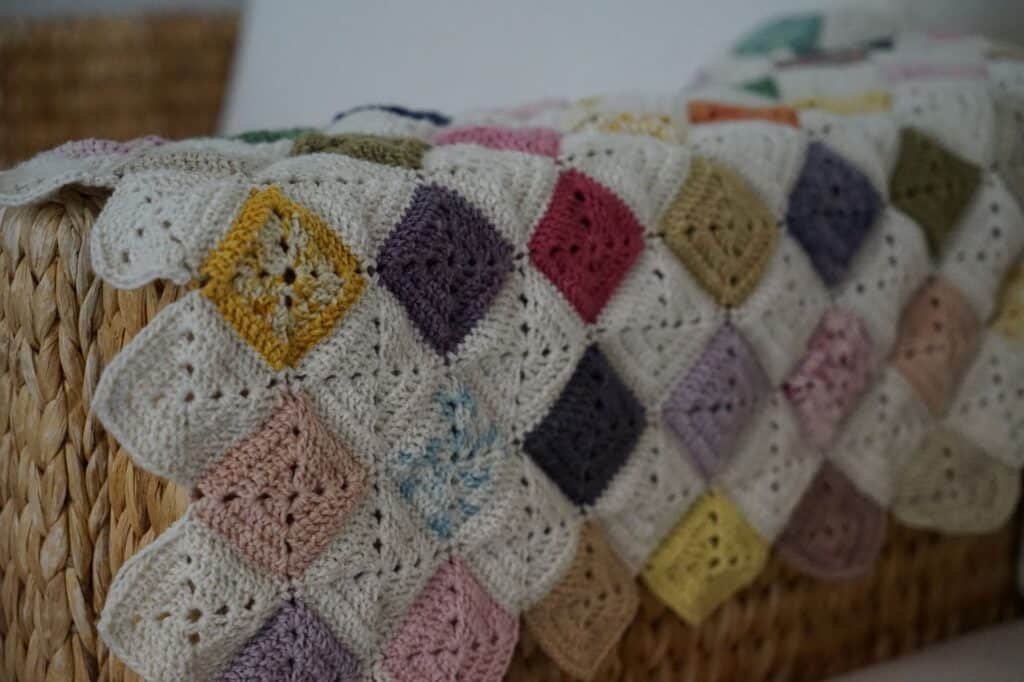 #2 Granny Stripe Crochet Blanket
This blanket is simply called "Granny Stripe" and it is also a free pattern. The designer is Lucy and you can find the pattern at her blog Attic24.
All you need to know in order to make this blanket is the double and treble crochet stitch (UK terms).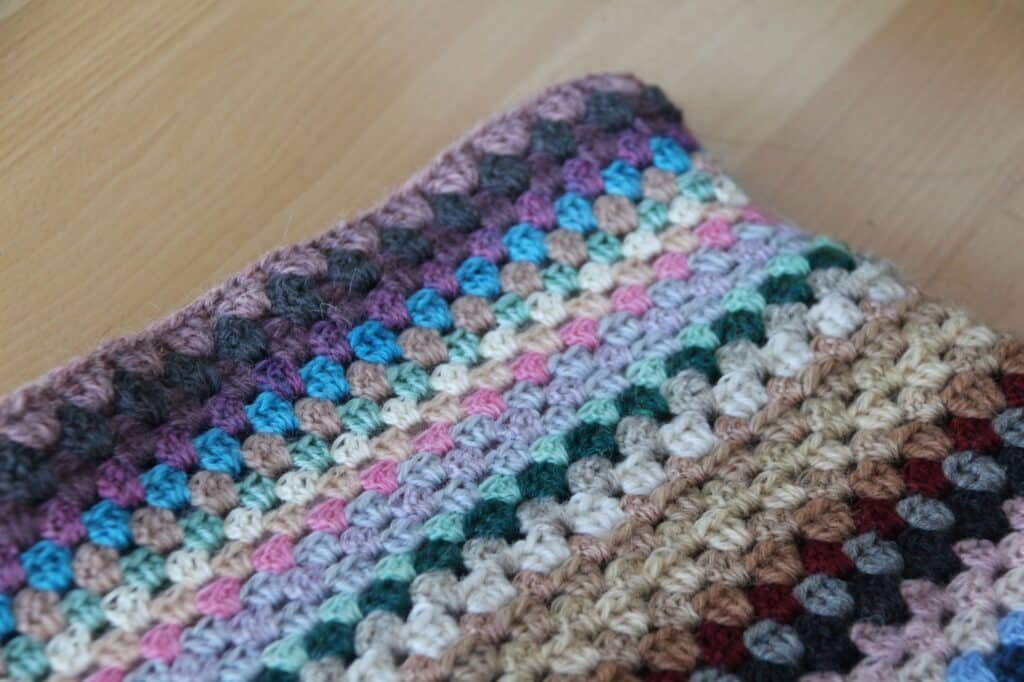 What Kind of Yarn Can Be Used to Make a Crochet Blanket?
I really like both pattern because they are highly customizable. You can choose which colours and yarn you want to use without pretty much any limitations. The yarn weight is completely up to you.
I chose to make my Battenberg Blanket with a DK weight 100% wool yarn with a yardage of 250m/100g. One square only takes 1.6 g of my DK weight yarn. The original blanket was made with a fingering weight yarn. You should just make sure that the yarns you use have a similiar weight to them. Otherwise the size of the squares will vary which will make it difficult to join them at the end.
For the Granny Stripe blanket the yarn weight is also completely up to you. Again, the yarns you use should be similar in weight so that the stripes will be equal in width and height. For my Granny Stripe blanket I used leftover scraps which are about fingering to DK weight.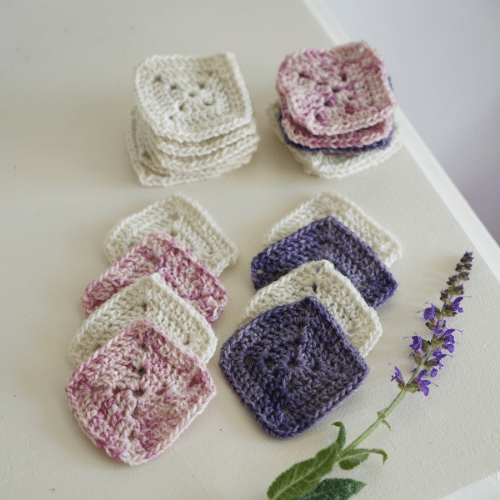 What Materials Do You Need to Make a Crochet Blanket?
Yarn – you can use either cotton or wool. Crochet blankets are often made with cotton due to economic reasons (cotton yarn is usually cheaper than wool yarn). It can also be washed more easily.
For my Battenberg Blanket, I am using my naturally dyed yarn Rosemary & Pines Fiber Arts Luster Sock DK
Crochet hook – The size of your crochet hook depends on the weight of the yarn you use, this is the one I use
Scissors – to cut the yarn
Darning Needle – to sew in the ends
Colour Choices
With blankets like these, you are completely free on the colour choices.
For the Battenberg Blanket, you could make a colourful blanket like the original or my version where you alternate between a neutral colour (white, grey, beige) and the colourful squares. You could also make a two-tone version. I even think a blanket in only one colour could look very beautiful. Another fun variation would be using a variegated, speckled or self striping yarn. The colours would overall go together very well but each square would unique.
For The Granny Stripe, you can pretty much do whatever you want as well! If you want to use up leftovers, you will probably get a colourful version. If you chose to make the blanket in, for example, five different colourways only, you could do that as well.
As you can see, the possibilities are endless!
I had wanted to make a colourful version of the Battenberg Blanket for the longest time. As a natural yarn dyer, it always amazes me how many different colourways can be created with plants. Seeing the various colourways I have created all together in one blanket makes me very happy.
Blankets are Great Beginner Projects
If you always wanted to learn how to crochet I feel like this is the perfect project to start with! I actually taught myself how to crochet just last year and my first project was, of course, a blanket. Actually, it was two blankets. I had always envisioned making colourful granny square blankets for my two daugthers as a keepsake. When I started crocheting at the beginning of 2019 I didn't have an end date in mind. But as the year went by and I made good progress, I decided that I would love to give the blankets to them as Christmas presents. At this time it was already fall so I focused all of my creative energy on crocheting these granny squares. And I was able to finish both blankets just in time for Christmas!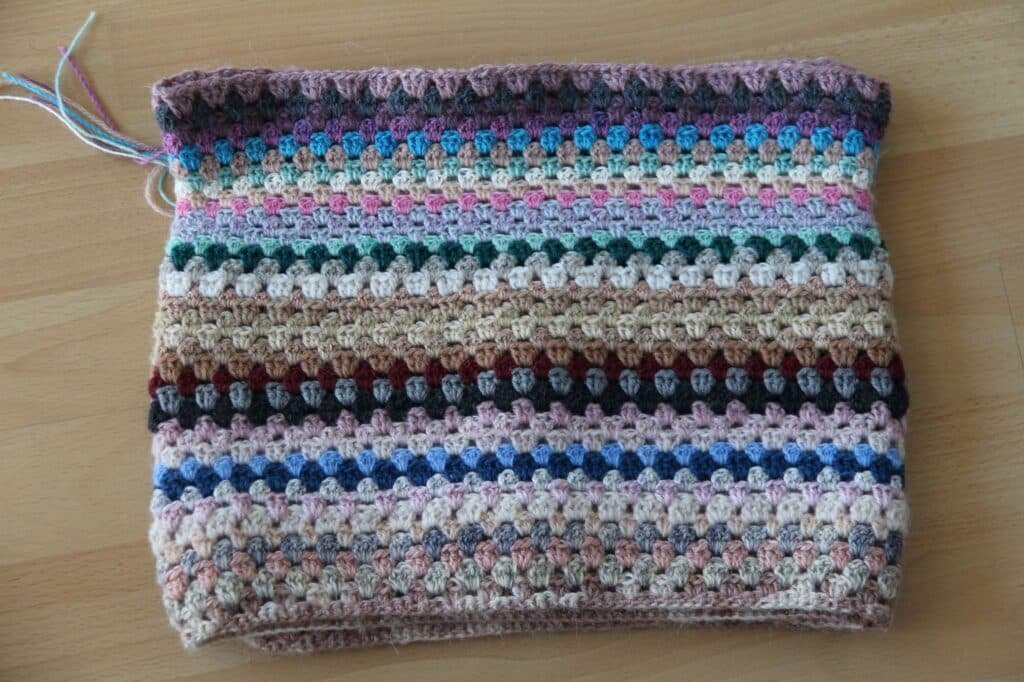 Tips for Making a Crochet Blanket
Whenever I am working on a larger making project I feel like it can be difficult to keep the momentum going. I am very excited at first but it takes quite some time with a project like this to see progress. And while I really enjoy a simple, relaxing make, it can get boring. This is why I like to have more than one project I am working on. So whenever I want something different or more challenging, I just pick up another project. But I always make sure that I don't have too many creative projects at the same time. If you have lots of things to choose from it can easily feel overwhelming.

I also feel that it is important to allow yourself to take your time with a blanket. It is totally fine if this is a long term project that you are working on whenever you feel like it. It may take months or even years to finish it but you will thoroughly enjoy the process of creating it. Both my Battenberg and Granny Stripe Blanket are still works in progress although I started them months ago. The process is very soothing and relaxing to me and I just love seeing them grow.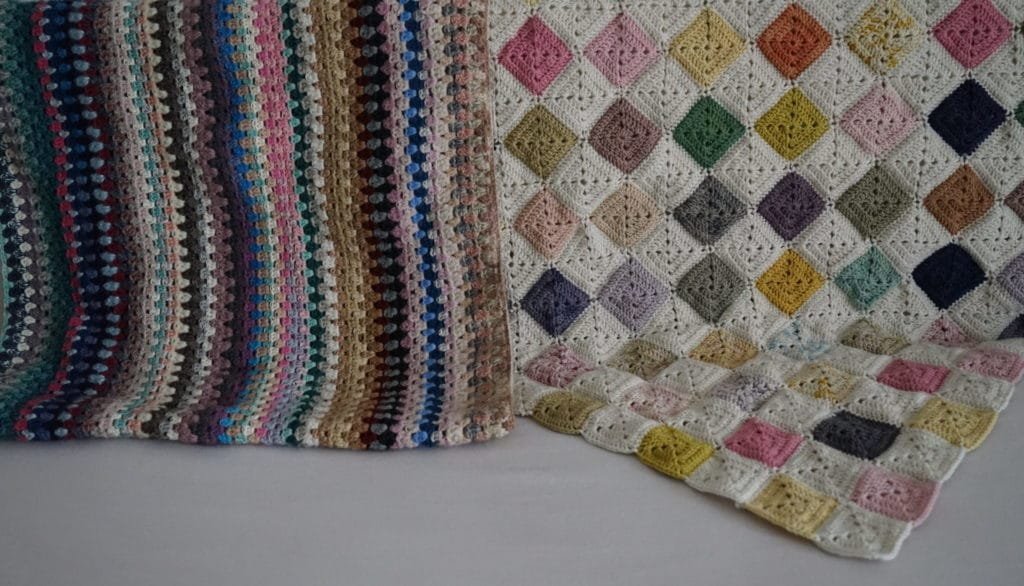 And whenever I feel like it takes me so long to see any significant progress, I snuggle under the squares that I have already joined together which just cover my lap. And then I simply crochet some more colourful and white squares and add a few here and there.
Do you like to make blankets as well? Do you have any other suggestions for using up scrap yarn? Come share in the comments!
And if you're interested in more blogposts about crocheting, you can find them in the crochet category of the website.
Did you find this blog post valuable or helpful? If so, you can support my website by buying me a coffee below, purchasing my knitting patterns or yarns or simply by leaving a comment. Thank you!