In today's blog post I want to talk about solar dyeing yarn with natural dyes.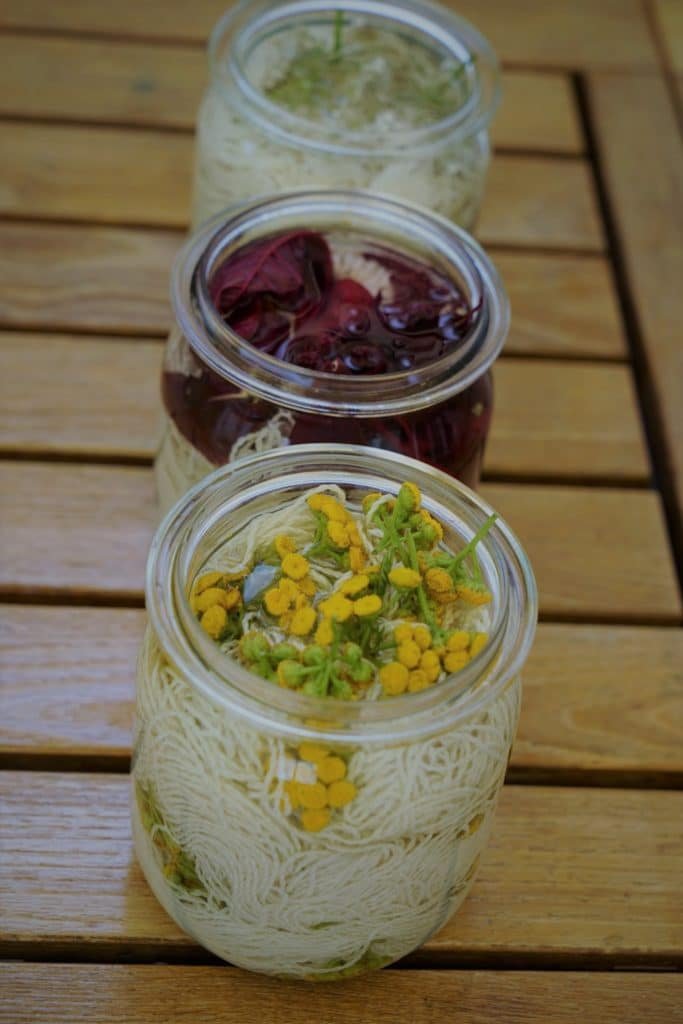 This post contains affiliate links. I may earn a small commission if you use these links, at no cost to you. And I only recommend products that I find value in myself. See my full disclosure here. Thank you for your support!
But what is solar dyeing, actually? It is a special technique which utilizes the natural heat created by the sun to slowly dye fiber. You can use it to dye yarn or fabric. You can apply natural or synthetic dyes. It is very versatile and simple at the same time. You just need time and sunshine. Since you are harnessing the power of the sun, solar dyeing is best done during the summer months when the sunrays have more energy.
Solar Dyeing Yarn with Natural Dyes: List of Materials
| | |
| --- | --- |
| glass jar | with lid, transparent, size at least 1 L. I use Weck jars like this one. |
| dyestuff | see below for some recommendations |
| alum | If you want to know more about alum or mordants in general and how to use them, I recommend this blog post. |
| fiber | I use up to 100 g of yarn in a 1 L glass jar. The yarn doesn't have to be pre-mordanted or soaked. You can simply use the dry yarn. |
| water | regular tap water |
| tablespoon | to measure the alum |
| measuring cup | to measure the water |
| gloves | I use nitrile-vinyl gloves to protect my hands. |
| dish soap, wool detergent | to wash the yarn after the dyeing is complete |
| time & sunlight | |
Solar Dyeing Yarn with Natural Dyes: The Process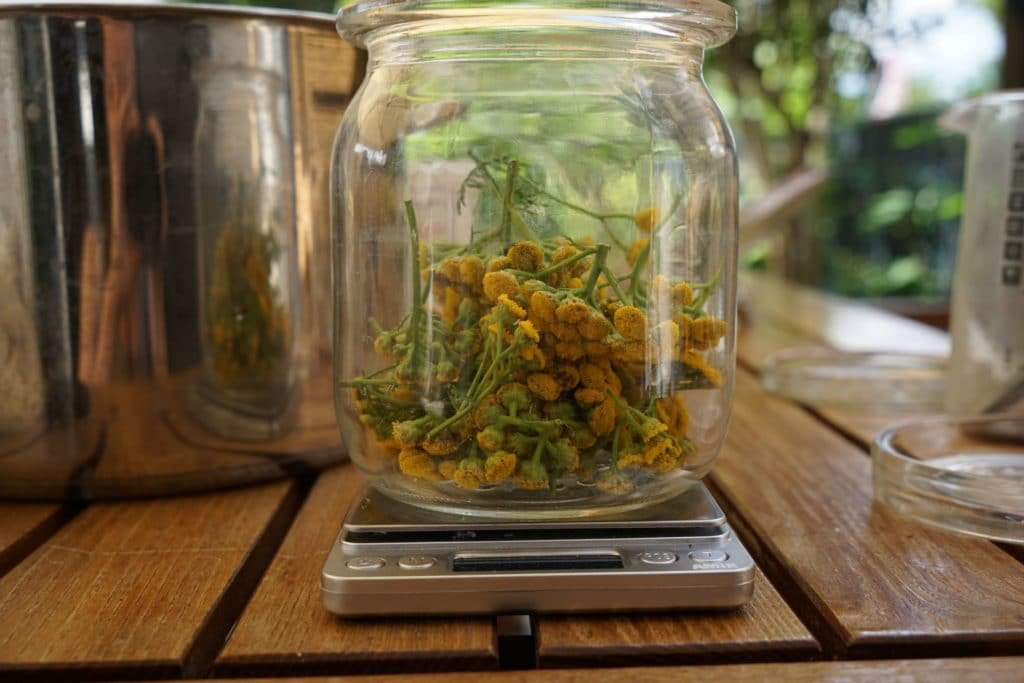 Start by measuring 1 liter of water and a tablespoon of alum. Dissolve the alum in the water by stirring it in.
Take the yarn and dyestuff and layer it in the jar. I alternate between the dyestuff and the yarn to achieve a more even color distribution in the skein but you can layer according to your preferences.
Carefully fill the jar with the water/alum solution until everything is covered. Check the water coverage a couple minutes later and add water if needed. The yarn and dyestuff always have to be covered with water to avoid potential molding issues.
Wait and be patient. I let the yarn sit it in the jar for at least a week before I take it out.
Washing: The next step is washing out the excess dye. Firstly, take a bucket and fill it with lukewarm water. Then add a little bit of dish soap. Take the yarn out of the dye solution (don't forget to wear gloves), gently squeeze it out and place it into the soapy water. Squeeze the yarn gently so that the excess dye comes out. Secondly, I wash the yarn very carefully under some running, lukewarm water. Then I fill the bucket with water and a mild wool detergent. I put the yarn in and let it sit for a couple of minutes up to a few hours. After this I wash it under some running water again. I repeat these last two steps until the water runs clear and try to use as little water as possible.
Drying: There are several ways to get the yarn to dry quickly. You can simple wring it out gently and hang it to dry on a drying rack. Especially on a hot summer day, this works really well. You can also use a salad spinner or spin dryer to get out some more excess water.
Suitable Plants for Solar Dyeing
These are the plants/kitchen scraps I have used for solar dyeing so far:
Onion skins : creates yellow/rust colorways
Goldenrod: creates yellow colorways
Amaranth Hopi Red Dye: creates pink colorways
Tansy: creates yellow colorways
During my research on solar dyeing, these plant extracts/dyestuff were mentioned numerous times:
Cochineal
Logwood
Madder
Avocado (skins and pits)
Tea & Coffee
Eucalyptus
Solar Dyeing Yarn with Natural Dyes: Color Development
You can see in the pictures that the skeins absorb the color of the dye plants over time. It is very interesting to watch the course of the color development from day to day.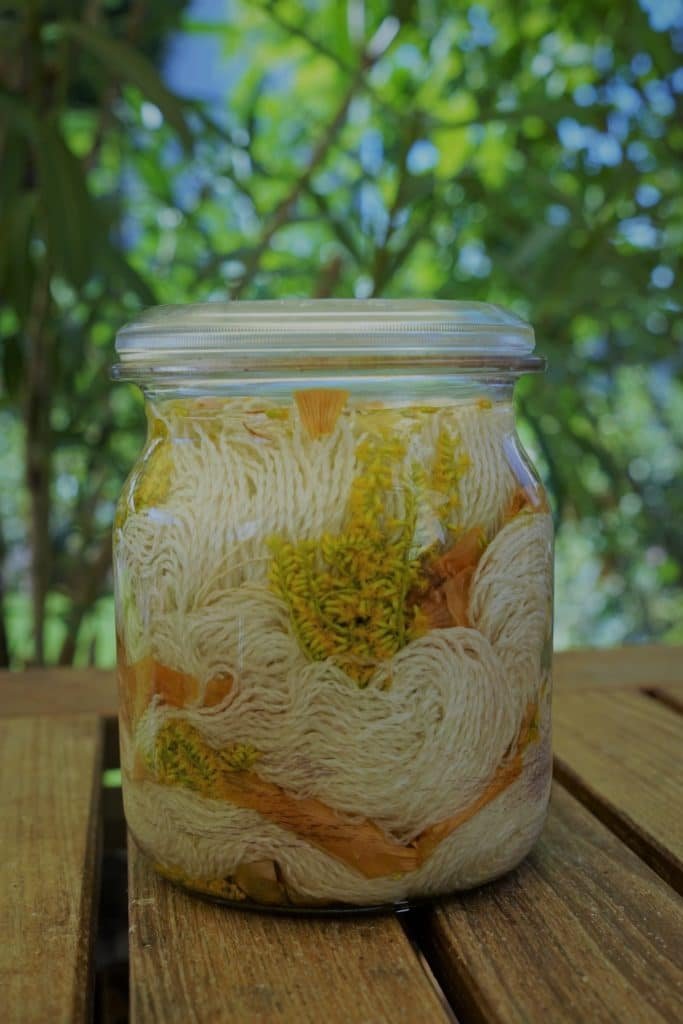 Solar Dyeing Yarn with Natural Dyes: The Results
Since every jar is unique not only due to the singularity of the layering but also because of the amount of sunlight it gets and its orientation towards the sun, every solar dyed skein of yarn is one of a kind.
The picture below shows a skein that has been dyed with goldenrod and yellow onion skins. It turned into a vibrant yellow with some color variation throughout.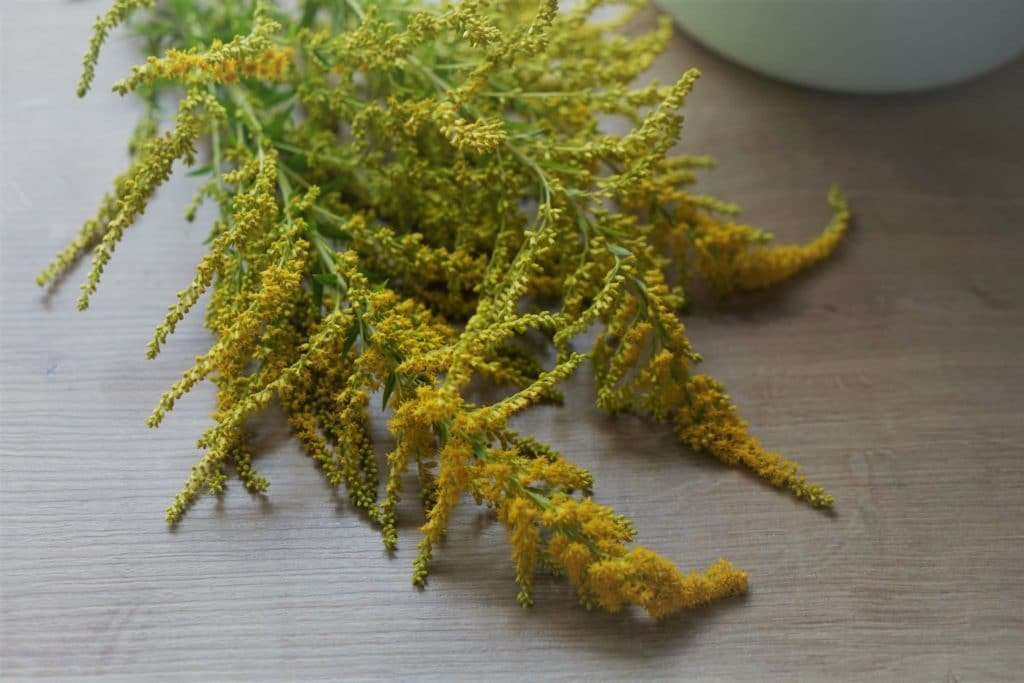 These three skeins below have been dyed with amaranth 'Hopi red dye'. The skeins formed kind of a color gradient depending on their position in the jar. The skein that sat in the lowest position in the jar has the deepest color.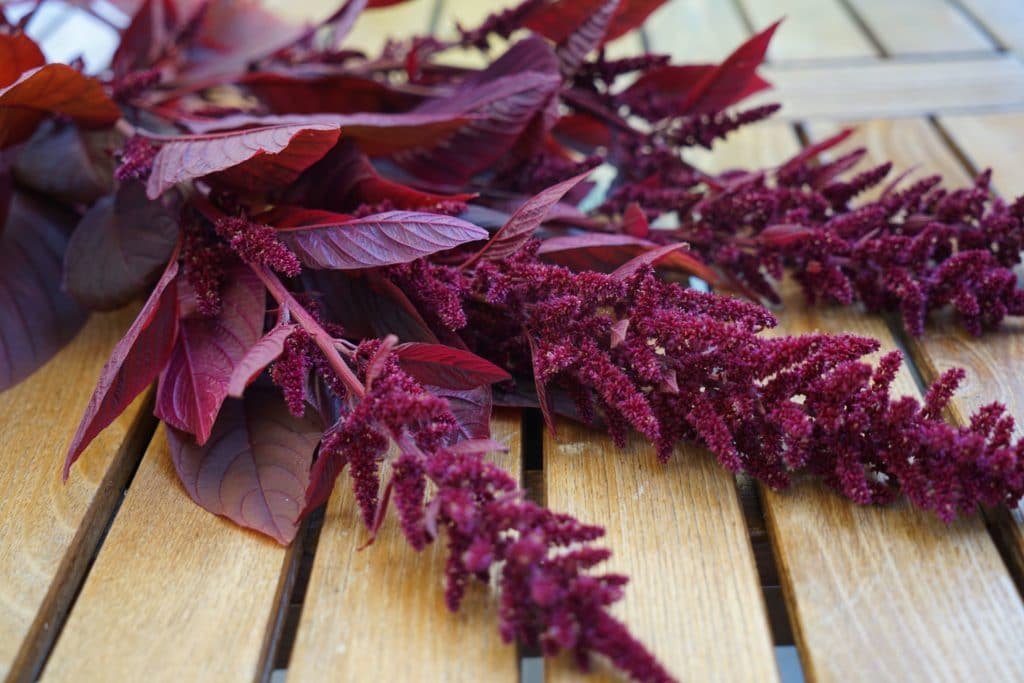 These light yellow skein have been dyed with tansy. It is not really apparent in the picture, but the skein that sat on the ground of the jar is in the deepest shade of yellow, similar to the results of the amaranth solar dyeing.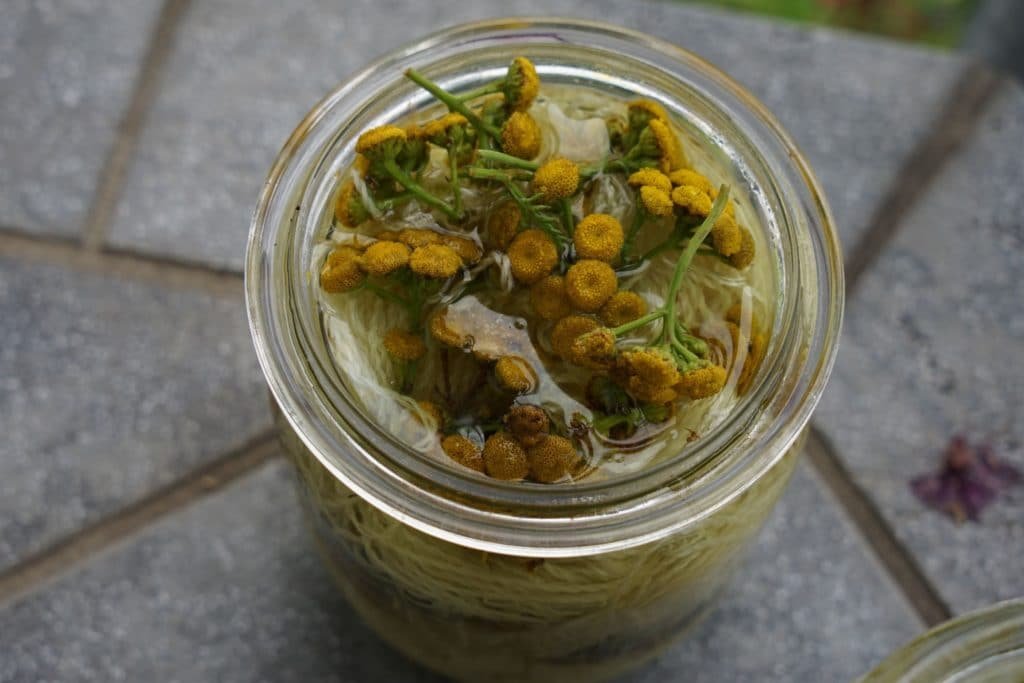 Have you experimented with solar dyeing before? What are your experiences? Come share in the comments!
Pin It For Later: Solar Dyeing Yarn With Natural Dyes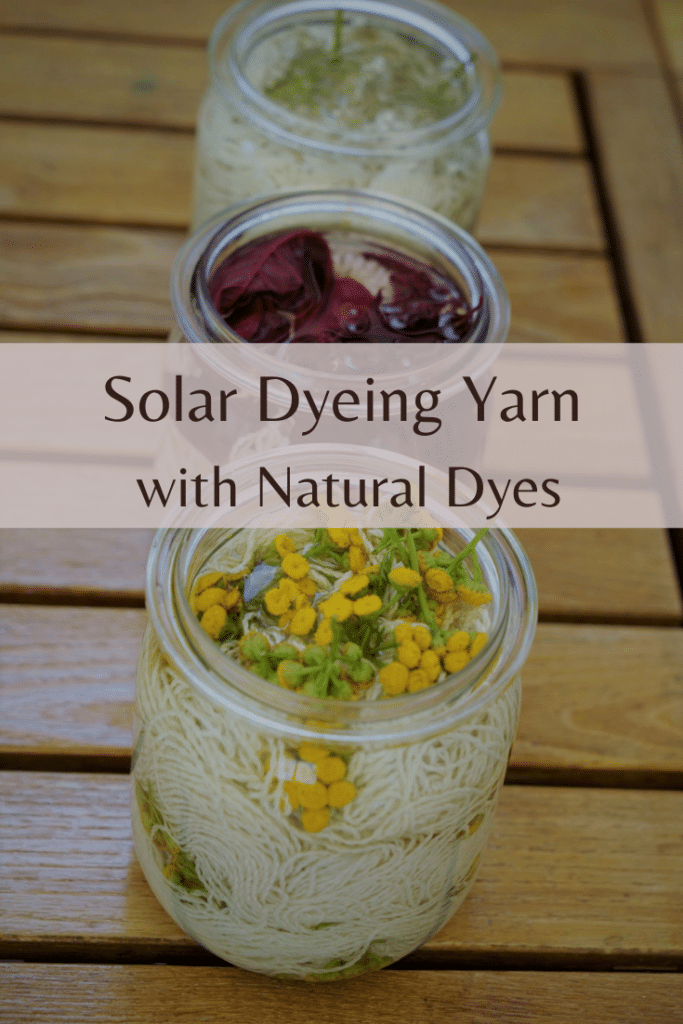 Did you find this blog post valuable or helpful? If so, you can support my website by buying me a coffee below, purchasing my knitting patterns or yarns or simply by leaving a comment. Thank you!