Today's post is all about wardrobe staples. But not just any wardrobe staple, knitted cardigans is what I want to talk about with you. Since you seem to enjoy my mini-series on favorite patterns, I decided to continue with the theme and share three of my favorite cardigan knitting patterns with you.
In the past weeks, I have already shown you some of my favorite yoke sweater knitting patterns as well as three favorite hat patterns.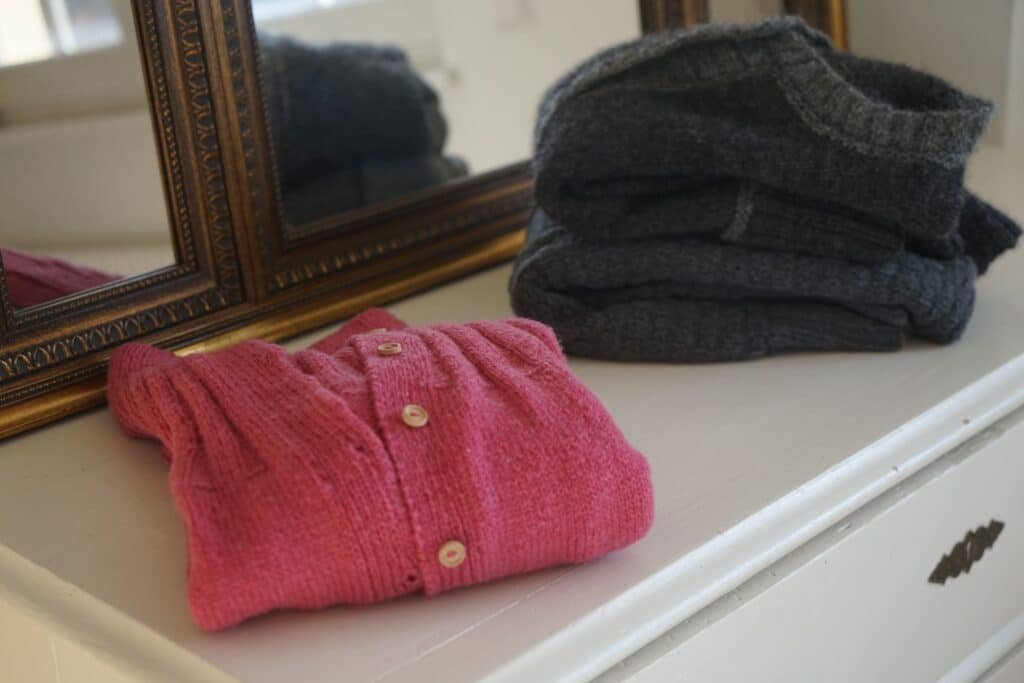 Minimal Wardrobe
Since my dresser is small and my wardrobe is rather minimal, I am always looking for versatile clothing pieces that I know I will wear frequently. In my opinion, cardigans are one of those ideal wardrobe staples. You can easily put them on if you need some added warmth and comfort. But they are just as easy to take off if you get too warm. Personally, I like to wear my cardigans open most of the time and prefer more of a relaxed fit. Therefore, this is what my recommendations below will reflect.
Hand Knitted vs. Store Bought
But why should you even bother to knit yourself such a large piece of knitwear instead of just buying a cardigan? To me, there are several reasons that make the effort worthwhile. Mainly, it is part of my aspiration of creating a (mostly) handmade wardrobe. You can read more about my handmade wardrobe in this blog post.
In addition, if you make your own clothing, you can tailor it so that it fits your body perfectly. Do you always feel like the arms are a bit too short in store bought garments? You can easily lengthen them by knitting just a few more rounds. In case you prefer a cropped cardigan or a longer version, you can alter the pattern to your liking. If you are looking for a specific color combination, you can choose the yarns you like. The list of possibilities and altering options is nearly endless.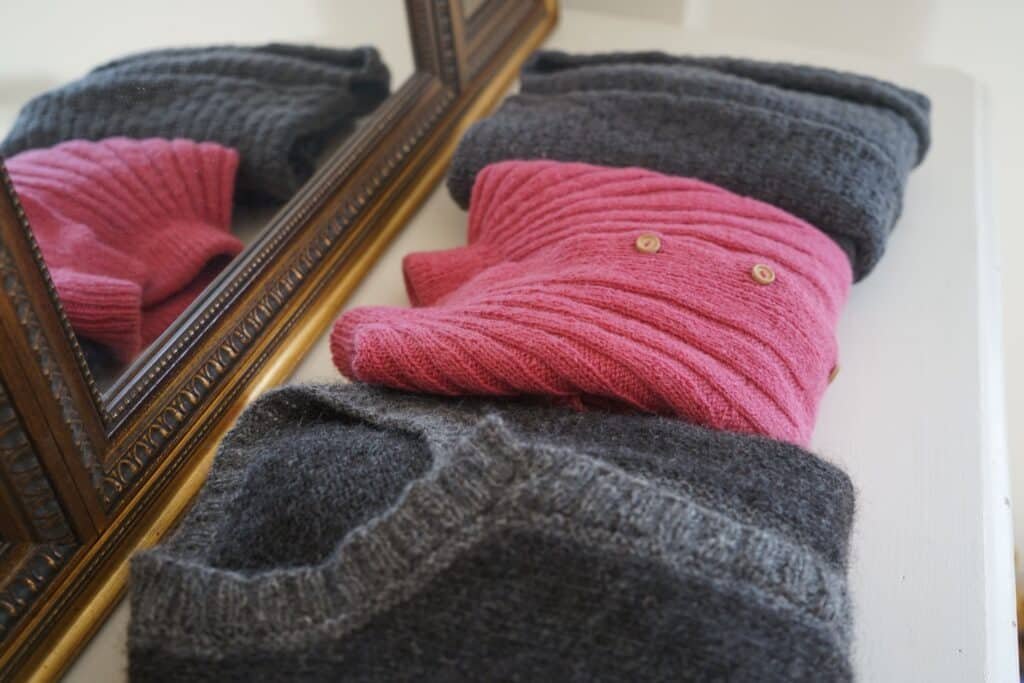 One Piece or Seamed?
For the longest time, I was a bit intimidated by the prospect of knitting a garment in pieces and seaming it in the end. But now that I have tried it (see below for the pattern recommendation), I don't know why I didn't give it a try earlier. It really isn't more complicated than knitting in one piece. And I feel like it gives the garment more structure. However, if you don't enjoy assembling the pieces by stitching them together by hand, you should choose a one piece knitting pattern.
Enough talk, let's have a look at the patterns.
Wardrobe Staple Knitted Cardigans Recommendation #1: Like a cloud by Joji Locatelli
The Like a cloud cardigan by Joji Locatelli has to be one of my most worn hand knitted pieces of all time. I have worn this cardigan countless times since I made it four years ago. It is actually starting to get quite thin around the elbows and I will have to mend it soon. If you have any recommendations for knitting and attaching elbow patches, please let me know.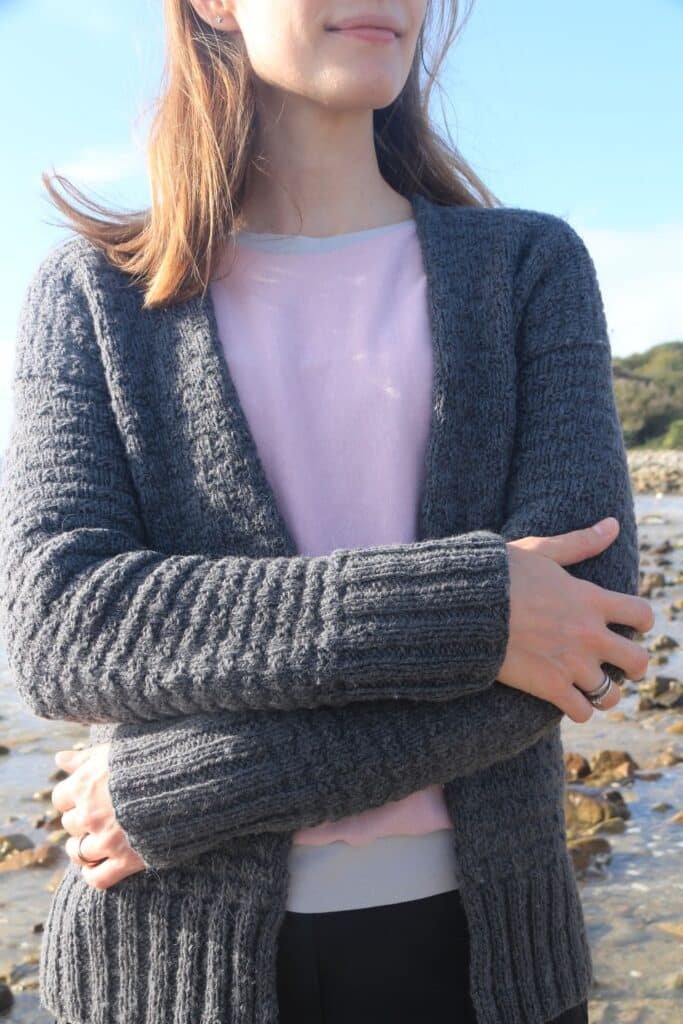 The pattern is simple and so much fun to knit. It is knit in one piece, starting at the neckline. It has a loose fit and an open front which doesn't even require knitting buttonholes or sewing on buttons. Joji originally designed the cardigan for two lace weight yarns held together to create a fingering weight. She used one strand of mohair which gives the cardigan a soft and fuzzy look.
Yarn Choice
However, since I was imagining the cardigan in a more rustic way, I chose a completely different yarn which gave the cardigan a whole new look. The yarn I used is Blacker Yarns annual birthday yarn from 2018. It is called Tor and the colourway is Rundlestone. It is an aran weight yarn, consisting of 92% wool and 9% alpaca. Since I used a much thicker yarn than the one in the pattern, I had to rework the math to make it work. If you are planning on doing something similar, you can have a look at my project page on Ravelry where I share more information about how I adapted the pattern.
Unfortunately, the yarn is discontinued now, but you can still find similar yarns from Blacker yarns. For example, I had a browse through their website and discovered Woodland DK which seems to have a similar yardage.
Needle Choice
The needle I used for this project is a US 6 (4.00 mm) circular needle. I own a Chiaogoo Twist interchangeable needle set which I can recommend. But any needle of your preference in the right size is fine.
Wardrobe Staple Knitted Cardigans Recommendation #2: Sunday Cardigan by PetiteKnit
Mette, aka PetiteKnit is a well-known knitwear designer from Denmark. I really like her design aesthetic in general, her patterns always look classic and simple yet comfy at the same time. The Sunday Cardigan is the first and only design from her that I knitted so far, though.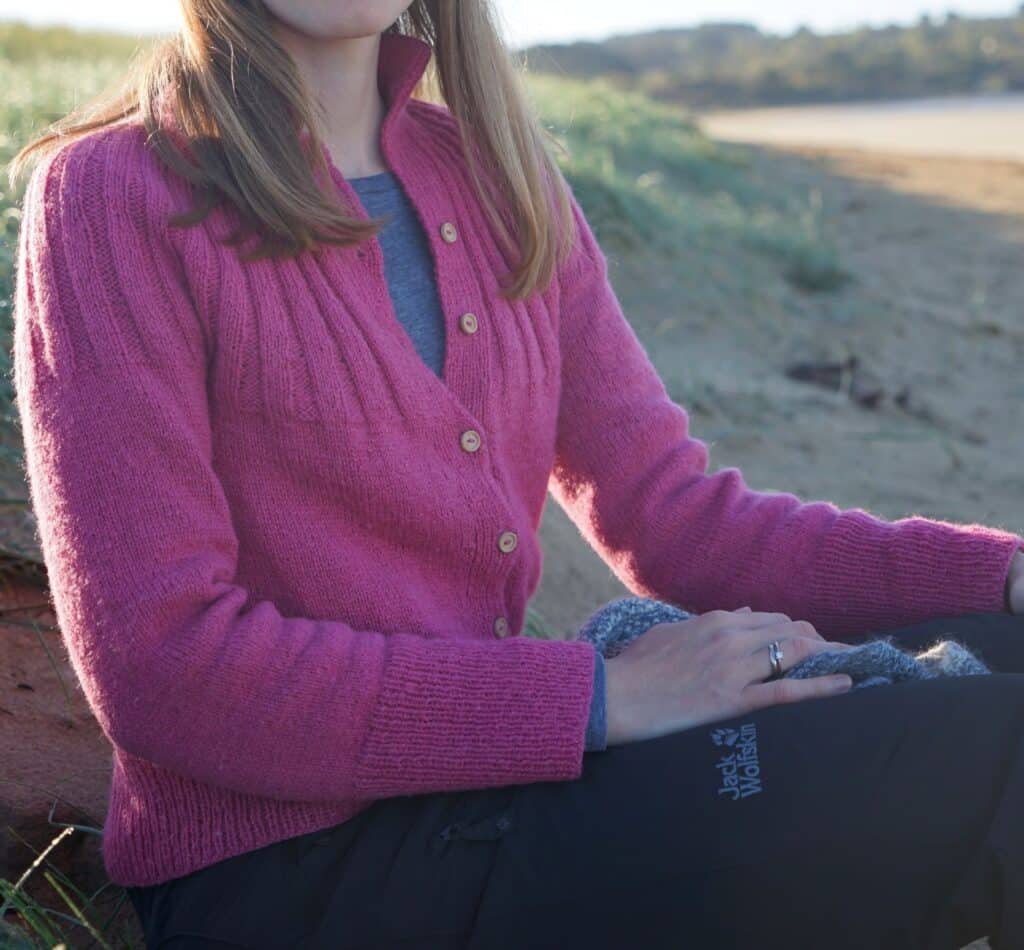 I made the cardigan two years ago and have worn it quite a bit since then. It is knit in one piece, from the top down. The neckband is folded in and sewn to the wrong side. This gives it a beautiful look but I remember that I found it a bit fiddly to sew down. Another tricky part was the creation of the buttonholes. They are basically created by widening an opening in the knit fabric which I didn't really enjoy doing. But apart from those two minor points, I enjoyed the knitting and I absolutely love the finished result.
Yarn Choice
Again, I didn't use the recommended yarn weight. The pattern is written for three strands of yarn held together to create a bulky weight yarn. The yarn I used is a beautiful rustic yarn from Norway which I purchased during a memorable trip to the North Cape. It is called Ask from Hillesvåg Ullvarefabrikk and is a sport weight yarn.
Needle Choice
For this project, I used a US 4 (3.50 mm) and a US 1.5 (2,5 mm) circular needle. The smaller needle size was used for knitting the ribbing. I own a Chiaogoo Twist interchangeable needle set which I can recommend. But any needle of your preference in the right size is fine.
Wardrobe Staple Knitted Cardigans Recommendation #3: Macaulay Cardigan by Katie Green
The Macaulay Cardigan has been in my queue for a long time before I finally knitted it this year. The designer is Katie Green aka Katie Green Bean. What I really like about this cardigan is its elegant look. It is a semi-fitted cardigan with set-in sleeves. Since the cardigan is seamed, I hesitated quite a long time to make it. But it really wasn't so bad after all! If you have a pattern which requires seaming that you like and are unsure of the seaming part, I encourage you to give it a try!
Yarn Choice
The pattern is written for a sport weight yarn. You need one main colorway and a contrasting color for accents on the cuffs, neckband and button band. The yarn I used is another rustic but cozy yarn. It is 100% Organic Gotland yarn from Fibertales. Lærke is mainly a knitwear designer but she also sells yarn from her parents Gotland sheep in her Etsy shop.
If you have a close look at my version and the pictures of the original cardigan, you will notice that my neckband is knitted in the contrast color rather than the main color. This wasn't an active design decision of mine but rather due to the fact that I didn't have enough yarn of the main colorway to finish it like it was intended to. Nevertheless, I am still very happy with the end result and have already worn the cardigan several times this fall (despite the fact that I haven't attached any buttons yet).
Needle Choice
The needle I used for this project is a US 6 (4.00 mm) circular needle as well. I own a Chiaogoo Twist interchangeable needle set which I can recommend. But any needle of your preference in the right size is fine.
Do you like to wear and knit cardigans as well? What are your favorite patterns? Come share in the comments!
Do you want to give knitting with sustainable, all natural sock yarn a try?
In this free guide you will learn everything you need to know about knitting sturdy socks with plastic-free, all natural sock yarn.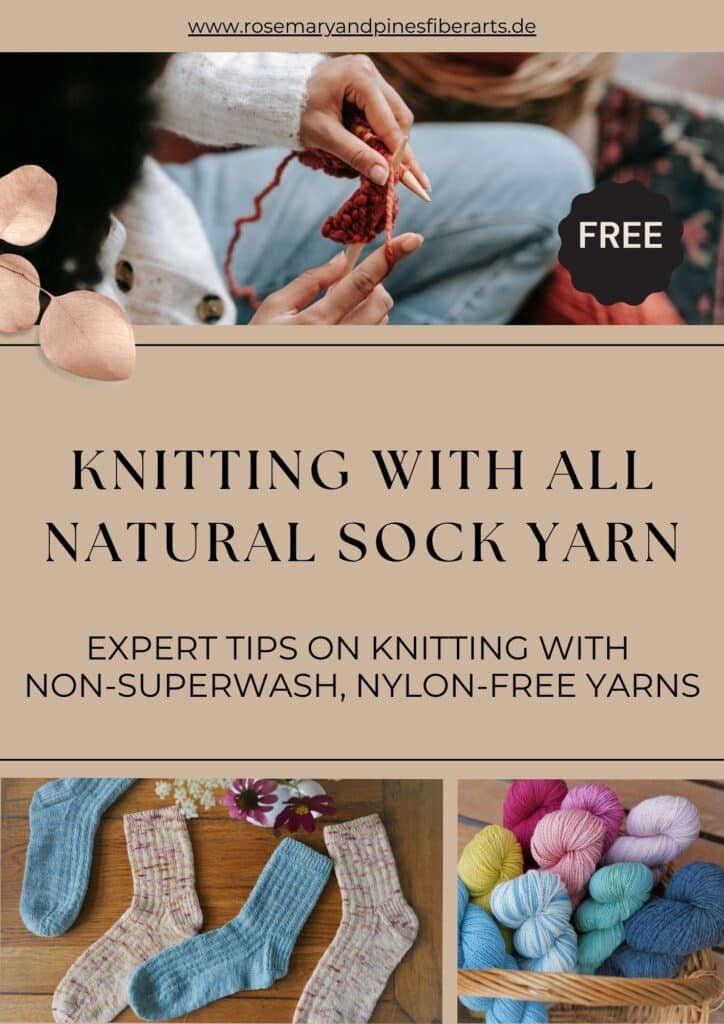 Pin It For Later: Wardrobe Staple Knitted Cardigans (3 Favorite Knitting Patterns)
Did you find this blog post valuable or helpful? If so, you can support my website by buying me a coffee below, purchasing my knitting patterns or yarns or simply by leaving a comment. Thank you!